Frustrated by long delays in reforms promised by U.S. health authorities, patient advocates who suffered illnesses after receiving breast implants are adopting a new approach: pushing legislation at the state level.
In Arizona, the State Senate has unanimously passed a bill requiring plastic surgeons to provide patients with a checklist of the health risks posed by breast implants and obtain written informed consent prior to performing surgery. Advocates in California, Pennsylvania, Florida, Arkansas and Virginia are identifying legislators to sponsor similar bills in their states.
The moves come as the U.S. Food and Drug Administration has delayed for almost a year enacting a rule proposed last October that would require these policies across the country.
Robyn Towt, a co-founder of Breast Implant Safety Alliance, an advocacy group for patients who suffered health problems after getting breast implants, said she initially worked with other advocates who were pressing for reforms at the FDA and in Congress.
"I realized that the federal government, and trying to get anything done with the federal government, would take a long time," Towt said. She shifted her focus to her home state of Arizona because "women are in danger," she said.
In 2018, the International Consortium of Investigative Journalists' Implant Files investigation revealed that thousands of women around the world were reporting serious illnesses after receiving breast implants. Among ICIJ's key findings were that many women were suffering from a rare form of cancer called breast implant associated anaplastic large cell lymphoma (BIA-ALCL), and breast implant illness, an ailment characterized by fatigue, joint and muscle pain, and cognitive decline.
Patient advocacy groups organized by these women have become a growing force in the U.S., pressing the FDA for stronger oversight of breast implants. Many had never before been involved in politics, and the drive for state legislation reflects their increasing political savvy.
"I was just a basketball mom," said Towt, a breast cancer survivor who suffered from breast implant illness after getting reconstructive implants following a double mastectomy. "I never in all my life thought I would be in the state capital trying to pass legislation."
The bill introduced in Arizona would require BIA-ALCL and breast implant illness to be included in a checklist presented to patients in advance of their implant surgeries. Plastic surgeons who failed to do so could have their licenses suspended or revoked.
Kate Brophy McGee, an Arizona state senator and a co-sponsor of the legislation, said the bill addresses one of the key problems for women considering breast implants: consent forms are presented at the last minute as patients are preparing for surgery, leaving women with limited opportunities to understand the risks involved.
"The biggest takeaway for me is that when the patient sees the information is when they've already committed to the surgery," Brophy McGee said. "So we reordered the process for disclosure."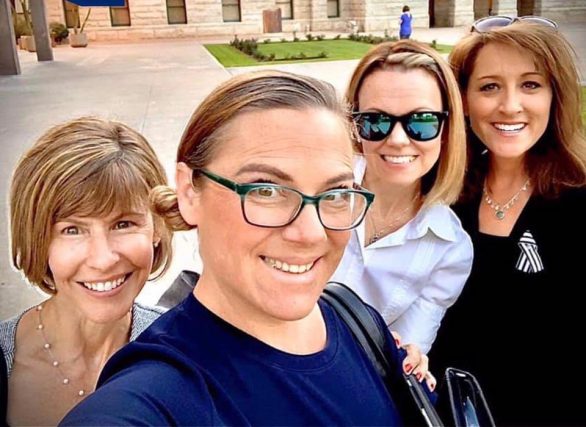 The bill passed the Arizona State Senate by a vote of 30 to 0 in February, and was approved by the Health Committee of the Arizona House of Representatives by 8 to 0 in March. It was slated for a vote in the full House when the COVID-19 pandemic upended the House's agenda and then forced the Arizona legislature to temporarily shut down.
Brophy McGee, who chairs the Arizona State Senate's health committee, said the legislation included input from both doctors and patient advocates, and has the potential to be adopted more widely across the country.
"I think it will be the standard going forward," she said.
Advocates in other states are already seeking to advance similar legislation.
Sarah Beckcom, who became ill after receiving a model of breast implants that have since been recalled worldwide, says she has identified a sponsor for an informed consent bill in Arkansas and also is in conversations with representatives in Virginia.
In Florida, Breast Implant Safety Alliance Vice President Terri Diaz, who suffered for six years from breast implant illness that she said left her bedridden, has found a state senator who expressed interest in sponsoring a similar bill in early 2021. In California, former breast implant illness patient Julie Lykins has spoken to several legislators and is hoping to see a bill introduced in the legislative session beginning this month.
In Pennsylvania, Tori Wilt, another breast cancer survivor who got sick after getting reconstructive implants, has had initial conversations with state legislators and is trying to identify sponsors. Wilt said her health has improved drastically since she got her implants removed, and that she will talk to as many legislators as it takes to move the bill forward.
"I will keep knocking on doors until someone listens," Wilt said.
The efforts to advance bills at the state level come as the FDA has stalled in implementing a rule that would enact these changes nationwide.
In October 2019, the agency released draft guidance that would require a black box warning on all breast implants, the most serious label advisory that it mandates. The guidance also called for patient checklists outlining health risks, similar to those required in the Arizona bill, to be presented to patients considering breast implant surgery.
But even though the comment period for the guidance ended last December, the agency has yet to enact the new rules. The FDA told ICIJ that it had received more than 1,000 comments on the guidance, and that finalizing the rule remained a priority for the agency,
Brophy McGee, the Arizona state senator, said she expects the Arizona bill to move forward in the meantime. The 2020 legislative session in Arizona has concluded, but she believes that the measure will be introduced again early next year with a strong chance of passage. Brophy McGee applauded the efforts by patient advocates to advance reforms at the state level.
"They are a force to be reckoned with," she said.