PRESS FREEDOM
Two brothers convicted of murdering Daphne Caruana Galizia, sentenced to 40 years in prison
The 2017 assassination of the Maltese anti-corruption journalist rocked the island country, and led to government's fall.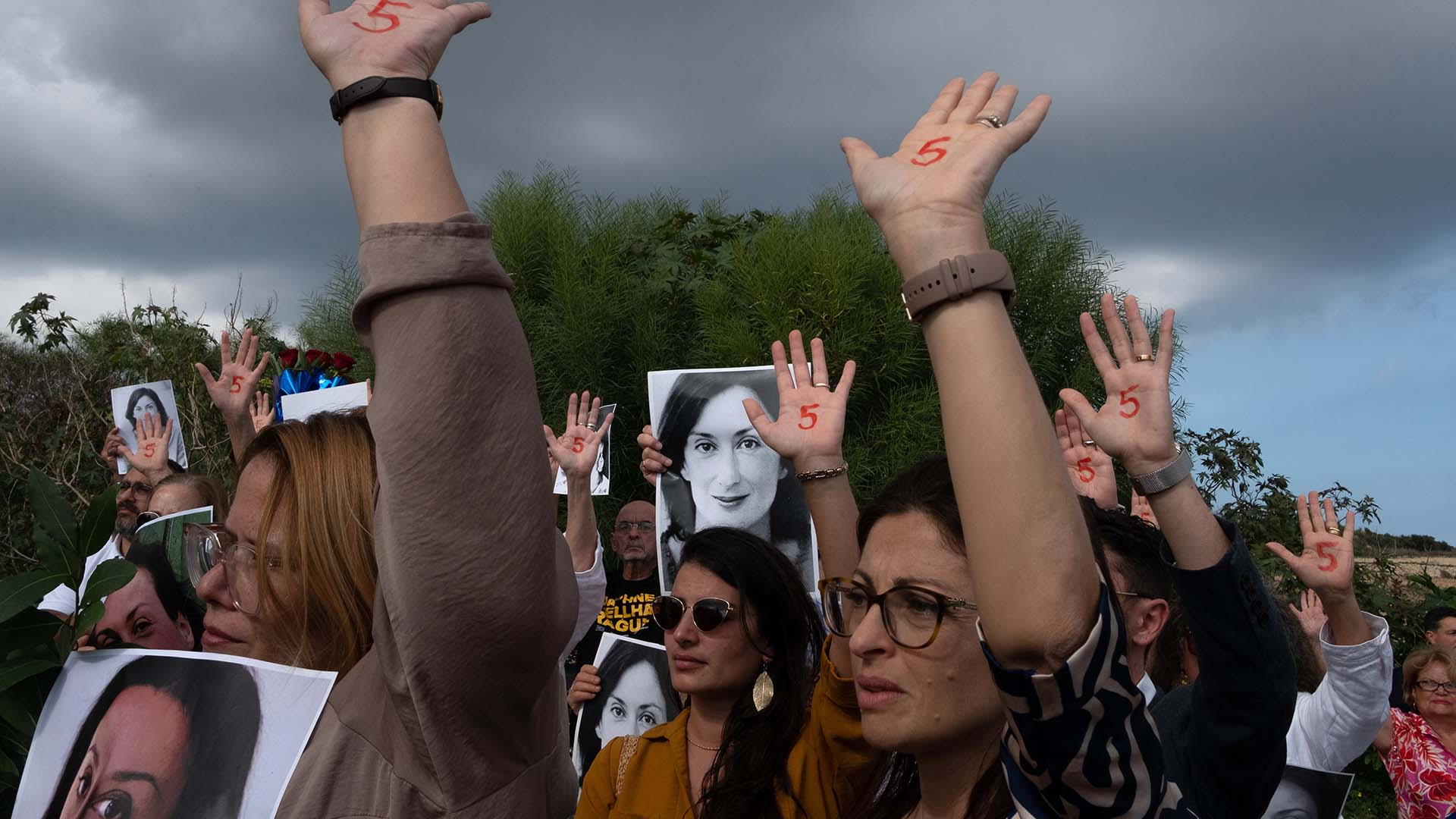 Two brothers admitted to assassinating Maltese journalist Daphne Caruana Galizia and have been sentenced to 40 years in prison, just days shy of the five-year anniversary of the brutal car-bomb killing.
Alfred and George Degiorgio, aged 57 and 59 respectively, initially entered pleas of "not guilty" when their trial began in Malta on Friday morning — but by the afternoon, the pair reversed course and pled guilty to  their part in the murder, according to the Times of Malta.
Caruana Galizia was a prominent columnist and investigative reporter whose work focused on political corruption and organized crime in the tiny island nation. Her follow-up reporting on the Panama Papers in 2016 made international headlines and included an investigation into alleged links between offshore business deals and Malta's top politicians.
She was killed by a car bomb outside her home in Bidnija, Malta, on Oct. 16, 2017.
According to prosecutors, the Degiorgio brothers were hired to murder Caruana Galizia by Maltese businessman Yorgen Fenech, who has been charged separately and awaits trial. Fenech denies the allegation.
The Degiorgio brothers were arrested in the wake of the killing, and were accused of remotely detonating a bomb that was placed under the driver's seat of Caruana Galizia's car. After fighting the case for more than five years, the pair admitted to the six charges against them on Friday, including wilful homicide, criminal conspiracy and more.
"This is an important step forward, to deliver justice in a case that represents a dark chapter in Malta's history," Prime Minister Robert Abela's government said in a statement.
Matthew Caruana Galizia, Daphne's son and a former web developer for ICIJ, told reporters that it had taken "far too long" for the case to make it to this point.
"I'm relieved that they have been convicted and sentenced. Now it's about the remaining cases," he said, referring to charges against Fenech as well as two men charged with supplying the bomb. An accomplice, Vincent Muscat, is already serving a 15-year sentence after pleading guilty to his part in the killing.
Sunday marked five years since Caruana Galizia's death. The anniversary was commemorated by events around Europe, including a gathering at the site of the bombing, a demonstration attended by more than 1,000 people in Malta's capital, a vigil in Brussels, a two-week-long festival in London, and more. Members of the European Parliament called for a motion for a resolution on the rule of law in Malta, which has been subject to an official European Union investigation over allegations of corruption and the failing of its justice system.
Caruana Galizia's murder brought international attention to bear on Malta and its government, and kicked off years of protests and unrest that led to multiple resignations of high profile politicians and officials.
Joseph Muscat, prime minister at the time of the murder, resigned in January 2020. An inquiry conducted by former judges and released in 2021 singled out the country's former prime minister and his entire cabinet as bearing responsibility for the journalist's death. The report accused the Maltese state of creating a pervasive "atmosphere of impunity" that allowed her killers to believe they'd face minimal consequences.
"The state should shoulder responsibility for the assassination," the inquiry board wrote.
Speaking at the Sunday night gathering in Valetta, Reporters Without Borders' Pavol Szalai said it was important that Malta continue to pursue justice for Caruana Galizia's murder, the Times of Malta reported.
"Since Daphne was killed five years ago, four journalists have been assassinated in the European Union," he said. "We have not yet seen full justice served for any of those murders."
"We still need full justice to be served – for the family, for Maltese journalists, for the country. Malta needs this for its own healing."