PRESS FREEDOM
ICIJ Cambodian media partner has no hope of reopening after forced government closure
Press freedom activists say Cambodia's authoritarian leader Hun Sen's silencing of the Voice of Democracy has had a chilling effect ahead of national elections in July.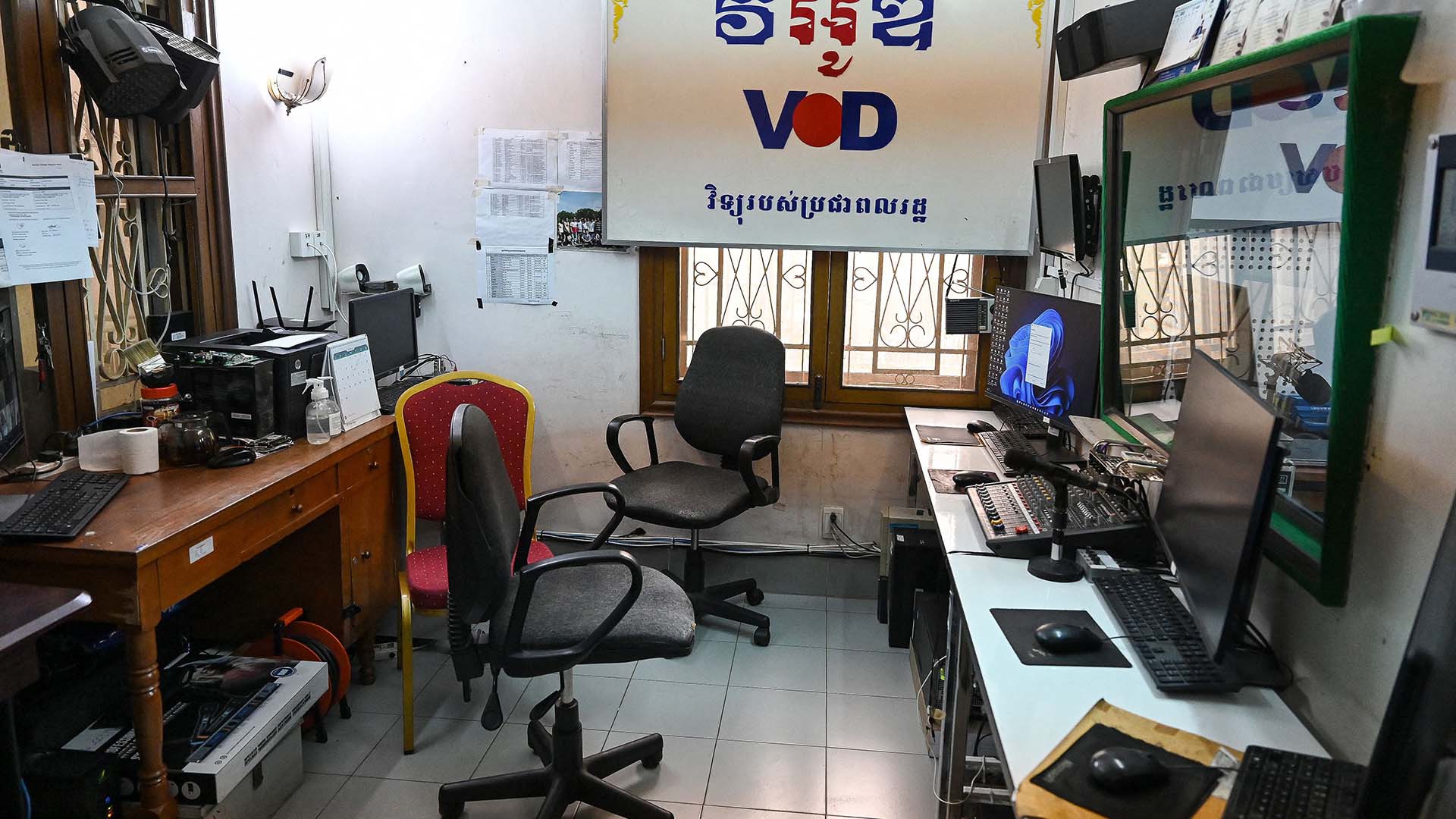 One of Cambodia's last remaining independent media outlets, Voice of Democracy, sees no hope of reopening after being shut down by Prime Minister Hun Sen.
Shortly after Hun Sen forced VOD's closure he told a crowd at a local university that it cannot be revived, despite protests by United Nations experts and press freedom advocates.
"The closure of VOD has improved the professional ethics and freedom of media in Cambodia. Please do not think that VOD can be revived. This will never happen," Hun Sen said.
Hun Sen, who has ruled the Southeast Asian country for more than 30 years, ordered the closure of VOD in February, after its website published an article on his eldest son, Hun Manet.
The article alleged that Hun Manet, the national army's deputy commander-in-chief, signed a document on behalf of his father which granted $100,000 in humanitarian aid to quake-stricken Turkey. The report, which quoted a government spokesperson confirming Hun Manet's action, alluded to an apparent overstep of authority, as foreign aid packages can only be signed off by the prime minister. After the government protested saying the article damaged its reputation, the reporters updated the original article and also published a new one to include Hun Manet's denial of the events.
Regardless of the apology, government retaliation followed swiftly.
I'll leave it to your readers, I leave it to observers [and] analysts to decide whether what we did was right or wrong or what the prime minister did was right or wrong.

-Ananth Baliga, VOD Editor 
According to Ananth Baliga, an editor with VOD, the prime minister requested that VOD write to him saying the reporters "regretted any confusion the article may have created" and they apologized. The reporters complied with the request but their apology  was rejected, Baliga said. The government then revoked the operating license of the Cambodian Center for Independent Media, VOD's parent organization, which promotes human rights and reports on corruption and environmental crime.
Hun Sen has previously endorsed Hun Manet, a West Point graduate, as his successor.
Baliga said the government could have opted for legal avenues such as suing the media company for libel, but instead chose to shut it down for good.
"I'll leave it to your readers, I leave it to observers [and] analysts to decide whether what we did was right or wrong or what the prime minister did was right or wrong," Baliga said. The shutdown is "a big blow" for VOD, he said.
Press freedom activists have also expressed concerns about the speed with which the government blocked access to the online website, which may set a precedent for similar cases in the future. They also fear the media crackdown is an attempt to block free speech ahead of the next elections.
Do you have a story about corruption, fraud, or abuse of power?
ICIJ accepts information about wrongdoing by corporate, government or public services around the world. We do our utmost to guarantee the confidentiality of our sources.
LEAK TO ICIJ
Cambodians are called to vote for the next prime minister in July, and Hun Sen's Cambodian People's Party is expected to win, according to some observers.
Vitit Muntarbhorn, the U.N. Special Rapporteur on the situation of human rights in Cambodia, and other U.N. officials experts have urged the government to reconsider its decision. "Cambodia needs a vibrant civil society and independent media at this critical juncture, including media outlets that critically report on government policies. We strongly urge authorities to reverse the decision," the UN experts wrote in a statement.
Voice of Democracy
VOD was founded in 2003 by the Cambodian Center for Human Rights as an independent media outlet, according to its website. The Cambodian Center for Independent Media later took over management of the news organization which had a Khmer-language and English editions.
In 2021, it was the only Cambodian news organization to partner with the International Consortium of Investigative Journalists as part of the Pandora Papers investigation, which was based on a leak of nearly 12 million financial records. VOD English reporters found that a major casino company, NagaWorld, "built its business in part through the CEO's use of his offshore companies and a series of loans that lifted the company's value."
VOD is one of many Cambodian news outlets to have fallen under the government's pressure over the last five years. Since 2017, before the elections that confirmed Hun Sen's power grab, the government has closed several newspapers, TV stations and more than 30 radio frequencies, as part of "a ruthless war against independent journalism," according to Reporters Without Borders.
In 2017, one of the country's largest newspapers, The Cambodia Daily, was closed down over allegations of tax irregularities. In its closing remarks, the editorial team defended the company's management saying that "the Daily has been targeted with an astronomical tax assessment, leaks and false statements by the tax department and public vilification by the head of government before an audit, much less a legal proceeding."
In 2018, another local newspaper, the English-language Phnom Penh Post, was sold to a Malaysian businessman allegedly tied to the Cambodian government.
During those years, VOD tried to fill the information gap left by those news organizations, Baliga said, managing to produce investigations and "crystal clear coverage" of daily news events. Now he hopes others will step up.
"My hope is that there are other publications out there that can fill this void."