Dozens of ancient relics hacked from Cambodian temples and other historical sites and allegedly trafficked to the United States are headed home after a prominent tech billionaire, James H. Clark, the co-founder of Netscape, agreed to return them.
The 35 relics from Clark's private collection include a monumental sandstone sculpture that once adorned an ancient Khmer capital city and bronze sculptures from near Angkor Wat. Clark obtained the items more than a decade ago, according to a complaint filed Tuesday in Manhattan federal court, from the late Douglas Latchford, a British art dealer indicted in 2019 for allegedly trafficking hundreds of antiquities from Southeast Asia.
"For the Cambodian people, these lost treasures are of enormous importance," said Bradley J. Gordon, legal advisor to the Ministry of Culture and Fine Arts. "Their return is expected to bring prosperity, serenity and pride to Cambodia."
While the complaint only identifies the person returning the art as a "collector," Clark confirmed in an interview with the International Consortium of Investigative Journalists and The Washington Post that the pieces had been in his private collection. A 2011 Latchford book also attributes eight relics that match photos of those now in federal custody to Clark's collection.
Clark, 77, said he paid Latchford roughly $35 million for the now-forfeited pieces, which came mostly from Cambodia. He said he had displayed them in a Miami Beach penthouse he owned for a few years before moving them to a Palm Beach storage unit, where they remained for more than a decade before he turned them over to authorities.
"I kept wanting to bring parts of it out," Clark said of the collection. "The decorator we'd use for any place we had, he wasn't excited about it."
The planned repatriation follows increasing efforts by U.S. and Cambodian officials to locate and claim hundreds of items stolen from the country amid decades of war and tumult that saw one of the most destructive looting sprees in history. Latchford, according to U.S. authorities, played a key role in the trafficking of hundreds of antiquities, many with deep religious and cultural significance.
In October, as part of the Pandora Papers investigation, the Post and ICIJ traced dozens of Latchford-linked items to museums, galleries and private collectors, and revealed offshore trusts used by Latchford to hold money and art.
In the wake of the investigation, the Denver Art Museum agreed to forfeit four relics tied to Latchford and New York's Metropolitan Museum of Art contacted federal authorities to discuss some of its holdings tied to Latchford. Other museums identified in the investigation have declined to say whether they will return Latchford-linked relics.
Prosecutors said in the court filing, known as a forfeiture complaint, that Latchford deceived the collector about the origin of the 35 allegedly stolen works. The filing states Latchford made false statements to U.S. Customs and Border Protection agents in order to illegally import the goods, and that he falsified invoices, shipping records and records used to demonstrate the ownership history and legitimacy.
Clark rose to prominence during the1990s when his firm Netscape helped to transform the internet into a tool widely accessible to the general public. Clark has taken part in several multibillion-dollar startups over his decades-long career as an entrepreneur.
Clark said that he became interested in Cambodian art after vacationing in Southeast Asia roughly two decades ago. "I was freshly wealthy in the early 2000s," Clark said, adding that he was buying artwork of various styles at the time. "I naively accumulated a bunch of pieces through Doug Latchford and it wasn't until near the end that I thought: 'you know, this isn't quite stacking up right.'"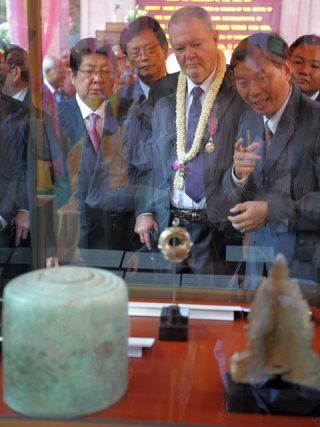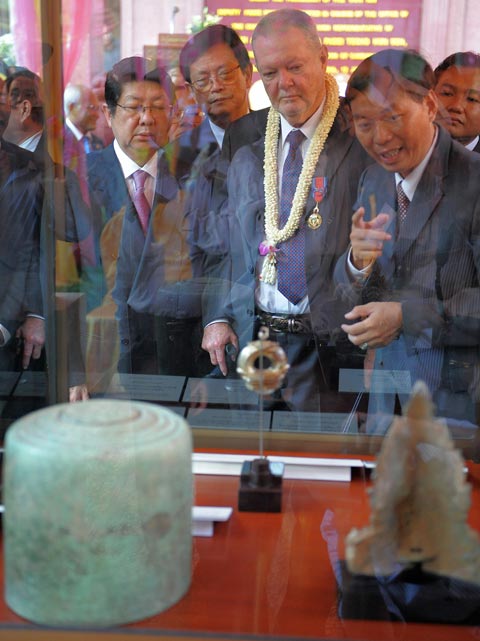 Clark said he stopped dealing with Latchford over a decade ago after Latchford offered to sell him an elaborate relic for $30 million and then did not respond to a question regarding provenance documentation.
Latchford told him that each of the pieces he bought were legally obtained, Clark said. Latchford said that the relics were removed from Cambodia prior to the 1970s, when exports of relics became subject to restrictions.
U.S. authorities contacted him last year to discuss the pieces, Clark said. In an August meeting in New York, investigators showed him photos of pieces he had purchased covered in dirt, he said.
"The photos showed that some of these pieces were clearly unearthed contemporaneously with my purchases," Clark recalled. "I said: 'look I'm not here to own things that are illegal. I will give back anything I have that you can demonstrate was illicitly imported.'"
The U.S. Attorney's office in the Southern District of New York declined to comment.
Among the items Clark relinquished to authorities are a bronze four-armed hindu goddess, a bulky stone warrior, and a footless bronze buddhist deity.
Gordon, the representative of the Cambodian government, said he expects the relics from Clark's collection to reach Cambodia within the next six months. "It will be a phenomenal day of celebration and joy when they come home," Gordon said.
"I feel good that they're going to be in a museum," Clark said. "It's where they should be."