FINCEN FILES
Europe's anti-money laundering chief defends his record in wake of FinCEN Files
Latvia was viewed as a hub for criminals to launder billions while Valdis Dombrovskis was the country's prime minister.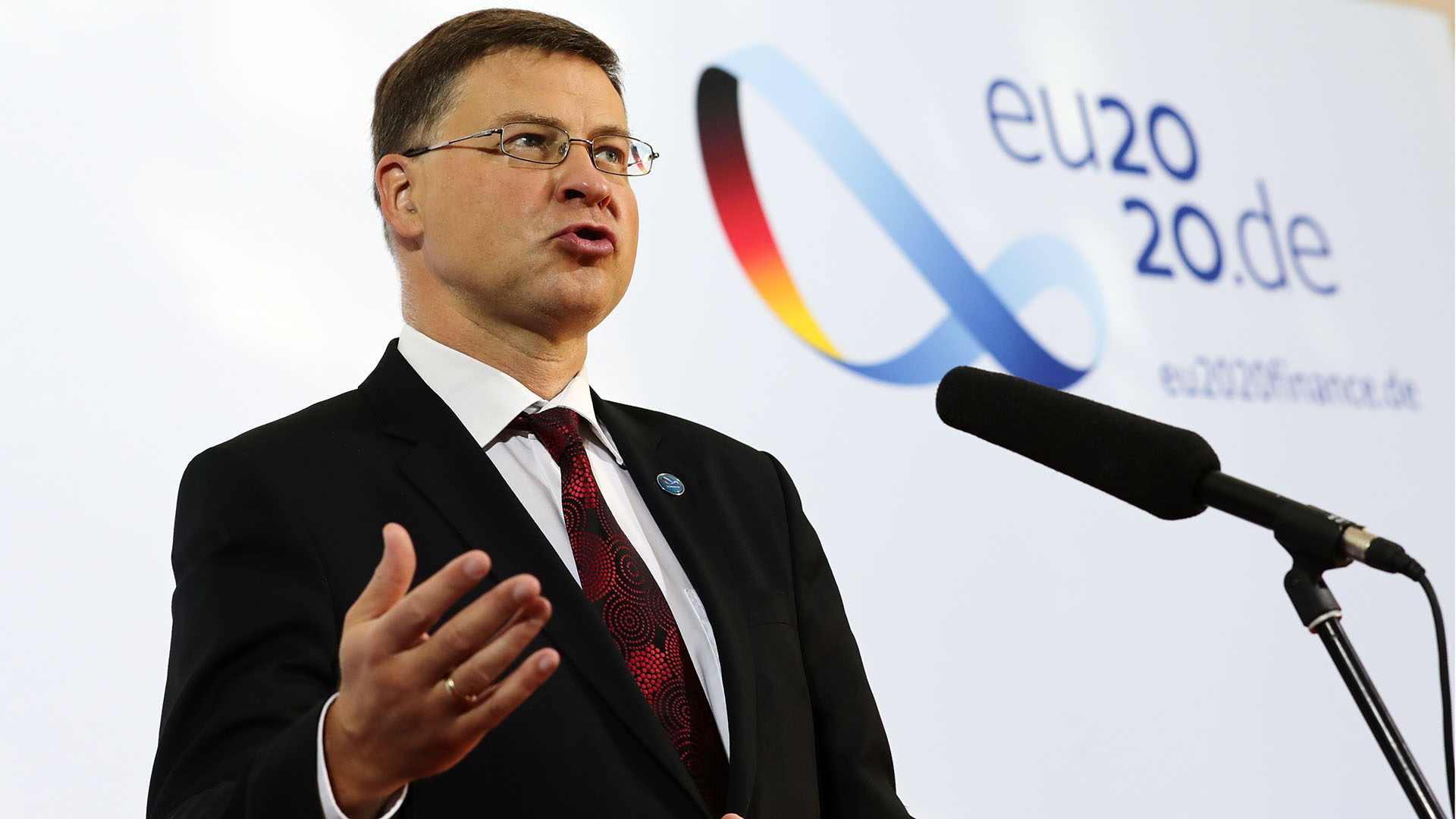 Valdis Dombrovskis, executive vice-president of the European Commission and the former prime minister of Latvia, has defended his record on combating money laundering after the FinCEN Files detailed how, for years, global banks secretly believed his home country was a magnet for tens of billions of dollars in dirty money.
In a statement to the International Consortium of Investigative Journalists, Dombrovskis said, "During my time as prime minister of Latvia between 2008 and 2014, in the midst of an unprecedented economic crisis, my governments oversaw important reforms … to tackle money laundering and close loopholes."
He added, "Progress made was acknowledged by [European Union] institutions at the time," noting that Latvia's financial system had been closely scrutinized before the country was allowed to adopt the euro as its currency in 2014.
But the FinCEN Files make it clear that many of the world's biggest banks had long known that Latvia offered sophisticated international criminals one of the easiest avenues into the global financial system, through which vast amounts of dirty money could be laundered. This was the case throughout Dombrovskis' term as prime minister, the documents show.
One bank alone, Bank of New York Mellon, filed suspicious activity reports to the U.S. Treasury Department that flagged $7.1 billion in suspicious transactions that had flowed through Latvia's Regional Investment Bank between 2006 and 2015.
Bank of New York Mellon separately reported $1 billion in suspect funds running through accounts at Meridian Trade Bank, now known as Industra Bank, between 2000 and 2014. For much of that time, Meridian Trade Bank had been the local offshoot of Russia's SMP Bank, a group owned by Arkady and Boris Rotenberg, billionaire brothers and lifelong friends of president Vladimir Putin.
In 2014, shares in the Lativan branch were hurriedly offloaded to local investors after the Rotenberg's wider SMP Bank empire, and the brothers themselves, became the subject of U.S. sanctions targeted at Putin's inner circle.
Of even greater concern to Bank of New York Mellon was a third Latvian bank called Expobank, formerly LTB Bank, owned by a publicity-shy Russian banking tycoon called Igor Kim. According to Bank of New York Mellon, a staggering $29.2 billion in suspicious funds flowed through Expobank in just under a decade, between 2006 and early 2016.
Two other Latvian banks that featured prominently in FinCEN Files were Trasta Komercbanka and ABLV Bank, both of which collapsed amid money laundering scandals.
ICIJ asked Dombrovskis whether these and other revelations from the FinCEN Files, damaged his reputation in the European Union as a champion of tougher anti-money laundering rules. He said, "As these latest revelations have again shown, this is a global and complex problem that requires substantial resources and coordination both within the EU and with international parties such as the United States."
Dombrovskis' record on bank secrecy
With a population of just 1.9 million people and economic output last year of $34 billion, Latvia is one of Europe's smaller nations. After gaining independence from the Soviet Union in 1991, the country's first central banker Einars Repše attempted to shape the Latvian economy into a Baltic version of Switzerland, one of the world's leading hubs for foreign capital and bank secrecy.
Repše left the central bank in 2001 and months later established the New Era political party, which Dombrovskis joined. By the end of 2002, Repše was prime minister and he appointed Dombrovskis as finance minister. The party had received campaign finance contributions from banks and their owners.
Dombrovskis became prime minister in 2009 and, two years later, merged the New Era party with other political groups to form the Unity Party. It, too, received modest campaign donations — capped at a certain level due to local election laws — from the owners of powerful Latvian banks, including ABLV Bank.
Asked by ICIJ about past political donations to his party from Latvian banks and their owners, a spokesperson for Dombrovskis said, "He is not aware of such contributions having been received by the party. Since joining the European Commission, he is no longer closely involved in the party's work."
The FinCEN Files include more than 2,100 suspicious activity reports filed by nearly 90 financial institutions to the U.S. Treasury's Financial Crimes Enforcement Network, known as FinCEN. The documents were shared by BuzzFeed News with ICIJ and 108 media partners in 88 countries and include information on more than $2 trillion in transactions dated from 1999 to 2017 that had been flagged by the banks as suspicious.
Though headquartered in Riga, all three Latvian banks flagged as suspicious by Bank of New York Mellon — Industra, RIB and Expobank — had for years specialized in catering to customers based outside the country, often allowing these non-resident clients to open accounts in the name of anonymous shell companies.
Shown some of BNY Mellon's concerns about these banks, Sven Giegold, a member of the European parliament for The Greens, said, "Latvia was one of the dark holes for dirty money in Europe during the time Dombrovskis was prime minister."
However, he added that Dombrovskis had become a strong advocate for tough reforms since he first joined the EU Commission in 2014. "He turned from Saul to Paul," said Giegold. "During his time as prime minister, the situation [in Latvia] hadn't profoundly changed, nor did it for some time [afterwards]. But now he is clearly championing strong reforms at the European level."
Dombrovskis has pushed for tougher anti-money laundering measures, most recently after a multibillion dollar fraud at German payments company Wirecard was exposed earlier this year. In a speech at an anti-money-laundering even on Wednesday, he again made the case for creating a dedicated, pan-European authority responsible for supervising anti-money laundering practices at banks and other financial institutions. However, he said this would not replace the work of authorities already operating at a national level.
"The EU supervisory system is only as strong as its weakest link," he said. "We know that national supervisors cannot do this completely alone – and this is why our action plan proposed EU-level supervision."
Dombrovskis said detailed plans for the proposed agency would be published early next year.
As Latvia's prime minister, he had also introduced some laws to improve the country's efforts to combat dirty money, though they had limited impact.
In a statement, Expobank said its anti-money-laundering procedures had been substantially improved in recent years. Industra Bank said it could not talk about customer matters or suspicious activity reports, but added that it had a robust process for checking and monitoring for possible money laundering. RIB said it, too, had its own systems for detecting and weeding out likely dirty money. It noted that suspicious activity reports were not unusual, and did not always suggest the presence of a criminal offense.
Bank of New York Mellon also said in an emailed statement that it takes its role in protecting the integrity of the global financial system seriously. "As a trusted member of the international banking community, we fully comply with all applicable laws and regulations, and assist authorities in the important work they do. By law, we cannot comment on any alleged SAR [suspicious activity report] we may have filed or that may have been illegally disclosed by third parties to the media."
Bank of New York Mellon did not have a direct relationship with Industra Bank, RIB or Expobank. Other U.S. banks were much closer to these Latvian institutions, providing them with so-called "correspondent banking accounts" — an essential requirement for international payments in U.S. dollars.
Earlier this month, the EU Commission announced a reshuffle of responsibilities in which Dombrovskis — already EU commissioner for the economy — immediately took over the trade brief, too. Ireland's newly appointed Commissioner Mairead McGuinness will be appointed shortly and is due to take on some aspects of Dombrovskis' expanded portfolio, including responsibility for anti-money laundering policy.