The United States Treasury Department is putting art galleries and museums on notice over the high risks of financial crime in their trade, warning that various aspects of the art industry makes "it attractive to those engaged in illicit financial activity, including sanctions evasion."
The advisory, published on Oct. 30, calls out the art industry's heavy use of shell companies. Citing the "high degree of confidentiality and anonymity" in the art trade, the advisory cautions that art dealers may find themselves unwittingly working with criminals seeking to move illicit funds. It also notes that artwork's often "subjective value" creates an additional attractive value to financial criminals — who are known to manipulate invoice prices to covertly shift money around the globe.
"The advisory serves as another reminder that the $28.3 billion American art market is the largest unregulated industry in the United States," Tess Davis, executive director of the Antiquities Coalition, which advocates the return of stolen relics to their home countries, told ICIJ in an email.
The advisory comes on the heels of the FinCEN Files, an investigation by the International Consortium of Investigative Journalists that examined massive flows of suspicious and illicit funds around the globe, including in the art market. Conducted in collaboration with BuzzFeed News and more than 100 other news organizations around the world, the project was based on an analysis of trillions of dollars in transactions captured in 'suspicious activity reports' that banks are required to file with U.S. authorities.
One focus of the investigation was a shadowy shell company called Pantheon Worldwide Limited that exchanged millions of dollars in cash and relics with alleged antiquities traffickers, according to one suspicious activity report, while baffling compliance officers at its own bank. The accused traffickers had been charged by authorities in New York with selling stolen relics from East Asia, India, Afghanistan and other regions.
At the heart of many antiquities cases around the globe are traffickers' elaborate steps to cover their tracks — and a heavy use of the art world's many options for financial anonymity. "Financial secrecy has factored into all of the largest antiquities looting scandals," Leila Amineddoleh, a New York-based lawyer specializing in antiquities-smuggling cases, told ICIJ. "Anonymity in this market runs very deep and it remains a serious problem."
In the case of Pantheon Worldwide, London-based Standard Chartered Bank maintained three accounts for Pantheon in its Hong Kong branch. But bank compliance officers knew next to nothing about their own client, a suspicious activity report shows. They were uncertain about the purpose of the company and didn't even seem to know where it was registered — the most basic information needed to assess whether it might be a front for money laundering or other financial crime.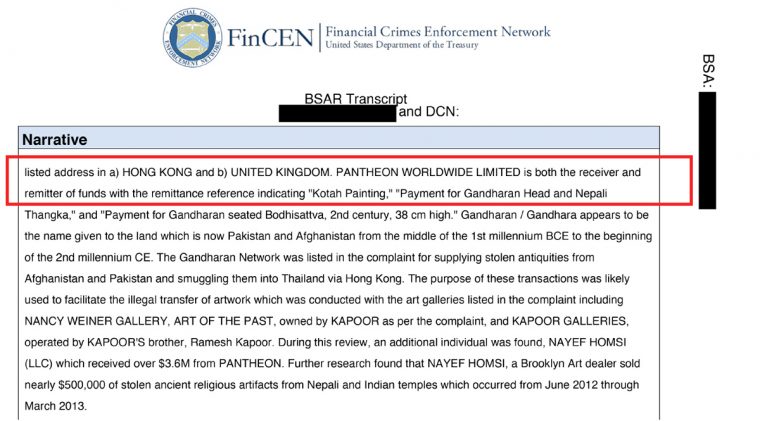 ICIJ also tried, and failed, to track down Pantheon. Hong Kong and London addresses listed by Standard Chartered for the company proved to be dead ends, and Hong Kong authorities said no company by that name had ever been incorporated there.
Last week's advisory urges agents, brokers, and others in the art market who deal in expensive artwork to implement robust safeguards to ensure that they are not consorting with criminals. The notice was issued by the treasury department's Office of Foreign Assets Control, which oversees sanctions imposed by the United States. In the advisory, the office encouraged art dealers who may be exposed to financial crime to conduct "risk-based due diligence" on art buyers and sellers — a process akin to what banks are legally required to perform with high-risk customers.
The OFAC publication may well be taken seriously, but it does not carry the force of law. For this reason it is not enough for Davis. 
"The OFAC advisory is an important step, but more action is needed," Davis said. "If the US doesn't act, we do risk our jurisdiction continuing to be a safe haven for criminals."