ACCOUNTABILITY
Artifacts seized from prominent New York collector as US authorities push to return looted treasures
The works confiscated from Met trustee Shelby White's home include rare Roman and Greek antiquities now repatriated to Italy and Turkey.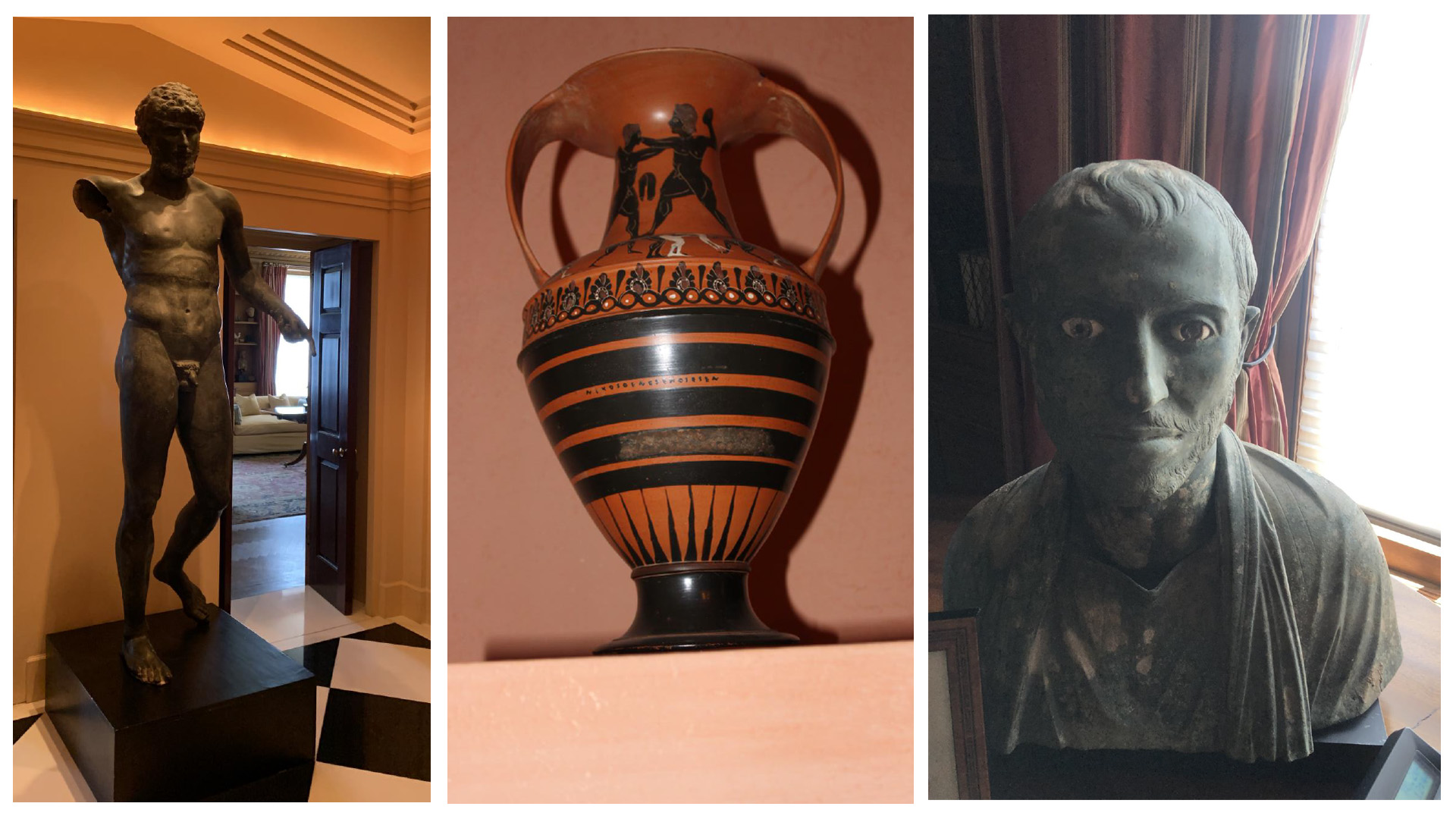 U.S. agents have quietly confiscated more than $20 million worth of allegedly stolen Greek and Roman art from a prominent New York art collector and returned the pieces to Italy and Turkey.
Nearly two dozen pieces were seized from the home of Shelby White, a philanthropist whose wealth comes from a Wall Street fortune. The works include a monumental bronze statue of Roman emperor Lucius Verus that was originally found in Turkey and has been the subject of extensive past scholarship.
"This is a really rare, highly significant piece," said David Gill, a professor at the University of Kent law school who writes extensively on the illicit antiquities trade. "So few life-sized Roman statues have survived from antiquity."
The seizures from White's collection serve as yet another sign that law enforcement authorities in the United States are stepping up pressure not only on museums holding works of suspicious origin but also on private collectors, whose ownership of precious antiquities often remains hidden from public view. The seizures are also significant because of White's close ties to cultural institutions around the country, including with New York's Metropolitan Museum of Art, which previously displayed several of the works confiscated from White's home.
A spokesperson for White, Fraser Seitel, said that White and her late husband had purchased the pieces believing they had not been stolen and that White intends to continue cooperating with law enforcement authorities. Seitel said that, after the seizures, White "consented to repatriate the pieces in question."
White is one of several ultra-wealthy collectors who have been accused in recent years of owning stolen artifacts. The International Consortium of Investigative Journalists and its reporting partners has published a series of in-depth stories examining the activities of suspected antiquities traffickers. The traffickers include Douglas Latchford, who is believed to have presided over the massive looting of Cambodian cultural heritage during the country's years of civil war and political tumult.
The Roman statue and other pieces were seized from White after state prosecutors in Manhattan secured search warrants for her home last April and in June 2021. Prosecutors said that nearly a dozen of the returned pieces were linked to suspected looting networks involving Gianfranco Becchina and Giacomo Medici, both convicted Italian relics traffickers at the center of numerous antiquities scandals. All 23 pieces seized from White have been returned to Italy and Turkey, according to the Manhattan District Attorney's office.
White was married to financier Leon Levy, who died in 2003. The couple donated prolifically to the arts while building their own world-renowned collection of classical relics.
The confiscations from White's home on Manhattan's far East Side provide another rare glimpse into a private collector's home. Photographs included in a search warrant that ICIJ reviewed show the large sculpture of the Roman emperor standing next to a door opening into an apparent living room, as well as a photo of a bronze bust from the first century B.C. — valued at $3 million — sitting casually on a table next to a landline telephone and an apparent family photograph.
The seizure from White's collection is also noteworthy because she has held vaunted positions in the New York art world, particularly as a member of the Metropolitan Museum of Art's board of trustees, serving in various committees including on museum acquisitions, finance, and buildings. In 1995, White and Levy donated $20 million for the Met to refurbish galleries containing its Greek and Roman collections.
Prominent art collectors linked to looted works
White is not the only high-profile Met donor who has owned allegedly looted works. In September 2021, authorities seized three pieces from the Met that belonged to one of the museum's billionaire donors, Michael Steinhardt. The action was part of a deferred-prosecution agreement struck between Steinhardt and the Manhattan district attorney's office that required him to forfeit more than $70 million in looted antiquities.
White has previously been drawn into international art controversies. In the mid-2000s, Italian authorities opened an investigation into items in White's collection they believed had been stolen from the country.
In 2006, she donated $200 million to New York University to fund a new institute on ancient studies. The massive gift was met with mixed reactions by faculty, some of whom protested the donation on the grounds that White had previously acquired ancient pieces they believed to have been stolen. Two years later, after months of intense back-and-forth with Italian authorities, White returned 10 Greek and Eutruscan pieces to the country. Italian authorities said that some of the returned artifacts had once been brokered by Giacomo Medici, the convicted antiquities trafficker.
A link between Medici and White's collection emerged again in the recent actions, according to Douglas Cohen, a spokesperson for the Manhattan District Attorney's office. Five of White's pieces returned to Italy had been trafficked by Medici, Cohen said. The office said ten additional pieces from the confiscations had been trafficked by Gianfranco Becchina, another Italian relics dealer who was convicted in Italy in 2011 of trafficking after multiple raids on his storage facilities in Switzerland. Prosecutors linked five additional pieces from the White collection to Edoardo Almagià, a dealer accused by Italian authorities of going on "a three-decade-long smuggling spree," according to the New York Times.
Many of these pieces held illustrious places in the world of New York art collecting before being seized. A wide-ranging snapshot of White's collection appeared in a 1990 catalog detailing a major Met show that displayed "spectacular constellations" of Greek and Roman works from White and Levy at the Museum. Several of the photographs appearing in the catalog — including the bronze Lucius Verus statue — match photographs of pieces appearing in the recent search warrants of White's home.
The Met catalog describes the bronze Lucius Verus, which Manhattan prosecutors value at $15 million, as originating in a series of Roman statues that stood together at the ancient city of Bubon in Turkey, a site that allegedly saw extensive looting. The catalog also features another work — a set of pieces from a grand sarcophagus — that match photographs in the April warrant. The Met catalog calls it "among the finest Asiatic Sarcophagus known."
The investigators responsible for the return of these pieces are part of an antiquities trafficking unit within the Manhattan District Attorney's office that has seized many millions of dollars worth of allegedly stolen antiques across numerous operations in recent years. The unit works extensively with federal agents in Homeland Security Investigations, a unit within the U.S. Department of Homeland Security.
The Met did not comment on the seizures from White.
ICIJ's investigations into the market for stolen artifacts are ongoing. The most recent story examined allegedly stolen Cambodian antiquities in the collection of the billionaire Lindemann family, which has ties to Latchford, the accused trafficker.
The investigation found that the family had adorned their mansions with pieces that Cambodian authorities consider to be among the country's most important missing national treasures. In one case highlighting the elusiveness of private art collections, ICIJ reporters discovered that a luxury magazine had edited out Khmer statues from a spread showing off the ornate design elements of one of the Lindemanns' mansions.