Believe in the power of investigative journalism? Donate today and help us inspire and cultivate a global community of reporters and readers who believe journalism can bring about positive change.
Investigative journalism is costly, risky, and time-consuming, and ICIJ believes this work is more important than ever. Your gift directly helps us continue this work. As a thank you for your donation of any amount, you'll become an ICIJ Insider earning you exclusive invitations to events, behind the scenes content, and more. Learn more about our Insiders program here.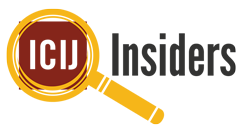 ICIJ Insiders Membership Program:
Through the Insiders program you'll receive:
Exclusive content including quarterly newsletters, events with journalists and partners, behind the scenes access, and more!
Our Insiders not only provide us with support to continue our mission, but they are able to ask important questions, participate in events, and demonstrate the importance of investigative journalism through their ongoing curiosity and generosity.
With a minimum gift of one dollar, you'll have access to the following:
ICIJ Insider Newsletter (quarterly)
ICIJ's Weekly Update
Opportunity to submit your question to ICIJ staff
Sneak previews behind the scenes of ICIJ's work (monthly)
Invitation to an exclusive chat with ICIJ staff about our latest major project after publication
FAQ's
Where should I mail my donation via check?
If you would prefer to mail us a check please send it to:
1800 M Street NW, Front 1 #33019
Washington, DC 20033
What are other ways to give?
We also accept online donations via PayPal.
You can also donate over the phone at +1 202-800-0160.
Gifts of Stock
Donations of appreciated stock or securities are an easy and cost effective way to support ICIJ Inc. Consult your tax advisor for any potential tax benefits.
To make a gift of stock to ICIJ Inc:
First, contact our broker:
Sean Sweeney, Vice President –
Wealth Management Advisor, Merrill Lynch.
152 15th St. N.W. Suite 6000, Washington, D.C. 20005.
Email: sean.r.sweeney@ml.com | Phone: +1-202-659-6139
Account name: ICIJ Inc. (International Consortium of Investigative Journalists Inc.)
Account Number: 749 02813 | DTC number: 8862 | Tax ID number: 81-4739107
Second, contact us and let us know where we can send a receipt:
Jeffrey Woolverton, Chief Development Officer, ICIJ Inc.
Email: jwoolverton@icij.org
IRA Qualified Charitable RMD (Required Minimum Distribution)
The IRA qualified RMD allows U.S. taxpayers aged 72 or older to transfer up to $100,000 annually from their IRA accounts directly to charity without having to recognize the distribution as income. Talk to your financial advisor to learn more.
Are donations tax-deductible?
ICIJ is a 501(c)(3) tax-exempt organization and your donation is tax-deductible to the extent allowed by U.S. law. For outside of the U.S. please contact your local tax authority for more information.
What is ICIJ's EIN?
81-4739107
Have another question on giving?
Contact us directly at Insiders@icij.org
Have another enquiry or story tip-off?
Email us at contact@icij.org