When you report on crime and corruption in Eastern Europe and the former Soviet Republics, you can expect to get your fair share of grief or threats. But this hasn't stopped Khadija Ismayilova in Azerbaijan.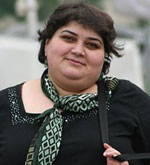 Khadija Ismayilova from Azerbaijan is a good journalist.  In three successive, hard hitting stories, she demonstrated that the daughters of the President of the country owned a mobile phone company with an exclusive 3G license, that they owned shares in six gold mines given to them by a decree from their father and that they control a construction company that helped to build the new US$134 million showcase auditorium that will host the Eurovision song contest.
Khadija, who works for Radio Free Europe/Radio Liberty and the Organized Crime and Corruption Reporting Project, used the Investigative Dashboard to track down the ownership through scraped Panamanian company registration files.  She also got difficult- to- get Azerbaijani records to prove key elements of the story.  It is hard to appreciate how difficult reporting in Azerbaijan can be.  To attack the first family is taboo.  Journalists are regularly jailed in Azerbaijan.  The public doesn't like stories that put the country in a bad light.  And she is a woman in a male dominated society.  It is this last issue that has been used against her.
When you report on crime and corruption in Eastern Europe and the former Soviet Republics, you kind of expect to get your fair share of grief.  It's not unusual to get threats.  Our reporters are regularly spied upon.  Our organization and reporters have been smeared in negative stories and lawyers for crime figures have gone to our donors and sought to have us defunded by slandering us.  We live with this every day.
But Khadija is also an especially brave journalist.  A few days after the first story, someone broke into her apartment and installed a camera.  The state phone company came out and ran lines for the video camera. Her relations with her boyfriend were recorded for weeks and maybe months.  She was threatened and told "to behave or she will be defamed".  This is a serious threat in traditional Azerbaijan where women who don't follow customs can face harsh retributions.  However, she refused to be blackmailed and, true to their word, the videos were run on a number of websites.  Police investigators have refused to look into criminal charges of invasion of privacy and trespassing or interview key sources.
But it hasn't stopped Khadija. Even after that happened, she continued to write — two more stories about the first family — and many more will come. With each step she further pries open the secrets of Azerbaijan's government and ruling elite.
When people ask me what I do for a living, I joke that I tell the truth and run.  But Khadija can't run and she won't run and we're all better off for it.