MEET THE INVESTIGATORS
Using the 'power of information' to change the world
Yi-Shan Chen, ICIJ's member from Taiwan, witnessed the power of information through martial law and the Tiananmen Square protests. Now, as a journalist, she aims to harness that power for the people.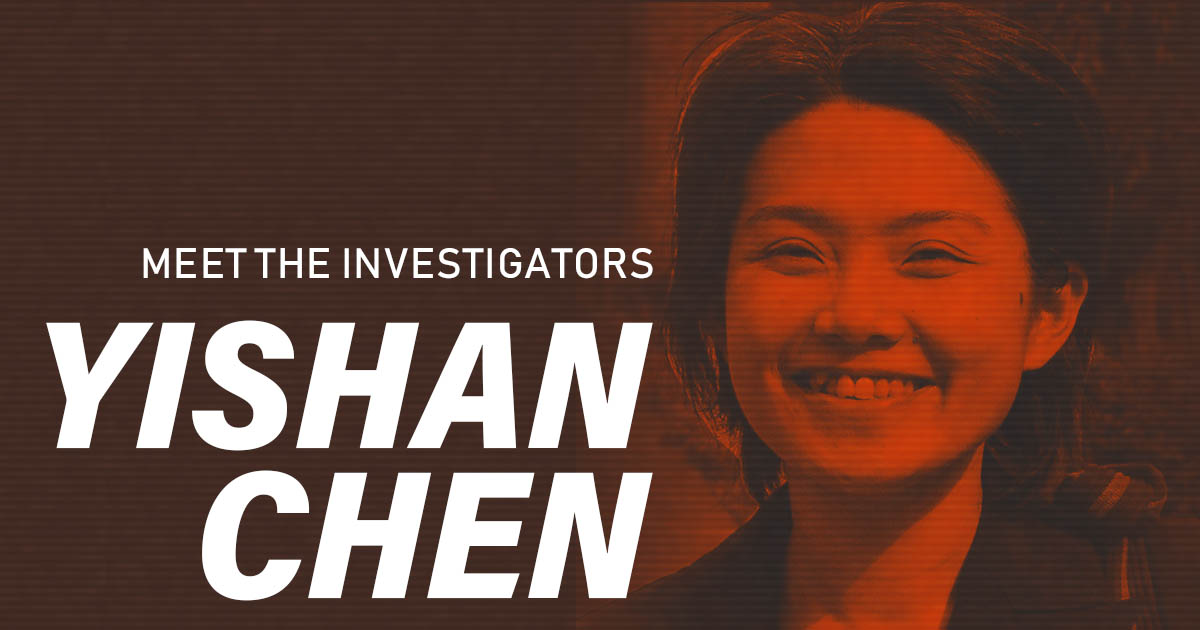 The International Consortium of Investigative Journalists collaborates with hundreds of members across the world. Each of these journalists is among the best in his or her country and many have won national and global awards. Our monthly series, Meet the Investigators, highlights the work of these tireless journalists.
Yi-Shan Chen is the deputy managing editor at CommonWealth Magazine in Taiwan, where she started her career in 1996 before joining the China Times. Chen, whose background is in economics, has partnered with the International Consortium of Investigative Journalists on several investigations over the years, including Offshore Leaks and The Panama Papers.
What made you want to become a journalist?
I grew up in Taiwan, and before 1989, Taiwan still had martial law, so [the government] still controlled the media. So when I was a child, I read the news, but the news was screened by the government, so we got just one side.
I wanted to become a journalist since the time of the Tiananmen Square crisis. I was in Taiwan, so I witnessed [the protests]. I think this was a very important thing for me; I could see the power of information.
When I was in university, after martial law, it was my first time to see the other side of the story. I think that was a very important thing for me.
I think that if people can get more information, we can understand the truth and make judgments for ourselves. I think that's the best protection for the public. Otherwise, you'll always have bias.
So I was thinking if I can do this kind of job, I would like to share information to the public. I think information can change a lot of things.
What is an investigation that you've worked on that you're really proud of?
One project is about real estate prices, because my background is in economics, so at the time, I believed that markets could solve a lot of problems.
When real estate prices became very high, a lot of builders said the government should release more land to build up more houses so that house prices could go down. But another side told me that actually the prices would not go down if the government released land in the city — this kind of land was still being built up with luxury houses for the rich people, not for the ordinary people. So I tried to find out the truth.
We traced 50 [parcels of land] when the government sold the land to see what kind of property they built up. After we checked, 85% of the land became luxury houses. So we actually changed the policy — because of the statistics, the government said, "Maybe we will not sell the land, we will rent the land." I think that's very meaningful.
What are the benefits that you see to working on global collaborations?
It's an eye-opening experience for me. It's very impressive. I started working with ICIJ staff on the Offshore Leaks project in 2013. At the time, we started from three countries — Hong Kong, China and Taiwan — so we had our first training in Hong Kong and met our colleagues from different countries. I will never forget that training, because of how sensitive the news was and how powerful the cooperation was.
I think the most meaningful thing for me is that we published the stories together, although it was different countries' stories. But through these kinds of cooperation, we can protect each other. We can protect people in Hong Kong; we can protect people in China; we can protect journalists in Russia as well. I think that's the power of cooperation among journalists.
Sometimes our stories cannot change anything in the short term, but you still need to do them. I think it's a spiritual thing for me.
How do you relieve your stress?
Walking. If I feel a lot of stress, I will walk for an hour a day, which is a long walk in Taiwan!
What's a piece of journalism that you're really enjoying right now?
I'm reading a book about the Malaysia scandal — 1MDB, the national megafund. I think the book is quite interesting for me. My long-term dream is that I want to write a book like that one.
And what's a story or investigation that you wish you had worked on?
The internet and social media. The way that the government and the rich people try to manipulate information through social media, and how the money influences what people read or see — I think that's very important news that we should be investigating.
Do you have a story about corruption, fraud, or abuse of power?
What is something that you're really looking forward to about 2021 in journalism, and something you're looking forward to outside of journalism?
For journalism, I would like to write a story about taxation. I think the world is going to change after the Panama Papers, and we might see a change in the taxation system in the coming years. I think that's a quite important thing, so I hope we can write a good story about this.
I hope we can travel freely very soon. For journalists to stay in one same place for a very long time would kill us! I can travel freely in Taiwan, but I am still looking for the chance to go abroad and see our friends in China and Hong Kong and Japan.
And finally, what is a helpful piece of advice that someone has given you about journalism?
For a journalist, sometimes you can feel helpless — you cannot help everything — so you feel useless. But someone told me that you don't need to be naïve, but you still need to feel you can do something. Sometimes our stories cannot change anything in the short term, but you still need to do them. I think it's a spiritual thing for me.
—
If you're a fan of our Meet the Investigators series, please consider making a donation to support ICIJ. Not only will your donation help support our work with journalists like Yi-Shan, but as an ICIJ Insider, you'll also receive sneak previews, access to exclusive chats with reporters and behind-the-scenes content like this delivered straight to your inbox. Donate today, and support independent investigative journalism.