Ecuador's president Guillermo Lasso has survived removal efforts after a majority of the country's legislature voted against a recommendation to dismiss him following Pandora Papers revelations.
In a highly polarized hours-long legislative session on Tuesday, the assembly instead voted to request that Lasso appear before the national assembly to answer questions about his offshore dealings. The legislature also voted to refer a commission report to the national prosecutor, the comptroller's office, the internal revenue services, the financial investigation unit and the superintendency of banks to look into whether Lasso's links to companies and trusts in offshore tax havens violated the law.
Documents in the Pandora Papers — an investigation led by the International Consortium of Investigative Journalists based on a massive leak of secret financial records — revealed that in late 2017 Lasso authorized the transfer of companies held by two Panamanian private interest foundations to newly created trusts in South Dakota.
Following the Pandora Papers revelations, a legislative commission in Ecuador conducted its own inquiry and issued a report recommending Lasso's removal. It concluded that Lasso breached a rule that prohibits public officials or candidates from holding assets in offshore tax havens. The commission said that Lasso should be dismissed because the revelations caused a political crisis and national commotion.
Lasso, a former banker who became president in May after two unsuccessful runs in 2013 and 2017, told ICIJ and its partner El Universo that "all past use of any international entity" was legitimate and none of the offshore entities were related to his public service. He also reportedly said that he dissolved his offshore entities in order to enter the presidential election. Besides the South Dakota trusts, the Pandora Papers documents showed Lasso has had links to eight offshore entities in Panama and Delaware that were dissolved.
Hours before Tuesday's vote, Ecuador's national comptroller's office announced it would drop a separate investigation into Lasso's offshore dealings. The office cited a lack of evidence linking Lasso to offshore companies at the time he filed his presidential candidacy, and concluded that South Dakota, where Lasso was to transfer his assets into trusts, was not a tax haven "according to the applicable norms" in Ecuador.
"I don't think there is cause for removal … but the president should be here," said Bruno Segovia, a legislator from the left-leaning Pachakutik indigenous movement party. "This is the people's house, the president should come and explain how much money he took offshore, if he paid taxes, in whose name are the shares and, if he wants investments to come to Ecuador, he should bring that money here where it is sorely needed."
The legislative debate on Tuesday centered on whether the report from the Commission of Constitutional Warranties was impartial and included enough evidence to prove that Lasso had violated the anti-tax haven regulation.
Lasso's supporters claimed the report contained errors and was plagued with bias while commission members defended the integrity of the investigation. Lasso's family members and the president himself also refused to appear before the commission.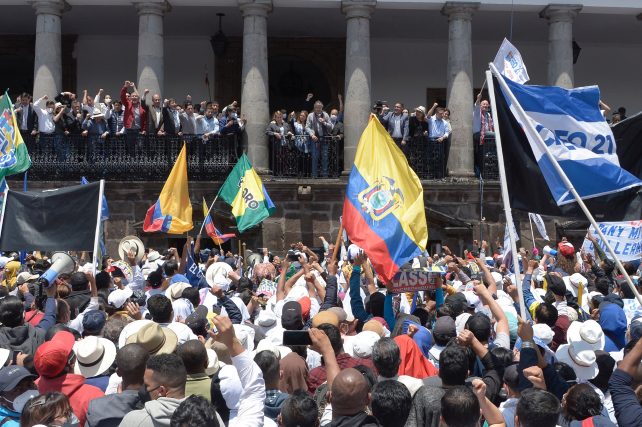 In recent weeks, Ecuador's national prosecutor launched an investigation into alleged irregularities in the report, a move that opposition legislators said was politically-motivated.
A complaint against Lasso filed by a former presidential candidate after the Pandora Papers revelations remains open in the national prosecutors office, EL PAÍS, an ICIJ partner on the project, reported.
Lasso is one of three sitting Latin American presidents whose offshore dealings were exposed in the Pandora Papers. Last month, Chile's president Sebastián Piñera survived impeachment over an alleged conflict of interest related to his family's offshore dealings. Luis Abinader, president of the Dominican Republic, also appears in the leak along with 11 former heads of state and dozens of politicians from the region.