PANDORA PAPERS
Baker McKenzie, a go-to firm for Kremlin-linked companies, now says it's leaving Russia
America's largest law firm advised sanctioned Russian companies, including a military weapons maker, banks and an energy giant, a Pandora Papers investigation revealed.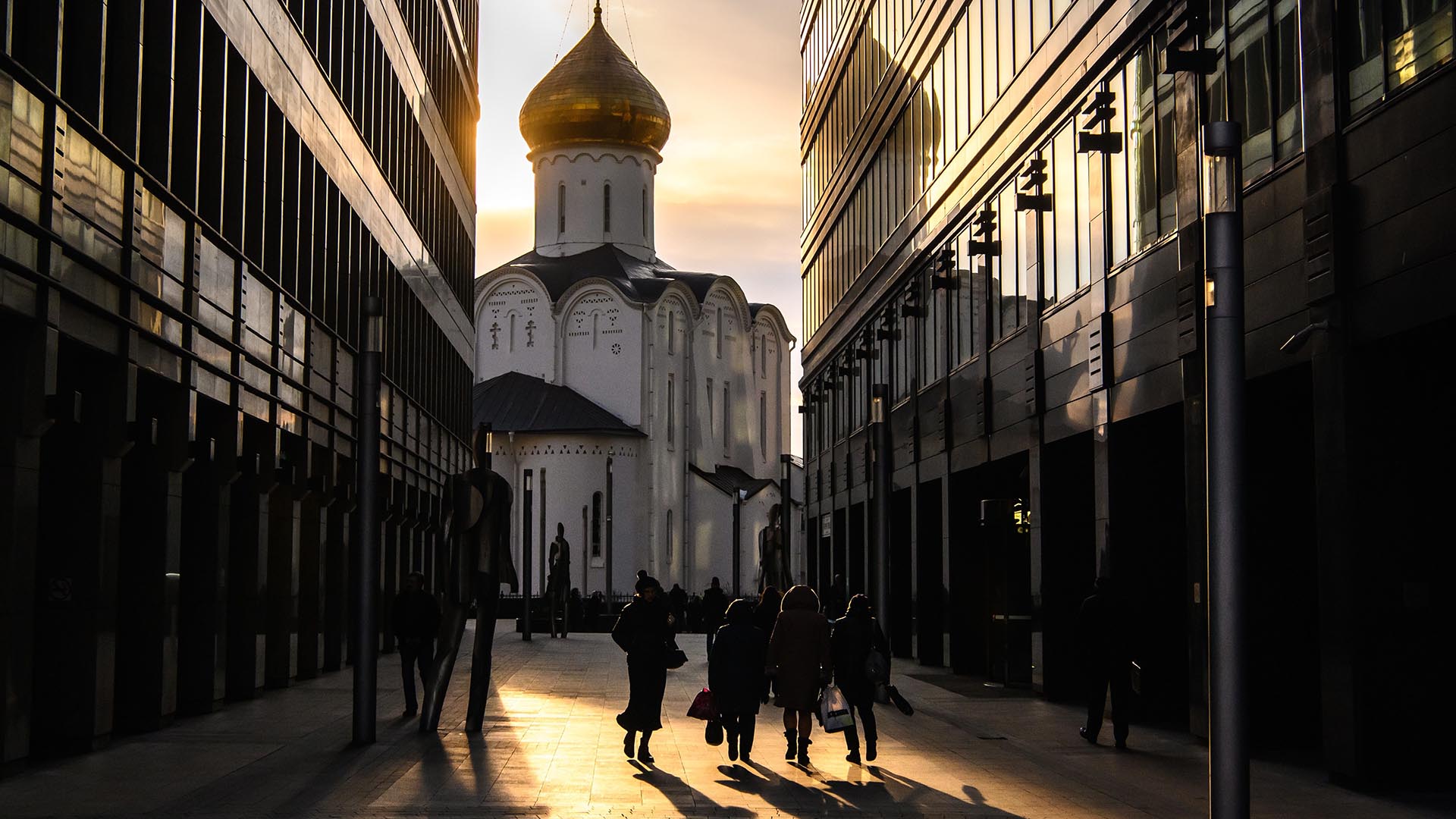 In the ruins of the former Soviet Union, legal giant Baker McKenzie found lucrative work for Russia's largest state-controlled companies. From energy titan Gazprom to banking behemoth VTB to Rostec, maker of Kalashnikov rifles and fighter jets, Baker McKenzie served President Vladimir Putin's business interests around the globe.
Now America's largest law firm says it is leaving Russia and dropping Russian clients in response to sweeping new sanctions aimed at weakening the country's war against Ukraine.
"Baker McKenzie will no longer have a presence in Russia. The offices and the people will transfer to an independent firm," spokesman John McGuinness said in an email to the International Consortium of Investigative Journalists today. "We are exiting relationships with all sanctioned Russian companies, and indeed will not act for any individuals or entities that are controlled by, or directly linked to, the Russian state and/or current regime, whether that work is in Russia or elsewhere in the world."
As part of the Pandora Papers investigation, ICIJ and its media papers revealed in October that Baker McKenzie had represented at least six sanctioned companies controlled by the Russian government.
ICIJ's investigation found that the Chicago-based law firm played a key role in creating the offshore economy, shaping financial laws, helping clients link up with offshore services providers and working with notorious fraudsters and autocratic regimes like Putin's, as well as major corporations.
With 4,700 lawyers in 46 countries and annual revenue of $3.1 billion, Baker McKenzie is among those prestigious international law firms rethinking relations with the Kremlin in light of Russia's invasion of Ukraine and the barrage of sanctions imposed by the United States and other Western governments.
More than a dozen major international law firms said in recent days that they are shutting their offices in Russia or winding down their Russia work after the invasion of Ukraine. They include Allen & Overy; Baker Botts; Clifford Chance; CMS; Debevoise & Plimpton; DLA Piper; Eversheds Sutherland; Freshfields; Gowling; Herbert Smith Freehills; Hogan Lovells; Latham & Watkins; Linklaters; Norton Rose Fulbright; and White & Case.
Although the United States allows lawyers to provide legal advice to sanctioned companies, Baker McKenzie and other law firms have come under mounting pressure to forgo Russia-related work and to sever relationships with entities linked to Putin.
"The high-profile pressure of global sanctions against Russia and some of the oligarchs combined with the overwhelming solidarity of the West has created a public relations nightmare for big Western law firms that have acted as gatekeepers\facilitators for big Russian money," said Timothy White, special adviser to AML RightSource, an anti-money-laundering consulting firm. "Firms that have profited greatly from facilitating transactions for the oligarchs in the past are now doing everything they can to disassociate with anything Russian."
The maneuvering to shutter offices and drop clients comes after more than three decades in which Western law firms helped safeguard and supercharge the wealth of many major state-controlled Russian companies.
The Pandora Papers and other leaked documents and public records show how prestigious U.K. and U.S. law firms have helped Russian oligarchs, their relatives and companies linked to them buy yachts and houses, settle personal and business disputes, navigate around sanction regimes, launch libel assaults against journalists, raise capital in Western markets and move money into and out of secret offshore deals.
Baker McKenzie's decision to spin off its offices in Moscow and St. Petersburg means that 260 people, including 130 lawyers, will now operate as "a new, independent firm, which will make its own decisions," spokesman McGuinness said.
In the statement posted on its website today, Baker McKenzie said: "We have made this difficult decision following ongoing consultation with our multinational clients, whose urgent on-the-ground legal needs we are serving, as well as careful consideration of the wellbeing of our many people in the wider region."
The law firm had long considered itself a "go-to firm for Russia's largest companies and major foreign investors," according to its website.
After Russia's invasion of Ukraine on Feb. 24, the firm said it planned to close its office in the Ukrainian capital, Kyiv, "until the situation stabilizes."
As of March 9, the law firm said on its website that it represented VTB, Gazprom and other Kremlin-linked firms. As of this morning, that text had been scrubbed.
In its statement today, Baker McKenzie also condemned the Russian invasion of Ukraine, saying it "stands in stark contrast to our values, the values of our clients and those of the wider global business community."
Baker McKenzie, which bills itself as "the original global law firm,'' was one of the first Western law firms to set up shop in Moscow in 1989, as the Soviet Union became more open to Western businesses. In 1993, two years after the fall of the Soviet Union, Baker McKenzie partners set up a subsidiary on the Isle of Guernsey and adopted the name Baker & McKenzie CIS to handle work in former Soviet Republics. Its name derives from the Commonwealth of Independent States formed in the wake of the Soviet collapse.
With one of the largest practices in the region, Baker McKenzie has had among its clients some of the largest Western companies operating in the former Soviet Union, including Ford Motor Co. and Carlsberg beer.
Reporting by ICIJ, the Organized Crime and Corruption Reporting Project and the IStories media outlet found that Baker McKenzie had won a dozen contracts with sanctioned Russian companies. They included six powerful state-controlled companies: military industrial conglomerate Rostec, energy giant Gazprom, and financial institutions Sberbank, VTB Bank, VEB.RF and Sviaz Bank, which is now Promsvyazbank.
The six companies were hit with Western sanctions after Russia annexed Crimea from Ukraine in 2014 and stepped up its support for pro-Russian separatists in Ukraine's Donbas region. Russia was slapped with additional Western sanctions because of its efforts to influence the 2016 and 2020 U.S. presidential elections, a 2020 cyberattack on federal agencies and the poisoning of a former Russian spy and a Russian opposition leader.
All six entities, along with several Putin allies tied to the companies, have been hit with new sanctions in response to Russia's invasion of Ukraine this year.
In one deal examined last year by ICIJ, Rostec, the most heavily sanctioned Russian firm, turned to Baker McKenzie in 2016 to sell its shares in a large copper mine to a shadowy business in Mongolia. The sale triggered a corruption probe of the then-Mongolian prime minister.
In selecting Baker McKenzie to help with the mine sale, Rostec said, it was looking for a law firm with "experience in advising Russian organizations that have been sanctioned … by the United States and the European Union."
Rostec manufactures a vast range of Russian military equipment, including fighter jets, helmet-mounted night-vision goggles, armored vehicles and Kalashnikov rifles. The company exported $13 billion worth of military equipment in 2020, according to the United Kingdom, which hit Rostec with new sanctions last month.
Rostec recently delivered to Russian troops a batch of the latest aerosol munitions — designed to protect rocket launchers, flamethrowers and other military hardware from precision-guided missiles. Photos and videos from the war in Ukraine show the company's newly refined Kalashnikov assault rifle known as the AK-12.

According to the Pandora Papers investigation, relatives of Rostec's chief executive, Sergei Chemezov, used offshore shell companies to hold a luxury villa and a superyacht, Valerie. Chemezov is an old KGB friend of Putin's and has served as a colonel general in Russia's armed forces.
U.S. and EU sanctions have targeted Chemezov and his relatives. On Monday, Spanish authorities ordered that the 85-meter-long yacht be held at the port of Barcelona.
In March 2018, Baker McKenzie won a contract from a unit of Russia's second largest state-owned bank, VTB, which had been operating under international sanctions since 2014. It was dubbed "Putin's piggy bank," after the Panama Papers, another ICIJ project, revealed that members of the Russian president's inner circle were moving vast sums of money offshore through a VTB subsidiary.
Baker McKenzie was hired to advise VTB on how to avoid running afoul of U.S. or EU sanctions in its funding of an airport project near St. Petersburg.
In 2016, Baker McKenzie offered tax advice to Gazprom, Russia's state-owned gas company. Now, a new round of sanctions and U.S. and U.K. bans on Russian oil imports are aimed at hobbling the energy giant.
And in June 2021, Baker McKenzie advised Russia's Ministry of Finance on a $1.8 billion bond deal.
Last year, some ethics experts asked whether the law firm's work for sanctioned Russian companies followed the letter but sidestepped the spirit of sanctions laws.
At the time, Baker McKenzie, citing client confidentiality, declined to answer specific questions about its contracts with sanctioned Russian companies. The law firm said it simply sought to offer clients the best legal advice on how to comply with trade sanctions.
"Everything we do at Baker McKenzie is underpinned by principles of integrity, transparency, professionalism and adherence to the highest standards of ethics," the firm said in a statement when ICIJ went public last October with its Pandora Papers reporting on the law firm. "We advise our clients on the law and to comply with the law in every jurisdiction in which they operate."
In the 20 days since Russia's invasion of Ukraine, the legal industry website Law.com and other trade publications have reported that about two dozen Western law firms are reviewing their Russia ties or pulling out of certain Russian relationships.
Influential law firms were quick to stop lobbying for sanctioned Russian banks. Chicago-based Sidley Austin, for example, severed ties to VTB, which had paid the firm $180,000 from late April to September 2021 to "provide a weekly policy memorandum explaining developments in U.S.-Russia relations," according to a recent Justice Department filing.
Sidley had been representing VTB since 2015 after the bank was hit by less severe sanctions. In October 2017, Sidley lobbyists met with a U.S. State Department official to discuss how the sanctions were limiting VTB's activities. Andrei Kostin, chairman of VTB and a close Putin associate, was at the meeting. Last week, after the U.S. launched a task force targeting the personal property of Russian oligarchs, Kostin's yacht, Sea Rhapsody, was allegedly spotted heading toward the Seychelles.
London-based Linklaters LLP, which has represented Gazprom, VTB, Sberbank and the Russian state-owned Rosneft oil company, became one of the first major law firms to announce that it was closing its Russia office. Its links to Russia first came under scrutiny in 2018, when a U.K. parliamentary committee criticized it for refusing to discuss its role in the London Stock Exchange's listing of Russian energy company En+ Group, owned by sanctioned industrial tycoon Oleg Deripaska. On March 4, Linklaters called Russia's attack on Ukraine "reprehensible."
"We will not act for individuals or entities that are controlled by, or under the influence of, the Russian state, or connected with the current Russian regime, wherever they are in the world," the law firm said.
In an internal memo obtained by Law.com, Skadden, Arps, Slate, Meagher & Flom said it was relocating Russian lawyers because of "anti-American sentiment."
Do you have a story about corruption, fraud, or abuse of power?
ICIJ accepts information about wrongdoing by corporate, government or public services around the world. We do our utmost to guarantee the confidentiality of our sources.
LEAK TO ICIJ
The storied New York law firm's Russian ties came under scrutiny during the U.S. investigation into Russian interference in the 2016 election led by special counsel Robert Mueller from 2017 to 2019. Skadden agreed to pay more than $4.6 million to settle allegations that it misled U.S. authorities about its work for a Russia-aligned Ukrainian government.
The firm has also represented at least two oligarchs close to Putin: Mikhail Fridman, the Ukrainian-born billionaire and co-founder of Alfa Group, and Roman Abramovich, the Russian billionaire owner of the Chelsea soccer club in the U.K.
Skadden did not respond to ICIJ's requests for comment, but a spokeswoman told the New York Times that the firm was "in the process of ending our representations of Alfa Bank." London's Financial News reported that Skadden cut ties to the soccer club and Abramovich just before the U.K. hit the oligarch with sanctions.
U.K. law firm Mishcon de Reya struck a more nuanced tone. "Whilst we do not act for any Russian sanctioned entities and/or individuals and/or or anybody connected to President Putin and/or his government, we do not discriminate against clients — Russian or otherwise — based on their nationality or anything else," a spokeswoman said in an email to ICIJ.
Mishcon de Reya has advised Russians through a VIP Russia service that includes "reputation protection," wealth structuring and asset protection. (The firm marketed the initiative on a webpage that has been removed "because we considered it to be distasteful given the current geo-political situation," the spokeswoman said.) The Pandora Papers show, for example, that a Mishcon de Reya lawyer helped Russian politician Alexei Chepa use a company in the British Virgin Islands to acquire a 10-bedroom mansion in Holland Park, London, in 2011.
In January, U.K. regulators hit Mishcon de Reya with a record $315,000 fine for violating anti-money-laundering rules. The firm said the settlement did not involve Russian clients and was unrelated to the Russian state.