COLLABORATION
About the China Cables Investigation
China Cables is an investigation into the surveillance and mass internment without charge or trial of Uighurs and other Muslim minorities in China's Xinjiang province, based on leaked classified Chinese government documents.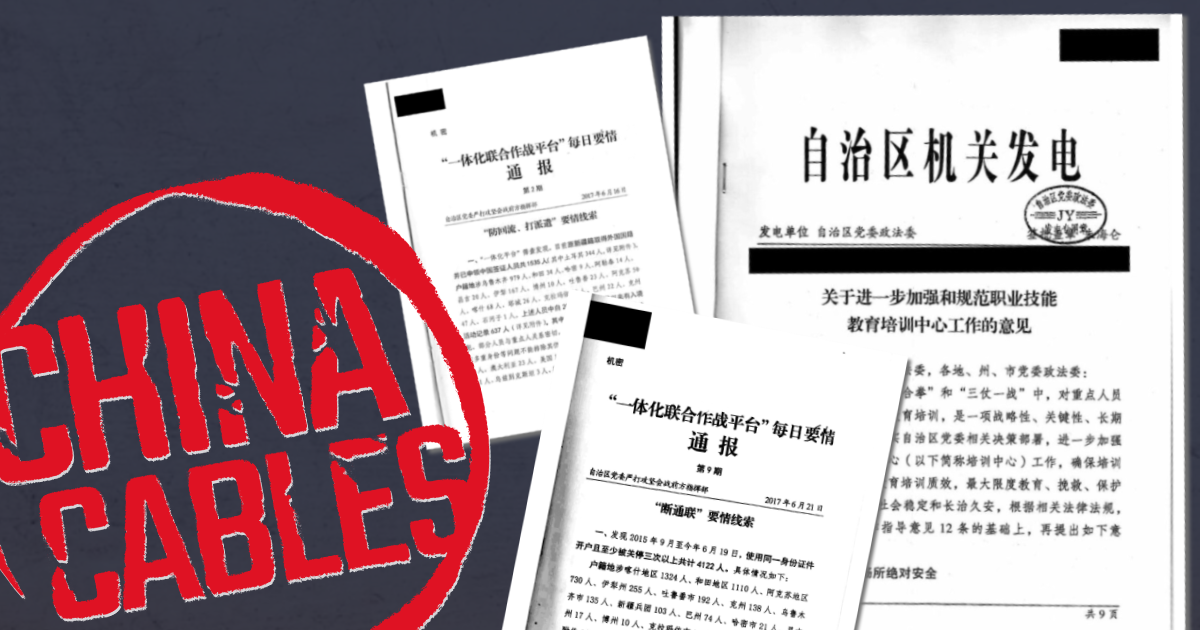 China Cables is an investigation into the surveillance and mass internment without charge or trial of Uighurs and other Muslim minorities in China's Xinjiang province, based on leaked classified Chinese government documents.
The investigation provides — in the government's own words and authoritative detail — a description of China's extrajudicial internment and compulsory indoctrination of Muslims as part of a sweeping program of mass surveillance and population control.
Led by the International Consortium of Investigative Journalists, the investigation lays out details of what Western governments have called one of the greatest human-rights catastrophes of modern times, one previously known largely through former detainees' accounts, satellite photographs and chaperoned tours of select camps.
The classified documents confirm that, despite Beijing's protestations to the contrary, the camps are involuntary indoctrination centers under heavy 24-hour guard — with high watchtowers, internal cameras and dedicated police bases.
The documents reveal key details of a mass-surveillance system that Chinese authorities use to control even routine behavior, curb internal communication and isolate Xinjiang from the rest of the world.
More than 75 journalists from ICIJ and 17 media partner organizations in 14 countries joined together to report on the documents and their significance. They spoke with more than 40 Uighurs in 10 countries, including Kazakhstan, Turkey, Germany, Sweden, Canada, Japan, Korea, the Netherlands and the United States of America, and numerous experts.
The secret documents came to ICIJ via a chain of exiled Uighurs. Adrian Zenz, a German academic and authority on the region and the camps, says the classification of the longest document, a telegram from 2017, denotes that it contains "important national secrets whose divulgence will cause severe harm to the nation's security and interests."
Linguists, document and Xinjiang experts, including Zenz, who reviewed the documents have expressed confidence in their authenticity. Former detainees have also corroborated their contents.
In a written response to questions from ICIJ media partner The Guardian regarding the China Cables, the Chinese Embassy in the UK said the "so-called documents are pure fabrication and fake news." The statement said: "First, there are no so-called 'detention camps' in Xinjiang. Vocational education and training centres have been established for the prevention of terrorism."
It added: "The preventative measures have nothing to do with religious groups. Religious freedom is fully respected in Xinjiang … (The) trainees take various courses at the vocational education and training centres, and the personal freedom of the trainees is fully guaranteed."
The camps are one facet of what the Chinese government calls a strategy to promote social stability. In authoritarian double-speak, detainees are called "students" and the camps are called "education centers," from which students "graduate." Zenz says official Xinjiang government websites often describe the camps as places to "wash brains, cleanse hearts."
The leaked documents describe mass detention in chilling bureaucratic prose, blandly noting, for instance, that exactly 15,683 people were "sent to education and training" in southern Xinjiang in a single week in June 2017.
It is probably the largest incarceration of ethno-religious minorities since the Holocaust – Adrian Zenz
A UN human rights committee has heard there are credible reports that China is holding a million Uighurs in "counter-extremism centers." Uighurs are the fourth largest minority in China, and they number nearly 11 million in Xinjiang.
Human rights organizations and the U.S. government, who say the total number of detainees could be much higher, have urged China to stop the crackdown on Uighurs, Kazakhs and other Muslim minorities. "China's detention drive in Xinjiang is, most likely, the country's most intense campaign of coercive social re-engineering since the end of the Cultural Revolution," Zenz says.
"The documents reveal in the words of China's own security officials that its 'war on terror' in the region is an intelligence and extra-judicial internment war on religion, ethnic languages and free movement," Zenz says. "It is probably the largest incarceration of ethno-religious minorities since the Holocaust."
One of the classified documents makes clear Beijing's emphasis on maintaining secrecy: "Relevant important data should not be aggregated, not be disseminated, and not be open to the outside."
A remote mountainous region in China's northwest, and four times the size of California, Xinjiang is nominally autonomous, but religious oppression and restricted movement have long been part of life there. Separatist unrest and violence have been exacerbated by rising immigration of Han Chinese to the region, and Chinese President Xi Jinping declared an official "war on terror" in 2014.
The Chinese government has portrayed the mass-internment program in two ways, sometimes calling it a voluntary vocational education program, other times a measure to prevent violent extremism.
The documents, are:
A 2017 telegram from the Communist Party commission in charge of Xinjiang's security apparatus. The telegram, written in Chinese, provides direction on how the camps should be run. To prevent escapes, for instance, it prescribes round-the-clock video surveillance free of blind spots and double-locking dormitory doors. "Students" are required to take frequent Mandarin tests. They are forbidden to have cell phones or to work outside the camps. They are not allowed to have contact with the outside world that is not part of authorized activities.
Four "bulletins," written in Chinese, from the Integrated Joint Operation Platform, a centralized data collection system that according to Human Rights Watch flags people as potential threats by trawling such things as ID cards, facial-recognition images and car license plates. The bulletins – for the first time – lay out the connection between mass surveillance and the Xinjiang camps in the Chinese government's own words. These are also from 2017.
A court document, from 2018, that describes the sentencing of a Uighur man to 10 years for such ideological "crimes" as telling co-workers "not to say dirty words" or watch pornography — lest they would become "non-believers." Written in the Uighur language, not Chinese, it is not classified, but it is a type of document rarely seen. It is an example of how China imprisons Uighurs for bogus offenses under the umbrella of "incitement of ethnic hatred crimes."
Together, the documents not only confirm that the Chinese government is repressing an entire ethnic group but also detail how it is doing so.
They substantiate and go beyond eyewitness testimony about the Xinjiang camps.
The ICIJ Team
Director: Gerard Ryle
Project manager: Fergus Shiel
Project editor: Dean Starkman
Lead reporter: Bethany Allen-Ebrahimian
Reporters: Scilla Alecci, Sasha Chavkin
Data editor: Emilia Díaz-Struck
Online editor: Hamish Boland-Rudder
Community engagement editor: Amy Wilson-Chapman
Web developer: Antonio Cucho Gamboa
Associate editor and fact checker: Richard H.P. Sia
Copy editor: Joe Hillhouse
Editor: Tom Stites
Video reporter: Scilla Alecci
Chief technology officer: Pierre Romera
Technology team: Ashlee Guevara, Soline Ledésert, Bruno Thomas, Anne L'Hôte, Madeline O'Leary
Social media: Mandie Garcia
Training manager: Jelena Cosic
Illustrator: Ricardo Weibezahn
Director of Strategic Initiatives and Network: Marina Walker Guevara
Reporters & Editors
Ariel Bogle (Australia)
Alice Brennan (Australia)
Echo Hui (Australia)
Stephen Hutcheon (Australia)
Benjamin Sveen (Australia)
Dylan Welch (Australia)
Adrienne Arsenault (Canada)
Paul Émile d'Entremont (Canada)
Adam Miller (Canada)
Anand Ram (Canada)
Jim Williamson (Canada)
Frédéric Zalac (Canada)
Chris Buckley (China)
Austin Ramzy (China)
Brice Pedroletti (France)
Cécile Prieur (France)
Harold Thibault (France)
Christine Adelhardt (Germany)
Philipp Eckstein (Germany)
Gabor Halasz (Germany)
Frederik Obermaier (Germany)
Bastian Obermayer (Germany)
Jan Strozyk (Germany)
Benedikt Strunz (Germany)
Colm Keena (Ireland)
John McManus (Ireland)
Uri Blau (Israel)
Yasuomi Sawa (Japan)
Nina Selbo Torset (Norway)
Yongjin Kim (South Korea)
Lucía Abellán (Spain)
Daniele Grasso (Spain)
Oscar Gutiérrez Garido (Spain)
Fredrik Laurin (Sweden)
Tilde Lewin (Sweden)
Richard Bilton (United Kingdom)
Richard Cookson (United Kingdom)
Juliette Garside (United Kingdom)
Emma Graham-Harrison (United Kingdom)
Andrew Head (United Kingdom)
Maurice May (United Kingdom)
Jennifer Ngo (United Kingdom)
James Oliver (United Kingdom)
Kenzi Abou-Sabe (USA)
Robert Dembo (USA)
Shahrzad Elghanayan (USA)
Richard Greenberg (USA)
Chris Hulme (USA)
Andrew Lehren (USA)
Didi Martinez (USA)
Marjorie Miller (USA)
Mary Rajkumar (USA)
Rich Schapiro (USA)
Kate Snow (USA)
Kara Stevick (USA)
Robert Windrem (USA)
Jiachuan Wu (USA)
ICIJ collaborated with 17 media organizations from 14 countries on China Cables.