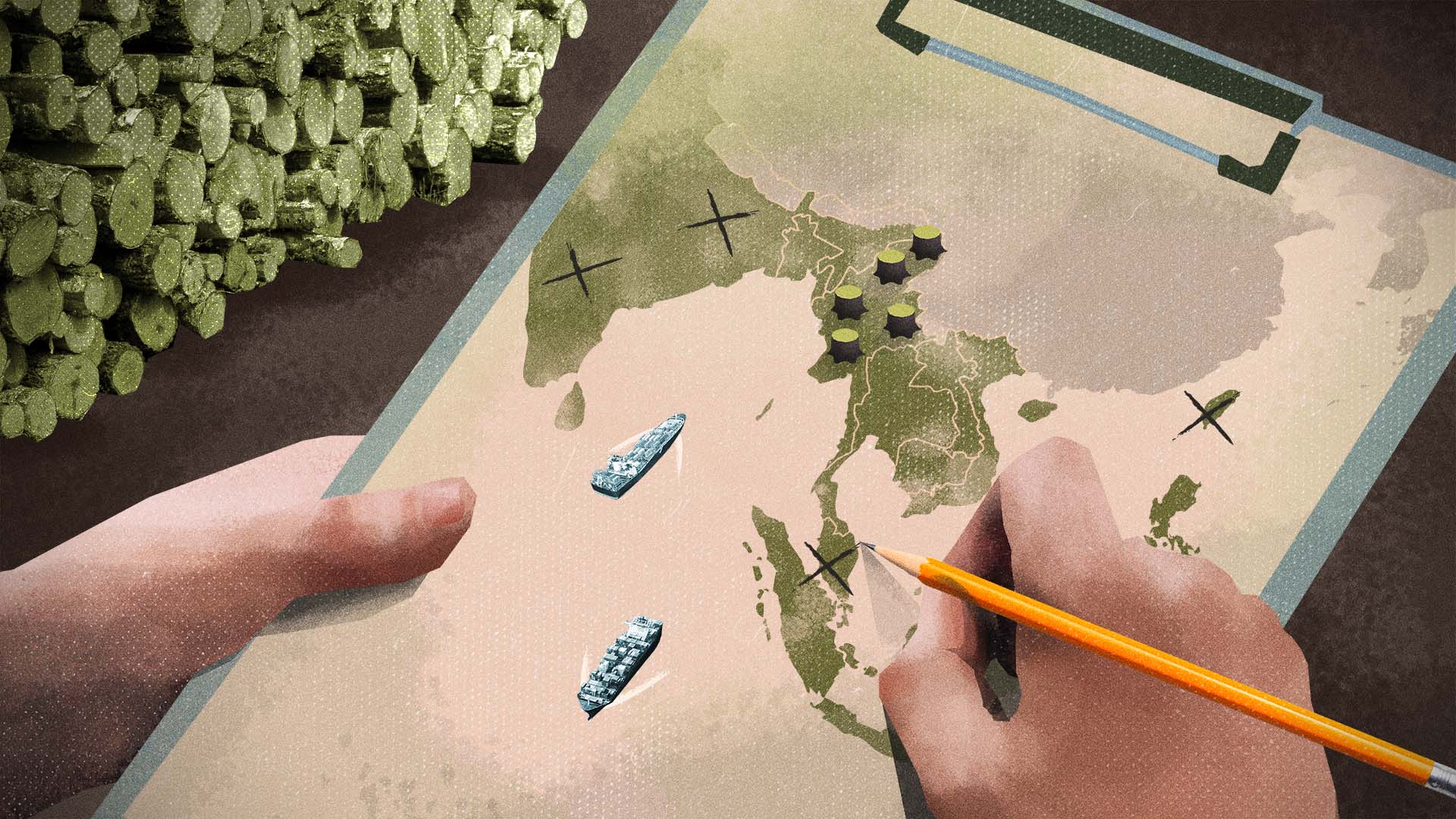 CONFLICT WOOD
Western firms certified as socially responsible trade in Myanmar teak linked to the military regime
Records show how environmental certification firms and middlemen legitimize deals that start with Myanmar's brutal junta and end as yacht decks.
In the summer of 2021, as Myanmar's military junta pressed a bloody campaign against its pro-democracy opponents, a 220-year-old U.S. lumber company that boasts of its commitment to responsible forestry quietly struck a deal with a subsidiary of a timber-processing firm with links to the junta.
Maryland-based J. Gibson McIlvain Co., a high-end dealer that has provided wood to such institutions as the White House and Yankee Stadium, bought about $100,000 worth of teak boards from Win Enterprise Ltd., according to leaked records from Myanmar's tax agency.
The teak shipment was one of at least two that took place in 2021 and 2022, after both the United States and the European Union had imposed sanctions on Myanmar's monopoly teak producer in response to a military coup that toppled a democratically elected government.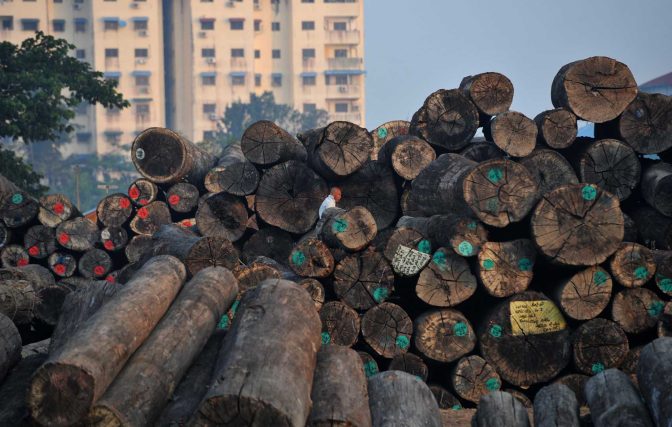 While Win Enterprise was not under sanctions, it was listed at the time on the state monopoly's website as a unit of the Forest Products Joint  Venture Corp. Ltd. (FPJV), a timber firm majority-owned by the state monopoly and a state agency. Win Enterprise, which shared a director with FPJV, says the listing was a mistake.
On its website, J. Gibson McIlvain claims to have "total quality control throughout the entire supply chain from the forest anywhere in the world." It also prominently displays a green "responsible forestry" logo issued by the Forest Stewardship Council, which verifies the chain of custody of forest products through third-party auditing firms. Also known as FSC, the nonprofit council, based in Bonn, Germany, is a leader in a voluntary, fee-based certification industry whose tree-festooned label attests that the products aren't connected to deforestation, illegal logging or human rights abuses.
Myanmar teak is prized by luxury yacht and high-end furniture makers worldwide. The wood is so dense and weather-resistant that some call it the "king of woods."
It's also a vital revenue source for Myanmar's regime. Local news organizations have reported that military forces have seized illegally logged timber and auctioned it off to finance their operations, including widely condemned human rights abuses and environmental crimes.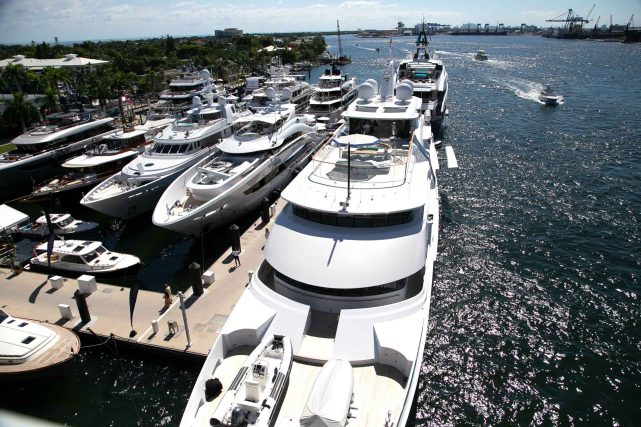 Deforestation Inc., a cross-border investigation led by the International Consortium of Investigative Journalists (ICIJ), shines a light on the roles of intermediaries like Win Enterprise and certification organizations such as FSC in the widely condemned trade in Myanmar teak. The investigation  also exposes broader flaws in the global system meant to prevent deforestation and combat climate change. Conducted with 39 media partners, the probe shows how environmental auditors and so-called certification firms have given their seal of approval to products linked to deforestation, logging activities in conflict zones and other abuses to enter markets all over the world.
The inquiry into Myanmar's continued teak trade is based on leaked files from Myanmar's tax agency, publicly available trade data and interviews with teak traders in 11 countries. The confidential files ー most from 2021 and 2022 ー were shared with ICIJ by Justice for Myanmar, a human rights group, U.K.-based news outlet Finance Uncovered and Distributed Denial of Secrets, a data transparency group.
ICIJ's investigation found at least 10 teak traders and retailers besides J. Gibson McIlvain holding green certifications while buying from Myanmar suppliers. These certification displays continued after some European authorities began restricting the import of Myanmar wood in 2017 and after the EU and the U.S. imposed sanctions in 2021; the sanctions prompted certification companies to stop allowing the use of their logos on Myanmar wood or by the country's forest programs.
Among the traders and retailers: a Florida firm that manufactures decks for yachts and a New Zealand timber trader that supplies wood to architects.
In response to ICIJ's queries, FSC said it is investigating teak supply chains bearing its certificates.
ICIJ also found that some EU member states simply don't enforce the EU's trade restrictions, put in place in response to concerns about illegal logging. An Italian firm has continued to supply Myanmar teak by the ton to shipbuilders in other member states even after EU experts declared invalid any certifications of Myanmar teak because of unreliable record-keeping in the junta-controlled business, ICIJ found.
The upshot: a brutal military regime raises cash through dealings with Myanmar teak traders, and Western firms continue to market themselves as "sustainable" while selling high-end furniture and yachts made with Myanmar teak.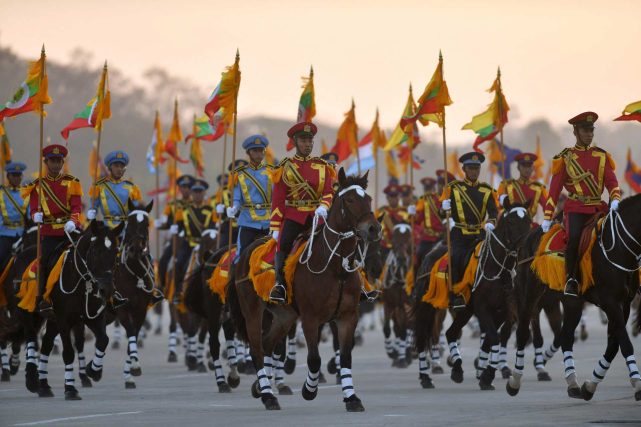 "Forest exploitation is still going on in areas where there are more high-value commercial species like teak," said Win Myo Thu, a environmentalist and forestry expert from Myanmar who assisted the ousted democratic government as a forestry consultant.
Meanwhile, he said, the military regime is using teak profits "to crush democratic forces."
A devastating effect
Myanmar's rich natural resources – oil, gas, gold and tropical hardwoods, like teak – have been an important economic engine, and source of conflict, throughout the country's history, including during a long period largely under military rule since 1962.
The state-owned Myanma Timber Enterprise, or MTE, has a monopoly over the country's timber production and trade. It contracts with logging companies, including some controlled by the military, which harvest timber for sale to neighboring China and Thailand and many countries beyond.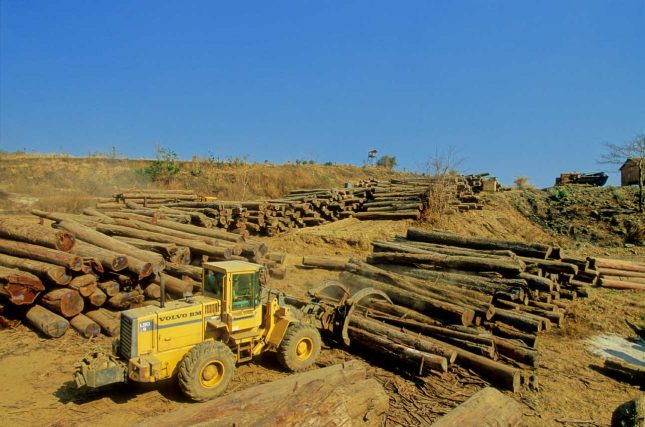 The logging companies especially exploit remote forests out of the reach of environmental watchdogs. The MTE pays the government a royalty for the logs, which it sells at auction to traders, including some owned by politically connected oligarchs.
Logging, under both military and civilian governments, has had a devastating effect on the country's forests. Myanmar has lost tree cover in an area roughly the size of Switzerland since 2001, according to data from Global Forest Watch.
The situation began to shift after an army-backed civilian government took power in 2011, followed by a government led by Aung San Suu Kyi, a Nobel Peace Prize laureate, whose National League for Democracy party won a landslide victory in 2015 elections. To help draw up standards and regulations, a government forestry agency turned to the international environmental certifications industry.
In 2017, the Myanmar Forest Certification Committee partnered with the Geneva-based Programme for the Endorsement of Forest Certification (PEFC) to establish sustainable forest management standards and create a certification process. PEFC helped train auditors in classrooms and in forests until 2020, Thorsten Arndt, the organization's head of communications, told ICIJ.
Local news organizations report that military forces have seized illegally logged timber and auctioned it off to finance their operations, including widely condemned human rights abuses and environmental crimes.
The forest certification movement, including such organizations as PEFC and FSC, emerged in the 1990s and was designed to ensure that consumer products are sourced according to strict, yet voluntary, environmental and human rights standards. Certification organizations don't vet products themselves. They accredit dozens of third-party auditing firms to check timber companies' forestry practices and follow the wood's chain of custody from forest to store shelves or boat showrooms.
Critics have long alleged that the voluntary, fee-based model of forestry regulation was riddled with conflicts of interest, too industry-friendly and ineffective. Defenders say voluntary certification is better than the alternative – relying on governments like those in Brazil and Indonesia, where forest protection is notoriously weak.
Products' dubious journeys
While FSC and PEFC ceased endorsements of Myanmar teak after the 2021 coup, one company has not: Double Helix Tracking Technologies Pte Ltd., a self-styled "verification firm" based in Singapore that helps clients establish that the teak they buy was logged according to Myanmar law.
Founded in 2008, the firm became one of four accredited by the Myanmar Forest Certification Committee to audit forest product manufacturers and traders and certify their compliance with local forestry standards.
In an interview with ICIJ, the firm's co-founder and chief executive, Darren Thomas, said Double Helix was created to help clients conduct due diligence on supply chains based on "the ability to trace products back to points of origin."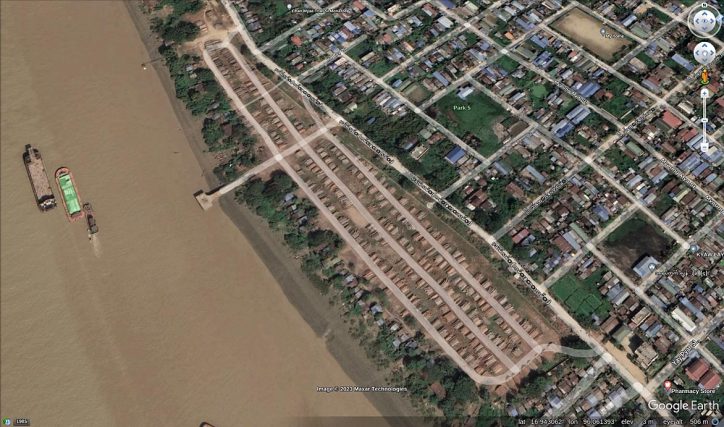 The firm relies on information provided by Myanmar's forestry authorities to verify certificates, licensing agreements and other paperwork that document when and how trees are logged, transported and approved for export. Since the 2021 coup, Thomas said, the number of clients has decreased and the firm focuses on determining whether the teak its clients trade was logged before the sanctions and therefore not linked to the military government.
But experts say conditions in Myanmar are so chaotic that verifying forestry practices is not possible – and that the timber trade, in any event, benefits the junta.
Win Myo Thu, the environmentalist who accompanied Myanmar forestry officials on inspection tours while advising the democratic government in 2018, said that even before the coup, the government's fragile hold on power in remote areas made effective forest governance virtually impossible.
He said during his inspections he found "huge discrepancies" between data provided by the officials and the reality on the ground. Sometimes, the source of timber couldn't be verified. On other occasions, government agencies lacked accurate data on either inventories of logs or the remaining standing trees.
In a 2019 report citing findings of Win Myo Thu's organization, Advancing Life and Regenerating Motherland, and other research, U.N. and EU observers wrote that some identifying marking on logs were so poorly applied as to make it difficult to trace their source, while some stumps had no markings at all, leading to the conclusion that "some timbers are being extracted illegally."
Given the government's shortcomings, Win Myo Thu said he doubted that Double Helix – or anyone – could reliably verify the legality of logging practices in Myanmar.
European regulators would agree.
In 2020, following a series of European court rulings, an expert panel of European officials concluded after extensive study that information provided by Myanmar's authorities "could not be verified," making Double Helix's attestations unreliable. The panel, known as the Multi-Stakeholder Platform on Protecting and Restoring the World's Forests, found that Double Helix's methods couldn't "reliably exclude that the timber tested was harvested from within or outside specific forest harvesting or conflict areas."
Despite the findings, Myanmar-based companies and teak traders from countries that haven't sanctioned businesses linked to the junta, including India and Singapore, use Double Helix certification to vouch for the source's sustainability. In the U.S. and some European countries, so do firms that claim to have bought the teak before sanctions were imposed.
Double Helix CEO Thomas stands by his firm's methodology and conclusions.
The EU authorities' "position is that it is impossible to conduct due diligence in Myanmar, and it's impossible because the entire system is corrupt. So it doesn't matter what piece of documentation you have, you cannot trust it," Thomas said. "I completely disagree with that."
He added that pulling out of Myanmar would hurt ordinary forestry and mill workers. "I have no interest or support for the current Myanmar military government, but do support the Myanmar people who have to put up with the current crisis with no international support," he said. "I see no point in attacking or removing another source of economic income for private enterprise and factory workers who are already struggling to survive."
Toothless sanctions
On Feb. 1, 2021, military forces stormed the residences of top Myanmar political leaders in a predawn raid, declaring a state of emergency.  The military arrested senior officials, including Aung San Suu Kyi, who had won a landslide victory only a few months before. In the days and weeks after the coup, thousands protested this violent seizure of power. The military responded by shooting into crowds and jailing hundreds. An ensuing civil war has since claimed nearly 3,000 lives and displaced 1.4 million people, according to human rights groups.
The international community almost universally condemned the coup, with the United Nations' special rapporteur for Myanmar, calling it an "outrageous, unacceptable action by the military" and a blow to democracy.
The EU and the U.K., the U.S. and other countries in 2021 issued sanctions against MTE, Myanmar's state-owned timber monopoly. All transactions with the company were forbidden. The U.S. Treasury, which still refers to Myanmar as Burma, called MTE a key economic resource for a military regime that was "responsible for the ongoing violent and lethal attacks against the people of Burma, including the killing of children." Several Myanmar leaders and businesses were also sanctioned.
Today, generals control major ministries and entire economic sectors, including the forestry industry.
Since the coup, environmental groups have observed a surge in illegal logging as the army has turned to timber sales as a way to get hard currency. The junta also arrested environmental activists – and their families – to deter observers from monitoring the illegal practices. Deforestation in Myanmar could become one of the worst environmental hazards in the world's conflict zones, according to the Conflict and Environment Observatory.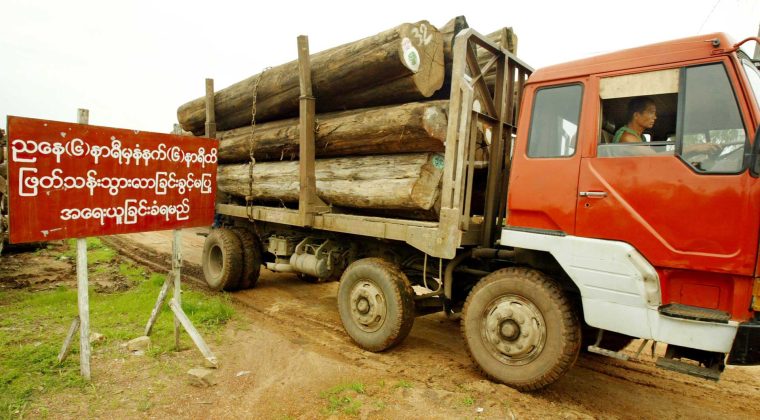 Among Myanmar's timber companies, only the MTE and its majority-owned subsidiaries were sanctioned by the U.S., and the EU added only a few junta-linked timber firms to the list.
Reports by environmental and human rights groups say Western governments efforts have done little to stop the trade in natural resources from Myanmar  since buyers can simply obtain Myanmar products through intermediaries.
In response to questions from ICIJ and its media partners, a European Commission spokesperson said in an email that "[t]imber imports from Myanmar are a problem which the Member States' experts have discussed for a long time," adding that the "Commission is continuously monitoring the situation and has an active dialogue with [member states] where challenges are encountered," including "challenges of enforcement."
In a 2022 report, Myanmar's military government said it had earned more than $106 million from exporting timber products in less than a year. According to EU and U.N. data reviewed by ICIJ, companies based in Europe and the U.S. were responsible for importing more than $47 million worth of Myanmar timber products in 2022.
And often, trade in Myanmar teak is done by firms bearing FSC, PEFC and other green certifications.
Teak by the ton
On a scorching sunny day last October, thousands of people flocked to the Fort Lauderdale International Boat Show in Southern Florida to admire the latest multimillion-dollar motor yachts and speedy yacht tenders or to look for a sturdy "fighting chair" for a fishing boat.
Many of the vessels, large and small, had this in common: decks, furniture or cockpits made of teak.
In interviews at the boat show, sales representatives said their companies had stopped buying Myanmar teak.
"It's got a stigma," said Alan Brosilow, a representative for Teakdecking Systems, a yacht deck manufacturer based in Sarasota, Florida. But, he added, "we haven't found anything as good."
Brosilow told ICIJ that his firm nonetheless was shifting to wood from plantations in Thailand and to synthetic teak.
Standing next to a teak board and cleaning products for teak decks, Brosilow also said the company bought a one-year supply of Myanmar teak before the sanctions were put in place and relied on Double Helix certification to make sure the timber had been legally sourced.
In June 2022, Teakdecking Systems announced on its Facebook page that it had imported its first load of "yacht quality teak harvested outside the political boundaries of Myanmar." The company added that "most of these loads will come from FSC-certified sources."
And yet, U.S. trade data show that the company bought teak originating in Myanmar after sanctions and until at least July 2022. The sellers included a Myanmar-based exporter and a Singapore teak trader that were sanctioned by the EU from 2007 to 2013 for their alleged role in financing the military regime. The sellers were not included in the latest round of sanctions.
Teakdecking Systems also bought from Akanksha Enterprises, an Indian manufacturer and exporter of teak products.  According to allegations made by German prosecutors against a Hamburg-based importer, in 2010 and 2011, Akanksha used counterfeit permits to ship nearly $400,000 worth of products, including Myanmar teak. The phony permits helped the importer evade European regulations, court records say.
In 2021, the German importer's managing director was sentenced to 21 months probation and his company was ordered to pay $4 million. The executive and the company are appealing the verdict. The German authorities did not investigate Akanksha. One of its executives, Ashok Kela, said in an interview with the Indian Express newspaper that the company now sells Myanmar teak only to the Indian industry. Kela also said the company does "not have any knowledge" of the German prosecution "since we were not a party to that litigation."
Teakdecking Systems did not respond to ICIJ's detailed questions about its imports of teak after the sanctions. In emailed statements to The Miami Herald, the company's marketing director, Anella Alcott, said that "[a]ll purchased wood was procured from certified suppliers with a documented legal right to harvest and a verifiable chain of custody."
Another company that has bought Myanmar teak while claiming green credentials is Global Dynamics Capital LLC, in West Palm Beach, Fla. The company supplies timber products to boat builders, architects and contractors in the U.S. and Caribbean, and it says on its website that it is "committed to sustainability, environmental protection and due-diligence on the legal and transparent sourcing of teak." Global Dynamics, which does business under the name Florida Teak, also says that "due to sanctions and the changing environment of the teak trade, Myanmar teak will not be available in the near future."
But U.S. trade records show that, after sanctions were imposed on Myanmar, Global Dynamics imported more than 300 tons of teak for yacht decks, and boards from five Asian companies.The suppliers included a Myanmar firm and Taiwan Traine Timber Corp., a Taiwanese trader. Taiwan Traine's manager, Albert Chien, told ICIJ's reporting partners in Taipei that his firm had bought the teak from a supplier in Myanmar before the sanctions were imposed and resold it to the Florida-based firm. None of the suppliers were subject to sanctions.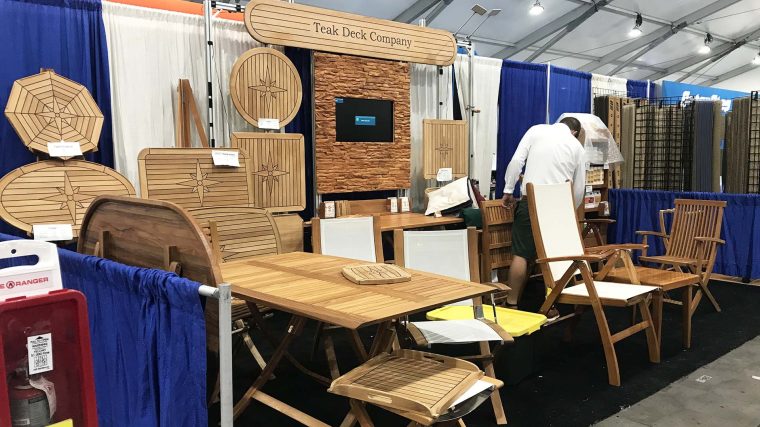 Global Dynamics' owner Peter Kajanoja did not respond to specific questions from ICIJ. He did, however, tell The Miami Herald that the company is "committed to legality and always [has] been, beyond required documentation even before current requirements, including on our imports from Burma," and referred to Double Helix as the verification firm his company relies on to prove compliance with the law.
Gibson McIlvain, the Maryland wood supplier to the White House and Yankee Stadium, has bought at least 39 tons of teak scantlings from Win Enterprise since mid-2021, according to leaked records from Myanmar's tax agency and U.S. trade data.
Responding to questions from ICIJ, Win Enterprise denied any connection to the sanctioned Forest Products Joint Venture (FPJV), which is majority-owned by the state monopoly, MTE, and Myanmar's Forest Department.
An MTE website recently removed Win Enterprise from a list of FPJV  subsidiaries after ICIJ raised questions about the link between the two firms. Min Thaw Kaung, a shareholder of Win Enterprise, was appointed director of Forest Products Joint Venture in July 2021, about six months after the coup, according to corporate records from Myanmar's registry.
In an email, Min Thaw Kaung said he resigned from FPJV in September 2021. "I have not been totally involved with MTE and FJV since then," he wrote.
Gibson McIlvain did not respond to repeated requests for comment from ICIJ and The Miami Herald.
Last month, James O'Brien, who heads the State Department's Office of Sanctions Coordination, and other government advisers met with U.S. teak and timber traders to discuss the implementation of sanctions against MTE. In a statement to the Miami Herald, a State Department spokesperson said   participants also discussed "broader due-diligence standards that can help ensure that companies' activities do not provide revenue to the military regime in Burma and other malign actors."
Ties to a Myanmar oligarch
In late 2021, another international timber trade made a deal with a Myanmar firm with ties to the junta.
Leaked records viewed by ICIJ show that BBS Timbers Ltd., a timber trader north of Auckland, New Zealand, bought through an intermediary about $106,000 worth of teak products from Htoo Trading Co. Ltd., a firm owned by a Myanmar tycoon.
On its website, BBS Timbers says that "for peace of mind for both our company and our customers," it buys timber from "well managed forests."In its marketing materials the company displays both the FSC and the PEFC labels.  At the time of the 2021 transaction, both the Htoo Group and its owner, Tay Za, had been blacklisted by the U.K. for providing "support for serious human rights violations" by "assisting the military to procure arms." The United States and the EU would later impose their own sanctions.
New Zealand has not sanctioned Myanmar timber firms.
BBS Timbers's managing director Paul Wickham told the New Zealand Herald, an ICIJ partner, that he bought the teak through a reputable intermediary shortly after the coup and believed it likely that the wood had been logged beforehand. Wickham said he wasn't aware of the allegations against the Myanmar supplier. He added that his company no longer buys Myanmar teak.
"If you were to go and buy Burmese teak now, you would know absolutely – one hundred percent – it's not right. And that's why we haven't been buying any teak since," Wickham said.
Htoo Trading did not respond to comment requests from ICIJ.
FSC's Director General Kim Carstensen told ICIJ in an interview that the organization is investigating whether some teak traders are using its label in violation of FSC policies and is "overall looking into the teak supply chains around the world."
In agreeing to certify a company's products, FSC requires that all members of a corporate group refrain from any association with products and practices linked to illegal logging, human rights violations or other abuses. Violators "can be held accountable," including by revocation of the certificate, FSC says.
An FSC spokesperson added that "ineligible products sold as FSC-certified with FSC claims on their sales documents, intentionally, are considered deliberate false claims that constitute fraud."
PEFC did not respond to specific questions about the use of its logo by teak traders. Arndt, PEFC's head of communications, said in an emailed response that the organization relies on third-party certification bodies to verify that a forest owner or a supply-chain company meet "all PEFC requirements."
A trade hub in Europe
Despite EU authorities' findings that Myanmar teak's origins can't reliably be traced, industry insiders and experts say those findings aren't binding on individual member states. Some still allow Myanmar timber imports and accept some forms of documentation that purport to show the imported teak was harvested before the 2021 sanctions were put in place.
Italy has emerged as a hub of the teak trade in Europe. Italian yacht-deck manufacturers and timber traders import teak products from Myanmar via  intermediaries and then export them to clients in other European countries.
Leaked files from Myanmar's tax agency show that Comilegno Srl., an Italian wood-product manufacturer, in the last two years bought more than 80 tons of teak scantling and boards from Win Enterprise, the Yangon-based trader that also supplied Maryland's J. Gibson McIlvain.
Do you have a story about corruption, fraud, or abuse of power?
ICIJ accepts information about wrongdoing by corporate, government or public services around the world. We do our utmost to guarantee the confidentiality of our sources.
LEAK TO ICIJ
Despite those purchases, Comilegno, based in the northeastern Italian town of Teor, obtained FSC certification for some teak products based on the findings of an Italian auditor. The audit firm, CSQA, had identified Comilegno's products as made from "tectona grandis," the scientific term for "teak" and in March 2022, certified the company's products as compliant with FSC standards for responsible forestry.
FSC data includes certification of Comilegno's products, but doesn't say where the teak was harvested. The company's chief executive, Fabrizia Comisso, said the origin of the certified teak products is not Myanmar, but "other countries." CSQA did not respond to questions from ICIJ.
The FSC spokesperson said that the organization "has not yet received any concrete evidence that Comilegno Srl. imports teak from Myanmar."
Records obtained by ICIJ's Dutch partner, NRC, show that in April 2022 Comilegno received another shipment from Win Enterprise: a container of  teak scantling and board. Shortly afterwards, the Italian firm sold some of the teak to a Dutch company that also supplies wood to the yacht-building industry.
A Win Enterprise representative told ICIJ that the company has "sold teak to Europe in compliance with the EU Timber regulation."
Comilegno's Comisso told ICIJ that the company no longer buys Myanmar teak and previously had bought only teak harvested before sanctions were imposed.
Comisso said her company has "already clarified with the appropriate forums" that Win Enterprise is a private entity with no connections to the government.
She also said Comilegno has carried out due diligence on the teak that was "very long and complex," including "third-party verification."
In an interview with ICIJ's media partner, IrpiMedia, Claudio Marrucci, a lieutenant colonel with Italy's forest service, said that Italian authorities have dramatically increased the number of checks on local importers. Their role is to ensure that any imported Myanmar teak had been logged before the EU's June 2021 sanctions on MTE, Myanmar's state monopoly.
Marrucci said Italian officials sift through "thousands and thousands of pages" to check whether companies have imported logs sold before or after the sanctions were in place. He added that some cases don't end up being prosecuted simply because timber law violations are considered less "serious" than other crimes.
It is a crime, he said, but considered as serious "as the killing of birds."
The EU's expert panel's conclusion invalidating certifications of Myanmar teak is not binding on member states, he said. As a result, Italy allows the import of pre-sanctions teak that has been documented as legally harvested – even if the documentation is contested by the EU panel.
"The conclusions by the EU are only recommendations," he said.
Teak is important for the country's boating industry, which is why the country's approach is "less punitive," Marrucci said.
Among the records obtained by ICIJ's Dutch reporting partner is an invoice for the April shipment issued by Comilegno. The document says the company had "adopted a due diligence system containing the necessary procedures." The invoice is part of a compliance dossier that includes a "traceability docket" that says the teak was logged in northern Myanmar by MTE or a subcontractor and was "legally transported, purchased, processed and exported."
The traceability docket was issued by Double Helix.
Contributing reporters: Miguel Fiandor, Karrie Kehoe, Delphine Reuter (ICIJ), Shirsho Dasgupta (The Miami Herald), Karlijn Kuijpers (NRC), Kwangyin Liu (CommonWealth Magazine), Matt Nippert (The New Zealand Herald), Gloria Riva (L'Espresso), Giulio Rubino (IRPIMedia), Ritu Sarin (The Indian Express), Frederik Obermaier and Timo Schober (Paper Trail Media), and Benedikt Strunz (NDR).