IMPACT
Swiss bank employees indicted in connection to Russia president's vast fortunes
The charges stem from bank accounts linked to Vladimir Putin's childhood friend Sergei Roldugin, whose web of offshore companies was first revealed in the Panama Papers.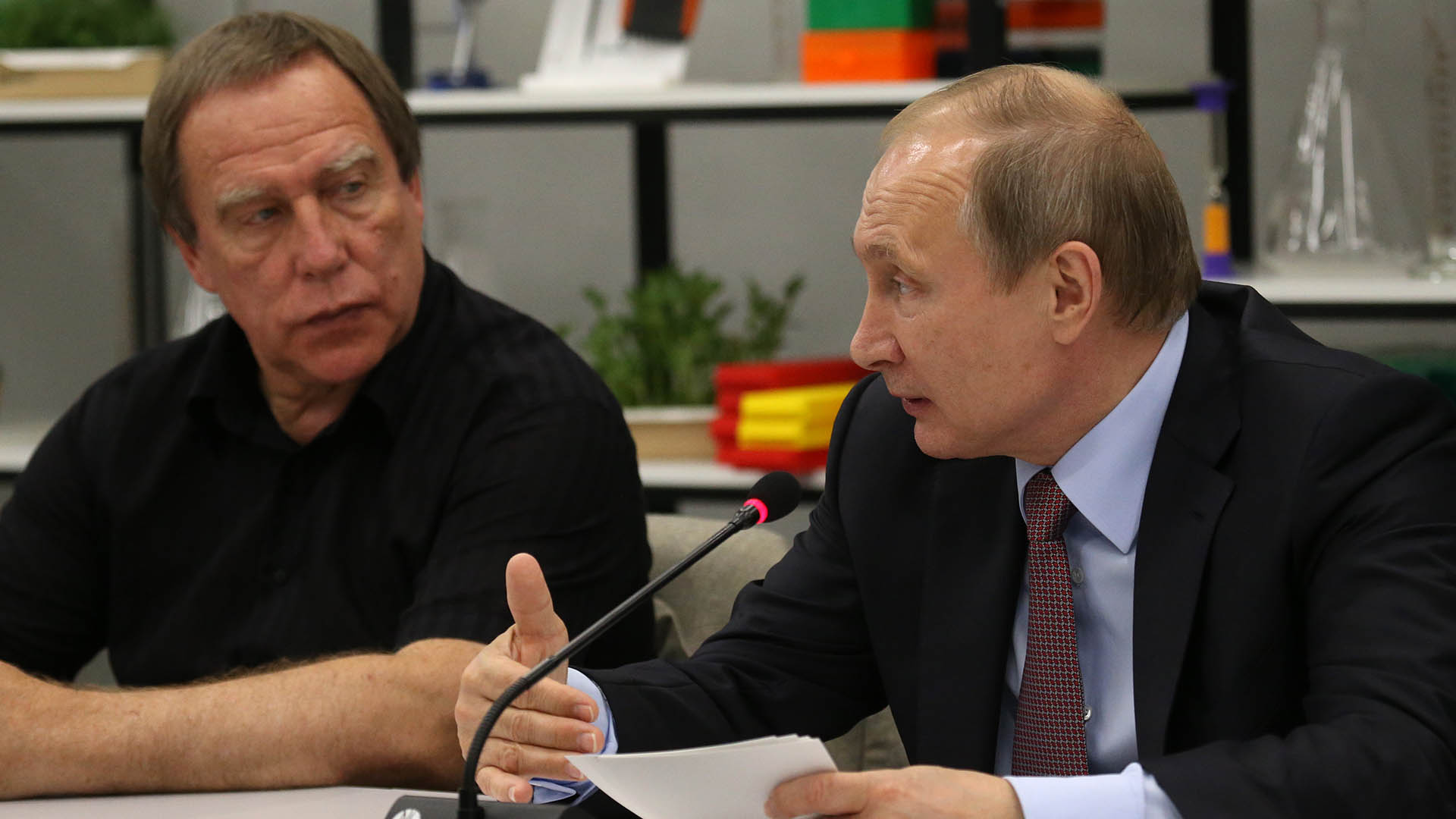 Swiss prosecutors have charged four banking executives for allegedly overseeing accounts that helped move millions of dollars of what is believed to be Russian president Vladimir Putin's secret wealth, according to reporting by Swiss publication Tages-Anzeiger.
The Swiss indictment includes the CEO of the Swiss arm of Russia's Gazprombank and three other employees at the bank. They allegedly ignored clear red flags that money was being transferred via the accounts of a strawman for the Russian president, according to Tages-Anzeiger.
It is a dramatic new chapter in the evolving public understanding of Putin's vast and clandestine fortune. Putin's modest official income is "well known," states the indictment, "but in fact [Putin] has enormous assets which are managed by persons close to him."
The charges are the first known criminal proceedings against bankers that involve the dealings of the alleged Putin strawman, a classical cellist named Sergei Roldugin who has been Putin's friend since childhood. As a part of the 2016 Panama Papers investigation, ICIJ and its partners first reported on Roldugin's web of offshore companies. Leaked records showed that he was a behind-the-scenes player in a clandestine network operated by Putin associates that moved at least $2 billion through banks and shell companies.
The records showed that Roldugin was listed as the owner of offshore firms that received tens of millions in wire transfers. One firm owned by Roldugin gained a secret degree of management control over Russia's largest truck maker. Roldugin's companies also obtained a major ownership stake in one of Russia's largest television advertising firms.
The evidence in the leaked Panama Papers files suggested that the cellist was likely acting as a frontman for a network of Putin's allies and, possibly, for Putin himself — all the while helping shuffle vast amounts of wealth through the global banking system. Roldugin did not respond to questions from ICIJ and its reporting partners, but said in an interview on Russian television that the money was largely made up of donations from rich businessmen for the purchase of musical instruments.
Shortly after the revelations, a Swiss financial financial regulator launched an investigation into Roldugin's banking in the country and later concluded that Gazprombank "was in serious breach of its anti-money laundering due diligence requirements."
Swiss officials considered the case to be so serious that they filed a criminal complaint with the Zurich public prosecutor's office, according to Tages-Anzeiger.
Do you have a story about corruption, fraud, or abuse of power?
ICIJ accepts information about wrongdoing by corporate, government or public services around the world. We do our utmost to guarantee the confidentiality of our sources.
LEAK TO ICIJ
Prosecutors are now asserting that the four Gazprombank employees failed to ascertain the identity of the beneficial owner of the assets with the legally required level of diligence, Tages-Anzeiger reported.
In its indictment, the prosecutors state that the musician is "in fact not" the true owner of all the wealth in the accounts and list several reasons why the Swiss bankers should have known this; it was not plausible, for example, that as a musician Roldugin could amass so much wealth, according to Tages-Anzeiger. Prosecutors also say Roldugin's bank accounts' extensive dealings with shadowy offshore firms should have raised substantial questions.
All four bankers have denied wrongdoing and are still presumed innocent under Swiss law. Tages-Anzeiger reports that the executives are expected to stand trial next week in the Zurich District Court.
Separately, Roldugin was also sanctioned by the U.S. last year, becoming one of a number of close Putin allies that have been economically targeted in the wake of the Russian invasion of Ukraine. During a visit to Poland and Ukraine last week to mark the anniversary of Russia's invasion, U.S. President Joe Biden said more sanctions would be announced in the coming days.