Citing corruption, US sanctions former Paraguayan president, bars ex Panama president from entering the country
Horacio Cartes and Ricardo Martinelli's offshore dealings were featured in ICIJ's Pandora Papers.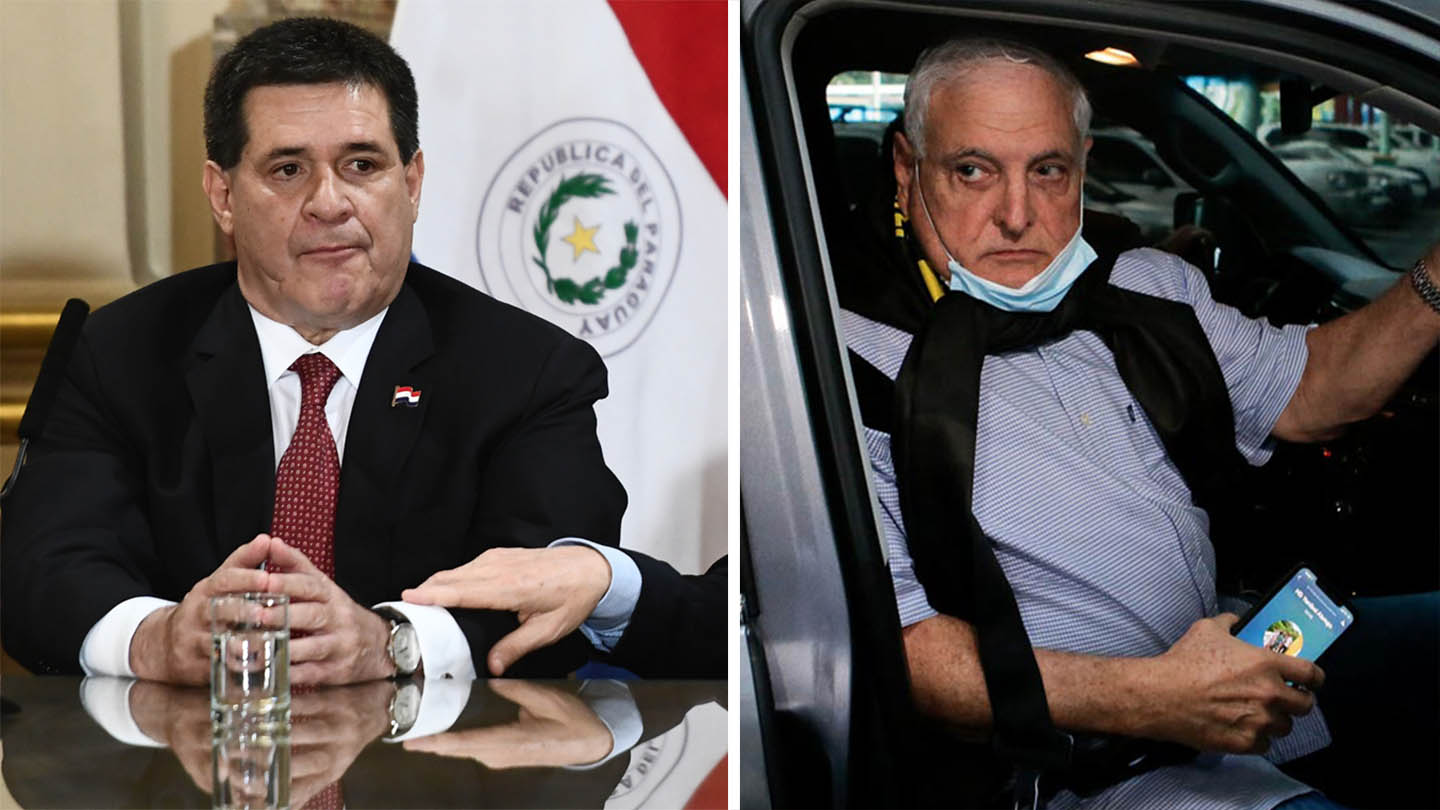 Two former Latin American presidents whose links to offshore dealings featured prominently in the Pandora Papers have been censured by different arms of the United States government this week over allegations of corruption.
On Thursday, the U.S. Treasury Department's Office of Foreign Assets Control sanctioned Paraguay's former president Horacio Cartes and four of his companies, and accused Cartes of engaging in corruption before, during and after his term as president.
"Cartes' political career was founded on and continues to rely on corrupt means for success," OFAC officials said in a statement, adding that Cartes has paid thousands of dollars to party members and public officials in exchange for loyalty and support. "Cartes continued to influence legislative activities after leaving office, targeting political opponents, and bribing legislators to direct votes in his interest."
One of the sanctioned companies controlled by Cartes was revealed in ICIJ's global investigation, the Pandora Papers. Dominicana Acquisition SA, owned by Cartes and his three children, was created in Panama in 2011 and owned an apartment in Miami and an account in a Paraguayan bank that belongs to the Cartes family. In 2021, Cartes' legal advisor told ICIJ that the company was used to buy a Miami property and that it never had bank accounts. The advisor said the company was currently inactive after having sold the real estate. ICIJ partner ABC Color revealed that Cartes never included Dominicana Acquisition in his sworn statement of assets during the years he was president, from 2013 to 2018. He quietly amended his declarations in 2021, after journalists reporting on the Pandora Papers asked about the offshore entity.
His addition to the OFAC sanctions list means that Cartes is barred from entering the U.S., his assets in the country will be frozen and his companies have to cease operations in American territories. U.S. citizens are also prohibited from doing business with people included in the OFAC list. An attorney for Cartes said in a press conference that the sanctions were politically motivated and said the U.S. lacks evidence to sustain its allegations.
Paraguay's current vice president Hugo Velázques was also sanctioned over his part in alleged corruption. U.S. ambassador to Paraguay Marc Ostfield said on Twitter that the actions aim to protect "our financial system and support Paraguay in its fight against corruption."
Separately, on Wednesday, the U.S. barred former president of Panama Ricardo Martinell from entering the country, "for his involvement in significant corruption," according to a designation by the Department of State.
The U.S. has accused Martinelli, who was in office from 2009 to 2014, of accepting bribes in exchange for improperly awarding government contracts during his presidency. "Such acts of public corruption diminish confidence in governance and reduce resources available for schools, hospitals, roads, and other government services," said Secretary of State Antony Blinken in a statement.
Martinelli's corruption designation happened the same day two of his sons were released from a U.S. prison, escorted from New York to Panama City by U.S. Marshalls, and handed to Panamanian authorities after serving a three-year sentence for their role in a massive bribery and money laundering case.
In December 2021, Luis Enrique Martinelli Linares and Ricardo Alberto Martinelli Linares, who also featured in the Pandora Papers, pleaded guilty to laundering $28 million in bribes paid by Brazilian construction giant Odebrecht to a Panamanian official during their father's presidency. Although federal court documents didn't identify the Panamanian official by name, only saying the person was a "close relative" of the Martinelli brothers, a press release from the U.S. embassy in Panama identified Martinelli as the beneficiary of the bribes. A defense attorney for one of Martinelli's sons told a federal judge in May that the brothers were "roped into this money laundering conspiracy … by their father … who was the recipient of the Odebrecht bribes," according to a court transcript.
Martinelli and his sons Luis and Ricardo are among dozens facing Odebrecht-related charges in Panama. The former president is also expected to stand trial for accusations of money laundering in another corruption case. Despite his legal troubles, Martinelli is seeking a second presidential term at the 2024 general elections.
In a statement posted Thursday on Twitter, a spokesperson said Martinelli and his legal team denied there was evidence to prove the accusations against him.
Do you have a story about corruption, fraud, or abuse of power?
ICIJ accepts information about wrongdoing by corporate, government or public services around the world. We do our utmost to guarantee the confidentiality of our sources.
LEAK TO ICIJ
The U.S. embassy in Panama suggested that more corruption designations should be expected. "I know how concerned Panamanians are about corruption and fighting it is one of our priorities as an embassy because corruption undermines the well-being of the population, the economy and democracy," ambassador Mari Carmen Aponte said in a statement. "This will not be our last designation in Panama."
Both Cartes and Martinelli were among more than a dozen current and former Latin American heads of states featured in ICIJ's 2021 Pandora Papers investigation. Using a trove of nearly 12 million records leaked from 14 law firms and offshore financial advisers, reporters from Latin America exposed the largest contingent of public servants linked to offshore dealings of any region in the global investigation, including the sitting presidents of the Dominican Republic and Ecuador, numerous former heads of state and dozens of government officials and politicians.
The leaked documents showed that in 2012 Alcogal, a prominent Panamanian offshore services provider, created two shell companies that were later linked in media reports to the Martinelli brothers. In 2016, Alcogal severed ties with the companies and reported them to Panamanian authorities after a former Odebrecht executive-turned whistleblower claimed the companies were used to pay bribes to one of Martinelli's sons in exchange for public contracts.
In addition to serving time in prison in the U.S., the Martinelli brothers were ordered to forfeit more than $18 million worth of assets, including a condo in an exclusive area of Miami, pay a $250,000 fine each and serve two years of supervised release.
The U.S. exclusion of Martinelli includes his immediate family members.
The Odebrecht cash-for-contracts corruption cases have rocked Latin America since 2014, toppling governments and sending public officials to prison.
In 2019, ICIJ's Bribery Division investigation, based on a set of leaked Odebrecht communications, revealed the Brazilian construction conglomerate's operation was even bigger than the company had acknowledged, and included bribes paid to officials in three successive governments in Panama.