Sporting a red baseball cap with the slogan "Strong Czechia" printed in white, Czech Prime Minister Andrej Babis addressed voters late last year ahead of a general election that next week will decide his future as a politician.
"Trump said, 'Make America great again.' That's what I say, too. Let's make the Czech Republic strong again," Babis said, referring to the former U.S. president, in a video broadcast on his party's YouTube channel. A big blue, red and white Czech flag was displayed behind him.
Known as a populist who rails against elites and the establishment, the billionaire politician has advertised himself as a business manager eager to fix the country's economy, and to increase government transparency and tax revenues. And he has dismissed allegations that he himself has been involved in fraud and tax evasion.
Now a leak of confidential documents shows that the self-styled man of the people has been involved in the kind of sleight-of-hand financial dealings that he accuses other members of the elites of engaging in. Records obtained by the International Consortium of Investigative Journalists reveal that Babis moved $22 million through offshore companies to buy a lavish estate on the French Riviera in 2009 while keeping his ownership secret.
The five-bedroom Chateau Bigaud, with its 9.4 acres, is nestled between medieval ruins and lush forests. It is a hidden gem of Mougins, the hilltop village where Picasso spent the last 12 years of his life.  As of January, public records showed that the chateau belonged to a subsidiary of one of the Czech companies indirectly owned by Babis.
At the time Babis acquired the property, the Czech press was beginning to report that his giant conglomerate was the secret owner of a luxury resort south of Prague that may have improperly obtained millions of dollars in European Union subsidies intended for small businesses. EU authorities would later find "irregularities" in the way Babis' company had obtained the funds.
Babis' ownership of the French chateau and the offshore transactions that obscured his involvement haven't been disclosed previously. There is no evidence that the chateau's purchase is linked to the subsidy.
But the purchase of Chateau Bigaud stands in sharp contrast to Babis' carefully cultivated image as the prime minister who led a crackdown on tax avoidance as part of an effort to restore the country to fiscal health. It also shows how the offshore system can help even the most prominent public officials escape public scrutiny.
Experts interviewed by ICIJ said the offshore arrangement  used by Babis could have reduced his tax bill while hiding his ownership of the property from the public.
Asset declaration forms obtained by Investigace.cz, ICIJ's Czech partner, show that neither the chateau property nor the companies involved in its ownership appear in documents that Babis has filed, as required by Czech law, since entering politics.
It's not a level playing field when all the citizens are required to pay taxes and abide by financial transparency rules, and there's people who can opt out – Petr Jansky, economist
The Czech prime minister didn't respond to requests for comment. ICIJ and three of its media partners sent a list of detailed questions about the chateau purchase to the prime minister's press spokesperson, Jana Adamcova, who didn't offer a response beyond confirming receipt.
Babis' office then revoked the press accreditation of three of ICIJ partners, Investigace.cz, Le Monde and the German broadcaster NDR to a campaign event on Wednesday.
The following day, after Babis' visit to a power plant in the northern Czech town of Ústí nad Labem, an Investigace.cz reporter asked him to answer the questions about his offshore dealings. Babis ignored her and walked to his car.  A security guard elbowed the reporter and said: "The press conference is over, don't you understand that? Don't you understand that? Go away!"
The newly revealed documents are part of Pandora Papers, a cache of more than 11.9 million secret files obtained by ICIJ. They come from 14 law and offshore professional-services firms that register, sell and handle the paperwork for shell companies and trusts for wealthy clients, including political leaders, industry tycoons and, sometimes, criminals.
The documents ー which include suspicious transaction reports, confidential audits, emails and loan contracts ー offer a sweeping look at an industry that helps the world's ultrawealthy, powerful government officials and other elites conceal trillions of dollars from tax authorities, prosecutors and others.
Economists have estimated that the Czech Republic loses more than 7% of prospective state revenue to tax evasion, with about $5 billion lost each year to the use of tax havens by Czech corporations and the country's ultrarich.
Speaking generally about the use of offshore companies by elected leaders, Petr Jansky, an economist and tax-avoidance expert at Charles University in Prague, said that public officials should "lead by example."
"It's not a level playing field when all the citizens are required to pay taxes and abide by financial transparency rules, and there's people who can opt out," Jansky said.
"It's bad because the government loses revenue, it's bad because there's less private capital to be reinvested, and it's bad because of its negative effect on the institutions," Jansky said.
Secret landlord
The son of a senior trade official in communist-era Czechoslovakia, Babis, 67, was educated in elite schools in Paris and Geneva. After graduation, he followed his father into international trade and took a job in the 1980s as a fertilizer trader at Petrimex, then a state-owned chemical company.
News organizations have reported that security files from the period indicate that Babis also collaborated with the former Czechoslovakia's secret police, the StB, which registered him as an agent under the code name "Bures." The security files included a report that Babis was asked to pass along what colleagues were saying about Soviet leader Leonid Brezhnev the day after he died, according to the Guardian newspaper.
Babis has repeatedly denied that he collaborated with the secret police.
In 1993, after communism collapsed and Czechoslovakia had split into the Czech Republic and Slovakia, Babis took charge of Petrimex's Czech unit. How he took control of the privatized parent company, how much it cost and where the funding came from are in dispute.  He later said he used funds from "Swiss schoolmates."
His career path was similar to those of other oligarchs emerging in the former Eastern Bloc at the time. He renamed his firm Agrofert and used it to buy dozens of state-owned companies at prices that Babis himself would later acknowledge were low.
Agrofert would eventually have more than 250 subsidiaries in 18 countries and come to control several sectors of Czech agriculture. Forbes magazine reported that Babis became the country's second-richest man.
Some anti-corruption groups have accused Babis of using "predatory" tactics to defeat competitors and political connections to obtain public incentives. But he's defended his work: "I am a rich man. I have realized almost all my dreams. I have made a lot of money, thanks to honest work."
In 2009, as Agrofert's acquisition spree continued, Czech news site Tyden revealed that Babis was the secret owner of the resort outside Prague, which had received more than $2 million in EU funds. The resort, called Capi hnizdo, or Stork's Nest, includes a conference center and a horse-riding arena.
Reporters for the weekly Czech journal Ekonom later found that the resort was owned by a shell company that was itself owned through so-called bearer shares, a type of equity security the owners of which do not appear on any public register. Typically, the owner is whoever physically possesses the share certificate. Sometimes associated with criminal activities, bearer shares are banned in many countries.
News outlets reported that the real owner of the bearer shares was Babis' conglomerate Agrofert, which would have made the Stork's Nest resort ineligible to receive EU subsidies intended for small enterprises.  (Babis later told a parliamentary hearing that the shares' owners were his children and a relative.)
Agrofert publicly received more than $58 million in EU subsidies for larger businesses through conventional procedures since 2007, according to an audit by the European Commission.
The leaked files show that even as details emerged in the Czech press, in 2009, of Babis' hidden role in the luxury resort, his advisers began engineering a secret plan to funnel his money into the French chateau purchase.
In July of that year, Babis hired Alemán, Cordero, Galindo & Lee, known as Alcogal, a Panamanian law firm that has a history of representing the rich and powerful. Its client list includes the Trump Organization and a lawyer for the late Chilean dictator Augusto Pinochet.
In confidential Alcogal documents, the employees of the law firm's British Virgin Islands office listed Babis' occupation simply as "director of company," without naming Agrofert. They proceeded to set up a shell company in the BVI, called Blakey Finance Ltd., and another in Washington, D.C., called Boyne Holding LLC. Boyne Holding, in turn, owned a real estate management firm in Monaco called SCP Bigaud.
District of Columbia records show that Boyne Holding identifies its owner as Jakub Sip, a Czech lawyer working for Babis-controlled businesses. Leaked files indicate that Babis was Boyne Holding's owner at the time of incorporation.
In response to questions from ICIJ, Sip said: "All business operations by the respective companies were executed in full compliance with the current interpretation of relevant laws as recommended by their renowned tax and legal advisers."
In November 2009, Babis injected $22 million into his BVI company, Blakey Finance, according to leaked emails between Babis' Panamanian and French lawyers. The funds were then transferred to his D.C. company, which forwarded them to its Monaco subsidiary, SCP Bigaud.
The documents describe the transfer from the Washington firm to the one in Monaco as a "back-to-back loan … directly for the final purpose of financing the Real Estate's acquisition."
That acquisition, the documents say, ultimately involved 16 properties in Mougins ー including Chateau Bigaud. The two-story villa came with a billiard room, a cinema, a fitness room with shower, a sauna and a wine cellar. The property also had a garage with room for three vehicles, a swimming pool and a caretaker's cottage, as well as an additional three-bedroom house known as Casa Bigaud, with its own swimming pool.
French land registry records obtained by ICIJ partner Radio France confirm that the property was purchased by the Monaco company, SCP Bigaud. Babis appears in a mortgage document as SCP Bigaud's "company manager."
French records also show that Babis, personally, and his Monaco company both held shares in a second Monaco-registered firm called SCP Porte des Iles. In late 2010, SCP Porte des Iles bought seven properties worth $6.7 million a few yards from the chateau, including a two-story villa with a pool and garage.
The financial structure ー a series of shell companies in the BVI, D.C., and Monaco ー potentially reduces the property owner's tax burden on capital gains, according to experts consulted by ICIJ and its partners.
Such a structure could also serve to obscure the true owner of the properties, said Leopoldo Parada, a lecturer in international tax law at Leeds University in England. Arrangements of this type are  common in the offshore industry, Parada said.
The Monaco subsidiary's D.C.-registered parent company, Parada added, could boost its credibility in the eyes of French tax authorities, who might deem a U.S. headquarters more legitimate than one in the BVI, a notorious tax haven.
Alcogal did not comment on the services it provided to Babis. In an emailed response to ICIJ, the Panamanian firm said that it "duly complies with all laws in the jurisdictions in which it operates" and does "not provide any type of tax advice."
In 2010, after Agrofert bought its biggest Czech competitor and became one of the largest food-processing companies in Europe, Babis made it onto his first billionaires list.
The 'Yes' Party
The newly minted billionaire entered public life the next year, founding a centrist political movement called ANO, Czech for "yes" and an abbreviation for what in English is rendered as "Action of Dissatisfied Citizens."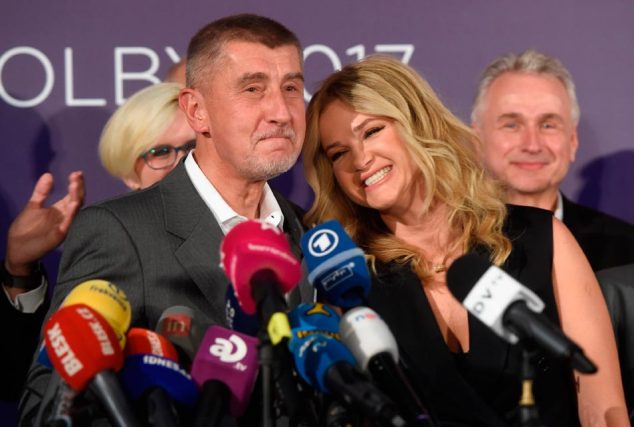 Babis denied having any political aspirations and called the organization a grass-roots civic movement. He began appearing on TV news shows denouncing what he called the country's establishment and its elites.
"In the current parliament, party political programs are not important. It's about cash and power," Babis told Česká pozice, an online magazine that he bankrolls.
"The state should function in such a way that there is social peace and harmony, so that entrepreneurs advise entrepreneurs to pay taxes here, not to steal," he said.
During a routine due-diligence check, the Pandora Papers show,  Alcogal officers asserted in a confidential email that Babis "has no intention to enter into politics." Laws in the BVI and other countries require that banks and management services firms pay special attention to clients who are public officials or who have connections to politicians or government officials because they are considered at risk of being involved in bribery or other crimes.
By mid 2012, though, Babis' ANO movement had transformed itself into a political party with a populist agenda to fight unemployment and corruption.
"You must cut off the heads of the 'Corruption-Hydra,' get rid of people in governmental bodies on the mafia payroll, then get rid of their friends and the friends of those friends," Babis would later say in an interview  with the Harvard International Review.
Since his political debut, Babis has compared himself to the likes of Michael Bloomberg, the billionaire media entrepreneur and former New York City mayor, and Warren Buffett, the famed U.S. investor. Critics compare him to businessmen-turned-politicians such as Italy's Berlusconi and Donald Trump for his bombastic style, his rhetoric about running a government like a business and the murky sources of his wealth.
In 2013, while Babis' political party was preparing to take part in its first national elections, a subsidiary of SynBiol – one of his real estate investment companies and then owner of the Stork's Nest – opened a restaurant in Mougins.  The new venture was located in a stone cottage across the street from the sprawling chateau property that Babis had secretly purchased three years earlier. Unlike the chateau purchase, this venture would be public.
The restaurant was named "Paloma," after Picasso's youngest daughter, and was decorated by Babis' wife, Monika Babisova, who chose baroque-style crystal chandeliers, velvet chairs, and sculptures by a local French artist.
Soon after its June 2013 opening, the 35-table, fine-dining restaurant hosted a VIP-studded party that included the mayor of Mougins and Paloma's owner, Babis. Headed by chef Nicolas Decherchi, renowned for his Brittany lobster marinière on a bed of linguine, Paloma soon won its first Michelin star.
In the meantime, Babis also bought one of the Czech Republic's largest media groups, MAFRA, which included popular daily newspapers and radio stations and reached more than 15% of the country's population, according to a survey.
In October 2013, Babis' ANO party won 18.65% of the vote in national elections, the second-largest vote total, paving the way for the businessman's political ascension.
Babis, who had pitched himself as a down-to-earth anti-corruption crusader and handed out ANO-branded doughnuts to voters at subway stations, received nearly 1 million votes, exceeding poll forecasts, and won election to Parliament.
Within a few months, Babis was named finance minister. He promised to tackle tax evasion and increase tax revenues by $1.3 billion a year. He also called for legislation allowing the government to electronically monitor all payments for goods and services.
He called the law, implemented two years later, "one of the most important measures in the history of Czech Republic" to improve the country's business environment. However, some economists have questioned the effectiveness of such a law as a means of increasing tax revenue.
'High risk'
As Babis' political career took off, the confidential records show, his Panamanian legal advisers increasingly came to regard him as a so-called politically exposed person. A PEP designation imposes due-diligence obligations on lawyers and offshore services providers because of a risk the client's political influence will be abused.
According to BVI law, Babis' new status as a public official required Alcogal's compliance officers to review information about him and decide whether to keep him and his BVI firm, Blakey Finance, as clients. On a "risk assessment" form dated Oct. 1, 2014, Alcogal officers answered "YES" to questions about whether they had negative information about Babis or his company officers and whether any of them were "known to be or suspected of any criminal or suspicious activities by any regulated authority."
The documents don't explain those answers.
The assessment expanded on findings flagged by Alcogal officers two years earlier that there was a "high risk" that his company was "engaging in money laundering and/or terrorist financing." But Alcogal kept him as a client.
Alcogal said that it "performs enhanced due diligence on a client who is determined to be a high-risk customer." "As a general rule," the firm said, "being classified as a Political Exposed Person (PEP) does not automatically disqualify a person from consideration to be a client of any service provider in any industry."
As finance minister, Babis was required by Czech law to disclose his assets. That requirement applies to shares in offshore companies and any profits derived from the companies' activities, according to experts consulted by ICIJ.
Milan Eibl, a Transparency International analyst in the Czech Republic, said that having an interest in an offshore company "does represent a red flag when it comes to those in power," even if the interest is legal, because moving assets to tax havens is generally associated with an effort to "circumvent the system."
"It creates the impression that the public official may not be playing by the book," he said.
In January 2015, months after Alcogal's most recent risk assessment, Babis' entity in the British Virgin Islands, Blakey Finance, was dissolved, according to the leaked records. The company's demise is not explained in the records.
'Suspicious activity'
Later that year, there were reports that Czech police had opened an investigation into what the press came to call the "Stork's Nest affair." Investigators wanted to know how Babis' resort outside Prague had obtained more than $2 million in EU subsidies intended for small businesses.
By the end of 2015, the European Commission's anti-fraud office also had launched an inquiry.
So did Alcogal, records show.
In July 2016, the Panamanian law firm filed a "suspicious activity report" with the BVI's Financial Investigation Agency, noting that Babis was being investigated in Europe.
"Suspected criminal activity: fraud," the confidential report says.
Alcogal dropped Babis as a client the day it filed the report.
The BVI agency didn't respond to ICIJ questions about whether it passed on the information to European authorities.
That month, as his offshore companies were under scrutiny, Babis attended meetings with other European Union finance ministers. The discussion points on the agenda included fighting tax avoidance and tax evasion, and establishing transparency agreements with countries like Monaco.
In May 2017, Czech President Milos Zeman replaced Babis as finance minister amid allegations that Babis had dodged taxes by buying tax-exempt bonds from Agrofert, improperly obtaining untaxed interest from his company. Babis denied any wrongdoing and said the allegations were raised by political opponents to discredit him before the elections.
Just a few months earlier, Babis had transferred his Agrofert stock to two trust funds to comply with a new Czech conflict-of-interest law – dubbed Lex Babis – that was aimed mainly at him.
"There is not a single reason I should leave the office," Babis said in an interview with Politico. "Nobody can corrupt me. I'm too rich for that. I don't even keep my salary; I send it to a charity for single mothers."
The billionaire dealt with the dispute with his usual showmanship.
The day after he lost his position, Babis welcomed a video crew into his residence to show people how he spent his "last day as finance minister." He woke up before 6:45 a.m., worked out on an elliptical machine in a room facing a garden, and meticulously chose a necktie to wear. He then drove his teenage daughter to school in a black Audi and arrived at the ministry, where dozens of people awaited his arrival.
"Thanks again to everyone," says a Czech-lanaguage message addressed to the viewers of the video. "Only thanks to you have we achieved results that few of my predecessors can be proud of."
In October 2017, the ANO party won the largest share of votes in national elections. Babis became prime minister, but not without controversy.
Soon after he took the oath of office, the European anti-fraud office released the findings of its Stork's Nest investigation, alleging that one of Babis' companies had made false statements in a grant application and obtained public funds for the luxury resort illegally.
"The investigation revealed that the beneficiary's representatives … provided untrue information and concealed important information from the operational programme's managing authority," according to the agency report. The Prague state attorney reopened a fraud investigation into the matter but later halted it without commenting on the decision.
At the end of 2019, a separate audit by the European Commission found that the prime minister had a major conflict of interest. Despite having transferred his holdings to two trust funds, the commission alleged, he had continued to control his conglomerate and Agrofert continued to receive EU funds.
As news surfaced about the two audits, hundreds of thousands of Czechs took to the streets to protest against Babis. The rallies were described as the biggest since the end of communist rule.
The politician who had promised to fight the "Corruption-Hydra" was officially accused of violating EU and Czech laws and regulations. The commission recommended that Agofert return the EU funds, but Babis ruled out returning the funds or resigning.
In the meantime, Babis' property-management firms in Monaco – the holders of Chateau Bigaud and of the two-story villa – had changed owners.
In 2018 financial statements, SynBiol, the Babis company that owned the Stork's Nest, announced the acquisition of SCP Bigaud and SCP Porte des Iles, listing them among its subsidiaries. The restaurant Paloma closed after reporting millions of dollars in losses.
The documents don't say how SynBiol came to acquire the two Babis-linked real estate companies and their properties, whether it paid for them and if so, to whom. In 2020, the Monaco companies were merged with a SynBiol subsidiary.
A spokesman for the company told ICIJ that SynBiol complied with tax laws and that "all transactions have been carried out in full compliance with applicable legislation." He didn't provide further information.
"Like any other business entity," the spokesman wrote, "we have the right to protect our trade secrets."
In interviews, Mougins residents and officers at the local tourism center said they didn't know of Babis' ownership of the sprawling property. During a visit to the town last summer, ICIJ reporting partners from Investigace.cz found no sign of his presence at the chateau, except for a brochure in the mailbox addressed to his wife, Monika. The grass in the garden was neatly cut.
In August, following a new audit involving the prime minister, the European Union threatened to halt some subsidy disbursements to Czech Republic until the country makes systemic changes to its conflict-of-interest law.
The next month, Babis officially presented his new political programme in a speech in an industrial town north of Prague. Using nationalistic and anti-EU rhetoric, he promised voters that, if re-elected, he'd raise pensions, not taxes. "This is the last chance to vote for Babis," he said, "the last chance to protect national interests, our standard of living, our culture and uniqueness."
With Babis' premiership at stake, Czech national elections are scheduled for Oct. 8-9.
Contributing reporters: Pavla Holcova, Hana Capova and Zuzana Sotova (Investigace.cz), Petra Blum (Westdeutscher Rundfunk), Abdelhak El Idrissi (Radio France), Lisa Hagen and Kira Gantner (Norddeutscher Rundfunk), Rory Tinman and James Oliver (BBC).