In 2019, the United States indicted Douglas Latchford, an Englishman who had long lived in Thailand, of trafficking antiquities looted from countless Cambodian sacred sites.
The case came seven years after Latchford was publicly linked to antiquities trafficking and after some in the art world had come to see him as too risky to deal with.
The Cambodian government is now working to recover its stolen heritage, has secured the return of several Latchford pieces from prominent museums and has been promised many more from his private collection. But hundreds more relics — maybe thousands — once owned by Latchford haven't been found.
The Pandora Papers files obtained by the International Consortium of Investigative Journalists reveal two secret offshore trusts that Latchford used to hold money and art: the Skanda and the Siva trusts, based in the secrecy haven of Jersey. Prompted by the revelation, a cross-newsroom reporting team from the ICIJ, The Washington Post, The Guardian, the Australian Broadcasting Corporation and Spotify embarked on a hunt for items with Latchford links that had passed through Latchford or had traveled through other means into the collections of museums and private individuals. 
In Latchford's 2011 "Khmer Bronzes" book, the team found 80 relics that were captioned as owned by the Skanda Trust. The team also linked the trust to antiquites published in art galleries' catalogues around the world.
Using public sources — including museums websites, Latchford's books, and gallery catalogues — and helped by several experts in Southeast Asian art, the team identified 43 relics with ownership histories tied to Latchford or three of his associates who U.S. authorities said worked with Latchford  in the collections of 10 museums: the Asian Art Museum San Francisco, the British Museum, the Brooklyn Museum, the Cleveland Museum of Art, the Denver Art Museum, the Los Angeles County Museum of Art, the Metropolitan Museum of Art, the Boston Museum of Fine Arts, the Walters Art Museum and the National Gallery of Australia.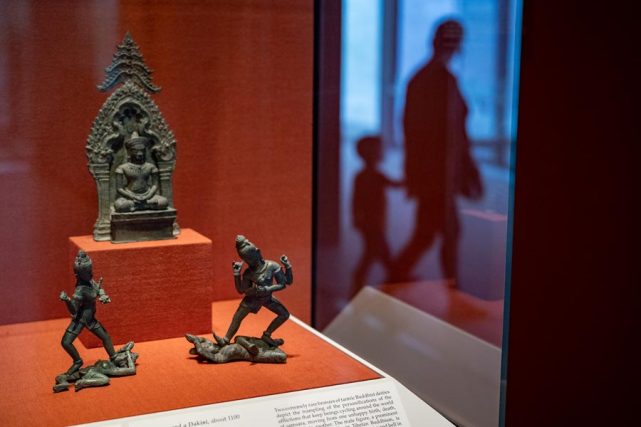 Of these relics, 27 passed through Latchford's hands, according to provenance information provided by the museums themselves, either on their websites or in correspondence with the reporting team. The remaining 16 were sold by an art dealer that prosecutors identified as an associate of Latchford's that had sold looted art. The reporting team  also traced Latchford-linked items to another three private collectors and galleries.
Our results only include the museums that provided information about their relics. Other museums provide no information about the origins of their collections, going against industry ethics guidelines that date to 1970. Among the least transparent is the Art Institute of Chicago, which has a substantial Khmer collection but shares no provenance details about them online, and declined to answer reporters' questions. The Dallas Museum of Art and Norton Simon Museum also have Khmer relics —including antiquities  that one expert believes to have been looted from Koh Ker— but would not answer reporters' questions about their origins.
The antiquities identified by the reporting team almost certainly represent a small fraction of the Cambodian relics once owned by Latchford, or sold by a dealer accused of aiding him.
Museum methodology
To identify antiquities in museums owned or brokered by Latchford, or pieces that showed other possible signs of looting, the reporting team reviewed many possible sources.
We reviewed the three books on Khmer art self-published by Douglas Latchford and his co-author Emma C. Bunker: "Adoration and Glory," "Khmer Gold" and "Khmer Bronzes." Prosecutors say Latchford used the books to give stolen antiquities an air of legitimacy and make them easier to sell. They contain specific details about individual pieces, including photos and dimensions and previous ownership details, which we cross-referenced against relics described on museum websites and in art gallery catalogues to confirm matches. Several museums also provided additional information directly to the reporting team.
The team also drew from an art blog called "Chasing Aphrodite" published by investigative journalist Jason Felch who had already located a number of Latchford-owned pieces in museums. We also consulted with art experts Angela Chiu, a scholar of Asian art and Tess Davis, a lawyer, archaeologist and the executive director of the Antiquities Coalition, an organization that campaigns against the trafficking of cultural artifacts.
Our effort to engage with museums directly began with a reporting survey sent to 22 institutions with significant collections of Khmer antiquities of the type Latchford is accused of trafficking.
Red flags
When a museum considers acquiring a new piece, it is supposed to thoroughly document its provenance — who owned the piece when, and ensure that the piece has export records indicating it was removed from its country of origin with authorization from the national government.  However, how much of an object's ownership history is publicly shared once the piece is part of the collection is up to the discretion of the museum.
One obvious red flag: museum pieces owned or brokered by Latchford. We identified 27 pieces, including 15 from the Khmer Empire, that were in Latchford's possession and that are now in five museums: The British Museum, the Cleveland Museum of Art, the Denver Art Museum, the National Gallery of Australia, and the Metropolitan Museum of Art.
Another red flag: Khmer pieces brokered through galleries that Latchford collaborated with. Although Latchford sold to many galleries all over the world, the reporting team limited this category to two specific galleries that U.S. prosecutors have named in indictments in connection to Latchford and looted art: The Manhattan-based Nancy Wiener Gallery, The Doris Wiener gallery — based in upstate New York and owned by Nancy's mother  — and the London gallery Spink & Son, which was acquired by Christie's. (Last week, Nancy Wiener pleaded guilty to charges related to the smuggling of antiquities in a case that also mentioned her mother, who died in 2011. In a written statement, she admitted to buying stolen relics from Douglas Latchford and others, and selling them with falsified provenance directly to prestigious museums and consigning them to auction houses. Spink & Son has not been charged with any wrongdoing.)
It is these two main "red flag" categories that inform an accompanying graphic created by The Washington Post.
The team also focused its research on three other galleries: It matched 22 of the Skanda Trust relics to a specific catalogue from a London-based art gallery called Asian Art, owned by Jonathan Tucker and Antonia Tozer. This specific matching, along with a consignment list seen by reporters, allowed the team to compile a list of prices, as those pieces were put up for sale. Finally, Marcel Nies in Antwerp published several catalogues with pieces provenanced to  Latchford and the Skanda Trust, as did Gandhara, an Australian art gallery.
Lack of transparency
A Khmer piece that left Cambodia after 1970, the year rampant looting began, but for which the museum has not published any history, presents a red flag, too: Cambodian authorities have said that they consider all relics that left the country after this year and lack proper export documentation to be looted. Of this group, reporters found 23 additional items in 11 museums, including: the Art Institute of Chicago, the Asia Society Museum, the Asian Art Museum San Francisco, the Brooklyn Museum, the Cleveland Museum of Art, the Dallas Museum of Art, the Los Angeles County Museum of Art, the Museum of Fine Arts Houston, the Norton Simon Museum, Smithsonian Institution — National Museum of Asian Art, and University of Oxford – Ashmolean Museum. There may well be more.
ICIJ did not count the relics in museums' collections that curators suspect might be fake Khmer antiquities. For example, the Musée National des Arts Asiatiques — Guimet in Paris, France, told ICIJ that they have one Khmer sculpture in their collection that they bought from Spink in 1973, but that they removed it from galleries because they doubt its authenticity.
Finally, some museums have Khmer relics in their collections but list no provenance details on their websites about them apart from the year of acquisition — going against prevailing ethics standards. Museums in this category include: the Art Institute of Chicago, The Norton Simon Museum, the Dallas Museum of Art,  and The Asian Art Museum of San Francisco. A few were more forthcoming over email: The Boston Museum of Fine Arts, the Asian Art Museum of San Francisco, University of Oxford – Ashmolean Museum, Victoria and Albert Museum and Brooklyn Museum each provided prompt and detailed information about each of the pieces, pointed out relics reporters' missed, and acknowledged the complicated ethical terrain of acquiring Khmer art.
But these were outliers. Most museums declined to answer reporters' questions about how they acquired the relics in their collections and were unwilling to share origin records. Several of them, including the Asia Society Museum, the Art Institute of Chicago, the Dallas Art Museum, Kimbell Art Museum and the Los Angeles County Museum of Art declined to give any details about their collections.
Museum responses
Art Institute of Chicago
"Research on the provenance of Khmer associated objects from both Cambodia and Thailand is always ongoing. The Art Institute is committed to leading ethical institutional collecting and remains diligent in researching the provenance of our collection to ensure compliance with all applicable law."
University of Oxford – Ashmolean Museum
"The Ashmolean is home to more than 1 million objects, acquired continuously since the Museum's founding in 1683," the museum said. "Work to research provenance and publish the collections is ongoing. To date, we have published more than 200,000 object records online. Where scholars, public authorities or members of the public require information that has not yet been published, we are always happy to provide what information is available; and the Museum is committed to being open and transparent about any object that is known to have problematic provenance."
Asia Society Museum
"Asia Society Museum conducts ongoing research regarding provenance as part of the process of actively managing our collection, organizing exhibitions, and writing publications, and have done so throughout our history," the museum said. "We are in the process of a major provenance research project aimed at building out the ownership histories of our collection with the aim of establishing a public resource to provide a clearer understanding of the process of collecting as it relates to our objects. The information, once catalogued more fully, will be shared publicly on our permanent collection website."
Asian Art Museum of San Francisco-Chong-Moon Lee Center for Asian Art and Culture
"As curiosity about provenance and the story behind our collection formation increased, we have sought to provide as much context as we can given our resources and the information available," the museum said.
About pieces in its collection that were associated with either Spink or Doris Wiener, the museum said: "Our presumption decades ago, when these objects were donated to our collection or acquired by dedicated funds for their purchase, was that they had left their places of origin in a legal manner. Today, and especially following the 2008 stance taken by the Association of Art Museum Directors towards objects and artworks with unclear provenance, our response is categorically different — now we would not accept any artwork without thorough documentation of the path it took from its place of origin to the museum."
British Museum
"Research into the history of the collection as a whole, and of individual objects, is ongoing," the British Museum said. "Many objects have been a part of the collection for decades or even centuries, so it's not always possible to know their full history. The process of acquisition and record keeping has developed significantly in recent times. Some ways in which objects entered the British Museum are no longer current or acceptable, though others remain familiar and inform best practice. We also reiterated that we take this issue of provenance very seriously."
Brooklyn Museum
"The Brooklyn Museum has recently enhanced its efforts to research and document provenance, but that move was not motivated by the Latchford indictment," the museum said. "Research on the Cambodian collection was already underway and remains one of many focal points for provenance work at the museum."
Cleveland Museum of Art
"The Cleveland Museum of Art has never acquired an object directly from Douglas Latchford," the museum said. The museum does own "three Southeast Asian works of art" with the name  Douglas Latchford in provenance records, it said. It added: "It may be worth noting that the Cleveland Museum of Art has a strong, collaborative relationship with Cambodia and a Memorandum of Understanding with the National Museum of Cambodia in Phnom Penh."
Dallas Museum of Art
"The Dallas Museum of Art is committed to ongoing research of its collection," the museum said. "When the DMA identifies concerns about an object, the Museum acts on that information responsibly, as it has in the past and as it will continue to do so in the future. The DMA is working on updating its website and making provenance information generally available. The Museum prefers to do so holistically rather than piecemeal."
Denver Art Museum
The Denver Art Museum said it is "in ongoing discussions with both U.S. and Cambodian governments" about items in the museum's collection connected with Douglas Latchford." The museum "will reserve further comment until the conclusion of those conversations," it said. "As stewards of a global collection, the museum gathers facts prior to deaccessioning and repatriating an object."
Detroit Institute of Arts
"In many cases, provenance research is ongoing," the museum said. "In other cases, it's a matter of staff time and resources. We do not have a dedicated provenance researcher, and demands on staff time mean that our collections database does not always contain the full information available in our physical archives. The project of updating provenance in the database and online continues, and it is our intention to update these records as soon as we are able to do so."
Museum of Fine Arts Houston
"Immediately following Douglas Latchford's 2019 indictment, the museum renewed its research of the three objects in the MFAH collection that originated in the greater Cambodia region and that were acquired from either Douglas Latchford or Nancy Wiener," it said. "That review continues, and we are in touch with Cambodian officials on this matter."
Kimbell Art Museum
"In 1988, the Kimbell Art Museum acquired the Harihara in accordance with all applicable laws. The museum received both a sworn affidavit from Douglas Latchford that stated that the object was legally obtained and an export license from the Thai government," it said. "At the time, Mr. Latchford was a widely respected art collector and expert on Cambodian art, who would later receive accolades and awards from the Cambodian government. During the acquisition process and due diligence review, no evidence indicated that the Harihara was illegally obtained. To date, the museum has neither identified nor received any evidence that Mr Latchford's affidavit for the Harihara or the export license was falsified or inauthentic."
Los Angeles County Museum of Art
The Los Angeles County Museum of Art did not comment, and declined to answer reporters' questions.
Metropolitan Museum of Art
"The Museum has followed the case against Douglas Latchford and has reviewed the indictment against him that references a Hari-Hara," the museum said. "The Museum did acquire a Hari-Hara in 1977 from Spink & Son. It is unknown whether the Hari-Hara, a relatively common depiction of Vishnu and Shiva, are one and the same. The Met continues to have a long-standing collaborative relationship with the Cambodian government, with many ongoing loans and partnerships.  With the return of the two Koh Ker statutes in 2013, considered 'historic' by Cambodian officials, the Museum led the way to other repatriations to Cambodia and cemented this relationship. The Museum remains committed to pursuing further research — and sharing findings widely — on this and all archaeological objects in the Museum's collection.
"More broadly, Met is committed to the responsible acquisition of archaeological art and applies rigorous provenance standards both to new acquisitions and the study of works long in its collection in an ongoing effort to learn as much as possible about ownership history. The Museum also has a long and well documented history of responding to claims regarding works of art, restituting objects where appropriate, being transparent about the provenance of works in the collection, and supporting further research and scholarship by sharing all known ownership history on metmuseum.org."
Museum of Fine Arts Boston
"We scrutinize the provenance of every ancient work of art proposed for acquisition or incoming loan, documenting the country of origin and country of modern discovery, the legislation of those source countries, the object's ownership and sales history, as well as international shipments to ensure we are not accepting anything illegally imported or exported," the museum said. "Our records online are as complete and transparent as possible, so if law enforcement authorities or a representative of a foreign nation wishes to make a claim, they can easily do so."
Musée National des Arts Asiatiques – Guimet
"We strictly follow the UNESCO Unidroit Convention and we are extremely cautious about the provenance of archaeological art objects from Cambodia or the rest of Asia," the museum said.
"We have kept excellent direct relationship[s] with the Cambodian Ministry of Fine Arts and the museum department of this country, and we share many projects of mutual cooperation, including help in restoration, museum management, or even the long term deposit of art objects." The Guimet also told ICIJ that it bought a Siva statue from Spink & Son in 1973, but that later restoration work led it to believe the piece was a fake. The museum still has the piece in its collection but it's not on display.
National Gallery of Australia
"Over the past seven years the National Gallery has undertaken significant work in provenance research which has led to the deaccessioning of 24 works," the museum said. "We have also undertaken the development of a comprehensive Provenance and Due Diligence Policy and Provenance Decision-Making Framework." The museum said that the piece tied to Latchford was "the subject of a significant live investigation," the results of which weren't available at the time of publication.
Norton Simon Museum
Norton Simon Museum didn't respond to comment requests.
Philadelphia Museum of Art
"We have reviewed the Khmer/Cambodian collection for the specific individual and gallery names that you mentioned, and find no record associating them with any of these objects," the museum said. "We are in the process of digitizing our collection and we hope eventually to have the entire collection online."
Smithsonian Institution – National Museum of Asian Art
"As new resources are continuously made available, the National Museum of Asian Art updates and reevaluates the history of collected objects," the museum said. "Our museum's provenance program is committed to scholarship and transparency of collection information, standardized research methodologies, and information exchange between the international museum community and the public. We have reviewed our Khmer collection, confirming that none of the objects in the National Museum of Asian Art's collection came from or through Douglas Latchford. Our review of the provenance of Khmer objects is ongoing."
Victoria and Albert Museum
"It is the V&A's policy to be open and transparent about the way in which objects enter our collection and we continue to add information as part of our active curatorial research into the history and significance of our objects, such work being further strengthened by the appointment of a dedicated Provenance Curator in 2018," the museum said.
Walters Art Museum
The museum confirmed that a piece in its collection was provenanced to Spink & Son, but that "according to WAM's records there is no indication that [the piece] went through Latchford's hands."