The World Bank has vowed to lead in the global fight against climate change, using its loans and its influence to steer developing nations toward a clean energy future.
But even as the bank is touting investments in solar parks and other climate-friendly projects, it has continued to finance oil and gas exploration, pipelines and refineries that contribute to the problem the bank has declared it wants to solve.
These fossil fuel investments make up a greater share of the bank's current energy lending portfolio than renewable projects, according to a new analysis by the environmental watchdog Urgewald. The World Bank Group has provided $21 billion in loans, grants, guarantees and equity investments to support fossil fuel projects, and $15 billion for renewable energy projects, Urgewald found.
The report's author, Heike Mainhardt, said that while the bank has been doing more in recent years to support renewable energy, the analysis shows it has yet to meaningfully shift away from fossil fuels.
"In aggregate, they are not turning the corner," Mainhardt said. "The entrée is fossil fuels with a side of renewables."
Urgewald shared its findings with the International Consortium of Investigative Journalists in advance of the report's publication.
In a written response to ICIJ's questions, a bank spokesperson said Urgewald's report reflects an outdated view of the bank's activities. The World Bank has ended its support for coal-fired power plants and has committed to stop almost all funding for oil and gas production by the end of 2019, the spokesperson said.
The bank also disputed Urgewald's contention that it currently invests significantly more on oil and gas projects than renewables. It said that Urgewald failed to include energy efficiency projects in its calculations. These projects include, for example, efforts to distribute millions of LED light bulbs to businesses and consumers in India.
The bank did not provide directly comparable figures to those produced by the Urgewald analysis.
Urgewald shared its findings with ICIJ media partners including the outlets Norddeutscher Rundfunk (NDR), Süddeutsche Zeitung and Deutsche Welle in Germany, Jornal Verdade in Mozambique and the Premium Times in Nigeria. Local partners reviewed projects and government programs funded by the bank and their implications for climate change and sustainable energy.
A 2015 investigation by ICIJ found that the World Bank was funding projects around the globe that violated the bank's policies intended to prevent displacement of local people from their land and jobs.
World Bank investments are not always tied to specific projects. The bank also makes what are called development policy loans to governments, often in order to promote reforms. One such loan, in 2014, was tied to Mozambique's mining laws, which govern the country's coal mining sector.
The loan included language that encouraged Mozambique to provide favorable tax treatment for coal production in order to stimulate investment.
David Ryfisch, the team leader on International Climate Policy at the environmental nonprofit GermanWatch, said that development policy loans deserve close scrutiny because of their capacity to shape future energy practices.
"Those have the potential to truly transform countries, so if those go wrong and end up supporting fossil fuels that is very problematic," Ryfisch said.
The bank said it is currently supporting renewable energy in Mozambique through its "Mozambique: Energy for All" project, approved in March that includes financing for off-grid renewable energy.
The bank also made investments that benefited the oil industry in Nigeria.
The bank's private sector lending arm, the International Finance Corporation, financed nine banks that in turn provided loans or other financial support to the multinational conglomerate Dangote Industries to build an oil refinery near the megacity of Lagos. Owned by billionaire Aliko Dangote, widely reported to be Africa's richest man, the company is building the refinery in an industrial complex alongside a fertilizer plant.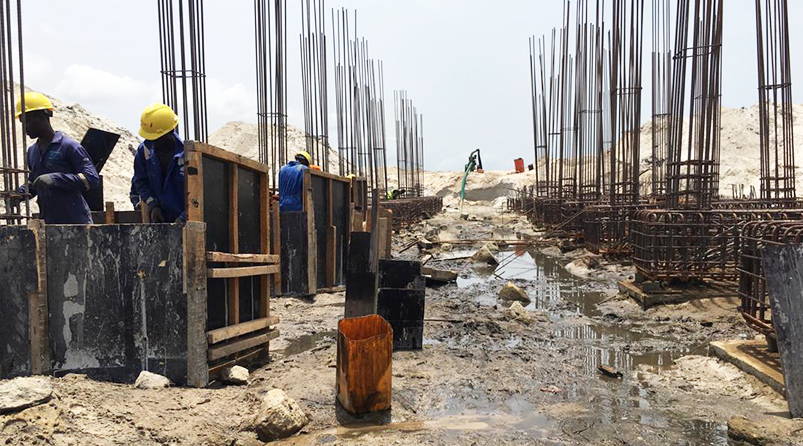 In addition, the IFC lent $150 million directly to Dangote Industries in 2016 to support the fertilizer plant, which Urgewald maintains is effectively supporting the oil refinery because they are part of the same complex.
Samuel Babatunde, a community leader in the zone where the refinery is being built, fears significant environmental damage once it begins operating.
"I know the suffering Niger Delta communities face due to oil exploration and refining," Babatunde told ICIJ's partners at the Premium Times. "We don't want what happened in the Niger Delta to happen here."
The World Bank Group emphasized that the IFC's direct loan to Dangote Industries was directed to the fertilizer plant and not the refinery. It added that the fertilizer plant will use significant amounts of gas that might otherwise have been flared from the refinery, thus avoiding potential carbon dioxide emissions.
The bank also detailed various clean energy projects that it has launched in recent years, including a $1 billion battery storage initiative, massive solar parks in Egypt and India and off-grid solar programs in Bangladesh meant to bring clean energy to millions of households.
A crucial test for the World Bank's energy policies will take place this December, when representatives from more than 195 countries gather in Santiago, Chile, for the next round of global climate negotiations.
At the conference, the World Bank and other development banks will present their plans for living up to the landmark 2015 Paris Agreement. The World Bank is expected to play a leading role in shaping the agenda for development banks.
Ryfisch, the climate policy expert at GermanWatch, said the World Bank had made important strides on clean energy in the last few years, but now needed to bring its lending portfolio in line with its commitments.
"There should be a more pronounced shift going forward," Ryfisch said. "They should make clear that they will fully decarbonize their energy portfolio on a clear timeline."