DATA JOURNALISM
Indian reporters find new ways to expose 'vaccine inequity' and COVID-19 data
ICIJ partners have had to innovate and adapt how they uncover critical information on the crisis, while calling for more government transparency.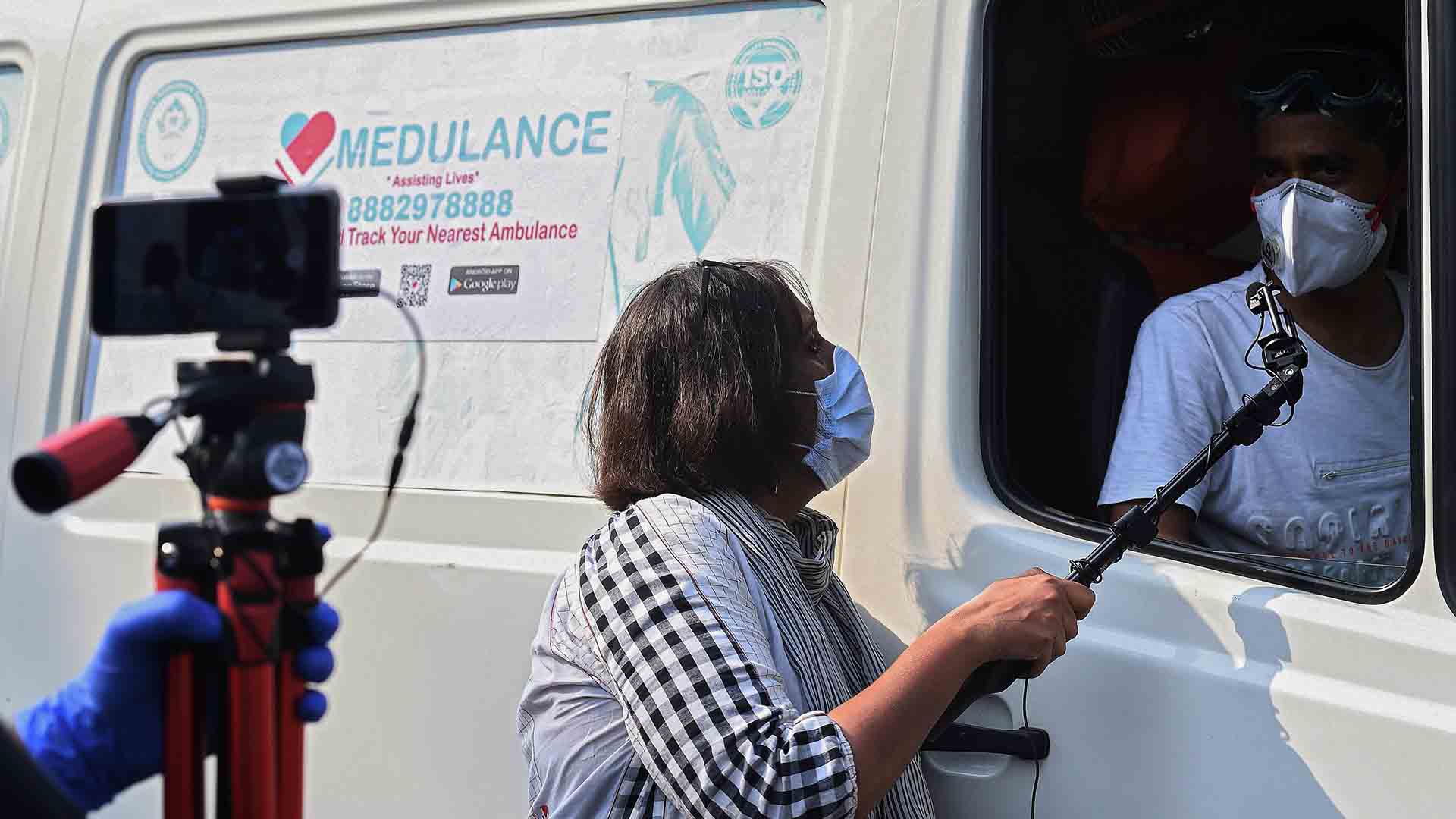 In early 2021, reporters at The Indian Express had just begun to go back to the newsroom for occasional small meetings after nearly a year of working remotely, when news about India's "double mutant," a coronavirus variant, started to spread.
"There was a palpable fear of the pandemic peaking again," said Ritu Sarin, an investigative editor at the newspaper and a member of the International Consortium of Investigative Journalists.
Until then, they had been restricting reporting trips and forbidding meetings with colleagues who were exposed to sick relatives. As the number of cases dropped, some doctors reported witnessing a "fake sense of normalcy," as big religious gatherings and political rallies attracted thousands of people.
A government-sponsored vaccination drive had made the country and the media feel "optimistic" about the end of the health emergency, Sarin said. In February, Prime Minister Narendra Modi received his vaccine shot in front of TV cameras, renewing his pledge to make the country COVID-19 free.
Like many, Sarin joined "a throng of hundreds of mostly aged, enthusiastic Delhites" lining up for her first jab at a local hospital.
But the optimism soon evaporated when a second wave hit the country, and "two painful, lonely months" began, she said.
India and Brazil accounted for half of the world's new COVID-19 infections as of May 1, according to the World Health Organization.
Earlier this month, the Indian government recorded nearly 23 million cases and more than 240,000 deaths ー though the real human toll may be much higher, according to experts. Scientists believe that a variant called B.1.617, recently classified by the WHO as a global concern, has been responsible for the dramatic increase of infections in the country of 1.4 billion people.
We are seeing an issue with the data deficit that people do not know [information] as basic as how many people are dying … So how are you going to trust anything? — Syed Nazakat, Health Analytics Asia
With New Delhi in lockdown, for Sarin and other reporters, the sound of ambulance sirens outside has replaced the hustle and bustle of the newsroom. In some cases, daily calls to sources for news articles have been replaced by calls to diagnostic centers to find vials of antiviral drugs for family members and friends who are sick.
"The hunt for hospital beds, the scramble for oxygen cylinders, the shortage of COVID drugs is unfortunately, all a stark reality even in the nation's Capital," Sarin said.
India is facing a severe shortage of medicines and oxygen. People have died while waiting to see a doctor. Crematoriums have been overflowing with COVID-19 victims, and photos of burning funeral pyres in some parts of the country have been called a symbol of a country in crisis.
The situation is "beyond heartbreaking," WHO chief Tedros Adhanom Ghebreyesus said.
In the wake of such a crisis, journalists have had to adapt too.
Kaunain Sheriff, a health reporter at the Express, said that covering the pandemic has sparked a "paradigm shift" in the way he gathers information. Rising cases and stricter containment measures due to the second wave have meant "zero or limited access" to key sources in hospitals and medical professionals.
"I don't have physical interaction with the doctors, the hospital administration, public health officials, and other sources for the purpose of newsgathering," Sheriff said.
"We are innovating, every day, on ways to access public health data, or to track key policy decisions on the issues related to containment, testing, therapeutics, and vaccination."
Recently, Sheriff was able to obtain data from some 300 rural districts ー and the analysis led to an unsettling discovery.
The majority of rural districts that are reporting high positivity rates are also reporting an alarming decline in vaccination, the analysis found. The data analysis showed that rural districts are getting fewer doses because of a controversial government policy that has led to a decentralization of vaccine procurement, the report said.
"The story is significant as global data has revealed that vaccine equity is crucial in reducing mortality among the most vulnerable population groups," Sheriff said.
India government statistics on COVID-19 deaths are also far from accurate, according to several reports.
An investigation by NDTV journalists who visited crematoriums and cross-checked the information with one week of official data found that at least 1,150 deaths may not have been included in the official list of coronavirus victims.
Health Analytics Asia, a data-driven newsroom founded by ICIJ member Syed Nazakat, detailed three possible reasons for the undercounting: Deaths in India are rarely medically certified, particularly in rural areas where people may die without medical attention. Unlike the U.S., for instance, Indian authorities don't include suspected or probable cases in the official count. And finally, India isn't testing enough people, the report said.
"We are seeing an issue with the data deficit that people do not know [information] as basic as how many people are dying," Nazakat said speaking at an online seminar organized by the WHO last month. "So how are you going to trust anything?"
A solution, he said, is collaboration among experts from different fields, from medical professionals to journalists and data scientists. "It's a societal issue" and has to be solved together. Nobody has to be a "superhero," he said.
Trustworthy information is vital to provide the public with the right tools to distinguish between fake remedies and real cures, and curb the effects of misinformation such as racist attacks against minorities falsely accused of spreading the virus, according to Nazakat.
In an editorial titled "Please don't deny," The Indian Express echoed the call for more transparency, inviting India's local governments to take responsibility for the surge of COVID-19 cases and publish information based on facts.
"Every government should realise and internalise that the only way to flatten and bend the Covid curve is to ensure that truth is never a Covid casualty, howsoever terrible it may make them look."