CHINA CABLES
ICC complaint alleging Uighur genocide cites China Cables as evidence
Leaked Chinese government documents published by ICIJ were part of evidence submitted to the International Criminal Court by two Uighur activist groups.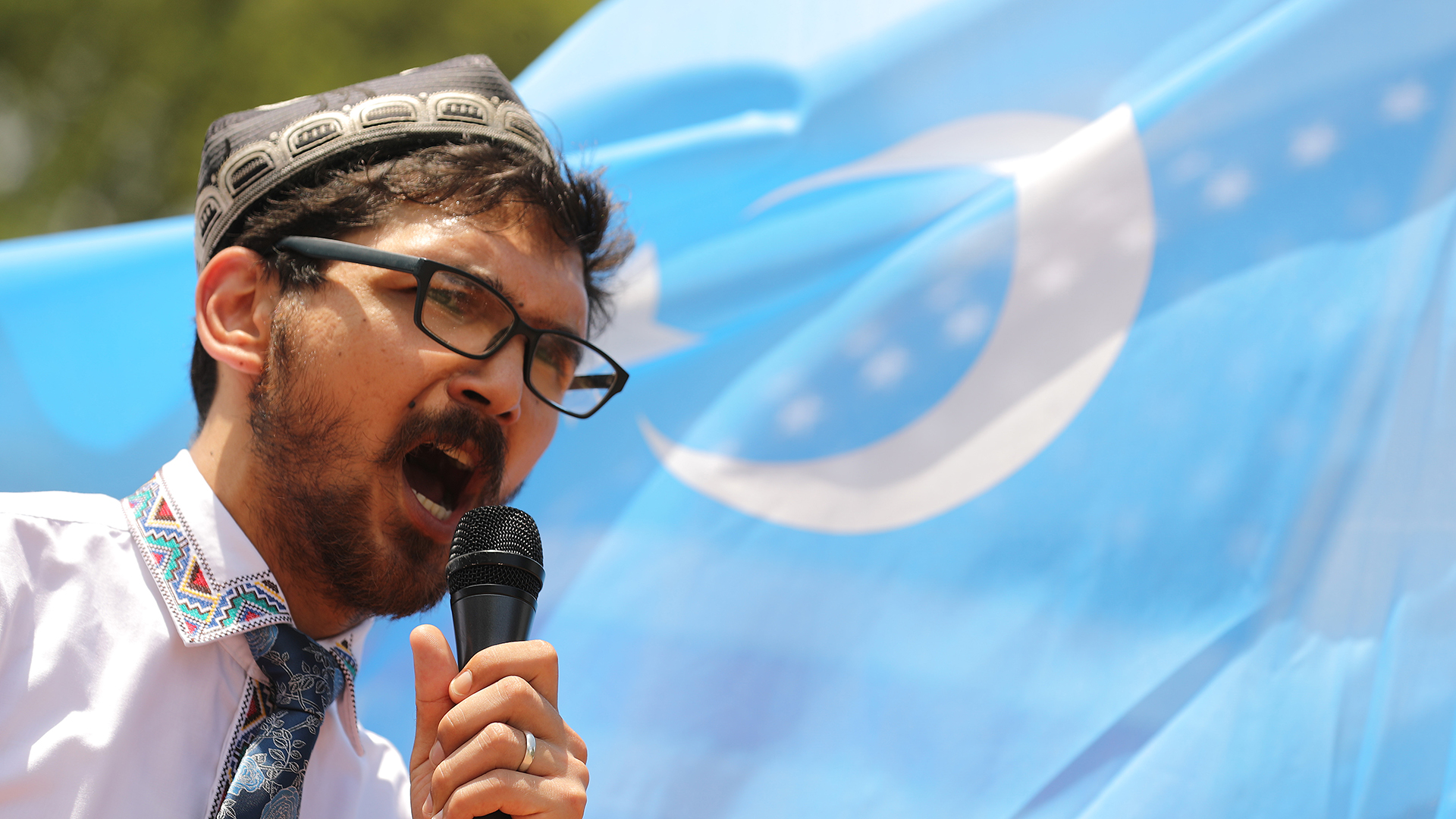 The classified Chinese government documents at the core of the China Cables investigation were included as evidence submitted to the International Criminal Court in a complaint alleging genocide against the Uighurs by China's top leaders, the lawyer leading the case said.
The leaked files published by the International Consortium of Investigative Journalists last year documented China's crackdown on Muslim minorities in Xinjiang, using extra-judicial detention, forced indoctrination and a pervasive mass-surveillance system.
Lawyers representing two Uighur activist groups filed the complaint with the ICC in July and are now waiting to meet with chief prosecutor Fatou Bensouda to discuss the evidence, which includes "countless" eye-witness accounts and reports by researchers and journalists of alleged forced sterilization, torture and forced labor.
"This is a classic crime against humanity of the highest order," Rodney Dixon, an international human rights lawyer and the lead counsel, told ICIJ.
The China Cables "will be very important documents that come from the alleged perpetrators directly," he said, adding that they will have to be verified independently in future trial proceedings.
"For now, those documents are all taken into account to establish that there's a reasonable basis to believe crimes were committed and to be able to get the investigation open," Dixon said.
He represents the East Turkistan Government in Exile and the East Turkistan National Awakening Movement, two groups that take their name from the region known to China as Xinjiang.
"We want real justice where the Chinese government and its officials are held accountable and punished just like the Nazis at the Nuremberg trials and the various criminals at the Yugoslavian tribunal," ETGE's leader Salih Hudayar said. "Ultimately, we want this to be a one of the first steps towards regaining our nation's independence and freedom."
China doesn't recognize the ICC mandate, but the complainants have circumvented that by claiming that the crimes were committed in Tajikistan and Cambodia, which are signatories of the court.
Both countries are responsible for "unlawfully" deporting Uighur refugees back to China where "they have been subjected to human rights abuses and serious crimes," ETGE said in a statement.
It's the same strategy that was used to investigate crimes against the Rohingya minority allegedly perpetrated by Myanmar ー which is not a ICC member state ー by examining potential abuses in its neighboring country, Bangladesh.
Chinese officials have repeatedly dismissed the claims as slanderous and recently said the government has lifted more than 1 billion people out of poverty by "pursuing a people-centered vision on human rights."
In a press conference earlier this month, foreign ministry spokesman Wang Wenbin said, "The Chinese people's rights to speech and religious freedom, as well as the ethnic minorities' right to participate in the governance of state affairs, are protected according to law."
"A very important first step"
Earlier this month, a group of more than 60 parliamentarians from 14 countries joined the appeal and sent a letter to the prosecutor to "call on the ICC to play its part in ensuring that the perpetrators of the most egregious human rights abuses are held accountable and prevented from acting with impunity."
Dixon called the lawmakers' move a "very important first step" to show the prosecutor that "if she takes on a case like this, which is difficult, massive, and politically very sensitive, [she] will be supported around the world," he told ICIJ from London.
It is not clear when the prosecutor will respond to their request, and whether she will choose to pursue it. If she does, she will examine whether there's a reasonable basis to believe the crimes are being committed, Dixon explained.
For Hudayar, the politicians' support was "a big slap in the face to China," and he hopes governments across the globe will continue to recognize China's violations against the Uighurs and other Turkic peoples.
"The world must uphold its promise of 'never again' and take real action, including humanitarian intervention if necessary," he said.
Hudayar, a 27-year-old Uighur-American, told ICIJ he moved to the U.S. with his family after his uncle was arrested "for reading a political book," in 1997, and Chinese security forces raided his home and "pointed their AK-47s to our heads threatening to kill us if my uncle didn't confess to his crime."
"At the time I only knew we were different and the Chinese were bad," he said.
In 2018, the United Nations estimated that China held in mass-detention camps more than 1 million Uighurs and members of other Turkic minorities.
But evidence suggests that many more Uighurs have since been arbitrarily detained, forced to work in factories, put under strict government surveillance and have seen hundreds of their mosques destroyed, according to reports by international news organizations and research centers. The detainees were subjected to ideological indoctrination, forced to renounce their religion and language, and physically abused, the accounts say.
"The government would use positive words and say they were sending [Uighurs] to re-education centers," former detainee Zumrat Dawut told ICIJ last year. "But these aren't re-education centers, in actuality these are really prisons," she said during an interview in Virginia, where she relocated after fleeing China.
One year since China Cables
As more and more former detainees and Uighur families residing overseas spoke up over the past year, a small number of countries began to put pressure on China over alleged human rights abuses.
In June, U.S. President Donald Trump authorized sanctions against China over the mass detention of Uighurs. The U.S. later sanctioned four top Chinese officials considered the architects of the country's mass internment camps. Among them was Zhu Hailun, who formerly led the Political and Legal Affairs Commission of the Communist Party in the Xinjiang region. Zhu's signature was on five of the six leaked government files obtained by ICIJ.
The U.S. has also imposed trade restrictions on dozens of Chinese companies that are believed to have a role in the crackdown against the Muslim minorities, including forced labor and high-technology surveillance.
Other countries are now considering stronger measures too.
In October, 39 countries including Japan, European Union member states, New Zealand and others urged China to respect Uighurs' human rights and allow "unfettered access" to Xinjiang for independent observers. Separately, a group of British lawmakers urged their government to sanction Chinese officials responsible for human rights violations.
Last week, Canada's ambassador to the U.N. Bob Rae said in an TV interview with CBC that the organization's Human Rights Council should investigate whether China's persecution of Uighurs should be considered genocide.
A Chinese top official said Rae was "crafting a publicity stunt."
Standing up to China may come with an economic cost, Darren Byler, an expert on Xinjiang at the University of Colorado Boulder, said.
That's why, besides the U.S., "it's really important for other nations to take a leadership role in pushing back against [China's treatment of Uighurs]," he said.
An investigation by a powerful entity such as the International Criminal Court would be "important strategically and will provide a body of evidence," Byler added. It would also trigger "knock-down effects that will build more solidarity and resolve" around the issue, including making it unlikely for China to host the 2022 Winter Olympics ー a role opposed by many human rights groups.
Recent reports have suggested that ー contrary to the Chinese government's claims ー the crackdown is far from over, and that powerful corporations are complicit.
Do you have a story about corruption, fraud, or abuse of power?
ICIJ accepts information about wrongdoing by corporate, government or public services around the world. We do our utmost to guarantee the confidentiality of our sources.
LEAK TO ICIJ
Just this month, a new report on surveillance tactics in Xinjiang documented how a Chinese tech company developed software targeting the Uighurs.
Zhejiang Dahua Technology, a surveillance firm that has won more than $1 billion worth of government contracts in Xinjiang according to the news site IPVM, wrote a code that appeared to discriminate against the minority. Dahua is on the U.S. blacklist.
The central role of technology in China's repression of Muslim minorities was also a key revelation of China Cables. One bulletin issued by Xinjiang's Communist Party Committee, for instance, instructed officials to use data stored by the police to investigate Uighurs "one by one," as thoroughly as possible, to find what it describes as terrorism suspects.
Human Rights Watch has also documented the use of sophisticated technological platforms to collect personal information, report on activities deemed "suspicious," and prompt investigations of people flagged by the system, in a report called "China's Algorithms of Repression."
This and other findings, including footage of shackled and blindfolded prisoners in Xinjiang, reports of forced birth control and accounts by investigators currently on the ground in China, make an inquiry by the ICC an urgent matter, Dixon said.
"This is going on as we speak," he said. "And we shouldn't be hesitating. Because starting that investigation can send a very strong signal that these crimes are not going to be tolerated."