CYPRUS CONFIDENTIAL
About the Cyprus Confidential investigation
An ICIJ-led investigation exposes how Cyprus firms provided services to help key backers of Russian President Vladimir Putin's regime shelter their wealth and then, as Russia invaded Ukraine, hide billions of dollars in assets from the threat of sanctions.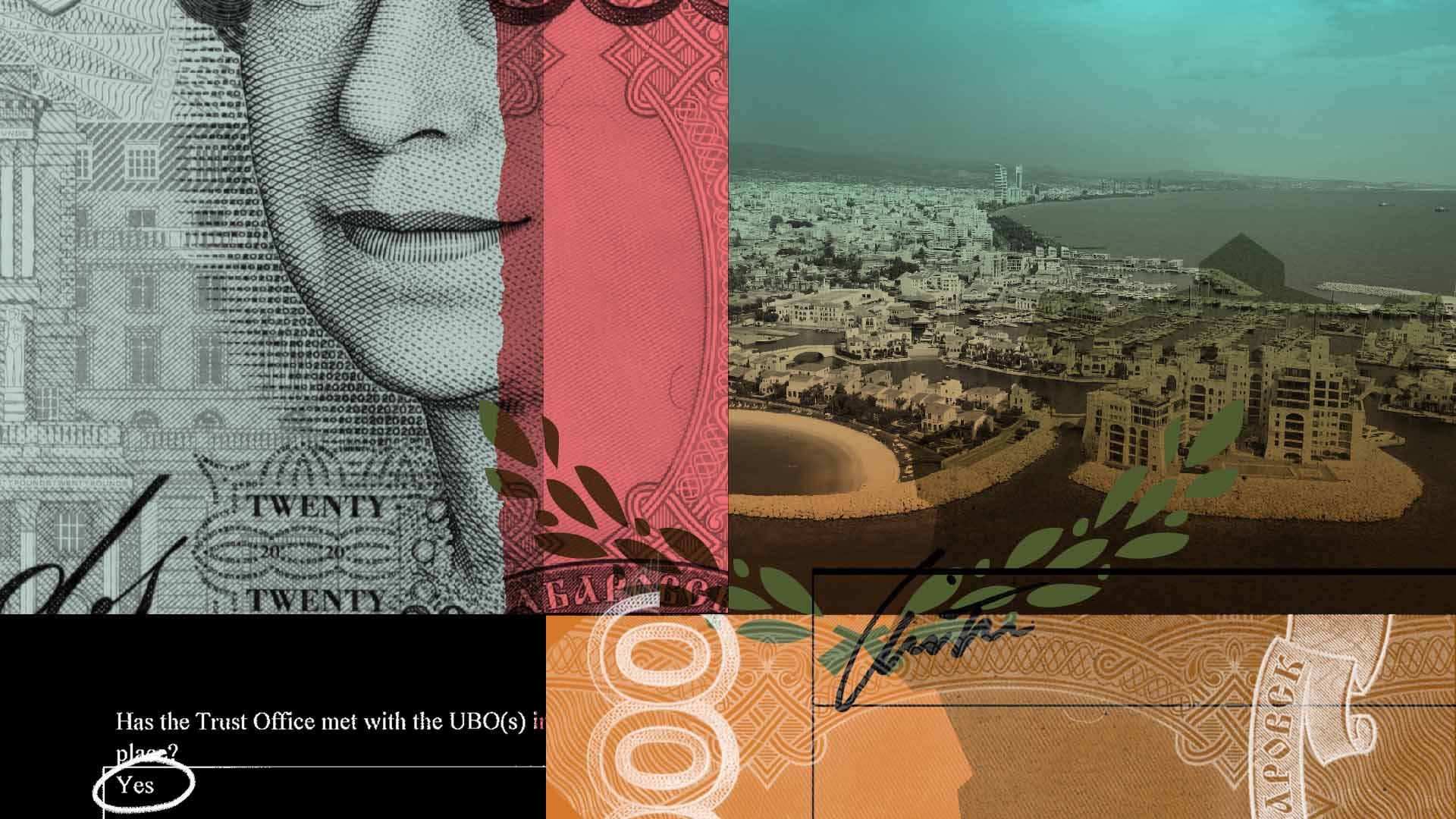 Cyprus Confidential reveals how Cypriot financial enablers scrambled to help Russian oligarchs and Putin allies shield their assets and avoid Western sanctions.
It spills the secrets of a European financial hub's clandestine role in protecting and moving oligarchs' assets around the world even as Russia launched its attack on Ukraine.
The investigation was led by the International Consortium of Investigative Journalists, a nonprofit newsroom based in Washington, D.C., and global network of journalists, and Munich-based Paper Trail Media.
The reporting is based on more than 3.6 million leaked files from six Cyprus-based financial services providers and a Latvian firm that sells Cypriot corporate registry documents through a website called i-Cyprus.
Clients of the financial services firms include former Chelsea Football Club owner Roman Abramovich; a Russian military contractor; and Alexander Abramov and Alexander Frolov, the oligarchs behind Evraz, the Russian steelmaker producing most of the rails for trains delivering Russia's war materiel.
Our reporting shows how Abramovich made a covert transfer of stakes in an advertising company to Sergey Roldugin, a classical cellist and now-sanctioned friend of the Russian president.
Dubbed "Putin's wallet," Roldugin has previously been identified by ICIJ and its media partners as part of a clandestine network operated by Putin associates that shuffled at least $2 billion through banks and offshore companies.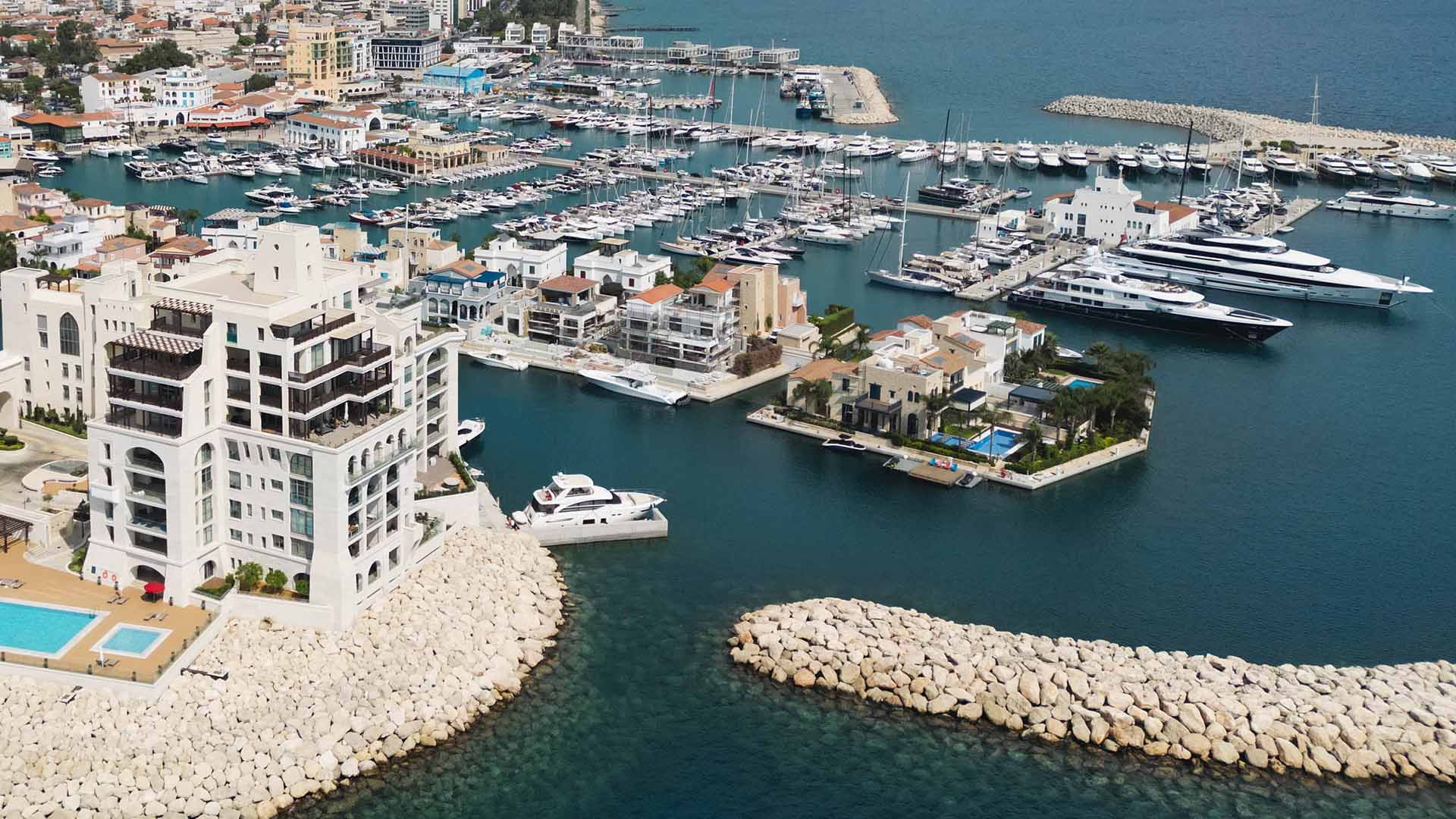 Cyprus Confidential exposes how the Cyprus arm of global accounting giant PwC helped Alexey Mordashov, one of Russia's richest industrialists, transfer a $1.4 billion investment to his life partner in a bid to elude European Union sanctions. 
The investigation uncovers hidden payments by middlemen close to Mordashov to a famous German journalist to write a book about Putin's power — a deal that highlights the sophistication of the Russian propaganda machine abroad.
It shows how Petr Aven, one of the key strategists behind Russian financial powerhouse the Alfa Group, used a Cyprus firm to shift $5 million outside of European authorities' reach just as the EU was announcing sanctions on members of Putin's inner circle, including him.
Reporting based on the financial documents also provides a glimpse into oligarchs' lavish lifestyles — their private concerts featuring Amy Winehouse, Red Hot Chili Peppers and other famous rock stars; their superyachts; and their priceless art collections.
ICIJ's analysis of the leaked records found nearly 800 companies and trusts registered in places that allow the rich to hide assets that were owned or controlled by Russians who later came under sanctions, including some who were sanctioned as early as 2014. Those include more than 650 Cyprus companies and trusts.
Our discovery of the sudden wartime shifting of many hundreds of millions of dollars in assets demolishes the notion that financial sanctions have halted Russian dark money flows.
It raises grave concerns about the active role played by Kremlin-friendly Cyprus firms in aiding Russians to evade international accountability. And it shows how the same murky operations favored by oligarchs are used by fraudsters, football financiers, money launderers, cyber spies and others.
Do you have a story about corruption, fraud, or abuse of power?
ICIJ accepts information about wrongdoing by corporate, government or public services around the world. We do our utmost to guarantee the confidentiality of our sources.
LEAK TO ICIJ
PwC and clients who drew sanctions
The investigation grew over eight months to include 272 journalists in 54 countries and one territory from 69 media partners, including ICIJ, who pored over complex transactions and voluminous sanctions lists.
Distributed Denial of Secrets, a nonprofit devoted to publishing and archiving of leaks, Paper Trail Media obtained the Cyprus Confidential documents in seven separate leaks.
The 3.6 million leaked files at the heart of the Cyprus Confidential investigation come from six financial services providers and a website company.
The providers are: ConnectedSky, Cypcodirect, DJC Accountants, Kallias & Associates, MeritKapital, and MeritServus in Cyprus. The MeritServus and MeritKapital records were obtained by Distributed Denial of Secrets. Leaked records from Cypcodirect, ConnectedSky and i-Cyprus were obtained by Paper Trail Media. In the case of Kallias & Associates, the documents were obtained from Distributed Denial of Secrets, which shared them with Paper Trail Media and ICIJ. DJC Accountants' records were obtained by Distributed Denial of Secrets and shared by the Organized Crime and Corruption Reporting Project. The partner organizations shared all the leaked records in the project with ICIJ, which structured, stored and translated them from several languages before sharing them with journalists from around the world. Additional records came from Latvia-based Dataset SIA, which maintains the i-Cyprus website, through which it sells information about Cyprus companies, including Cyprus corporate registry documents.
Together, reporters uncovered how PwC's Cyprus arm partnered with small firms specializing in creating shell companies and providing frontman directors to dozens of Russians with ties to the Kremlin. An ICIJ review of the records shows that before Russia's February 2022 invasion of Ukraine, PwC Cyprus' client roster already included 12 Russians who were under sanctions around the world due to their involvement in their government's illegal 2014 annexation of Ukraine's Crimean Peninsula and military aggression in the Donbas region of eastern Ukraine.
After the 2022 invasion, an additional 39 of PwC Cyprus' Russian clients were hit with sanctions by the EU, U.K., United States or Ukraine because of their close ties to Putin or their prominent roles in economic sectors critical to the war in Ukraine.
Previously, ICIJ has revealed how PwC helped hundreds of multinational companies spirit profits to tiny Luxembourg to reduce their tax liabilities. Later, in its Luanda Leaks project, ICIJ showed how the firm advised an African autocrat's daughter, Isabel dos Santos, as two decades of corrupt deals made her a billionaire.
In June, the European Union, in a report drawing from ICIJ's Pandora Papers, called for greater scrutiny of PwC and other global accountancy firms for their assistance to Russian oligarchs. The Cyprus Confidential investigation represents another embarrassment for the scandal-plagued PwC and raises questions about the EU's monitoring of it.
More findings, more cleanup
Reporters pooled their research as they mined the files, questioned dozens of subjects, conferred with experts and traveled to Cyprus and beyond to uncover nests of trusts and shell companies used to shelter and enrich members of Putin's inner circle, and others.
ICIJ project partners included Arab Reporters for Investigative Journalism, the Belarusian Investigative Center, The Bureau of Investigative Journalism, CBC, Der Spiegel, the Guardian, Le Monde, OCCRP, Politiken, Syrian Investigative Reporting for Accountability Journalism, Ukraine's Slidstvo and The Washington Post.
Beyond Russia, Cyprus Confidential reporting shows how PwC administered shell companies linked to a Curacao-based insurer and pension fund allegedly looted hundreds of millions of dollars.
PwC told ICIJ that its Cyprus arm, the biggest accounting firm on the eastern Mediterranean island, had culled its client list after the Russian invasion of Ukraine.
The firm said it had terminated "approximately 150 client groups," 60 as a result of its Russia-related sanctions policy and a further 90 after a wider "de-risking review."
"All PwC firms, including PwC Cyprus, take the application of sanctions against clients and sanctions prohibiting various professional services extremely seriously," it said in a statement.
Cyprus Confidential reporting brings to light several efforts by Cyprus middlemen at the height of the Syrian civil war to assist Damascus in placing orders for American oil and gas drilling equipment even though Western sanctions were in place.
It reveals how a Polish skincare entrepreneur and ex-wife of an Israeli military intelligence commander attempted to conceal her involvement in an intricate network of cyber surveillance firms.
And it shows how Ukrainian oligarch Rinat Akhmetov quietly agreed to buy a London penthouse, parking spaces and other amenities for about $122 million through a British Virgin Islands-based shell company. In response to questions, lawyers for Akhmetov said he was Ukraine's largest individual taxpayer.
At a recent press conference, a Cyprus government spokesman announced stepped-up efforts to coordinate sanctions enforcement internationally and said these efforts demonstrate "the government's stated intention to show zero tolerance on matters concerning sanctions evasion and law violation, and by extension, to safeguard the country's name as a reliable financial center, which is considered to be of key importance."
---
The ICIJ team
Director: Gerard Ryle
Managing editor: Fergus Shiel
Senior editors: Dean Starkman, David Rowell, Whitney Joiner
Head of data and research: Delphine Reuter
Reporters: Spencer Woodman, David Kenner, Tanya Kozyreva, Matei Rosca, Dean Starkman, Neil Weinberg, Delphine Reuter, Karrie Kehoe, Agustin Armendariz, Jelena Cosic, Jesús Escudero, Miguel Fiandor, Denise Ajiri, Scilla Alecci, Mike Hudson, Brenda Medina and Roy W. Howard Fellow Eve Sampson.
Associate editors and fact checkers: Richard H.P. Sia, Kathleen Cahill
Copy editor: Angie Wu
Editor: Tom Stites
Head of digital and product: Hamish Boland-Rudder
Digital editor: Joanna Robin
Digital producers: Carmen Molina Acosta, Carlos Monteiro
Web developer: Antonio Cucho
Video reporter: Scilla Alecci
Chief technology officer: Pierre Romera Zhang
Technology team: Caroline Desprat, Soline Ledésert, Miguel Fiandor Gutiérrez, Bruno Thomas, Maxime Vanza Lutonda, Whitney Awanayah, Javier Ladrón de Guevara, Jorge González and Carolina Verónica López Cotán, Clément Doumouro.
Design and illustration: Ben King
Training manager: Jelena Cosic
Reporters and editors
Lyas Hallas (Twala.info) Algeria
Edik Baghdasaryan (Investigative Journalists of Armenia) Armenia
Neil Chenoweth (Australian Financial Review) Australia
Liam Walsh (Australian Financial Review) Australia
Carlos Monteiro (ICIJ) Australia
Gerard Ryle (ICIJ) Australia
Hamish Boland-Rudder (ICIJ) Australia
Fabian Schmid (Der Standard) Austria
Jakob Pfluegl (Der Standard) Austria
Jan Michael Marchart (Der Standard) Austria
Joseph Gepp (Der Standard) Austria
Laurin Lorenz (Der Standard) Austria
Michael Nikbakhsh (Der Standards) Austria
Olga Kronsteiner (Der Standard) Austria
Renate Graber (Der Standard) Austria
Bernt Koschuh (ORF) Austria
Elisabeth Lind (ORF) Austria
Emanuel Liedl (ORF) Austria
Jakob Weichenberger (ORF) Austria
Kaspar Fink (ORF) Austria
Martin Thür (ORF) Austria
Petra Pichler (ORF) Austria
Ulla Kramar-Schmid (ORF) Austria
Alina Yanchur (Belarusian Investigative Center) Belarus
Marina Dulneva (Belarusian Investigative Center) Belarus
Stas Ivashkevich (Belarusian Investigative Center) Belarus
Maria Meliokhina (Belarusian Investigative Center) Belarus
Lars Bové (De Tijd) Belgium
Delphine Reuter (ICIJ) Belgium
Kristof Clerix (Knack) Belgium
Xavier Counasse (Le Soir) Belgium
Kelly Bloss (OCCRP) Bosnia and Herzegovina
Miranda Patrucic (OCCRP) Bosnia and Herzegovina
Freeman Rogers (BVI Beacon) British Virgin Islands
Atanas Tchobanov (BIRD) Bulgaria
Vasil Krastev (BIRD) Bulgaria
Arnaud Ouedraogo (CENOZO) Burkina Faso
Sandrine Sawadogo (CENOZO) Burkina Faso
Zach Dubinsky (CBC) Canada
Frédéric Zalac (CBC/ Radio Canada) Canada
Paul d'Entremont (CBC/ Radio Canada) Canada
Aisha ElGayar (CBC/freelance) Canada
Hugo Joncas (La Presse) Canada
Mašenjka Bačić (Oštro) Croatia
Andreas Cosma (OCCRP) Cyprus
Tatiana Tkachenko (OCCRP) Cyprus
Kristina Vejnbender (investigace.cz) Czechia
Pavla Holcova (investigace.cz) Czechia
Zuzana Šotová (investigace.cz) Czechia
John Hansen (Politiken) Denmark
Ahmed Ashour (ARIJ) Egypt
Mohamed Zidan (DARAJ) Egypt
Delfin Mocache Massoko (Diario Rombe) Equatorial Guinea
Holger Roonemaa (Delfi Estonia) Estonia
Martin Laine (Delfi Estonia) Estonia
Oliver Kund (Delfi Estonia) Estonia
Antje Tolpo (Yle, Finnish Broadcasting Company) Finland
Jaakko Mäntymaa (Yle, Finnish Broadcasting Company) Finland
Jyri Hanninen (Yle, Finnish Broadcasting Company) Finland
Minna Knus Galán (Yle, Finnish Broadcasting Company) Finland
Ville Juutilainen (Yle, Finnish Broadcasting Company) Finland
Bruno Thomas (ICIJ) France
Caroline Desprat (ICIJ) France
Clément Doumouro (ICIJ) France
Dean Starkman (ICIJ) France
Maxime Vanza Lutonda (ICIJ) France
Pierre Romera Zhang (ICIJ) France
Soline Ledésert (ICIJ) France
Abdelhak El Idrissi (Le Monde) France
Anne Michel (Le Monde) France
Damien Leloup (Le Monde) France
Florian Reynaud (Le Monde) France
Jeremie Baruch (Le Monde) France
Lucas Minisini (Le Monde) France
Maxime Vaudano (Le Monde) France
Vincent Nouvet (Le Monde) France
Luc Hermann (Premieres Lignes) France
Margot Vermeylen (Premieres Lignes) France
Marie Maurice (Premieres Lignes) France
Paul Moreira (Premieres Lignes) France
Elodie Gueguen (Radio France) France
Jacques Monin (Radio France) France
Melissa Foust (Radio France) France
Benjamin Bidder (Der Spiegel) Germany
Christoph Winterbach (Der Spiegel) Germany
Jörg Diehl (Der Spiegel) Germany
Lina Verschwele (Der Spiegel) Germany
Nikolai Antoniadis (Der Spiegel) Germany
Oliver Das Gupta (Der Standard) Germany
Roman Lehberger (Der Spiegel) Germany
Susanne Amann (Der Spiegel) Germany
Sven Becker (Der Spiegel) Germany
Thomas Schulz (Der Spiegel) Germany
Ulrike Knöfel (Der Spiegel) Germany
Graham Stack (OCCRP) Germany
Jan Strozyk (OCCRP) Germany
Anastasia Trenkler (Paper Trail Media) Germany
Bastian Obermayer (Paper Trail Media) Germany
Carina Huppertz (Paper Trail Media) Germany
Dajana Kollig (Paper Trail Media) Germany
Elisa Schwarze (Paper Trail Media) Germany
Frederik Obermaier (Paper Trail Media) Germany
Hannes Munzinger (Paper Trail Media) Germany
Maria Christoph (Paper Trail Media) Germany
Maria Retter (Paper Trail Media) Germany
Ruben Schaar (Paper Trail Media) Germany
Sophia Baumann (Paper Trail Media) Germany
Sophia Stahl (Paper Trail Media) Germany
Timo Schober (Paper Trail Media) Germany
Kate Connolly (The Guardian) Germany
Christian Rohde (ZDF) Germany
Felix Klauser (ZDF) Germany
Hans Koberstein (ZDF) Germany
Marta Orosz (ZDF) Germany
Ulrich Stoll (ZDF) Germany
Janine Louloudi (Reporters United) Greece
Konstantina Maltepioti (Reporters United) Greece
Kostas Zafeiropoulos (Reporters United) Greece
Helena Smith (The Guardian) Greece
Harry Karanikas (Freelance) Greece
András Pethő (Direkt36) Hungary
Gábor Miklósi (Direkt36) Hungary
Kamilla Marton (Direkt36) Hungary
Adalstein Kjartansson (Heimildin) Iceland
Jay Mazoomdaar (The Indian Express) India
Ritu Sarin (The Indian Express) India
Sandeep Singh (The Indian Express) India
Shyamlal Yadav (The Indian Express) India
Karrie Kehoe (ICIJ) Ireland
Colm Keena (Irish Times) Ireland
Uri Blau (Shomrim) Israel/USA
Scilla Alecci (ICIJ) Italy
Gloria Riva (L'Espresso) Italy
Leo Sisti (L'Espresso) Italy
Paolo Biondani (L'Espresso) Italy
E'thar AlAzem (ARIJ) Jordan
Mohammed Komani (ARIJ) Jordan
Rawan Damen (ARIJ) Jordan
Firas Taweel (ARIJ) Jordan
Inga Springe (Re:Baltica) Latvia
Farah Jallad (ARIJ) Lebanon
Munir Khatib (ARIJ) Lebanon
Alia Ibrahim (DARAJ) Lebanon
Diana Moukalled (DARAJ) Lebanon
Hala Nasreddine (DARAJ) Lebanon
Hazem El Amin (DARAJ) Lebanon
Jana Barakat (DARAJ) Lebanon
Šarūnas Černiauskas (OCCRP/Siena) Lithuania
Migle Kranceviciute (Siena) Lithuania
Laurent Schmit (Reporter.lu) Luxembourg
Luc Caregari (Reporter.lu) Luxembourg
Jacob Borg (Malta Times) Malta
Iurie Sanduta (Rise Moldova) Moldova
Dejan Milovac (MANS) Montenegro
Lazar Grdinić (MANS) Montenegro
Ali Amar (Le Desk) Morocco
Soufiane Sbiti (Le Desk) Morocco
Gaby de Groot (Het Financieele Dagblad) Netherlands
Johan Leupen (Het Financieele Dagblad) Netherlands
Vasco van der Boon (Het Financieele Dagblad) Netherlands
Jeroen Wester (NRC) Netherlands
Karlijn Kuijpers (NRC) Netherlands
Tom Kreling (NRC) Netherlands
Dirk Waterval (Trouw) Netherlands
Martijn Roessingh (Trouw) Netherlands
Mina Liavik Karlsen (Aftenposten) Norway
Per Anders Johansen (Aftenposten) Norway
Trond J. Strøm (Aftenposten) Norway
Anna Gielewska (VSquare.org) Poland
Anastasiia Morozova (VSquare.org) Poland
Konrad Szczygieł (Frontstory.pl) Poland
Mariusz Sepioło (Frontstory.pl) Poland
Szabolcs Panyi (VSquare.org/Fundacja Reporterow) Poland
Urszula Kifer (VSquare.org) Poland
Micael Pereira (Espresso) Portugal
Attila Biro (Context) Romania
Iulia Stanoiu (Context) Romania
Matthew Garvey (Context) Romania
Mihaela Tănase (Context)  Romania
Irina Dolinina (iStories) Russia
Maxim Solius (iStories) Russia
Roman Anin (iStories) Russia
Mika Velikovskiy (OCCRP) Russia
Jelena Cosic (ICIJ) Serbia
Bojana Jovanović (KRIK) Serbia
Vesna Radojevic (KRIK) Serbia
Dragana Peco (KRIK/OCCRP) Serbia
Stevan Dojcinovic (KRIK/OCCRP) Serbia
Klara Škrinjar (Oštro) Slovenia
Matej Zwitter (Oštro) Slovenia
Anuška Delić (Oštro/OCCRP) Slovenia
Micah Reddy (ICIJ) South Africa
Erin Klazar (OCCRP) South Africa
Khadija Sharife (OCCRP) South Africa
Daniele Grasso (El País) Spain
Jesús Escudero (ICIJ) Spain
Miguel Fiandor (ICIJ) Spain
Joaquín Castellón (La Sexta) Spain
Ola Westerberg (Utrikesmagasinet.se) Sweden
Helena Bengtsson (Gota Media) Sweden
Axel Humlesjö (SVT) Sweden
Joachim Dyfvermark (SVT) Sweden
Linda Larsson Kakuli (SVT) Sweden
Anielle Peterhans (Tamedia) Switzerland
Christian Broennimann (Tamedia) Switzerland
Oliver Zihlmann (Tamedia) Switzerland
Patrick Oberli (Tamedia) Switzerland
Sylvain Besson (Tamedia) Switzerland
Mohammad Bassiki (SIRAJ) Syria
Hanène Zbiss (DARAJ) Tunisia
Pelin Unker (DW Turkey) Turkey
Serdar Vardar (DW Turkey) Turkey
Aisling Gallagher (BBC) UK
Becky Dale (BBC) UK
Ben Chu (BBC) UK
Harriet Agerholm (BBC) UK
James Melley (BBC) UK
James Oliver (BBC) UK
Sean Clare (BBC) UK
William Dahlgreen (BBC) UK
Matei Rosca (ICIJ) UK
Pete Jones (OCCRP) UK
Selma Mhaoud (OCCRP) UK
Tom Stocks (OCCRP) UK
Edward Siddons (TBIJ) UK
Eleanor Rose (TBIJ) UK
Franz Wild (TBIJK) UK
Simon Lock (TBIJ) UK
John Collingridge (The Guardian) UK
Juliette Garside (The Guardian) UK
Paul Lewis (The Guardian) UK
Rob Davies (The Guardian) UK
Simon Goodley (The Guardian) UK
Catherine Belton (Washington Post) UK
Tanya Kozyreva (ICIJ) Ukraine
Elena Loginova (OCCRP) Ukraine
Yana Korniichuk (Slidstvo media) Ukraine
Yanina Korniienko (Slidstvo media) Ukraine
Hoda Osman (ARIJ) USA
Agustin Armendariz (ICIJ) USA
Antonio Cucho (ICIJ) USA
Brenda Medina (ICIJ) USA
Carmen Molina Acosta (ICIJ) USA
Michael Hudson (ICIJ) USA
David Kenner (ICIJ) USA
David Rowell (ICIJ) USA
Denise Ajiri (ICIJ) USA
Emilia Diaz-Struck (ICIJ) USA
Eve Sampson (ICIJ) USA
Joanna Robin (ICIJ) USA
Kathleen Cahill (ICIJ) USA
Fergus Shiel (ICIJ) USA
Margot Williams (ICIJ) USA
Neil Weinberg (ICIJ) USA
Richard H.P. Sia (ICIJ) USA
Spencer Woodman (ICIJ) USA
Whitney Awanayah (ICIJ) USA
Whitney Joiner (ICIJ) USA
Andrew Lehren (NBC news) USA
Kevin Hall (OCCRP) USA
Kira Zalan (OCCRP) USA
Amy Argetsinger (Washington Post) USA
Craig Timberg (Washington Post) USA
Elahe Izadi (Washington Post) USA
Kate Brady (Washington Post) USA
Loveday Morris (Washington Post) USA
Marisa Bellack (Washington Post) USA