DATA JOURNALISM
Inside Cyprus Confidential: The data-driven journalism that helped expose an island under Russian influence
From company structure charts to detailed email exchanges and more, ICIJ's data and research unit analyzed millions of documents to uncover Cyprus' financial secrets.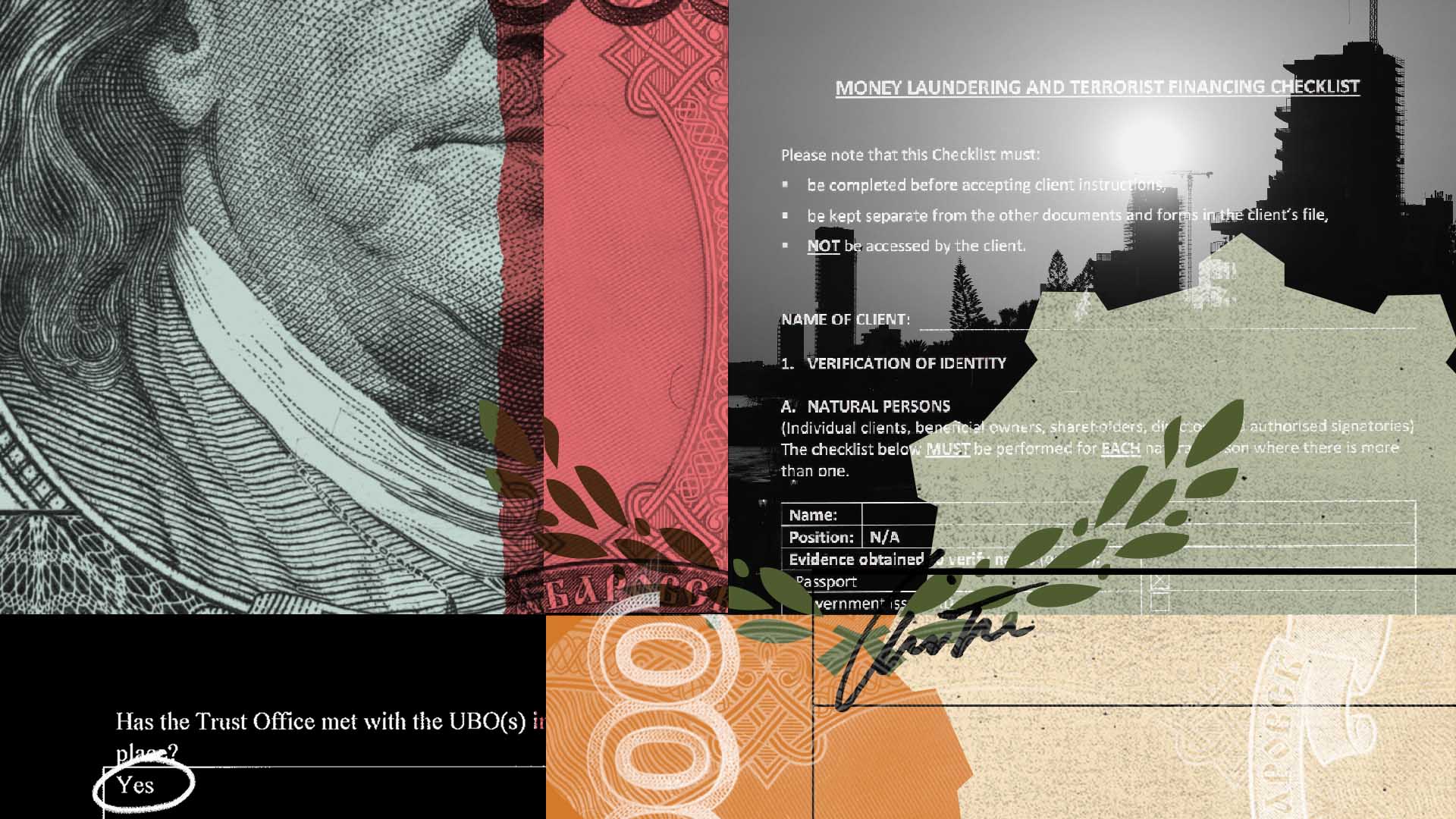 The Cyprus Confidential investigation is a global collaboration led by the International Consortium of Investigative Journalists and Paper Trail Media based on a trove of more than 3.6 million documents from seven separate leaks. The investigation exposes how financial firms in Cyprus have helped Russian oligarchs and billionaires shelter their wealth for years — including from financial sanctions.
It's no secret that Russian oligarchs and billionaires have long structured their investments through Cyprus, enjoying an attractive tax rate, corporate secrecy (information on ultimate beneficial owners of companies isn't publicly available) and, until recently, a "golden visa" program that gave non-EU nationals Cypriot citizenship if they bought property in Cyprus. But after Russia's 2022 invasion of Ukraine, the wealth that Cypriot offshore services providers carefully helped their once-glamorous clients build has become a target for governments around the globe trying to weaken Vladimir Putin's regime.
ICIJ's analysis of the leaked records found nearly 800 companies and trusts registered in secrecy jurisdictions that were owned or controlled by Russians who have been sanctioned since 2014. Those include more than 650 Cyprus companies and trusts. Among them are mother companies of Russian holdings; subsidiaries of Russian conglomerates; and companies and trusts used to shield from oversight investments in properties, yachts and world-famous artwork.
To explore the cache of documents, ICIJ assembled and coordinated an international coalition of 69 media partners (including ICIJ) in 54 countries and one territory. More than 270 journalists took part in the collaboration, which spanned eight months. ICIJ held extensive training sessions for partners on the use of ICIJ technology to explore, mine and better understand the files.
The leaked records include company structure charts, bank account applications, "know your customer" documentation, tax declaration forms, corporate registry certificates and email exchanges. They reveal details on the investments made by sanctioned Russian oligarchs using Cypriot companies and trusts to enrich themselves, their business partners and their families — bolstering Putin's power in the process.
The documents come from Cypriot firms DJC Accountants, ConnectedSky, Cypcodirect, MeritServus, MeritKapital, and Kallias & Associates. Additional records came from a Latvian company, Dataset SIA, which sells Cypriot corporate registry documents through a website called i-Cyprus*.
The MeritServus and MeritKapital records were obtained by Distributed Denial of Secrets (DDoS). Leaked records from Cypcodirect, ConnectedSky, i-Cyprus, and Kallias & Associates were obtained by Paper Trail Media. In the case of Kallias & Associates, the documents were obtained from DDoS, which shared them with Paper Trail Media and ICIJ. DJC Accountants records were obtained by the Organized Crime and Corruption Reporting Project (OCCRP). The partner organizations shared all the leaked records in the project with ICIJ, which structured, stored and translated them from several languages before sharing them with the wider partnership.
ICIJ provided access to the leaked records through its secure research platform, Datashare. ICIJ and Paper Trail Media organized and coordinated the project through ICIJ's secure communications platform, I-Hub.
ICIJ and several of its partners have previously reported on MeritServus and MeritKapital, and the current project builds on earlier findings. It also shines a light on the elaborate and secretive financial networks that have allowed many in Putin's inner circle to wield power and influence before and during Russia's war in Ukraine.
Do you have a story about corruption, fraud, or abuse of power?
ICIJ accepts information about wrongdoing by corporate, government or public services around the world. We do our utmost to guarantee the confidentiality of our sources.
LEAK TO ICIJ
The holdings of sanctioned Russians
As part of the Cyprus Confidential project, ICIJ's data and research team combed the records to find sanctioned individuals and expose their offshore holdings. ICIJ analyzed more than 1,000 companies and trusts appearing in the data, exploring thousands of pages of leaked documents containing details about investments in real estate, Russian conglomerates, yachts, private concerts and nearly $1 billion worth of art.
ICIJ found that in recent years, Cypriot law and other professional services firms have provided financial services to at least 25 Russians who were sanctioned after Russia's 2014 annexation of Crimea and at least 71 Russians sanctioned since the start of the war in Ukraine. In some cases, Cypriot firms dealt with their clients for several years prior to sanctions being imposed. As a result, ICIJ's data unit needed to compile separate counts for the clients sanctioned prior to February 2022 and those who were sanctioned later. To cross-check these individuals' information, ICIJ relied on OpenSanctions, a website that aggregates data from sanctions lists around the world. ICIJ cross-checked the named individuals against databases published by governments in the European Union, United States, United Kingdom, Australia, Canada, New Zealand and Ukraine. ICIJ also used Dow Jones' risk database to cross-check sanctions dates.
Because Cyprus is an EU member state, ICIJ focused first on sanctions imposed on Russian individuals by the bloc. ICIJ used batch searches through Datashare, which allows users to run thousands of queries at once. This process allows ICIJ and its media partners to download search results in an easily explorable spreadsheet.
ICIJ used both Cyrillic and Latin spellings in its searches whenever possible, since the leaked documents were in several languages, including Russian and Greek. The data unit verified whether each name identified was a client of one of the providers or had appeared in a Cyprus corporate registry document linking an individual's name to our list of sanctioned entities.
Next, ICIJ confirmed who among the 96 sanctioned Russians qualifies as a billionaire and as an oligarch, a term loosely applied to a group of wealthy and influential Russians who have typically made their fortune in industry, technology or banking and may exert some influence within the government. ICIJ found that 67 of the 96 sanctioned Russians were oligarchs, and most of them also appeared on Forbes' 2023 ranking of the world's billionaires.
Using an oligarchs list published on OpenSanctions, ICIJ compiled a list of entities in the data that were linked to sanctioned individuals. Additionally, the data unit relied on information from media partners to determine which individuals should be deemed oligarchs. In recent months, Russian businessmen have regularly been dubbed oligarchs by media organizations — often without clearly defined criteria. Over the years, ICIJ partners — including exiled Russian journalists branded "foreign agents" by their government who have been forced to cover tax evasion and other crimes from outside Russia — have become experienced in this kind of work. We confer with them, then apply the same methodology to our reviews of oligarchs.
For Cyprus Confidential, ICIJ relied on Forbes' 2023 billionaires list. In a few cases, Forbes' analysis included the holdings of both Russian billionaires and their family members. When family members, some of whom are sanctioned themselves, appeared in the leaked data — for example, listed as owners of companies on behalf of a billionaire father, husband or son — ICIJ included them in the count, in keeping with Forbes' methodology.
As part of a separate analysis tied to ICIJ's Confidential Clients visualization, the data unit analyzed the Cyprus companies of a non-Russian billionaire: Ukraine's richest person, Rinat Akhmetov.
ICIJ also explored who among the sanctioned Russians is or was a so-called politically exposed person (PEP), a public official or individual with a position or a controlling interest in a state-owned company who is more at risk of being exposed to bribes or other corruption. To do this, ICIJ relied on open-source research as well as Dow Jones' risk database and included a case where a PEP used a family member to hold the shares on his behalf. ICIJ found that 44 of the sanctioned Russians belonged to the PEP category. ICIJ also used Dow Jones and open-source research to determine individuals' citizenship and confirm whether they are Russian. ICIJ excluded from this count a former Russian who renounced his citizenship in the wake of the war in Ukraine.
A long chain of secrecy
While the offshore services providers ICIJ analyzed are based in Cyprus, not all companies they worked with were registered on the island. Cyprus law and other professional services firms also help their clients handle business related to companies registered in secrecy jurisdictions — countries and territories that provide low tax rates and corporate ownership anonymity, limit access to company documents and can be more lenient toward financial crime. In the case of ConnectedSky, one of the firms from which the Cyprus Confidential leaked records were obtained, ICIJ identified companies located in the British Virgin Islands, the Marshall Islands, the Seychelles, Hong Kong and Belize, among others.
With MeritServus, ICIJ found that the firm was providing services to many companies and trusts owned by Russian oligarch Roman Abramovich. The data unit was able to analyze his holdings in detail and identified more than 210 companies and trusts owned or controlled by him to which MeritServus provided services. Of those companies, 91 were registered in the British Virgin Islands and dozens more in the Isle of Man, the Channel Island of Jersey and Aruba. Due to his proximity to Putin's regime, Western governments have singled out Abramovich as a key enabler of the war in Ukraine.
Mining documents for gold
A project with the scope and complexity of Cyprus Confidential comes with unique challenges. The leak from i-Cyprus, a website maintained by Latvian company Dataset SIA, contains thousands of additional company records obtained from the Cyprus corporate registry, which normally charges an access fee of about $11 per company. While its records offer a holistic glimpse into corporate ownership, i-Cyprus was an outlier in ICIJ's dataset, as it is not a services provider and its records proved difficult to mine automatically.
The Cyprus registry itself provides the names of Cypriot companies' officers, such as individuals who mainly perform administrative tasks. But shareholders aren't identified without a fee — and even then the data can be incomplete. Cyprus' rules allow shareholders to be other shell companies registered in other secrecy jurisdictions.
One of ICIJ's key methods of reporting in projects of this scale is identifying documents we can apply the same analysis in order to extract trustworthy information more quickly across several hundred companies at a time. For Cyprus Confidential, ICIJ used Cypriot companies' financial statements — yearly reports prepared by accounting firms and company directors and sent to the Cyprus registry. These contain detailed information on services providers, subsidiaries, beneficial owners, revenues and assets.
Once financial statements were selected, ICIJ used data-mining techniques to extract relevant information for analysis in a spreadsheet. ICIJ then sorted the extracted text according to pre-selected keywords, such as the names of Cypcodirect directors, "PwC" or "PricewaterhouseCoopers," using different spellings to catch all iterations.
ICIJ also deployed so-called natural language processing models to extract structured information, customizing and retraining those models. We also used the classification by keyword searches to cross-check financial statements and annual reports tied to companies audited by PwC that were owned or controlled by Russian oligarchs.
Still, ICIJ searched 1,100 company accounts identifying the ultimate beneficial owners of companies and found that PwC acted as auditors for 38 companies owned by Russian oligarchs, including 25 Cyprus and British Virgin Islands companies owned by Alexey Mordashov. Since PwC's name — as well as that of other auditing companies or law firms — can appear across a wide range of documents, we relied on manual research and fact-checking to review each company's financial statements and confirm both the presence of the Russian oligarch as a beneficial owner or shareholder and PwC's role as auditor.
The underpinning of ICIJ's Cyprus Confidential investigation is deep, rigorous data analysis, which reveals the true scale of Cyprus' role as a financial hub for Putin allies and other undemocratic actors — and the harmful consequences these secretive dealings have for the wider world.
---
Based on its review of leaked records, ICIJ is planning to release additional structured data to its Offshore Leaks Database in the coming weeks. To learn more about ICIJ's data releases, subscribe to ICIJ's newsletter.
*ICIJ is mentioning i-Cyprus and Dataset for transparency purposes as one of the sources of the leaked records.
Contributors: Emilia Diaz-Struck, Margot Williams, Tanya Kozyreva and Eve Sampson (ICIJ), Simon Lock (TBIJ)