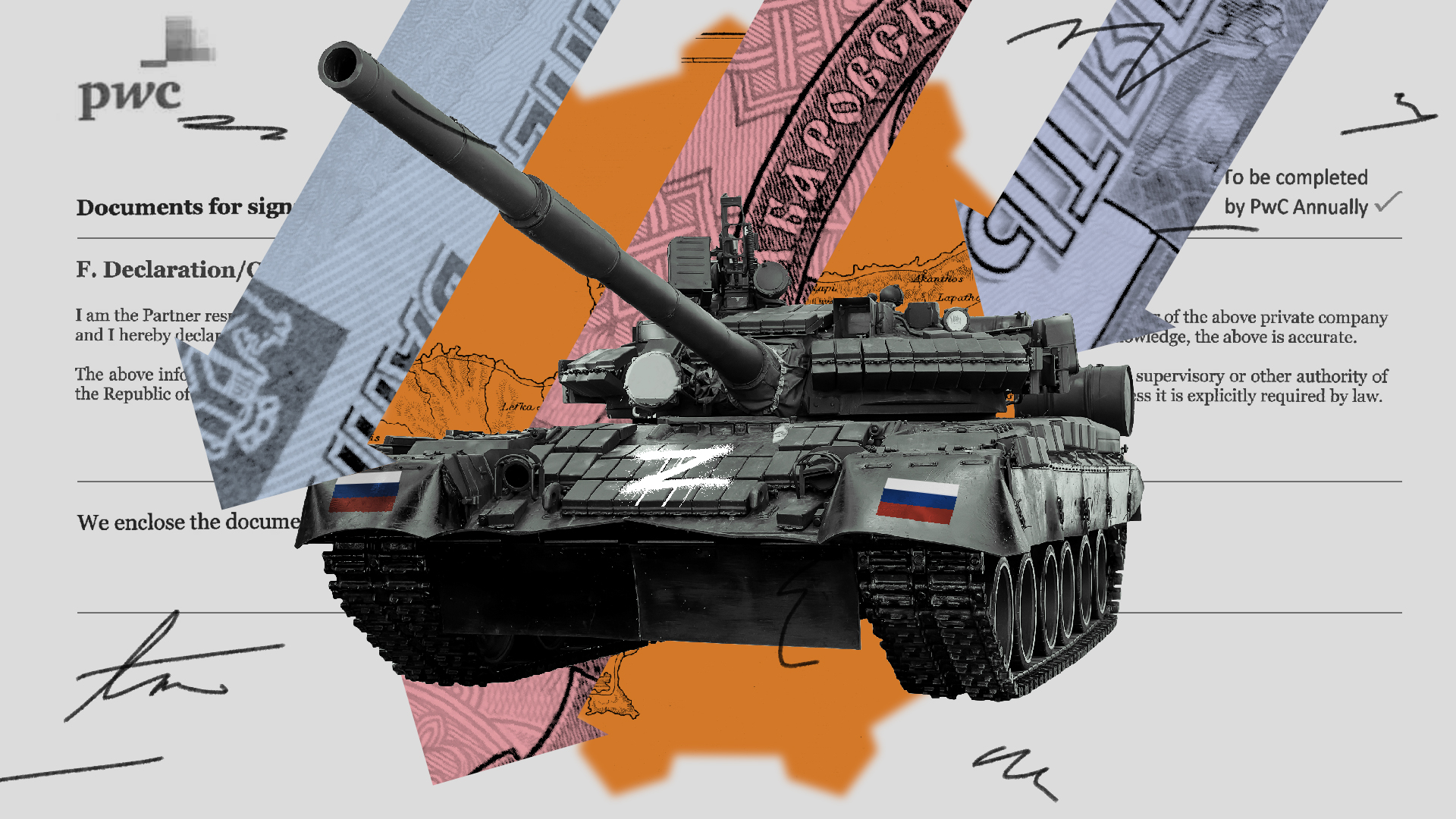 SANCTIONS
As sanctions loomed, accounting giant PwC scrambled to keep powerful Russians a step ahead
The Big Four firm has served dozens of oligarchs through its Cyprus branch, undermining global efforts to punish Putin's allies and stymie support for Russia's war machine.
On March 1, 2022, as Russia was intensifying an invasion that would kill thousands of Ukrainians within weeks, a manager at the accounting firm PwC in Nicosia, Cyprus, sent an urgent message to a colleague: A pair of clients was asking to immediately transfer $100 million between two shell companies they controlled. The source of the money was Evraz PLC, a steelmaker that produces 97% of the rails that Russia's trains use to move ammunition, military equipment and troops to the front line of its war in Ukraine.
Two months later, the U.K., as part of a campaign to weaken the Russian war effort, declared Moscow-based Evraz "of strategic significance to the government of Russia" and sanctioned it by banning U.K. citizens and businesses from doing business with the company. Before year's end, the U.K. had also imposed an asset freeze and travel ban on the two PwC clients themselves, describing the men as part of the "cabal of selected elite" that Russian President Vladimir Putin relies on to maintain the industrial complex he has used to invade Ukraine. The PwC clients were Evraz's longtime leaders: Alexander Abramov and Alexander Frolov. A pair of scientists and self-made billionaires, they navigated the chaos of the Soviet Union's collapse to emerge atop one of Russia's largest industrial conglomerates.
Their urgent $100 million transaction request that PwC, headquartered in London and formerly known as PricewaterhouseCoopers, fielded in the first days of the war was part of a broader effort to administer a sprawling network of investments that Abramov and Frolov controlled on at least three continents. The oligarchs' holdings were routed through legal entities set up in jurisdictions known for attracting the ultra-rich by hiding their fortunes and helping them avoid taxes.
"This looks like a classic structure used for money laundering and possibly worse," says Zoe Reiter, co-founder of the nonprofit research group Anti-Corruption Data Collective, who reviewed Abramov and Frolov investment records. "Anyone at PwC should know that."
Abramov and Frolov did not respond to requests for comment. A senior Cypriot lawyer who has worked for them declined to comment, citing client confidentiality.
PwC's work for the Russian billionaires is part of a global system of enablers who, at a time of war, have undermined Western efforts to hurt Russian oligarchs financially and to sow discontent with Putin in their ranks. Instead, PwC and others have furnished Russia's president and his financial backers with the means to lay claim to vast amounts of national wealth and pursue their ambitions with virtually no oversight from the Russian people or anyone else.
A review of leaked records and publicly available corporate reports by the International Consortium of Investigative Journalists (ICIJ) shows that PwC Cyprus provided services to at least 62 shell companies and trusts controlled or owned by Abramov and Frolov — some of which the oligarchs used to structure their Evraz holdings. Those findings are part of Cyprus Confidential, an ICIJ investigation into a cache of 3.6 million leaked documents from six Cypriot financial service providers and a Latvian company that sells Cyprus corporate registry data. The records contain a large number of internal company documents involving PwC Cyprus dating back to the mid-1990s, but mostly generated between 2014 and 2022.
The 3.6 million leaked files at the heart of the Cyprus Confidential investigation come from six financial services providers and a website company.
The providers are: ConnectedSky, Cypcodirect, DJC Accountants, Kallias & Associates, MeritKapital, and MeritServus in Cyprus. The MeritServus and MeritKapital records were obtained by Distributed Denial of Secrets. Leaked records from Cypcodirect, ConnectedSky and i-Cyprus were obtained by Paper Trail Media. In the case of Kallias & Associates, the documents were obtained from Distributed Denial of Secrets, which shared them with Paper Trail Media and ICIJ. DJC Accountants' records were obtained by Distributed Denial of Secrets and shared by the Organized Crime and Corruption Reporting Project. The partner organizations shared all the leaked records in the project with ICIJ, which structured, stored and translated them from several languages before sharing them with journalists from around the world. Additional records came from Latvia-based Dataset SIA, which maintains the i-Cyprus website, through which it sells information about Cyprus companies, including Cyprus corporate registry documents.
Together, the records provide an in-depth look into PwC's extensive operations in Cyprus. The documents also reveal a striking — and ultimately troubling — willingness to provide accounting, audits and other services to the secret offshore networks controlled by members of Putin's inner circle and others who have contributed directly to his Ukraine war effort. Since Russia began its assault on Ukraine by invading Crimea in 2014, PwC Cyprus has worked for a Russian-controlled energy firm operating there, the owner of a major Russian military contractor and the family of a Russian military strategist.
The records show that in the weeks after Russia's full-scale invasion of Ukraine, wealth managers at PwC Cyprus scrambled to help rich Russian clients under imminent threat of sanctions – like the ones imposed on Abramov and Frolov – shift hundreds of millions of dollars between secretive shell companies. Sometimes these transfers involved handing over major assets to family members, a well-known way to evade sanctions. PwC Cyprus appeared careful to avoid doing business with anyone under European Union sanctions, which could have violated the law. However, on at least one occasion the firm appears to have worked with a Russian billionaire to complete a massive asset transfer to a woman who authorities identified as his wife just after the EU imposed sanctions on him. Authorities have declared the asset transfer invalid and launched a criminal investigation.
For PwC Cyprus, providing services to Russians who are the subject of Western sanctions is nothing new. Before Russia's February 2022 invasion of Ukraine, the accounting firm's client roster included a dozen Russians who were already under sanctions around the world due to their involvement in their government's illegal 2014 annexation of Crimea and military aggression in Donbas.
After the 2022 invasion, an additional 39 of PwC Cyprus' Russian clients were hit with sanctions by the EU, U.K., United States or Ukraine because of their close ties to Putin or their prominent roles in economic sectors critical to his regime's war in Ukraine. Most of the more recent documents in the Cyprus Confidential investigation are dated no later than April 2022, so it's unclear whether PwC Cyprus has continued to provide services to its many Russian clients who are the subject of Western sanctions.
Citing the need to maintain confidentiality, PwC declined to comment on its business with Abramov, Frolov and other clients. It added that it complied with EU and United Nations sanctions before Russia's February 2022 invasion and has since severed ties with 60 clients as a result of the company's new Russia-related sanctions policy. "PwC's internal standards are reviewed and updated to reflect both lessons learned and changing circumstances," Mike Davies, a PwC spokesperson, said in a statement, "and we do not hesitate to take action when our standards are not met. Any allegation of non compliance with applicable laws and regulations is taken very seriously, investigated and appropriate action is taken if necessary."
The firm said its Cyprus office had "pivoted to a new economic model fit for the future, transforming its business" and pointed to the office's annual report for 2022. PwC Cyprus' fiscal 2023 annual report, released in September, cited a "significant contraction" in business related to implementing the global sanctions policy.
Not long after the invasion of Ukraine, PwC joined an exodus of Western companies, declaring that it was separating itself from its Russian affiliate.
"PwC member firms outside of Russia are exiting any work for Russian entities or individuals subject to sanctions," the company said at the time.
They're perfectly within their rights to keep doing this work — but it points to the rot at the heart of the accountancy industry. — Casey Michel, Human Rights Foundation
Professional service providers are in some instances permitted to work with such clients, even when their work appears to conflict with Western efforts to slow Russia's war machine. The U.S. allows lawyers to represent sanctioned entities in court and other government matters. American lobbyists can also obtain licenses to work for them. PwC and other firms face the same restrictions as everyone else when governments impose sanctions on citizens and companies. Often, these sanctions freeze the Russian entity's assets and prohibit the sanctioning state's citizens from doing business with them. This means PwC Cyprus is obliged to comply with sanctions imposed by its government and by the EU but not legally required to abide by other Western restrictions.
"They're perfectly within their rights to keep doing this work," says Casey Michel, director of the Combatting Kleptocracy Program at the Human Rights Foundation, "but it points to the rot at the heart of the accountancy industry."
At the center of Russian oligarchs' secretive financial networks are PwC and other Western service providers that incorporate and maintain trusts and shell companies, recruit individuals to serve as directors, and handle duties such as filing audits and tax returns. Together they form what Northwestern University political science professor Jeffrey Winters describes as the "wealth defense industry."
"Putin can use it for whatever he needs," Winters says of the hidden wealth, "and it's safe to assume he's using it to sustain his war efforts."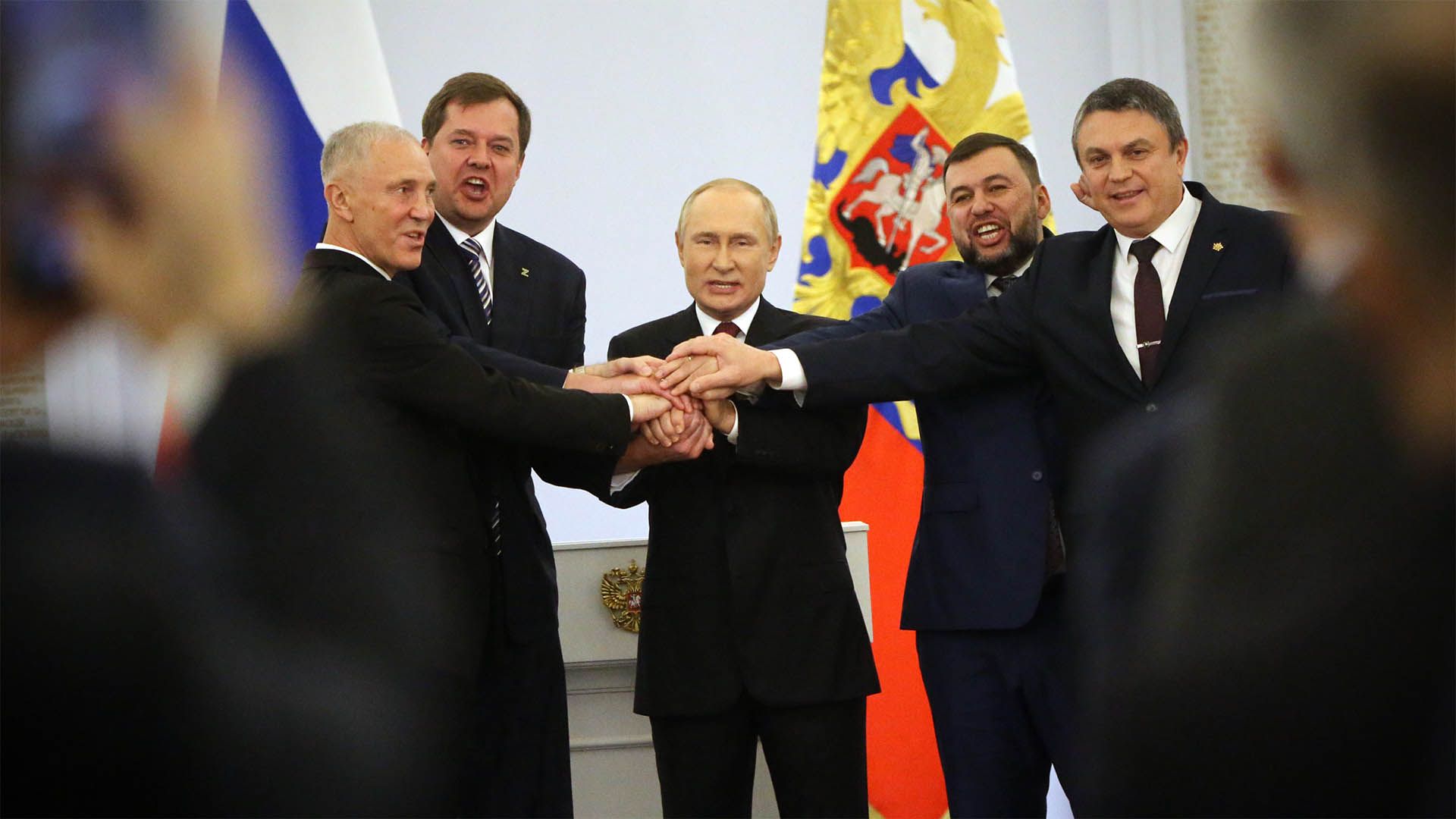 A shadowy partnership
PwC's roots go back to the 19th century, when Samuel Lowell Price and William Cooper set up separate accounting practices in London. Over the following decades, they came together and grew through a series of mergers, eventually emerging as PricewaterhouseCoopers and known around the world since 2010 as PwC.
Overseeing this network is Global Chairman Robert E. Moritz. An American who studied at the State University of New York at Oswego, Moritz is a PwC lifer who has run the company since 2016. Its U.K. senior partner, Kevin Ellis, joined in 1984 and has also spent his entire career at PwC. Cyprus chief Philippos Soseilos is a 30-year company veteran.
PwC's tight-knit leadership has made the organization into the world's second-largest accounting firm, with more than 295,000 employees in 156 countries. It operates not so much as a unified company but like a loose affiliation of independent franchisees offering audit, legal, consulting and tax services.
"The PwC network is not a global partnership, a single firm, or a multinational corporation," its website explains. "For these reasons, the PwC network consists of firms which are separate legal entities."
This decentralized structure enables PwC and other accounting firms to tout their global reach while distancing themselves from any trouble that their largely autonomous local units get themselves into, according to Francine McKenna, a PwC and KPMG veteran who writes the accounting newsletter The Dig.
That structure is "very effective in insulating members from legal liability," McKenna says. "They can take advantage of global branding and marketing on the positive side, but when there's bad news, they can say that it was a rogue partner."
PwC Cyprus is the biggest accounting firm on the eastern Mediterranean island. Since a bloody standoff between Greece and Turkey in the 1970s, most of Cyprus has been headed by a democratically elected government that is internationally recognized and became a European Union member in 2004. In the past decade, Russian oligarchs' close ties to PwC Cyprus have helped transform Russia into Cyprus' biggest foreign economic player.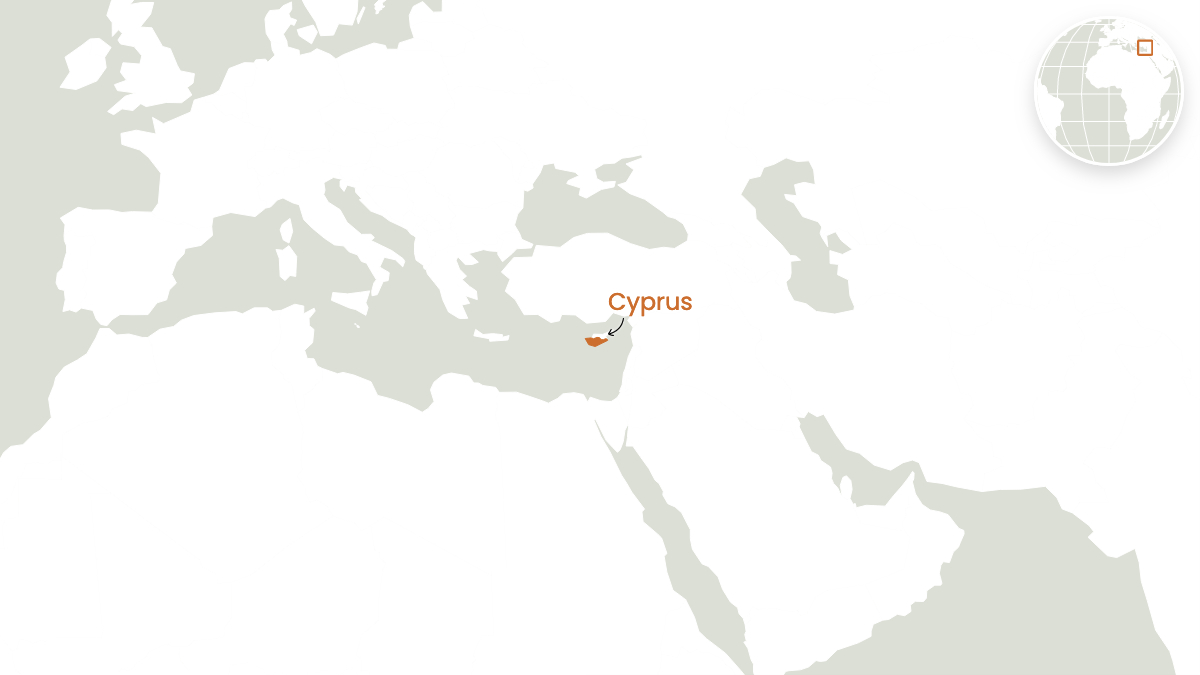 Thanks in large part to inflows of Russian money, Cyprus is generally seen as an advanced economy that has outpaced many of its Middle Eastern neighbors. Even in Cyprus' dusty climate, the BMWs and Porsche SUVs common on its highways are immaculately polished. The hoards of Russian tourists — and their deep wallets — have earned its coastal city of Limassol the nickname "Moscow on the Med." One Limassol pizza shop offers a $1,050 caviar pizza served with Dom Perignon Champagne. At the city's marina, known for hosting massive Russian pleasure vessels, you can buy a $418 cigar or take home a diamond necklace for six figures.
Many business leaders thriving in Russia today built their fortunes via close ties to President Putin. For Russia's ultra-rich, loyalty has yielded a life of extreme luxury known to few on Earth. They live in the rarified world of rambling estates on the French Riviera, private tropical islands and London penthouses. This universe of extreme opulence relies on an industry of financial professionals trained in the craft of hiding fortunes and minimizing taxes.
Often operating from Cyprus and other "secrecy jurisdictions," which are known for keeping financial information under wraps, firms like PwC help maintain secret trusts and anonymously owned shell companies that obscure questionable sources of income and hide the ownership of yachts, mansions and politically connected payments. (In Cyprus, financial service providers are required to disclose to regulators the identity of the beneficial owners of the companies they administer, but this information is not always publicly accessible.)
Bolstered by these professional service providers who play a kind of shell game with funds, the oligarchs use their control of rich deposits of natural resources and other assets to enrich themselves and faithfully finance  president Putin's priorities — none more urgent than his effort to dominate Ukraine.
Western service providers are the "main instrument for the Russian elite," says Maria Snegovaya, senior fellow with the Europe, Russia and Eurasia program at the Center for Strategic and International Studies. "They don't like staying locked in Russia. They like stealing money in Russia and sending it somewhere else."
In a response to questions from ICIJ partners, a Cyprus Finance Ministry official noted that, even before the February 2022 invasion of Ukraine, Russian deposits in Cyprus' banking system had dropped to just 4%. He pointed out that a recent International Monetary Fund study also showed diminishing direct investment into Russia by entities established in Cyprus.
Cyprus's efforts to fight money laundering are documented by the European Union's advisory group on the topic, and the country "compares favorably within the international community," ranking within the top 25% internationally, he added.
And at a recent press conference, a Cyprus government spokesman announced stepped-up efforts to coordinate sanctions enforcement internationally and said this demonstrates "the government's stated intention to show zero tolerance on matters concerning sanctions evasion and law violation, and by extension, to safeguard the country's name as a reliable financial center, which is considered to be of key importance."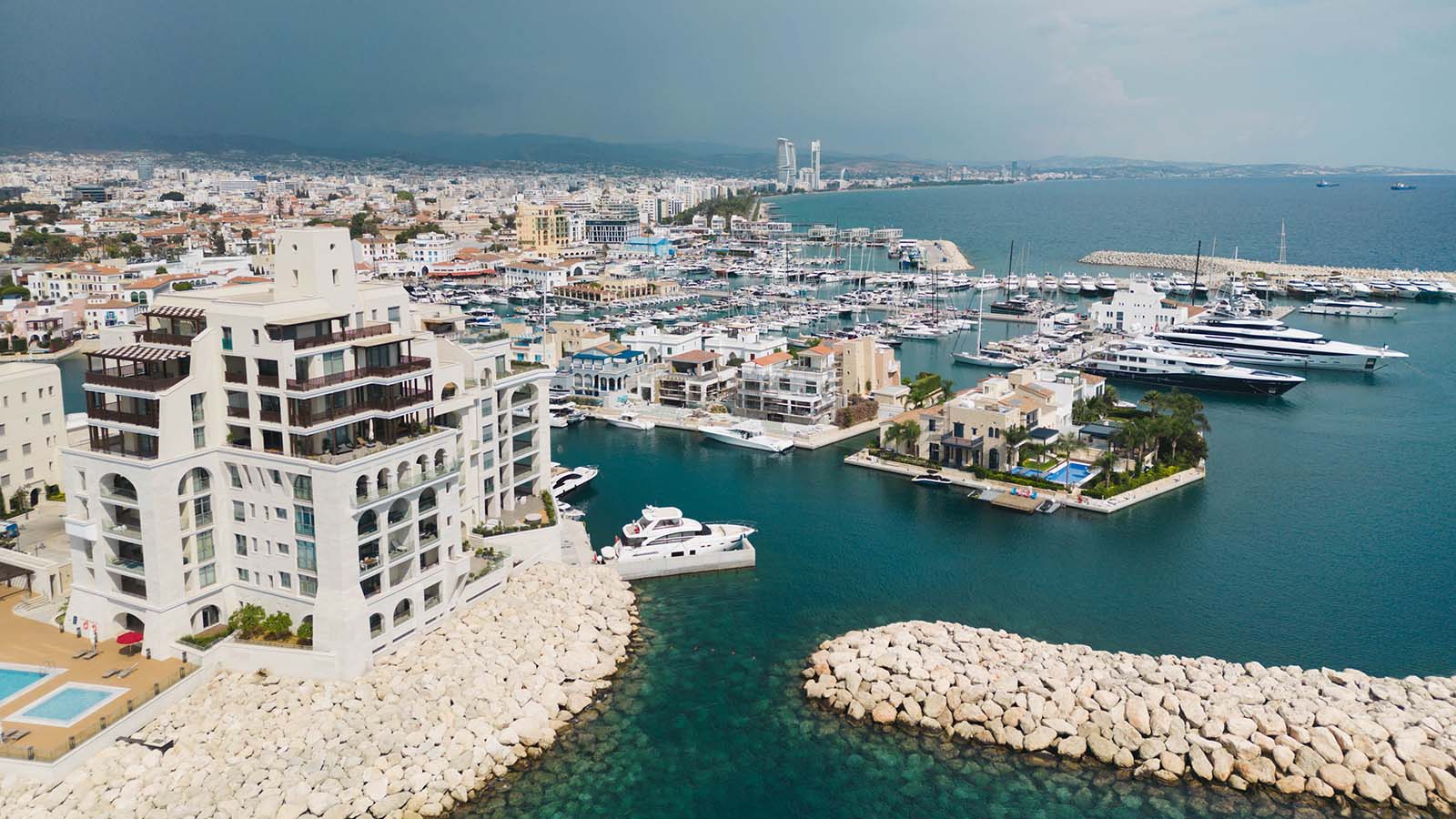 Eluding sanctions
As one of the so-called Big Four accounting firms, PwC is a critical piece of the global financial system, rendering accounting opinions for many of the world's largest public companies. It has also attracted as clients some of the world's wealthiest and most politically connected citizens. In some cases, that has led to egregious legal and ethical lapses.
Today, PwC Cyprus has over 1,100 employees in accounting and other areas and has generated revenues of more than $89 million in its latest fiscal year. With its Russian clients, PwC Cyprus has further amplified its importance through companies started by former PwC employees. Abacus Ltd. was set up by former PwC Cyprus executives in 2001 and went on to work for Russians who were later sanctioned. Another PwC Cyprus partner left the firm six years later to form Cypcodirect. A few months after Russia invaded Ukraine and PwC withdrew from Russia, three more PwC Cyprus partners departed to set up Kiteserve Ltd. Operating partly out of PwC's office building in Limassol, Kiteserve's strategy is to "take on work from Russia-linked clients that the Big Four accountants will no longer touch," the Financial Times reported at the time.
"Kiteserve's operations are in full compliance with the laws and regulations of Cyprus, EU and of our regulator, the Institute of Certified Public Accountants of Cyprus," Managing Partner Theo Parperis said in a written statement. "Kiteserve adheres fully to the sanctions imposed by the UN and EU, that are legally binding for Cyprus, as well as to the US and UK sanctions."
Cypcodirect "has always been working in line with Applicable Laws and Regulations and following our Regulators guidance," it said in a written statement. It declined further comment, citing client confidentiality and EU privacy regulations.
Abacus told ICIJ that it "took all necessary steps to fully comply not only with EU but also with UK and US sanctions immediately freezing all affected assets under its control, terminating the provision of its services and making all necessary reports." Abacus said it "is fully aligned with the effort to stop Russian aggression in Ukraine."
Ties between PwC and its Cypriot network of partner firms extend clear across the Cyprus Confidential investigation's trove of leaked documents: PwC refers a Russian oligarch to Cypcodirect, and the firms divide the labor of administering his network. PwC Cyprus provides public-facing audits and signs mundane paperwork. Cypcodirect practices the murkier financial arts of putting forth its employees as "nominee directors" and setting up shell companies that conduct no actual business but shroud ownership.
Cypcodirect was so closely tied to its predecessor early on that during its first five years in business its employees received medical benefits from PwC, according to a written summary of a Cypcodirect meeting. ICIJ's review found that clients shared by PwC Cyprus and Cypcodirect controlled a total of more than 250 shell companies between them. Some clients were subject to sanctions around the world, others would soon be sanctioned, and others were linked to arms smuggling or belonged to Putin's inner circle.
In April 2018, a PwC Cyprus executive sent an email assuring a Cypcodirect colleague that the firms could continue doing business with a Cypriot entity whose ultimate owners were under EU and U.S. sanctions over the 2014 invasion of Crimea. "There is no legal impediment for us from the sanctions perspective," the PwC executive wrote. "I kindly ask you to consider the same and release IMMEDIATELY all pending requests from our common client."
Alexey Mordashov is another shared PwC-Cypcodirect client. The son of steelworkers who has recounted how as a child his parents relied on welfare coupons to make ends meet, he later attended business school in the U.K. and rose to become chairman of Severstal, one of Russia's largest steelmakers. ICIJ previously reported that Mordashov, with a net  worth that Forbes estimated at $21 billion, turned to PwC to route assets through dozens of offshore entities he controlled. They included his 213-foot high-speed yacht, a private jet and a globe-spanning investment portfolio. Over the last few years PwC also audited the accounts of at least 25 companies owned or controlled by Mordashov, an ICIJ analysis shows.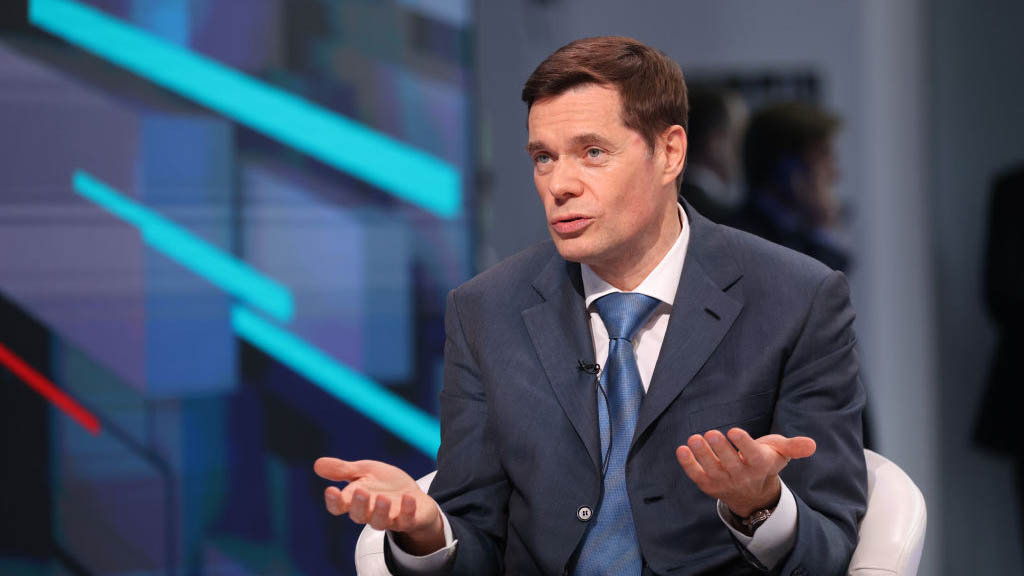 PwC and Cypcodirect continued working with Mordashov even after elements of his business empire came under U.S. sanctions following the Crimea invasion. In 2018, U.S. authorities sanctioned his wind turbine company, Power Machines, for working to "support Russia's attempted annexation of Crimea" by seeking to create a Russian-controlled power supply in the occupied region. Despite the sanctions, PwC and Cypcodirect continued helping to administer shell companies that Power Machines owned.
On March 1, 2022, the day after the EU sanctioned Mordashov, PwC Cyprus and Cypcodirect exchanged communications marked "URGENT" and "PLEASE APPROVE." They were part of a bid to help Mordashov elude sanctions that threatened to freeze a $1.4 billion investment in TUI Group, a German travel company, by transferring ownership to Marina Mordashova, a woman the EU has identified as Mordashov's wife. Three months later, in early June 2022, she was sanctioned by the U.S. and the EU.
The German government and TUI have declared the share transfer invalid. The Cypriot government has also opened a criminal investigation into the matter, a finance ministry official told Paper Trail Media in November.
"PwC Cyprus is not aware of such a criminal investigation being carried out," the company said in a written statement. "Whenever there is a reportable event, PwC Cyprus takes appropriate action."
"All information and regulatory notifications with respect to the share transfer were duly disclosed to the relevant authorities and made public to the extent legally required," Mordashov spokeswoman Anastasia Mishanina said in a written statement. "Not once in his long career did Mr. Mordashov, or any of the companies he runs, breach any laws, whether in Europe, Russia, or any other jurisdictions."
PwC's work with Mordashov "demonstrates a clear willingness to help high-risk individuals avoid the effects of sanctions," says Kush Amin, an attorney at Transparency International who reviewed the PwC files. "This is not the sort of behavior the Big Four want to be associated with."
Do you have a story about corruption, fraud, or abuse of power?
ICIJ accepts information about wrongdoing by corporate, government or public services around the world. We do our utmost to guarantee the confidentiality of our sources.
LEAK TO ICIJ
The evasive island
PwC Cyprus did plenty to create a welcoming climate for Russian riches on the island. Evgenios Evgeniou, its CEO from 2012 to 2021, served as the head of the Cyprus-Russian Business Association, a group that advocates close ties and easy financial flows between the two countries. Evgeniou invited Cypriot accountants to a holiday gala with Cyprus' president and a party at Russia's embassy in Nicosia, the capital.
"[PwC] is the biggest player here," says Kyriakos Iordanou, the head of the Institute of Certified Public Accountants of Cyprus, a national association of accounting firms. "They did have a lot of exposure with Russian clients over the years. Other Big Four had less exposure here."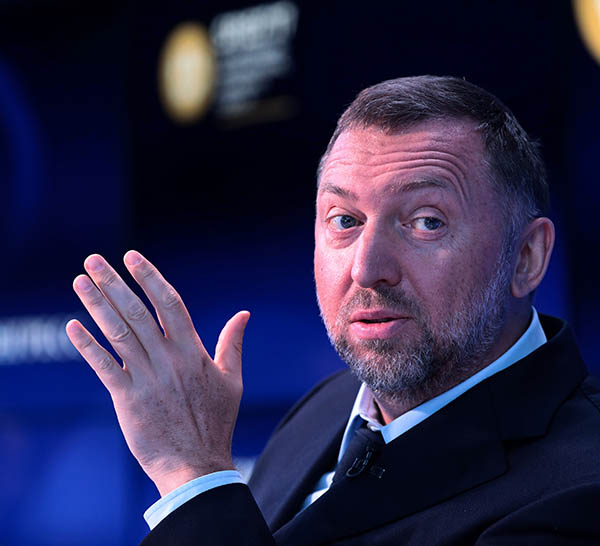 Oleg Deripaska — an industrialist and close Putin ally — is one of those Russian-born oligarchs who benefitted from PwC's welcoming environment. As ICIJ previously reported, the firm submitted his application for citizenship to the Cyprus Ministry of the Interior. That's according to a government investigation into the nation's scandal-plagued, and now defunct, "golden passport" program. The program, which ended in 2020, was designed to spur Cyprus' economy by offering citizenship to foreigners who were willing to invest at least $2.2 million locally. Deripaska's application, which identified him as a PwC client, was delayed in order to review previous money-laundering investigations of the industrialist. Cyprus granted him citizenship in 2017.
Deripaska has turned to PwC Cyprus and Cypcodirect to help administer  the firms that held his $70 million superyacht, the Clio, which has variously been described as a "floating mansion" and the "quintessence of yachting luxury." PwC helped open bank accounts and filed annual audits for one of the firms, Luxotic Yachting Ltd., which held the yacht. PwC listed "Cypcodirect" as Luxotic's shareholder. Its trio of directors were Cypcodirect employees; one or more of their names appear as directors of hundreds of companies jointly administered by PwC and Cypcodirect. But Deripaska's name does not appear on any of Luxotic's public filings reviewed by ICIJ.
He had good reason to cloak his activities. In addition to his ties to Putin, he is a former business partner of Paul Manafort, Donald Trump's 2016 presidential campaign manager, and was sanctioned by the U.S. Treasury in 2018 for acting as an agent of senior Russian officials. Deripaska has acknowledged representing the Russian government and has been accused of extortion and racketeering and faced allegations of ties to organized crime and ordering the murder of a businessman, the U.S. Treasury stated.
Days after Deripaska was hit with sanctions, officials at PwC and Cypcodirect helped one of his shell companies assign management of his Cayman Islands-registered superyacht to a new captain. A group of PwC partners in Nicosia signed off on a stack of paperwork establishing how it would be managed. The ship spent years sailing unobstructed between some of the world's most alluring destinations. It made headlines for evading sanctions after the Ukraine invasion, and the following September, the U.S. indicted Deripaska for sanctions evasion.
"Shell companies and webs of lies will not shield Deripaska and his cronies from American law enforcement," Deputy Attorney General Lisa Monaco said in a statement released with the indictment, "nor will they protect others who support the Putin regime."
A spokesperson for Deripaska did not respond to questions about Luxotic but appeared to deny that Deripaska currently owns the yacht. The spokesperson did not respond to follow-up questions.
In late September 2023, Deripaska granted an interview to the Financial Times during which he dismissed Western efforts to isolate oligarchs financially. "It's a kind of instrument of the 19th century," he said of the sanctions. "We can't see that it would be efficient in the 21st century."
All the costs
Plans for the ultra-luxury hotel development at Kalo Livadi on the Greek island of Mykonos show villas rising out of the Mediterranean hills like a mirage. Curving staircases lead down to expansive, shimmering infinity pools and a private beach. Funding for the resort runs through a thicket of legal entities disguising ownership by Alexander Abramov and Alexander Frolov, for whom PwC frantically moved Evraz proceeds at the outset of the Ukraine war.
The Mykonos resort is just one of an array of investments for which Abramov and Frolov paid PwC handsomely to help administer. In another instance, the partners extended personal loans worth a total of $300 million to one of their entities and later gifted the assets to their sons as the threat of a U.K. asset freeze mounted.
Fellow graduates of the Moscow Institute of Physics and Technology, Abramov and Frolov pursued scientific careers early on. Abramov joined the volatile world of metals trading in the early 1990s. As a financial crisis unfolded later in the decade, he plowed his winnings into steel mills and other assets. After Frolov  joined him in 2005, the partners amassed an industrial empire. With PwC's help, they also built a global investment portfolio controlled through an opaque network of entities.
It has enabled the billionaires to withhold from public filings their control of an ultra-luxury jungle resort in the Brazilian mountains, office buildings in the U.K. and a telecom investment that caught the attention of U.S. regulators. In Germany, entities they control have quietly invested in Lagerlöwe, an unglamorous self-storage operator that rents pods for as little as $2 a week.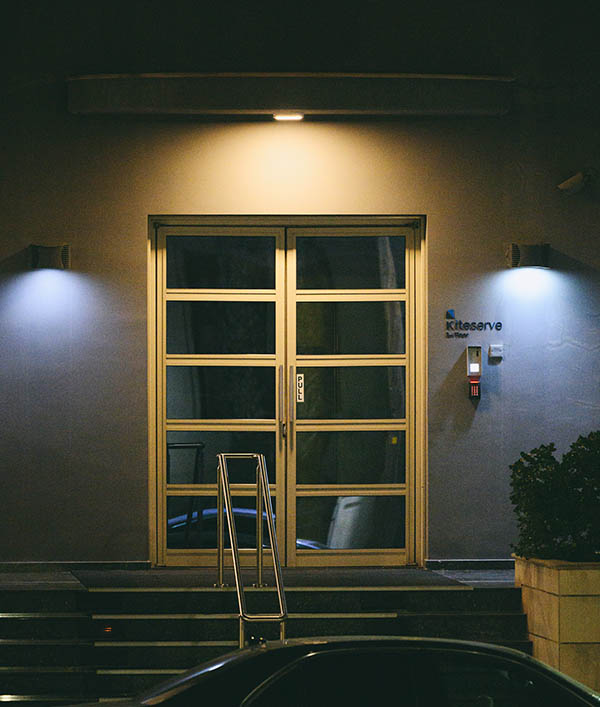 Abramov and Frolov made frequent use of a PwC-administered entity called Belgador Ltd. By December 2022, PwC had transferred Belgador's administrative duties to Kiteserve, the Cyprus corporate registry shows.
With PwC's help, Belgador had quietly routed the oligarchs' wealth into the Mykonos resort and into office buildings in the U.K. Meanwhile, a separate PwC-administered firm routed their investment into the U.S. operations of telecom firm Truphone Inc.
The investments, however, ran afoul of U.S. regulations requiring foreign owners to register telecom investments so that the government can assess them for national security threats. The Federal Communications Commission stated in October 2022 that Truphone's communications licenses "were transferred repeatedly to unvetted foreign individuals and entities without accurate disclosure." Truphone admitted violating FCC rules and signed a consent decree, agreeing to change its ownership structure and pay a $600,000 fine.
Financial networks like those PwC administers for its Russian clients pose national security risks to the West and are part of a "transnational system of influence, money, corruption and crime," according to Maria Snegovaya, the CSIS Russia expert. They are also a critical part of Vladimir Putin's ability to prosecute his war.
"Russia is a big and very rich country, unfortunately," she says. "We won't stop this war as long as they have the revenues."
Contributors: Delphine Reuter, Karrie Kehoe, Tanya Kozyreva, Scilla Alecci, Eve Sampson, Sophia Baumann (Paper Trail Media), Maria Christoph (Paper Trail Media), Kira Zalan (OCCRP)