A Dutch court has frozen the assets of Exem Energy BV, a company owned by Sindika Dokolo, the husband of billionaire Angolan businesswoman Isabel dos Santos, amid accusations of corruption and embezzlement.
The Enterprise Chamber of the Amsterdam Court of Appeal ruled on Thursday to freeze the shares Exem acquired in 2006 when it purchased a lucrative 40% stake in a joint venture holding company, Esperaza, from Angola's state energy giant, Sonangol.
The court also ordered the removal of Mario Silva, a key dos Santos business associate and Exem representative, from Esperaza's board and confiscated future dividend payments to the company, pending the outcome of its investigation.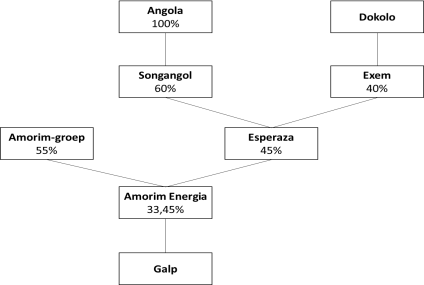 Exem derives dividends courtesy of its shareholding in Portuguese energy giant, Galp. Although Galp shares are now trading at around half of their January value, the stake is still worth around $400 million and the company has a record of strong dividend payouts.
In January, the International Consortium of Investigative Journalists detailed the origins of the Galp acquisition in Luanda Leaks, an investigation into how the eldest daughter of former longtime Angolan ruler José Eduardo dos Santos had amassed a fortune in one of the world's poorest countries.
ICIJ showed how Sonangol had bankrolled Exem's purchase from Esperaza of a shareholding in Galp, for $99 million, agreeing an upfront payment of just $15 million with the remainder due by December 2017.
In 2016, dos Santos was appointed head of Sonangol. The following year, she agreed to Exem's repayment of its debt in Angolan currency. Months after she was sacked in November 2017 following her father's removal from power, her successor returned the money to Exem, arguing that the debt should have been settled in euros.
Sonangol hired lawyers in January who asked the court to adjudicate in the Netherlands, a key tax haven for dos Santos and Dokolo
Sonangol's lawyers expressed satisfaction with the ruling.
"This allows Esperaza to no longer suffer the interference of Isabel dos Santos but above all, it is a weighty element to highlight the system put in place by the one who has become the richest woman in Africa to divert money from her country," they said in a statement to journalists, adding that the decision would have a significant impact on the many proceedings currently underway around the world.
"Why would you give 40% of something you just bought to the son-in-law of the then president?" one of Sonangol's lawyers, Emmanuel Gaillard, told ICIJ over the phone after the verdict in Amsterdam. "There is no possible legitimate reason to do that."
Gaillard also said that Luanda Leaks had helped Sonangol connect the dots.
"The fact that these documents are in the public domain is incredibly helpful as we would otherwise have no way of finding out," he said.
Dos Santos has consistently denied any wrongdoing, insisting that she is the victim of a "political witch-hunt."
"There has been no findings of wrongdoing by Exem, Mario Silva, or Sindika Dokolo," Exem said in a statement after Thursday's decision, adding that it would continue to engage with the court and was confident of a positive outcome.
Earlier this week, Dutch prosecutors also announced that the Luanda Leaks investigation had helped launch a criminal investigation into Exem.