Angola's largest mobile phone provider has sued a company controlled by billionaire Isabel dos Santos after it stopped repaying loans following a cash crisis deepened by the Luanda Leaks investigation.
In paperwork filed in a London court in October, Unitel alleged that dos Santos' Dutch company, Unitel International Holdings BV, or UIH, defaulted on loans issued from 2012 to 2013. Unitel is seeking the immediate repayment of more than $430 million.
Unitel is one of Angola's most visible companies with an estimated nine million customers. Dos Santos was Unitel's chair at the time of the loans, which were used to fund a shopping spree in telecommunications companies across the Lusophone world. UIH snapped up stakes in Portugal, Cape Verde and Sao Tome & Principe, according to Unitel's complaint, which was shared by Law360.
Unitel alleges that UIH, which despite the name has no corporate connection to Unitel, first fell behind on interest repayments in September 2019. According to the mobile phone operator, UIH missed increasingly more valuable repayments in February and August 2020 following the publication of the Luanda Leaks investigation by the International Consortium of Investigative Journalists.
The investigation showed how corrupt deals and insider agreements made while dos Santos' father, Jose Eduardo, was president turned her into Africa's wealthiest woman but left oil- and diamond-rich Angola one of the world's poorest countries.
In its court filings, Unitel claims that a series of corporate, regulatory and judicial actions taken in the wake of Luanda Leaks may cause UIH to not repay the loans.
In April, a Lisbon court seized dos Santos' stake in Zopt, which owned part of NOS, a $1.82 billion Portuguese television, Internet and telephone service provider. The seizure was granted "in relation to proceedings which are believed to be proceedings against IdS concerning a variety of white collar crimes," Unitel wrote, referring to dos Santos by her initials. Months later, Zopt's shareholders, including UIH, announced its dissolution.
The seizure of dos Santos' stake in Zopt and its dissolution "render UIH unable to perform its obligations," Unitel said. "Wrongfully, UIH has failed to pay the outstanding debt, accrued interest or any other sums demanded and Unitel is entitled to claim and hereby claims the same," Unitel said. It also accused UIH of refusing to hand over documents.
Schillings, London-based lawyers for dos Santos, did not reply to a request for comment.
Dos Santos stepped down from Unitel's board in August. Earlier this month, dos Santos lost control of the company that owned her 25% stake in Unitel, according to media reports of a court decision in the British Virgin Islands.
As part of the Luanda Leaks investigation, ICIJ reporting showed that Unitel became a cash cow for dos Santos. From 2006 to 2015, Unitel paid out more than $5 billion in dividends to shareholders, ICIJ calculated.
ICIJ also reported on a dispute between UIH and PT Ventures, one of four partners in Unitel. In 2015, PT Ventures filed an arbitration complaint with the International Chamber of Commerce in Paris, alleging that hundreds of millions in loans made to UIH were part of a "scheme to loot Unitel of its assets … for the benefit of Isabel dos Santos, the daughter of Angola's President," ICIJ reported.
Luanda Leaks documents show dos Santos signed off on the disputed loans as both the lender and the borrower, which was previously known as Jadeium BV. A PT Ventures' representative, Luis Pacheco de Melo, questioned the deal and asked whether the board of directors had signed off on the deal, according to documents.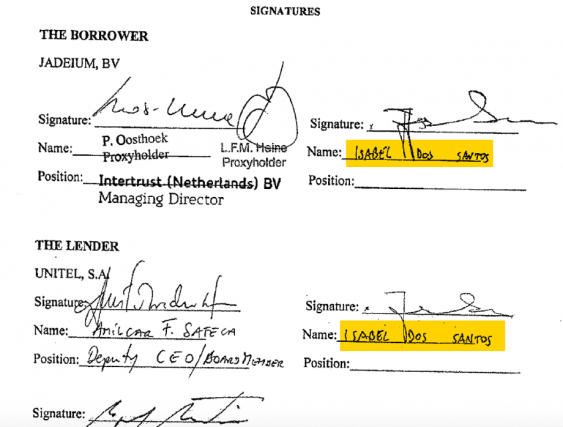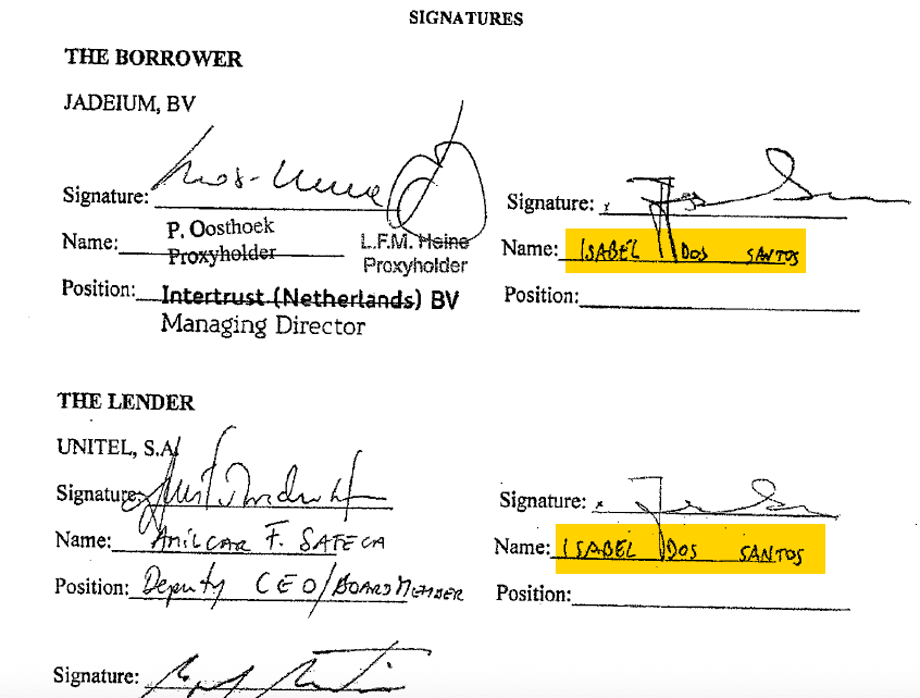 Dos Santos said that the loan was properly approved, according to minutes of the meeting. UIH denied the looting allegations and said decisions were made Unitel's best interests. The chamber in Paris ordered Unitel to pay PT Ventures more than $650 million for breach of contract. Her lawyers previously told ICIJ that the ruling, which is confidential, found the loans caused "no damage."
"The BVI decision is perhaps the greatest blow Isabel dos Santos has received since the initial fallout after Luanda Leaks broke in January 2020," said University of Oxford professor Ricardo Soares de Oliveira.
"Much of her business empire was shady and moved through vehicles that had no name recognition, but Unitel is a household name," Soares de Oliveira said. "It is one of the highest profile corporations in Angola, a major employer that long embodied modern business practice, and the company to which Isabel is enduringly associated."