IMPACT
French Uber Files inquiry criticizes Macron's secret dealings with ride-hailing giant
One year after the global investigation, a parliamentary report has painted a damning picture of Uber's early business practices and its close ties with French powerbrokers.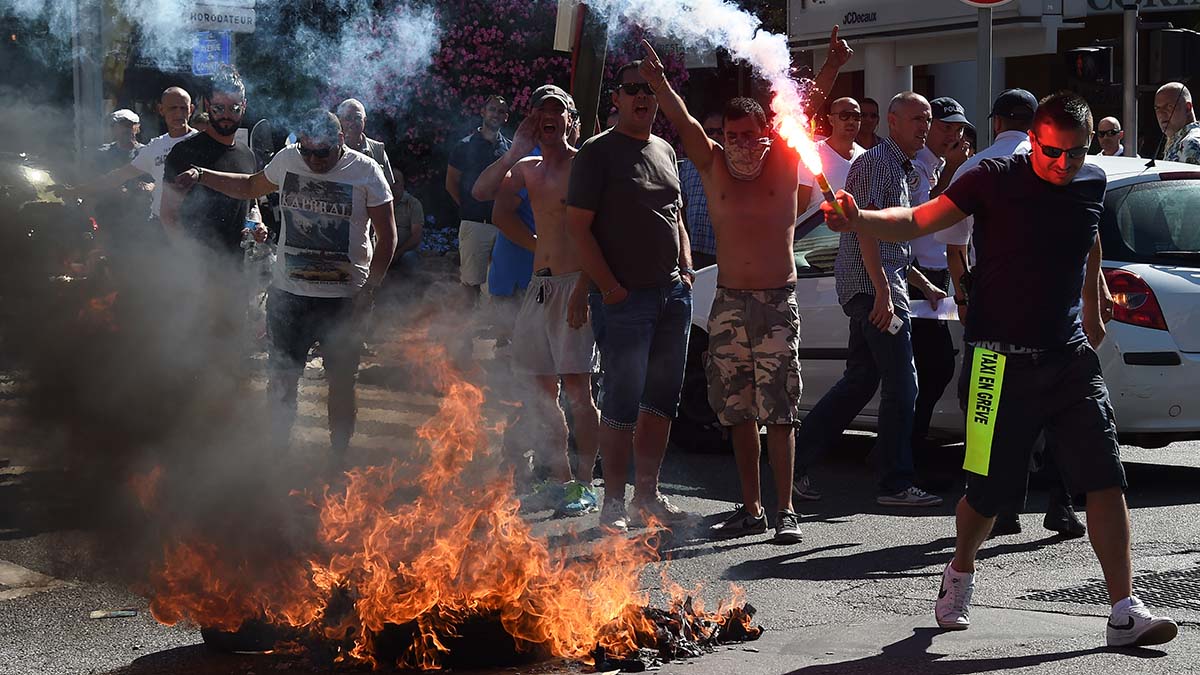 A French parliamentary inquiry has slammed President Emmanuel Macron and his cabinet for what it called their "privileged" and "opaque" relationship with Uber.
The inquiry's report released today said French leaders engaged in secret discussions and deal-making with Uber executives that"reveals the inability of our system to measure and prevent the influence of private interests on public decision-making."
The report also paints a damning picture of the company's business practices and failure to honor job creation promises.
The inquiry was established in response to the Uber Files, an investigation led by the International Consortium of Investigative Journalists and The Guardian that revealed how Uber muscled  into new markets without government approval, deceived investigators and exploited violence against its workers, often with the secretive assistance of political leaders.
Highlights from the inquiry include:
Confirmation of a so-called "kill switch" Uber used to cut access to company servers and prevent authorities from seizing evidence during raids on its offices in at least six countries.
Secret negotiations with officials over Uber-Pop, the company's unlicensed, low-cost service.
Undisclosed political ties between Macron and Uber figures.
Uber's unmet job creation promises for  France.
Although lawmakers rejected an earlier proposed investigation because of its explicit focus on Macron, the inquiry's final report is highly critical of the French president and members of his cabinet for the ease of access they granted to Uber.
"The intensity of the contacts between Uber, Emmanuel Macron and his cabinet testifies to an opaque but privileged relationship," the report said.
Mark MacGann, who served as Uber's chief lobbyist for Europe, the Middle East and Africa from 2014 to 2016, testified to the committee that Uber teams were "delighted" that Macron "took it upon himself to be our advocate within the government, to prioritize the interest of the consumer."
The report however did not find that Macron had personally benefited from his relations with Uber nor had acted  in any way unlawfully.
The Uber Files were based on a huge trove of internal records that reveal how the ride-hailing behemoth built a sprawling influence machine to pave the road to global domination. After publication, MacGann came forward as the whistleblower who leaked the documents to The Guardian, which shared them with ICIJ.
The leak exposed secret meetings and a phalanx of lobbyists used to court prominent world leaders to influence legislation and help it avoid taxes, and provided an unprecedented look into the ways Uber defied taxi and labor laws and trampled on workers' rights.
Citing the reporting by ICIJ and its partners, the inquiry found that Uber used a "kill switch" when trying to prevent investigators from accessing sensitive data during frequent raids on its offices in France and other countries.
Among the controversies exposed by the Uber Files and now detailed in the parliamentary report were secret negotiations between Uber representatives and Macron over UberPop – a "person to person" service allowing anyone to become an occasional driver.
The service was illegal under French law and provoked a backlash from France's taxi drivers.
Appearing at the time to give in to public pressure, the company announced that UberPop would be suspended, but in its secret dealings with Macron Uber ensured that as a quid pro quo it extracted dramatic concessions in training requirements for drivers.
The parliamentary report also confirms the existence of texts sent from an Uber official to Macron seeking his assistance during one such raid.
Confirming revelations in the Uber Files, the report states that Uber maintained close ties to Macron after he had left his ministerial post and begun his successful campaign for the presidency.
But the committee's report adds to revelations in  the Uber Files and brings to light fresh evidence of Uber's influence with high level officials.
Text messages show that during his presidential race Macron invited Uber France's CEO Thibault Simphal to dinner to request campaign funding from him.
Uber's attempts to court Macron appear to have paid off in the company receiving direct access to the President's office after Macron's victory. The committee found that Uber had 34 exchanges with the President's office between 2018 and 2022.
Do you have a story about corruption, fraud, or abuse of power?
ICIJ accepts information about wrongdoing by corporate, government or public services around the world. We do our utmost to guarantee the confidentiality of our sources.
LEAK TO ICIJ
Uber's labor record came under scrutiny too, with the committee sharply criticizing "Uber's promises in terms of job creation have not been kept," and warning of further erosion of workers' rights as the platform economy spreads across sectors of the economy.
"We were, without the slightest doubt, completely illegal in France with regard to the laws on transport, taxation, social security and fair competition and consumer affairs," MacGann told the committee.
When the Uber Files were published last year, Uber admitted mistakes and said it had committed to reform following the departure of former CEO Travis Kalanick in 2017.
A spokeswoman for Uber said at the time that the company had completely changed how it operates: "When we say Uber is a different company today, we mean it literally: 90 percent of current Uber employees joined after Dara [Khosrowshahi] became CEO… We have not and will not make excuses for past behavior that is clearly not in line with our present values."