From Indian royalty and celebrities to Filipino, Pakistani and Indonesian government ministers to Japanese, Korean and Nepali billionaires to a Tibetan monk — the Asian names emerging from the Pandora Papers include the rich and powerful who have been shaping the region's economy and politics.
The investigation led by the International Consortium of Investigative Journalists was based on 11.9 million confidential records leaked from 14 offshore financial service providers that help wealthy clients set up shell companies and trusts in a variety of tax havens, including Seychelles and Dubai. Two of the providers, Asiaciti Trust and Il Shin, are based in the Asian financial hubs of Singapore and Hong Kong, respectively.
"What our investigation into the Pandora Papers has revealed is the brazenness with which many of the subjects we are writing about went about setting up offshore entities, despite the reforms in the offshore sector," said Ritu Sarin, investigations editor at The Indian Express, an ICIJ partner.
The Indian Express identified more than 300 Indians with offshore accounts in the leaked data, including Bollywood celebrities, industrialists, people accused of fraud and other financial crimes, as well as famous sports stars like Sachin Tendulkar.
Two former officers of the Indian Revenue Service, one who was arrested for alleged corruption and money laundering, and another who was an Income Tax Chief Commissioner, were found to have Swiss bank accounts, the Indian Express reported. Soon after the revelations, India's finance ministry announced it will investigate the Indian names exposed in the leak and take "appropriate action."
Pakistan
The Pandora Papers exposed how people close to Pakistan's Prime Minister Imran Khan,  including cabinet ministers, their family members and major financial backers have secretly owned an array of companies and trusts holding millions of dollars. Military leaders have been implicated as well. Khan reacted to the findings vowing to investigate all citizens named in the investigation.
Sri Lanka
ICIJ found that former deputy minister Nirupama Rajapaksa and her husband used a web of shell companies and trusts to hold about $18 million in assets, including luxury homes, artworks and cash. Rajapksa is a relative of the country's current president, Gotabaya Rajapaksa, and his brothers, the country's prime minister and the finance minister. The government bribery commission announced it intends to investigate Sri Lankans appearing in the leaked records.
The Sunday Times also reported that Ramalingam Paskaralingam, a powerful Sri Lankan bureaucrat, used offshore trusts to invest in a vocational school in Colombo and buy a property in London.
Nepal
Binod Chaudhary is Nepal's sole billionaire, the head of a retail and manufacturing conglomerate and a politician with the centrist Nepali Congress party. Chaudhary exploited loopholes to hold shares in three BVI companies, CIJ Nepal reported. Chaudhary's son told reporters that his father and his company's investments are in compliance with the law. Chaudhary is one of 19 Nepalis identified in the Pandora Papers, according to CIJ Nepal.
CIJ Nepal also investigated the offshore dealings of the Malaysian billionaire founder of Top Glove, the world's biggest rubber glove maker which enjoyed record profits during the COVID-19 pandemic. The U.S. government blacklisted Top Glove after reports by media and human rights advocates accused the company of forced labor and abusing its workers, many hailing from Nepal and other low income countries. In the past, some Nepali recruiters working for Top Glove were charged with fraud and other crimes, CIJ Nepal reported. They denied wrongdoing.
Malaysia
Malaysiakini revealed how, according to the leaked data, the two children of Malaysia's former finance minister Daim Zainuddin became the owners of two BVI companies at age 9 and 12. By the age of 20, they had become the owners of many other offshore entities used to buy luxury property in London. Daim said the companies have been disclosed to the authorities and he has paid taxes on them. He did not comment on the family trusts, Malaysiakini reported.
The Malaysian reporting team also investigated Singapore's role in the global offshore financial system. Experts interviewed by Malaysiakini said that Singapore is not usually "the final destination of the assets because it does not provide an attractive tax and asset protection package as some Caribbean nations." However, financial service providers in the city state fuel the industry by managing and creating shell companies and trusts in faraway jurisdictions, they said.
Cambodia
ICIJ partners with VOD English revealed how NagaCorp, a Cambodian casino operator owned by a Malaysian billionaire Chen Lip Keong, built its business partly through the CEO's use of offshore companies and a series of loans that lifted the casino company's value. The reporters didn't find any  evidence of wrongdoing. Yet the documents "show advantages that offshore companies offered the Malaysian entrepreneur as he expanded the Chen empire in Cambodia," the report said. NagaCorp didn't respond to VOD English's comment requests.
Reporters from ICIJ, The Washington Post and other media partners found that 10 museums around the world held at least 43 ancient Khmer artifacts which had been allegedly looted by English collector Douglas Latchford and held through secretive offshore trust. In 2019, U.S. authorities charged Latchford with trafficking in looted artifacts. Latchford's daughter told reporters that his father's trusts were "set up for legitimate tax and estate planning" and that until recently she had believed that her father's collection had been acquired legally.
After the Pandora Papers revelations, one of those institutions, the Denver Art Museum, announced it will return four artifacts to Cambodia via the U.S. government, and Metropolitan Museum of Art officials met with federal prosecutors to discuss whether relics belonging to its collection had been stolen from ancient sites in Cambodia.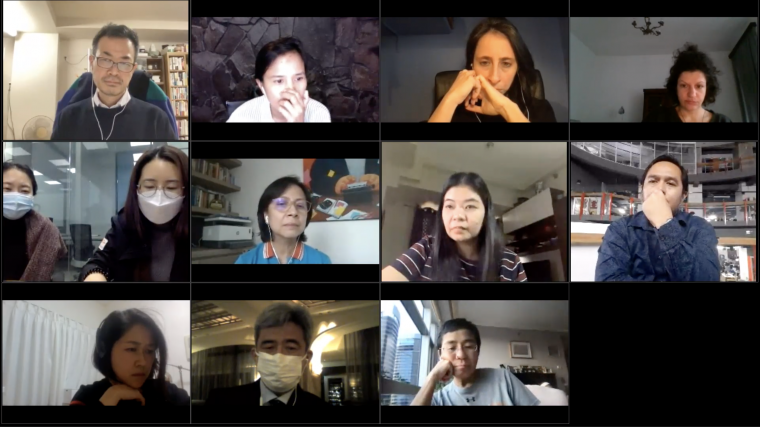 Philippines
The Philippine Center for Investigative Journalism and Rappler exposed the offshore deals of a former financial adviser to dictator Ferdinand Marcos, as well as powerful industrialists and close allies of current President Rodrigo Duterte. Those include Arthur Tugade, the Philippines' transport secretary, who used a BVI shell company to hold family assets. Tugade did not disclose it as required by Philippine law, PCIJ and Rappler reported. The day after the investigation was published, Tugade released a statement saying it was "a legitimate attempt to grow our financial portfolio," and that he disclosed ownership of "offshore investments."
About 900 Philippine-based people were found in the leaked records, the news outlets said.
Indonesia
Tempo magazine found two high-ranking Indonesian officials linked to offshore companies. Coordinating Minister for the Economy Airlangga Hartarto owned two companies registered in the British Virgin Islands. He denied knowing about the entities.
Coordinating Minister for Maritime Affairs and Investment Luhut Binsar Pandjaitan was a director of a Panama-based oil company, Tempo reported. Indonesia's financial intelligence agency said it will investigate the Indonesians named in the leaked documents and cross-check them with its own database to verify whether any laws were broken.
Thailand
Isra News found that Chitpas Kridakorn, a member of parliament and the ultra-rich heiress of the Singha beer empire, was identified in 2017 as one of the potential beneficiaries of a trust that owned luxury properties in the U.K. The documents don't say if the transfer was finalized, and Chitpas did not respond to the reporters' request for comment.
The head of Thailand's anti-corruption commission told Isra News that the agency will investigate the politician's offshore holdings. Thai findings in the Pandora Papers included the billionaire founder of the Red Bull energy drink company, whose son — a trust beneficiary — was at the time wanted by the police for killing a cop during a 2012 hit-and-run accident.
Hong Kong & China
Independent news outlet Stand News exposed the offshore holdings of two former chief executives to lead Hong Kong. CY Leung responded to the revelations saying he didn't have to disclose ownership of a subsidiary. Tung Chee-hwa didn't respond to requests for comment. Both Leung and Tung are currently vice chairmen of China's top political advisory body.
The Wire China dug into the leaked records to explain how China built a massive offshore presence.
Japan
The Asahi Shimbun and Kyodo News found more than 1,000 Japanese individuals and firms in the leaked records. They include billionaire tech entrepreneur Masayoshi Son, who used offshore shell companies to indirectly own an aircraft, as well as a former Tokyo Olympics official and the owner of discount retail store Don Quijote, which is known for selling a wide variety of items, from pricey watches to adult toys. They all denied wrongdoing.
South Korea
Korean investigative news outlet Newstapa revealed the offshore dealings of some of the country's most powerful businessmen, including Samsung Electronics' vice chairman Lee Jae-yong. Lee, who didn't respond to reporters' requests for comment, set up a BVI company in 2008 to open a Swiss bank account while Korean prosecutors were investigating Samsung's slush funds. The reporting team also investigated the offshore holdings of one of the most successful K-pop music producers, whose company, SM Entertainment, has launched the careers of artists such as Girls' Generation and EXO.
Myanmar
ICIJ also found that family members of Retired Maj. Gen. Nyunt Tin, Myanmar's former agriculture minister, used shell companies to hold a property in Singapore and set up an investment firm. Nyunt Tin did not respond to ICIJ's request for comment.