IMPACT
Angry shareholders sanction Ericsson chiefs over Iraq corruption scandal
The telecom giant's board and CEO are left exposed by an extraordinary vote that could allow them to be held liable for misconduct.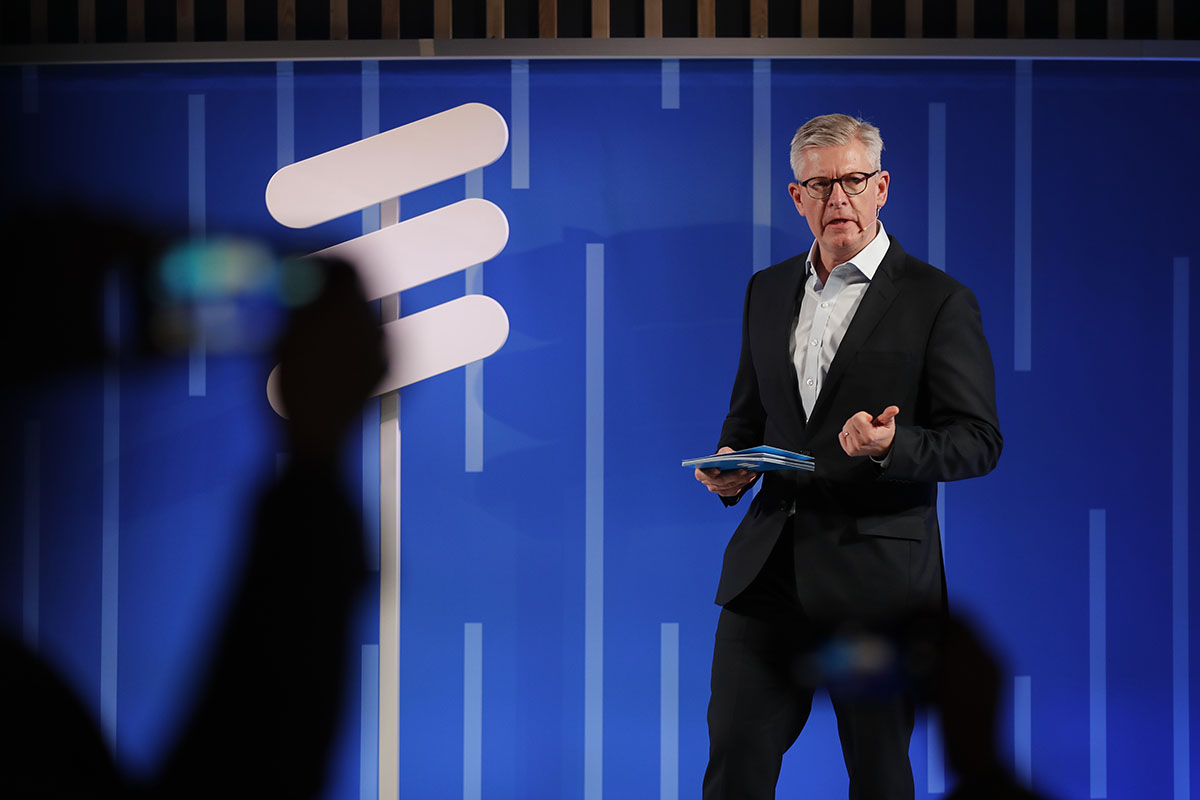 Ericsson's shareholders handed chief executive Börje Ekholm an unusual rebuke on Tuesday, voting to hold him accountable for the telecom giant's mishandling of the Iraq bribery scandal and revelations about possible payments to the Islamic State terror group.
Shareholders, including the giant Swedbank Robur asset manager and a group representing small investors, refused to discharge Ekholm and the company's board of directors from liability for the previous year; that means Ekholm and other board members could be held personally liable for their actions.
The vote at Ericsson's annual shareholder meeting on Tuesday comes a month after the International Consortium of Investigative Journalists and 30 media partners published the Ericsson List, an investigation exposing tens of millions of dollars in suspicious payments from 2011-2019 to sustain its business in Iraq. The investigation – based on leaked internal reports from Ericsson's compliance department – revealed that the company sought permission from Islamic State terrorists to work in an ISIS-controlled city and paid to smuggle equipment into ISIS areas on a route known as the "Speedway."
The signal of disapproval from institutional and smaller shareholders comes at a critical time for Ericsson. Days after ICIJ published its investigation, the U.S. Justice Department told Ericsson it had failed to fully disclose its corrupt practices in Iraq before a 2019 criminal settlement.
The shareholder vote to withhold discharge from liability surpassed the 10% threshold needed to provide additional rights to sue Ekholm and members of the board.
You might get (the) impression (that) it's about money and fines and share prices. These are lives of people…. This could have contributed to crimes against humanity. — Ericsson shareholder
At the meeting, investors sharply criticized the company for keeping quiet about misconduct in Iraq detailed in a 2019 internal investigation. The internal report showed that Ericsson may have paid militant groups in Iraq, including ISIS, to sustain business in the war-torn country.
"The corruption scandals … are some of the largest corporate scandals in Swedish history," one shareholder said, adding there were "too many question marks to vote in favor of discharge. "You might get (the) impression (that) it's about money and fines and share prices. These are lives of people…. This could have contributed to crimes against humanity."
Yet despite casting the contentious ballots on the discharge motion, shareholders voted to re-elect Ekholm and the current board – and voted them pay raises.
"We have responsibility to ensure that this company can continue to operate in good pace moving into the future," said a representative from investor AMF, Ericsson's third-largest owner, which voted to reinstall the board.
Ericsson's board said compliance failures were in the past and that the company was well-positioned for future growth, particularly in the next generation of mobile communications, known as 5G. "Look, 2017 and 2016, this was a company that had trouble in compliance and wasn't the leader," Board Chairman Ronnie Leten said. "Today, ladies and gentlemen and dear shareholders, we are the leader in 5G … This company is very solid good company."
The refusal by shareholders to discharge liability could add pressure for executive or board level changes at the Swedish equipment maker, which has seen its market capitalization fall by about  a quarter since ICIJ began asking questions in February about the internal investigation that had found evidence of Iraq corruption.
Ericsson has not addressed ICIJ's questions about the company's Iraq operations. Instead, it issued a statement that admitted the company might have made illicit payments to ISIS, triggering a selloff in Ericsson shares.
Some investors are bracing for fines or prosecutions after U.S. prosecutors told the company on March 1 that it had breached a 2019 criminal settlement agreement by failing to fully disclose the misconduct in Iraq. It was the second time in less than six months that the DOJ told Ericsson it had violated the agreement.
As part of the 2019 agreement, Ericsson paid one of the largest fines ever for corporate fraud, $1 billion in criminal and civil penalties to avoid U.S. prosecution for corrupt schemes over a 17-year period from 2000-2016 in foreign markets from China to East Africa.
The contentious tone of the meeting was set just minutes into the start, when an attendee complained about the company's decision to hold its annual meeting virtually, citing COVID. The shareholder called it a "manipulative maneuver" to avoid shareholder participation and interaction with management and the board. Ekholm said the decision was made during the pandemic and the board the virtual meeting would encourage more participation.
In his own remarks, Ekholm sounded familiar notes from his recent campaign to explain the company's efforts to reform its compliance practices.
"We have zero tolerance to corruption," Ekholm said in his speech. "Changing the culture is not done overnight."
Leten said the company was performing a thorough review of its handling of the Iraq matter.
The testy questions at the meeting signaled Ericsson's explanations have done little to quell the telecom's critics.
"How much did the board know about ISIS and the money they were able to benefit from?" one shareholder asked.
"We don't know who failed," said another, representing a group of small investors. "We haven't received any answers … I would like to know whose decision it was to not communicate the Iraq report to the market?"
Leten replied: The current leadership "inherited a company which has compliance problems and when you dig you find."
Ekholm commented: "It's quite a job cleaning up."
Do you have a story about corruption, fraud, or abuse of power?
ICIJ accepts information about wrongdoing by corporate, government or public services around the world. We do our utmost to guarantee the confidentiality of our sources.
LEAK TO ICIJ
Separately, several shareholders voiced dissatisfaction with the telecom's compensation proposals.
"The remuneration level .. has been simply too high considering what happened with the share price once the market got this information," another shareholder representative said. "There was drastic decline and that's why we are going to vote against remuneration because we want to tell the board that they should consider this carefully."
Ericsson's largest investors – Investor AB, the Wallenberg family investment vehicle, the holding firm Industrivärden, and Swedish pension fund AMF – all voiced confidence in Ekholm and voted to release him and the board members from liability.
"It's important that the board and the senior management of the company will see our support in challenging time," said an Investor AB representative.
Before the vote, European activist investment firm Cevian Capital and Norway's $1.3 trillion sovereign wealth fund – two of Ericsson's top 10 shareholders – had said they  would vote against shielding Ekholm and other board members from liability over the Iraq scandal. Cevian cited the need for sweeping reforms at Ericsson.