PANAMA PAPERS
Kinahan drug cartel enforcer owned a website that named and shamed criminal "rats"
Leak reveals sanctioned money launderer John Morrissey set up offshore companies and sought to open Panamanian bank accounts tied to the site.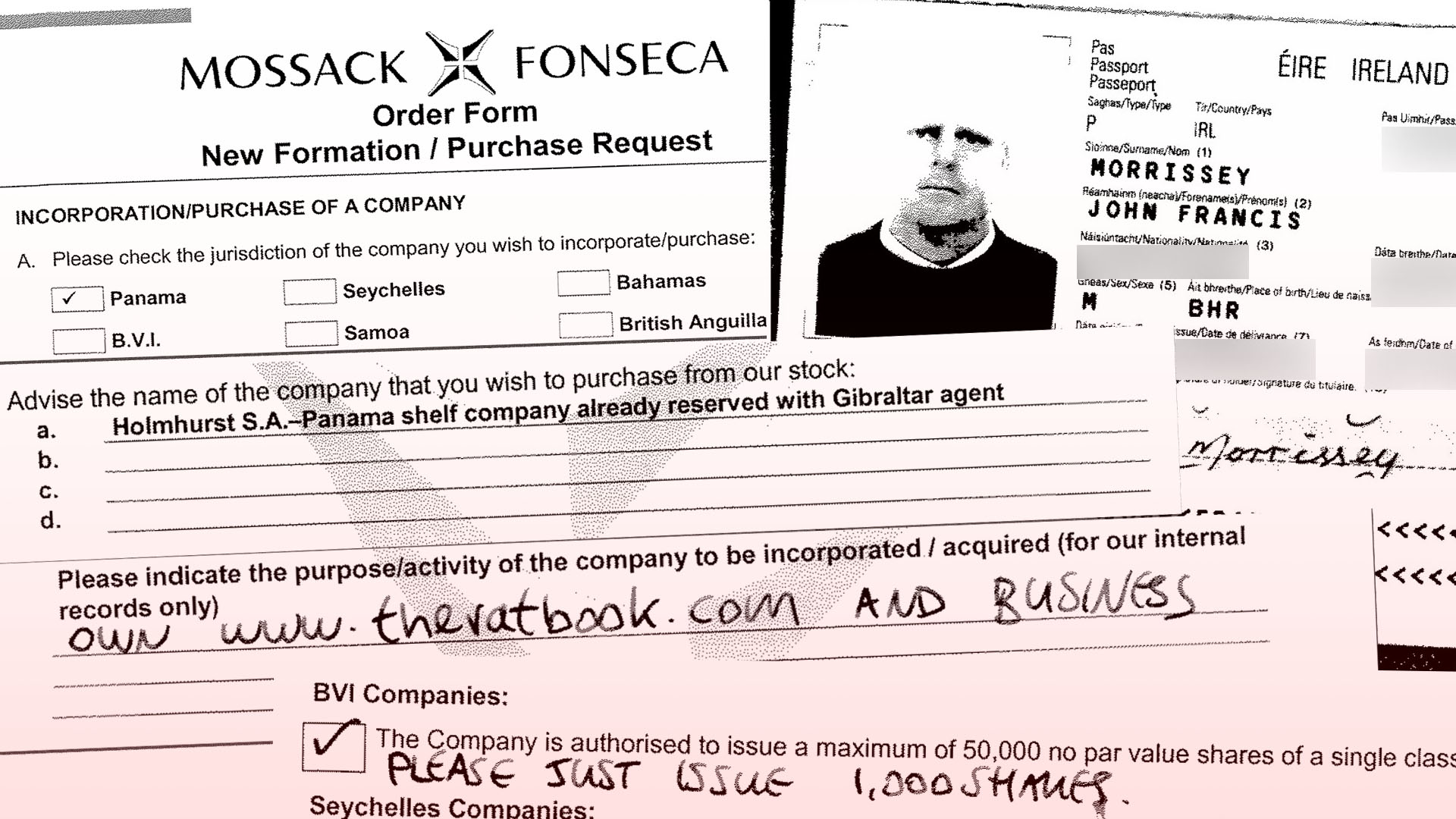 A senior member of the Kinahan drug cartel established a subscription website to name and shame criminal  "rats" with the help of the controversial Panamanian law firm Mossack Fonseca, leaked files show.
A come-on to potential subscribers, "Do you want to find the rats in your neighborhood?!!" appeared on the short-lived United Kingdom-focused website, The RatBook.com, before it went live in 2009. "See if there are serious criminals, rogue traders, pervy priests etc around you. This is the site for you!!"
A co-founder of the site, incorporation records show, was John Francis "Johnny" Morrissey, now 62-years-old, an Irish citizen accused of some of the crimes his website promised to expose. The documents show that the site was tied to offshore companies in the British Virgin Islands and Panama, where Morrissey also attempted to open a bank account to process website subscription payments.
In a sanctioning notice April 11, the U.S. Treasury Department. described Morrissey as an "enforcer" for the Kinahan cartel, the most powerful organized crime gang in Ireland. "Irish courts have concluded that the [cartel] is a murderous organization involved in the international trafficking of drugs and firearms," the notice said.
Morrissey, who lives in Spain, "facilitates international drug shipments for the organization from South America" and is "involved in money laundering," the U.S. notice said.
Through his wife, Morrissey also controls Nero Drinks Co. Ltd., a vodka maker based in Glasgow, Scotland, and he has been a brand ambassador for the company, his most public venture. Morrissey has handed over significant parts of the company to Daniel Kinahan, a leader of the cartel, "to compensate for loads of drugs seized by law enforcement," the U.S. said in its notice. Daniel Kinahan has previously denied being linked to organized crime.
At the core of the Kinahan cartel's operations, according to an investigation funded by the European Union, are dozens of front companies that help move heroin, cocaine and other drugs and that launder the proceeds from their sale.
The U.S. sanctions, which targeted seven members of the cartel, including Morrissey, have put new pressure on the cartel and the countries that host affiliated businesses and gang members. Last week, the International Consortium of Investigative Journalists and the Irish Times revealed the existence of several companies tied to the ruthless Irish drug gang in the Middle East's top secrecy haven, Dubai in the United Arab Emirates. Authorities there say they are investigating.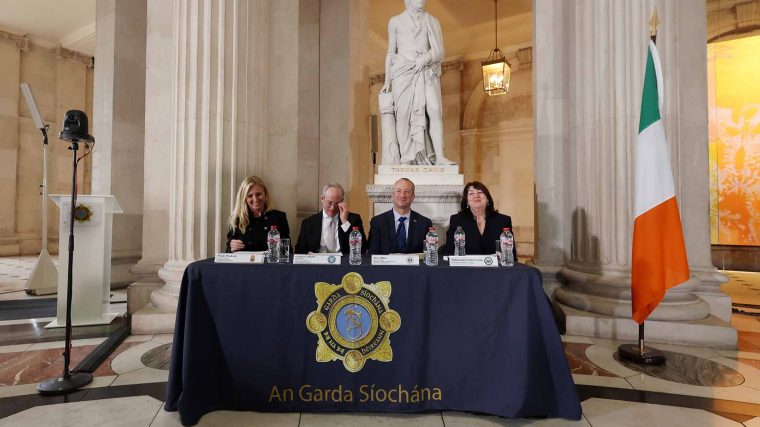 According to media reports, Morrissey is a longtime mobster who has been implicated in killings and other crimes. He moved to Spain two decades ago after police raided his home in Ireland. Authorities reportedly had discovered a plot by Morrissey to kill an official with the Irish Criminal Assets Bureau, a law enforcement agency that had served him with a tax demand of more than $100,000.
The timing of Morrissey's interest in offshore companies and bank accounts, and the creation of a website, coincided with a turning point in a European anti-drug-trafficking campaign.
In 2008, police in Spain, the U.K., Ireland and Belgium teamed up to investigate the Kinahan cartel, following a major bust and the confiscation of 1.5 tonnes of cannabis in a house in County Kildare,  Ireland. The joint investigation was known as Operation Shovel.
Later that year, Morrissey set up a company, Northcote Development Holdings SA, in the British Virgin Islands, a renowned corporate secrecy and tax haven. The transaction came with a special request: "Please DO NOT register the identity of the shareholders or directors at the BVI Registry," leaked records from the ICIJ-led Panama Papers investigation show.
ICIJ identified the Morrissey documents and shared them with the Irish Times.
Northcote was a "shelf" company, meaning that it was created without a business purpose. Such companies can be used to add layers of complexity and secrecy to a business arrangement. Northcote then became the sole shareholder in a Panama-incorporated company, Holmhurst SA.
In 2009, Morrissey flew to Panama to "explore the possibility of initiating an internet business from Panama," according to leaked files of Mossack Fonseca, the law firm whose internal records sparked the Panama Papers investigation. He was met at the airport by a courtesy car from the law firm.
Emails show Mossack Fonseca's lawyers and managers discussing how best to help Morrissey and a partner, Glenn Patrick Cunningham, set up bank accounts for processing "subscription" payments to the internet site, through Holmhurst, the shell company. A complication emerged: the Panamanian bank, Towerbank, required that the owners of such accounts maintain a physical office in Panama.
Morrissey balked at the cost, according to emails, complaining that it made no sense to pay for a "ghost office." It's not clear how or whether the matter was resolved, or if an account was ever opened. "We went with Mr. Morrissey to Towerbank and we are in the process to complete the process," an April 2009 memo from a Mossack Fonseca lawyer says.
Mossack Fonseca's founders are awaiting trial in Panama, accused of helping clients launder money.
In an application document for a bank account, a lawyer for Morrissey and Cunningham described the planned website as a place "where rogue traders & practitioners can be named and shamed." The lawyer also mentioned in an earlier email that information would come from "open source material" and from investigators.
The website's "members" would pay a subscription of $20 per quarter, with as many as 100,000 members expected to sign up in the first year, the document said. Dividends paid from the account would go to the U.K. and Spain, the document said.
According to an archived version of the website, TheRatBook.com was active for about a year.
Shortly before it shut down, the website said it had about 4,000 users and that it had created more than 18,000 profiles of people convicted of child abuse, murder, terrorism and other crimes. It wasn't possible to verify the numbers.
When the Irish Times rang the mobile number given for Morrissey in the documents, a man said, "Digame" [talk to me] in an Irish accent, before hanging up when told who was calling.
Cunningham did not respond to requests for comment. He has not been accused of wrongdoing.
Northcote was struck off the BVI register in October 2010, the leaked files show. But Holmhurst survived long after the website stopped working — despite its association with a member of a drug cartel. Its status changed from "current" to "suspended" in 2019, according to the OpenCorporates database.
The Panama Papers documents were obtained by the German newspaper Süddeutsche Zeitung and shared with ICIJ.
Across multiple globe-spanning investigations, ICIJ has shown how the offshore industry has given shelter to untold trillions of dollars through elaborate corporate structures designed to deceive authorities and deflect attention from their true owners. Criminal groups have found these structures particularly valuable for hiding ownership of real estate and other assets, along with semi-legitimate front businesses that can be used as vehicles for laundering money.
Although there is no evidence that TheRatBook.com was involved in criminal activity, the circumstances of its creation and its association with a member of a drug cartel accused of money laundering raise red flags.
Shilpa Arora, a London-based anti-financial-crime specialist at ACAMS which provides training and certification for anti-money laundering, said drug traffickers, in particular, are especially creative about finding "innovative means to launder their illicit proceeds" because they are so often a target of law enforcement.
She referred to traffickers' investments in racehorses, art and anything else "that has a stable or rising value which can be invested in or bought with few questions asked, and preferably far from the reaches of law enforcement."
The Kinahan cartel has been linked to dozens of shell companies around the world. The cartel is led by Christopher Kinahan and his sons, Daniel and Christopher Jr.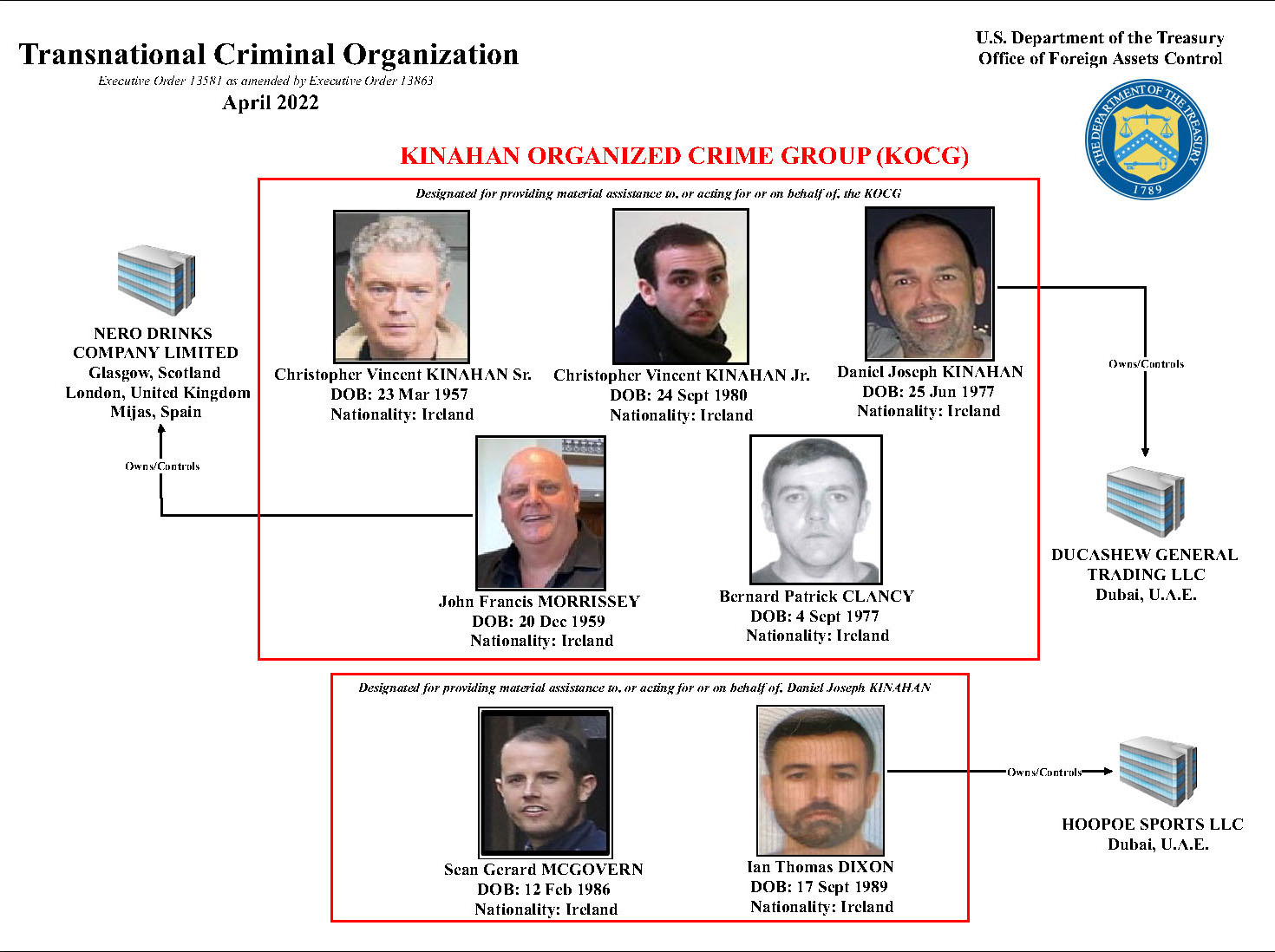 According to publicly available documents, one of the Kinahans — either Christopher Sr. or Christopher Jr. — was a director of a Panamanian company called Pantheon Investments Worldwide SA.
Morrissey comes from a humble background, according to a résumé included in leaked documents.
He left school at 15 and worked as a bricklayer, according to the résumé, which adds: "I am a good timekeeper, trustworthy and reliable. I am very persistent and past experience has taught me to communicate on all levels." He listed diving and sailing among his hobbies.
According to Irish news reports, Morrissey set up a restaurant in the 1990s in the pretty coastal town of Kinsale, County Cork. He acquired the nickname "Johnny Cash" because he paid for everything with wads of banknotes, including an expensive refurbishment of his property.
It's not clear how long Morrissey has been part of the Kinahan cartel. He attended Daniel Kinahan's secret 2017 wedding to Caoimhe Robinson at the "seven-star" Burj al Arab hotel in Dubai, mingling with other members of the international underworld, according to news reports.
Other guests included Dutch mobsters Ridouan Taghi, accused assassin and ringleader of the Angels of Death gang, and Naoufal Fassih; Dutch-Chilean gangster Ricardo Riquelme Vega, aka El Rico; and Italian Camorra crime boss Raffaele Imperiale.
In Spain, Morrissey and his Scottish wife, Nicola, have mixed with celebrities on the Costa del Sol — and his vodka company, Nero Drinks, entered a sponsorship deal  with then-Scottish Premiership soccer team Hamilton Academical in December 2019. The club says the deal ended "prior to the COVID-19 pandemic," but some Nero signage remained up during lockdown at the ground where the team plays home games. Nicola told one interviewer that the company had been named Nero because "John's passion is the gladiators and the Roman Empire."
According to publicly available documents, Morrissey's business interests include serving as a director of a company called Family Import-Export SL and as sole director and shareholder of a computer software firm with the unlikely name Inner City Property Management SL. Both companies are based in Spain.
According to its marketing material, Nero offers gluten-free premium vodka for those with wheat intolerance. It contributes to environmental conservation through a partnership with TreeSisters, a nonprofit group devoted to tropical forest restoration.
"For every case of Nero Premium Vodka we sell, a tree is planted in The Nero Forest to help create a greener future for all," Nero's marketing material says.
Spain's Central Narcotics Brigade (UDYCO ), part of the National Police, told ICIJ partner La Sexta that it was not aware of any warrant for the arrest of Morrissey — and he was unknown to it.
A Europol spokesperson declined to comment on Morrissey, saying it did not comment on individuals.
Colm Keena is a reporter with the Irish Times.
Contributors: Ben Hallman, Richard H.P. Sia, Joe Hillhouse — and Joaquin Castellon of La Sexta