When the International Consortium of Investigative Journalists launched the Offshore Leaks Database in 2013, it received 2 million page views in the first 24 hours and crashed — an unmistakable sign of the public's demand for information about the secret system known as offshore finance.
Nearly a decade and millions of leaked documents later, the database has quietly become one of the most valuable resources on the offshore financial system. Every month, regulators, academics, reporters and the public rack up 300,000 pageviews tracking the hidden wealth of drug dealers, human traffickers and corrupt oligarchs — not to mention the diverted profits of brand name multinationals.
Now, the Offshore Leaks Database has become the focal point of renewed interest with a bump in traffic as governments scramble to track down and seize the offshore assets of Russian oligarchs and the enablers of President Vladimir Putin's war on Ukraine who have snuck stolen wealth into the luxury of the West.

After steadily expanding the database since 2013 with information from 2016's Panama Papers project and four other leaks, ICIJ today releases the last batch of data, which includes new data on more than 9,000 offshore companies, foundations and trusts, from the Pandora Papers, the massive leak from 14 so-called offshore service providers that powered last year's largest-ever journalism collaboration of the same name. As we close the final chapter of the Pandora Papers in the Offshore Leaks Database, we share what it took to bring it to life — and why it has become an essential tool in the global fight to dismantle offshore secrecy.
Hard drive in the mail
It all started with a guy in Perth, Australia, who claimed to have invented a magic pill. This pill, once dropped into a car's fuel tank, would miraculously eliminate toxic emissions and dramatically improve gas mileage. The pill took Australia by storm, racking up $60 million from investors.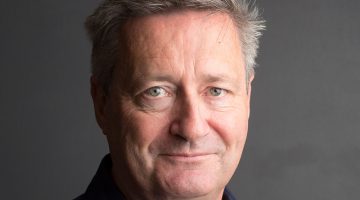 Gerard Ryle, however, was … skeptical. The 41-year-old investigations editor at the Sydney Morning Herald began digging into the entrepreneur behind the pill, a certain Tim Johnston who managed to dupe investors for three years. The pill, Ryle revealed, was a massive Ponzi scheme. But what he also discovered was that Johnston had set up multiple companies in the British Virgin Islands, a notorious tax haven. These entities had issued the millions of shares that had been sold to the deep-pocketed sports stars, politicians and others who had wanted in on his invention. For Ryle, the revelation cracked the lid on a bigger story, a secret world of offshore finance.
A tax haven is a place with low or no taxes where a foreigner can register a company anonymously, under the name of a stand-in often for no other purpose than to own a bank account used to divert profits or hide wealth. Offshore service providers, usually based in the havens, specialize in incorporating and managing the paperwork of such entities, which are  often used to hide assets from tax and other authorities.
In 2009, Ryle published a book detailing his investigation into the fraudster Johnston and the offshore companies he had set up for his magic pill venture. The book would trigger a career-defining event: a reader with inside details not only on Johnston's companies but other offshore entities mailed Ryle a hard drive containing 2.5 million documents from two offshore financial service providers.
@RyleGerard presents release of searchable public database made by @ICIJorg #offshoreleaks : #nr13 @irpinvestigates pic.twitter.com/xnvHJfzjZg

— IrpiMedia (@irpinvestigates) June 15, 2013
The data-packed hard drive — in gigabytes, the equivalent of streaming films on Netflix for nearly 11 days straight — contained 2 million emails with details on more than 122,000 offshore companies and trusts. At the time, it was the largest leak of its kind in history.
"That disk was really the basis of the Offshore Leaks Database," Ryle said.
An idea from Costa Rica
In 2011, Ryle, packed his hard drive and punched a ticket to Washington, D.C., where he had accepted a new role as director of ICIJ, an organization designed to bring together reporters from across the globe to conduct cross-border investigations. Housed in the basement offices at the Center for Public Integrity and with just three full-time staffers, ICIJ had produced creditable investigations into tobacco smuggling and the U.S. AIDS policy abroad — but nothing like what would come next.
Two years later, an ICIJ-led global collaboration of journalists from nearly 40 news organizations and 46 countries would use the hard drive's leaked records to produce an investigation formally called Secrecy for Sale but known internally as Offshore Leaks.
The probe was a journalistic landmark, expanding ICIJ's cross-border collaboration model to a topic that was ripe for it: the largely unexplored network of island tax havens, global banks and Western professionals that make up the offshore financial system.
Do you have a story about corruption, fraud, or abuse of power?
ICIJ accepts information about wrongdoing by corporate, government or public services around the world. We do our utmost to guarantee the confidentiality of our sources.
LEAK TO ICIJ
Giannina Segnini, founder and director of the data-investigative team at La Nación, an ICIJ media partner, first proposed to make the leaked offshore data somehow accessible to the public. Segnini had helped assemble an investigative team that included data analysts, developers and geographic information systems specialists, giving La Nación deep experience in pooling together information into massive databases.
At the time, WikiLeaks was commanding global attention with its new model centered on publishing huge caches of leaked data virtually in raw form, most famously, top-secret diplomatic cables from the U.S. State Department. Wikileaks drew plaudits for allowing the public into the journalistic process and harsh criticism for endangering national security and releasing sensitive personal information about non-public figures.
The idea was not to release the data WikiLeaks-style, but to include only essential information, like the names and locations of the offshore companies and their owners, and add interactive features that would allow users to easily draw connections. The new application would be verified, structured into standardized fields, and easily searchable.
Still, Ryle was hesitant. The technical challenges alone were enormous. And, as an Irish-raised longtime resident of Australia, where libel protections are relatively weak, he feared the legal risks could sink the tiny news organization.
"I was thinking, 'If this was Australia, every single one of these people would potentially sue us,'" Ryle said.
But ICIJ had three things on its side: the data, because it came directly from the offshore service providers, was undoubtedly accurate; ICIJ's decision not to publish in the database personal information like bank account numbers or financial statements; and perhaps most importantly, ICIJ enjoyed the protections of U.S. law, which provides ample leeway for the publication of truthful information that is newsworthy. ICIJ's lawyer, Mike Rothberg, gave the thumbs up.
So Ryle sent Segnini's team a copy of the hard drive and, after a minor holdup in customs, it landed in the laps of La Nación's data experts.
Technical challenges
The material on Ryle's disk came in a jumble of formats: PDFs, spreadsheets, images and web files. It also contained more than 320 spreadsheets from the two offshore service providers, Portcullis TrustNet (now Portcullis) of Singapore and the British Virgin Island's Commonwealth Trust Limited. Each spreadsheet was composed of different sets of related records — one included the names of officers, for instance, while another one the names of companies. Without an index to explain the relationships between the spreadsheets, Segnini's team would have to reverse-engineer them, a painstaking technical and analytical task.
Rigoberto Carvajal, a member of Segnini's team in 2013, recalls that a few colleagues around the world expressed doubts that he and the Costa Rican team could pull it off.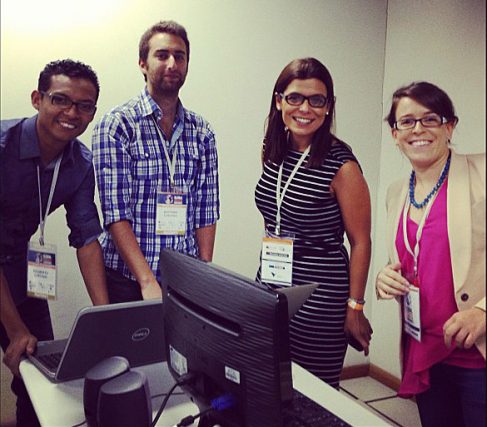 "During the process, I felt like [people were thinking] 'This guy from Costa Rica, how can this guy do this work?'" he told ICIJ with a chuckle. But he pushed those doubts aside. "With this project, I had the opportunity to contribute to fight corruption. That was the exciting part," he said.
Carvajal and the rest of the La Nación team proved the doubters wrong when, in the summer of 2013, they quietly launched the web-based offshore database, with advice from U.K. journalist Duncan Campbell and programmer Matthew Fowler, as well as Mar Cabra, who later became the head of ICIJ's first data team. It was searchable, verified, open to the public, and free.
Using a JavaScript library, or pre-written code, called Sigma, the application allowed users to easily visualize and interact with the huge trove of ownership information. Users simply had to search a keyword, company name, person's name or jurisdiction to find all associated entities, including intermediaries, offshore providers and more. For example, it included details about individuals and companies linked to a tax fraud scandal that led to a ban on Americans adopting Russian orphans, about a Venezuelan deal-maker who funneled millions of dollars in bribes to a Venezuelan government official, and more.
Maybe best of all, it allowed journalists around the world who weren't involved in the initial Offshore Leaks investigation to follow new, unexplored leads.
And that would happen a lot. Over the next several years, ICIJ would obtain new leaks from an expanding number of offshore service providers: the Panama Papers in 2016, featuring a massive leak from the Panamanian law firm Mossack Fonseca; the Bahama Leaks, also in 2016, based on internal documents from the island nation's corporate registry; the Paradise Papers in 2017, containing documents from the Bermuda-based law firm Appleby and Singapore-based company Asiaciti Trust; and the Pandora Papers in 2021, which revealed new details on companies from a whopping 14 offshore service providers around the world.
Each new release generated new leads for reporters everywhere to explore how the shady financial system affected their own countries.
During a trip to London after the publication of the Panama Papers data, Ryle passed a news stand and noticed the lead story in The Times was about an offshore company linked to the actor Emma Watson, famous for playing Hermoine Granger in the Harry Potter films.
"The story had originated from our data and it was something that we ourselves had missed," Ryle said. "That was great for us because it meant that we had a whole new second wave of reporting on things that we had missed."
Academics, regulators and the general public have also flocked to the Offshore Leaks Database. After the database's initial launch, South Korean financial regulators opened an investigation into the illegal transfer of funds by hundreds of Koreans whose names appeared in the database. Authorities in the Philippines also said they would review the tax records of residents who appear in the database by matching results with income tax returns.
In the following years, ICIJ's data team — which had recruited Carvajal and his colleague Matthew Caruana Galizia from La Nación — updated and improved the application. They started using new graphing database tools called Linkurious and Neo4j to improve user experience; incorporated new filters to optimize searches; and added features that allowed users to explore the most prominent names in the leaks.
The data team's successful efforts to visualize the huge trove of records prompted Talend Open Studio to award them a plaque that honored their hard work.
Carvajal moved on from ICIJ in 2019 — but has been keeping a small secret.
"I have here the Talend award," he joked. "This is something that I'm not sure if I have to send to ICIJ."
Global fallout
After ICIJ published its first batch of stories based on the offshore records, but before the launch of the Offshore Leaks Database, three men in black suits (Ryle remembers them being from the Internal Revenue Service) showed up at ICIJ's Washington office demanding access to the data. ICIJ refused. Soon, about 30 governments had written to ICIJ requesting access to the data.
Ever since, and as a matter of policy, ICIJ doesn't turn over such material to government authorities. ICIJ isn't an arm of law enforcement or an agent of the government, but an independent news organization. In any event, Segnini's team was already working on the public database that would soon make it possible for those government officials — and everyone else — to explore the data on their own.
And since the launch, governments around the world have come to expect new data releases after every offshore investigation, frequently contacting ICIJ to ask when that data will become available.
"By launching the Offshore Leaks Database, we were able to at least give them the basic information, which then they took, and they prosecuted people, they recovered taxes," Ryle said.
That was exactly the type of impact ICIJ had been hoping for, and it became even clearer after the Pulitzer Prize-winning Panama Papers' data was integrated into the application. By April 2021, 24 governments had publicly announced that they had recovered a total of more than $1.36 billion that had been hidden offshore, according to an ICIJ tally.
Since the launch, governments around the world have come to expect new data releases after every offshore investigation, frequently contacting ICIJ to ask when that data will become available
Given the sensitive nature of the data, ICIJ remains committed to contextualizing it with a disclaimer on every page: There are legitimate uses for offshore companies and trusts. The inclusion of a person or entity in the ICIJ Offshore Leaks Database is not intended to suggest or imply that they have engaged in illegal or improper conduct.
The Offshore Leaks Database also earned itself some dogged critics.
After ICIJ's first offshore investigation and since, WikiLeaks has attacked ICIJ for withholding the raw documents that underpin the investigations.
"ICIJ refuses to publish #OffShoreLeaks data," WikiLeaks tweeted in 2013. "Cowardly."
The tension between releasing less-curated leaks and publishing edited, structured data has since created a wedge in the investigation community, with some siding with WikiLeaks and others with ICIJ.
"The concept of Offshore Leaks is information that should be public and it's published in the public interest, bringing transparency," ICIJ Data & Research Editor Emilia Díaz-Struck said. "It's not aiming to address and publish that other kind of private information, such as bank accounts, financial statements and other kind of records that you could find inside leaks like the ones we explore."
As Ryle told Wired magazine in 2016, "We're trying to show that journalism can be done responsibly."
Lasting legacy
Since 2013, ICIJ has worked steadily to incorporate data from each successive leak into the Offshore Leaks Database. The database has grown eight-fold since it first launched and now contains information on more than 800,000 corporations, trusts and and other entities.
Until today, the Offshore Leaks Database remains a rare example of a fully open-source database linking offshore companies and their owners — something that tax experts around the world have lauded.
But the financial burdens of keeping the database running makes its future uncertain. Ryle says it's part of ICIJ's public mission to maintain the database, but "it's something that probably isn't being appreciated by people, that this is costing us money." In addition to server costs, which ran about $9,000 in the last year, three dozen or so ICIJ staffers who served on what would become separate data research and technology development teams have played a role in maintaining the database over the last decade.
That said, the Offshore Leaks Database's role in helping combat the social ills that flow from the secretive offshore system has raised ICIJ's profile. That's especially true today, as global authorities work to identify and seize the offshore assets of Russian oligarchs who have enabled Putin's war on Ukraine.
"There was almost no understanding of the national security risks that arise from the ways in which organized criminals and kleptocrats and autocrats like Putin and his entourage could use offshore, not just to hide their wealth, but also to direct their money into nefarious activities," said John Christensen, co-founder of advocacy group Tax Justice Network. "Fast forward, and I think these things are now recognized."
The launch and early operation of the Offshore Leaks Database is thanks to the work of Mar Cabra, Duncan Campbell, Rigoberto Carvajal, David Donald, Matthew Caruana Galizia, Matthew Fowler, Marco Hernández, Erik Lincoln, Emily Menkes, Sebastian Mondial, Kimberley Porteous, Gerard Ryle, Giannina Segnini and Marina Walker Guevara.
The most recent version of the Offshore Leaks Database involved the work of Denise Hassanzade Ajiri, Agustin Armendariz, Hamish Boland-Rudder, Jelena Cosic, Antonio Cucho, Caroline Desprat, Emilia Díaz-Struck, Jesús Escudero, Miguel Fiandor, Jorge González, Javier Ladrón de Guevara, Karrie Kehoe, Sean McGoey, Asraa Mustufa, Madeline O'Leary, Delphine Reuter, Pierre Romera, Nicole Sadek, Mago Torres, Maxime Vanza and Margot Williams.