CHINA CABLES
As global pressure over human rights abuses in Xinjiang picks up, China remains defiant 
Diplomatic measures, sanctions, targeting forced labor, calls for investigations and a 2022 Olympics boycott, and other efforts to stop Beijing's campaign against Uyghurs appear to have little effect.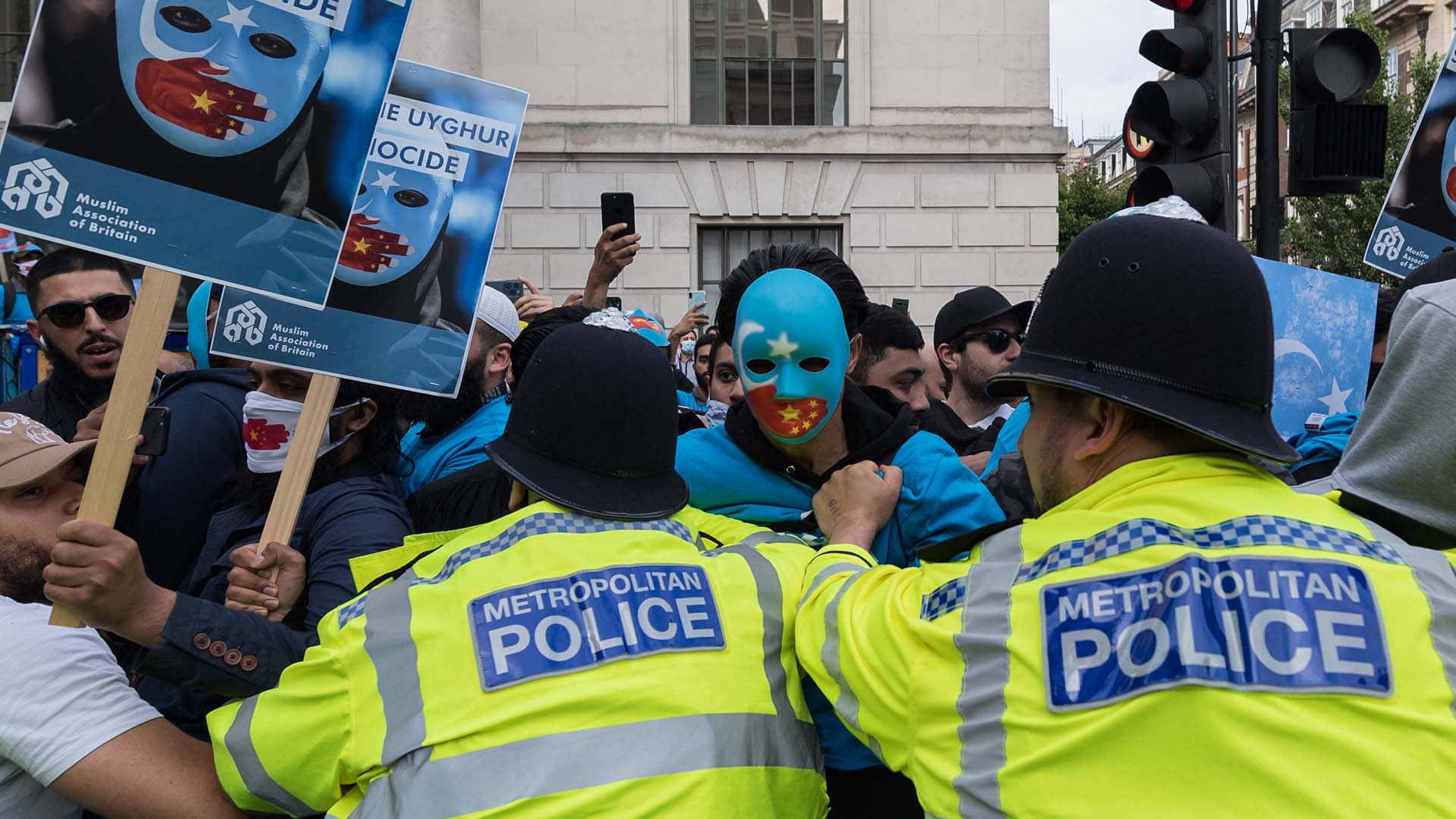 Week after week, lawmakers around the world have continued to put pressure on China over alleged human rights abuses against Uyghurs in an escalating diplomatic conflict, which one expert says has become something of a stalemate.
In the U.S., the Biden administration stepped up its warning to businesses and individuals on the risks of having supply chains, ventures, or investments linked to China's Xinjiang region, due to the prevalence of forced labor and intrusive surveillance. The move came days after the U.S. blacklisted 14 more Chinese companies for aiding Beijing's repressive campaign, and British lawmakers urged their government to take a tougher stance on China for its alleged human rights abuses, suggesting a partial boycott of the 2022 Winter Olympics and a ban on the cotton trade from Xinjiang.
The Biden administration also recently took aim at Chinese solar panel companies linked to forced labor, adding to the list started under the Trump administration.
China has dismissed forced labor as a lie, and said its Commerce Ministry said the country will "take necessary measures to firmly safeguard Chinese companies' legitimate rights and interests" in a statement.
"It's a real stalemate. China says, 'If you speak out about Xinjiang, we're going to try to punish you,''' Adrian Zenz, a researcher on China's ethnic policy and internment campaign in Xinjiang, said in a recent interview with ICIJ.
Zenz, a German national, was blacklisted by China earlier this year, along with nine other individuals, including eight European politicians, in a tit-for-tat response to EU sanctions on China.
"That's a new tactic, but that has further knock-on effects, like in the case of the European Union and Britain," Zenz said of the retaliatory sanctions. "China's image in Europe has gone down significantly. I think that it's really backfiring for China, this strategy. But China has chosen a very proactive or aggressive way to combat any criticism on Xinjiang."
The U.K. Chinese embassy also rejected human rights-related criticism by world leaders at the G7 summit last month, saying in a statement, "The Group of Seven (G-7) takes advantage of Xinjiang-related issues to engage in political manipulation and interfere in China's internal affairs, which we firmly oppose."
While world leaders issue condemnations and enact targeted bans, advocates are turning to other international bodies to take action on the alleged atrocities in Xinjiang.
Top United Nations human rights official Michelle Bachelet is under growing pressure from several countries to negotiate an unrestricted visit to Xinjiang this year and investigate violations against Uyghur Muslims. Bachelet's office has been negotiating a visit since 2018, SBS News reported.
Human rights lawyers presented a case to the International Criminal Court in June, urging the court to prosecute China for forced deportations of Uyghurs from Tajikistan back to China. This comes as a counter to ICC's decision last December to not prosecute China because they didn't have jurisdiction.
The new filing seeks to use the legal precedent set by the ICC in 2019, prosecuting Myanmar for Rohingya Muslims who were forced to flee to Bangladesh. Myanmar is not an ICC member, but Bangladesh is — just as China isn't an ICC member, but Tajikistan is.
The lawyers allege that almost 3,000 Uyghurs, were coerced into returning to China, where they likely faced forced detention. They also claim that the Uyghur population in Tajikistan has gone from 3,000 to 100 in the past 15 years, with the majority of the reduction occurring from 2016 to 2018.
Pressure is also growing for a full boycott of the 2022 Beijing Winter Olympics.
A Global Day of Action was organized in more than 50 cities around the world on June 23 to coincide with International Olympic Day and to protest China's hosting of the games. Protests took place around the idea that China can not "sports wash" genocide and repression by using a major sporting event to improve its reputation.
Continued reports of human rights violations in Xinjiang
The International Consortium of Investigative Journalists' 2019 China Cables investigated the mass internment without charge or trial of Uyghurs and other Muslim minorities in northwest China – laying out for the first time the connection between mass surveillance and the Xinjiang camps in the Chinese government's own words.
Since China Cables, report after report has documented continued alleged abuses against minorities in Xinjiang.
A recent Amnesty International report includes new testimonies from over 50 former camp detainees on the prevalence of torture, and the  surveillance of millions of Muslims being forced to forego their religion, culture and language. The report also detailed how in 2019, following the publication of China Cables, Chinese officials burned files related to the internment camp system in a nearly week-long bonfire.
Zenz said that journalists have been essential to the ongoing effort to keep the spotlight on alleged human rights abuses in Xinjiang.
"Journalists have played a major role — the China Cables is a very big example. Uncovering different aspects of the atrocities, especially when it comes to genocide or forced labor, is still quite powerful," Zenz said.
A recent New York Times report also raised questions about how effective targeting businesses has been, finding that Chinese police continue to purchase hundreds of thousands of dollars worth of American DNA equipment, despite U.S. government warnings that it could be used to aid human rights abuses through tracking people.
But Zenz said the focus on supply chains is where to expect more pressure to come.
"It's the forced labor that is most likely to see any action, mostly because there's legal ramifications," he told ICIJ.