Malta is reportedly demanding payment of more than $275,000 total in taxes and fines from a telecom consultancy firm owned by Angolan billionaire Isabel dos Santos after rejecting its call for a tax clawback.
According to MaltaToday, the tax probe was launched after Luanda Leaks, a 2020 investigation by the International Consortium of Investigative Journalists, exposed dos Santos' business empire and decades of insider deals that helped her become Africa's richest woman.
The Maltese tax agency hit Kento Holding Ltd., one of 14 Malta-based companies controlled by the eldest daughter of Angola's former president José Eduardo dos Santos, with a fresh tax bill after finding it was not entitled to a $119,000 tax refund.
It is "highly unlikely that the company has real intentions of conducting an economic activity despite being registered since 1 September 2018, as no turnover was reported," the Commissioner for Revenue said, according to the Maltese news outlet.
The firm is now fighting the tax bill, the outlet reported.
A lawyer representing dos Santos did not respond to ICIJ's request for comment.
Kento is one of dos Santos's 94 entities incorporated in low or zero-tax rate jurisdictions, according to an ICIJ analysis of confidential and public corporate records.
The Maltese entity is also a shareholder of MStar, a Mozambique cell phone operator, and Upstar Comunicações de Portugal, a satellite company.
In 2018, it reported $19.3 million in profit before taxes, according to its latest financial statements available.
Through Kento, dos Santos also had joint control of Portuguese telecom giant NOS thanks to a joint venture with Sonaecom, a conglomerate. But in April 2020, a Lisbon court seized her NOS stake and, a few months later, her business ally announced it would drop the partnership with dos Santos.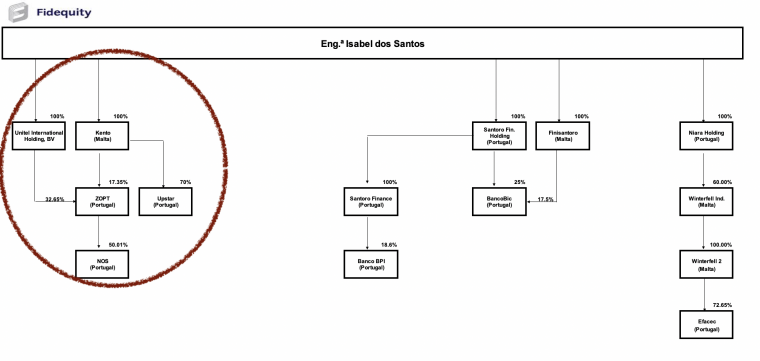 The most recent records in the Maltese corporate registry show that Kento's representative is Mário Leite da Silva, one of dos Santos' lieutenants and the former head of Fidequity, her Lisbon-based company management firm. Last June, dos Santos closed Fidequity after Portugal's highest court ordered the seizure of her properties and stakes in several companies.
ICIJ couldn't reach Silva for comment.
Angolan officials have charged dos Santos, her late husband Sindika Dokolo and Silva of embezzlement of public funds alleging they have caused a $1 billion loss for the country. They have all denied wrongdoing.