DRIVER PROFILES
As Uber expanded globally, many drivers felt left behind
The ride-hailing app lured its earliest workers with hefty incentives. But as early promises faded, these drivers describe how their earnings dropped and dangers mounted.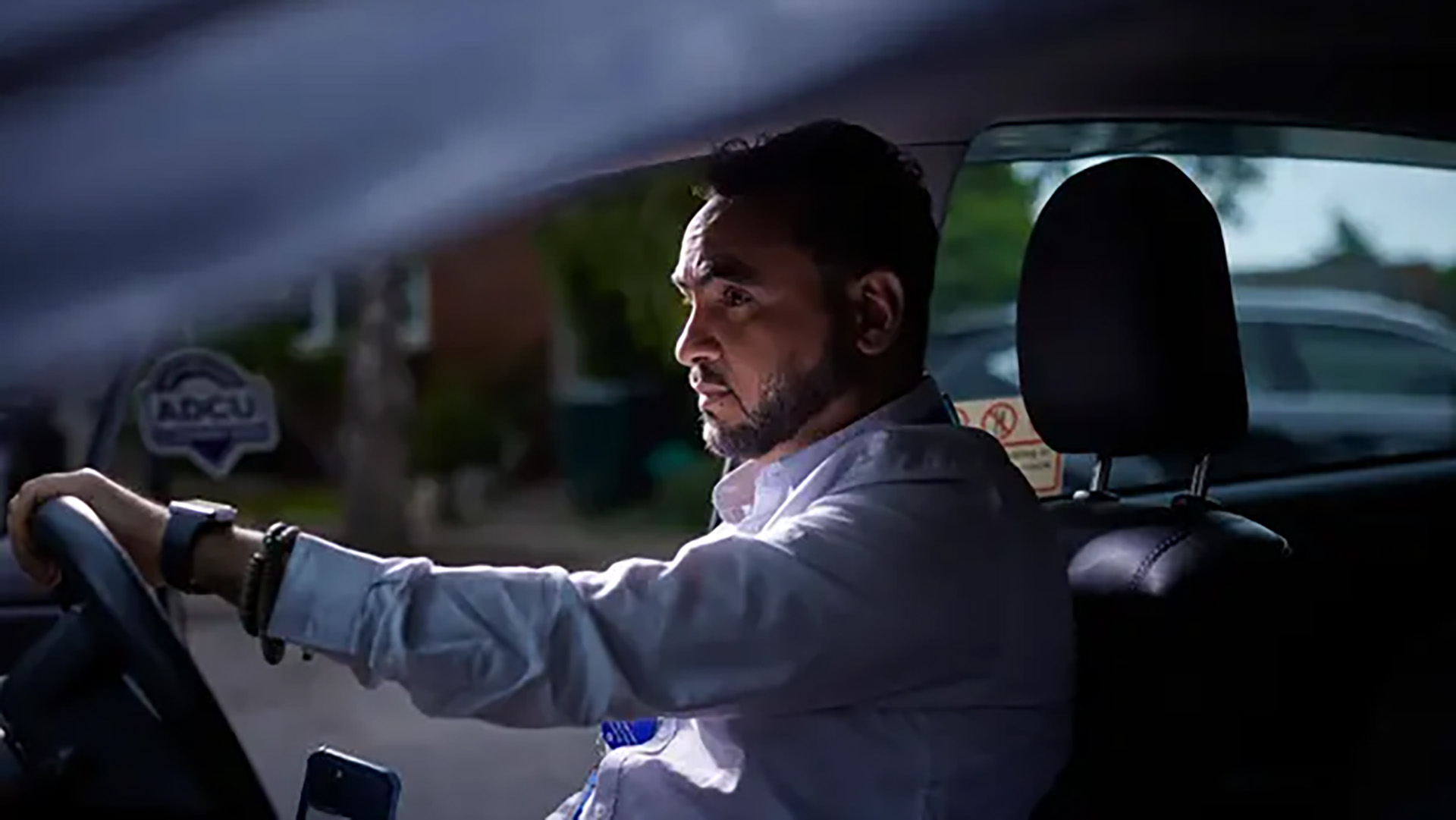 In the early days of Uber's expansion, the company spent millions of dollars to attract drivers to its platform. To keep them coming, Uber paid drivers bonuses, stoking the hopes of low-income workers in many countries while undermining taxi monopolies.
But the incentives didn't last. As the Uber Files detail, after the company had lured enough drivers, and claimed a big enough slice of a local market, it slashed those benefits.
As pay decreased, some Uber drivers also found themselves accepting rides in dangerous areas that they once would have avoided, threatening their safety, they said.
In interviews with ICIJ and partners, current and former drivers described work that has become both more demanding and less lucrative, forcing them to work longer hours for the same pay — and for some, to take risks they wouldn't otherwise take.
Jill Hazelbaker, Uber's head of public affairs, said the company has worked hard over the past few years to improve its relationship with drivers, and is listening to driver feedback and implementing new measures to keep them safe. "Drivers have been and always will be an extremely important part of Uber," she said. "It's equally true that we haven't always treated that relationship with the care and respect it deserves."
Here are four drivers' accounts of life on the road with Uber.
---


"There's not enough work left elsewhere."
– Abdurzak Hadi
Location: London, England
Age: 44
Years working for Uber: 2014-present
A Somalia-born former minicab driver, Abdurzak Hadi began working for Uber in 2014. "I thought it was going to revolutionize the industry and for the first time, I was being paid not just for the distance of a ride but for the time it took as well," he told ICIJ's partner The Guardian. He also liked that he could work around hospital appointments of one of his four children who had been diagnosed with leukemia, he said.
The experience, initially, was good: fares were plentiful and he received bonuses. "It was honey at that point," he said.
But he said Uber soon cut out those bonuses and increased the commission it collected on rides. Hadi's take-home dropped significantly, he said. In 2015, he earned so little in a 50-hour work week that his family qualified for welfare, he said. That year he and other U.K. drivers sued Uber, seeking to force the company to recognize them as workers with employment rights, including minimum wage and holiday pay. Uber ultimately lost the case.
Hadi said he continues working full-time for Uber, earning about $23,000 last year. Hazelbaker, Uber's spokesperson, said the company complied with the court order and that driver earnings in the U.K. "are at or near all-time high."
But Hadi and other drivers are still fighting on the question of what counts as paid work time. Hadi's records for the first quarter of 2022 show that about 35% of his time logged on to the app was spent waiting for a fare. Uber doesn't pay drivers for this time — the company says drivers are free to use it to drive for other ride-hailing apps.
Hadi said he only drives for Uber. "I love driving and meeting and talking to lots of people," he said. Hadi also feels he doesn't have other good options, because the company controls most of the London market, he said. "There's not enough work left elsewhere."
(Photo: David Levene/The Guardian)
---


"The concept of Uber is a good concept, but the business practices are abusive, in my opinion."
– Faiza Haupt
Location: Cape Town, South Africa
Age: 61
Years working for Uber: 2014-2016
Faiza Haupt signed up as a driver for Uber in Cape Town in 2014. At first, she said, the job was empowering. The company even invited her to promote the platform in interviews and at the South African parliament, she said.
From 2014 to 2015, Uber dramatically reduced drivers' pay in Cape Town by cutting a $4-per-trip bonus to nearly zero, according to leaked documents. Cape Town became one of Uber's most profitable markets.
Violence also became a rising concern. Haupt quit driving for the app in 2016 after an angry rider attacked her from the rear seat, pulling her hair and beating her. "I lost control and thought I was going to crash," she said.
Hazelbaker said that Uber couldn't comment on specific cases without more information but that today it has safety teams around the world to investigate serious incidents. "A typical investigation involves collecting the perspectives of both the rider and driver, and corroborating these accounts with the trip details we have on file (e.g. pick up, drop off and route), before taking any action," she said.
Haupt is now an organizer with a driver's group, and is working to develop a ride hailing platform owned by a cooperative. She still owns two cars that are driven by other people on the Uber platform. "The concept of Uber is a good concept, but the business practices are abusive, in my opinion," Haupt said.
(Photo courtesy of Douglas MacMillan/The Washington Post)
---


"One of the men pointed a pistol at me while the other two men kicked me mercilessly."
– Shatrughan Shah
Location: Delhi, India
Age: 35
Years working for Uber: 2016-present
Shatrughan Shah was working as a taxi driver when he heard that Uber drivers were getting big bonuses, with some making more than $1,400. A father of two who lives with 10 family members in West Delhi, Shah took out a loan to buy a car.
In March 2019, Shah was giving an Uber ride to three men who asked that he divert from a main route to an isolated stretch of crop fields. They asked to stop the car, claiming they wanted to relieve themselves, and then violently attacked and robbed him. The men then drove around with Shah in the backseat before throwing him out of the vehicle in an abandoned field.
During the six months it took police to trace his car, Shah said he couldn't make his monthly loan payments. He said he has yet to pay off the loan due to rising gas prices, despite driving from 8 a.m. to 10 p.m. daily.
Shah now avoids driving late at night and cancels trips whenever the Uber app takes him through isolated stretches. "My driver rating has taken a dip because of this," he told ICIJ partner Indian Express. "It is dangerous riding on these roads. I may have to start accepting these trips again as I fear being locked out of the system due to poor ratings."
Hazelbaker said that in the last five years the company has invested in developing new safety technologies, "many of which are geared towards keeping drivers safe." Among them: an in-app emergency button that connects drivers to emergency services, a feature to provide an extra layer of verification for riders using anonymous methods of payment, like prepaid cards and a "cash indicator" that "allows drivers to choose whether or not to accept cash trips."
(Photo provided)
---


"One day that you stop driving really dwindles your income."

– Mariano Guzmán
Location: Mexico City, Mexico
Age: 30
Years working for Uber: 2014-present
Mariano Guzmán had a small auto parts and mechanic shop in Mexico City when he heard about Uber, and decided to switch jobs and start driving for the platform at age 23. The money was good in the early days, he said. He kept almost all the revenue from the rides. But his take-home went down as Uber's commission rose and the local government introduced new taxes.
In 2015, Mexico City became the first city in Latin America to regulate Uber and similar services, requiring drivers to pay 1.5% per ride to the municipal government and get annual permits. It also imposed new requirements on the condition of vehicles used for ride-hailing services.
Guzmán said he now pays up to 30% of each fare he collects to Uber and the city. He said he works 12 hours a day, six to seven days a week, to make profit. "It is hard to take a day off," he said. "One day that you stop driving … really dwindles your income."
Hazelbaker told ICIJ that "Uber's take rate [the percentage of revenue, net of driver incentives, that Uber derives from passengers] can vary city to city and trip to trip," and was reported at 23% globally in the first quarter of this year.
(Photo provided)
---
CONTRIBUTED REPORTING: Felicity Lawrence (The Guardian), Douglas MacMillan (The Washington Post), Ritu Sarin and Anand Mohan J (Indian Express), Mathieu Tourliere (Proceso)