CHINA CABLES
'Huge uptick' in Chinese propaganda over Uighur camps, report finds
China launched a propaganda blitz after media reports exposed mass detention and repression of ethnic minorities in Xinjiang, according to a new report.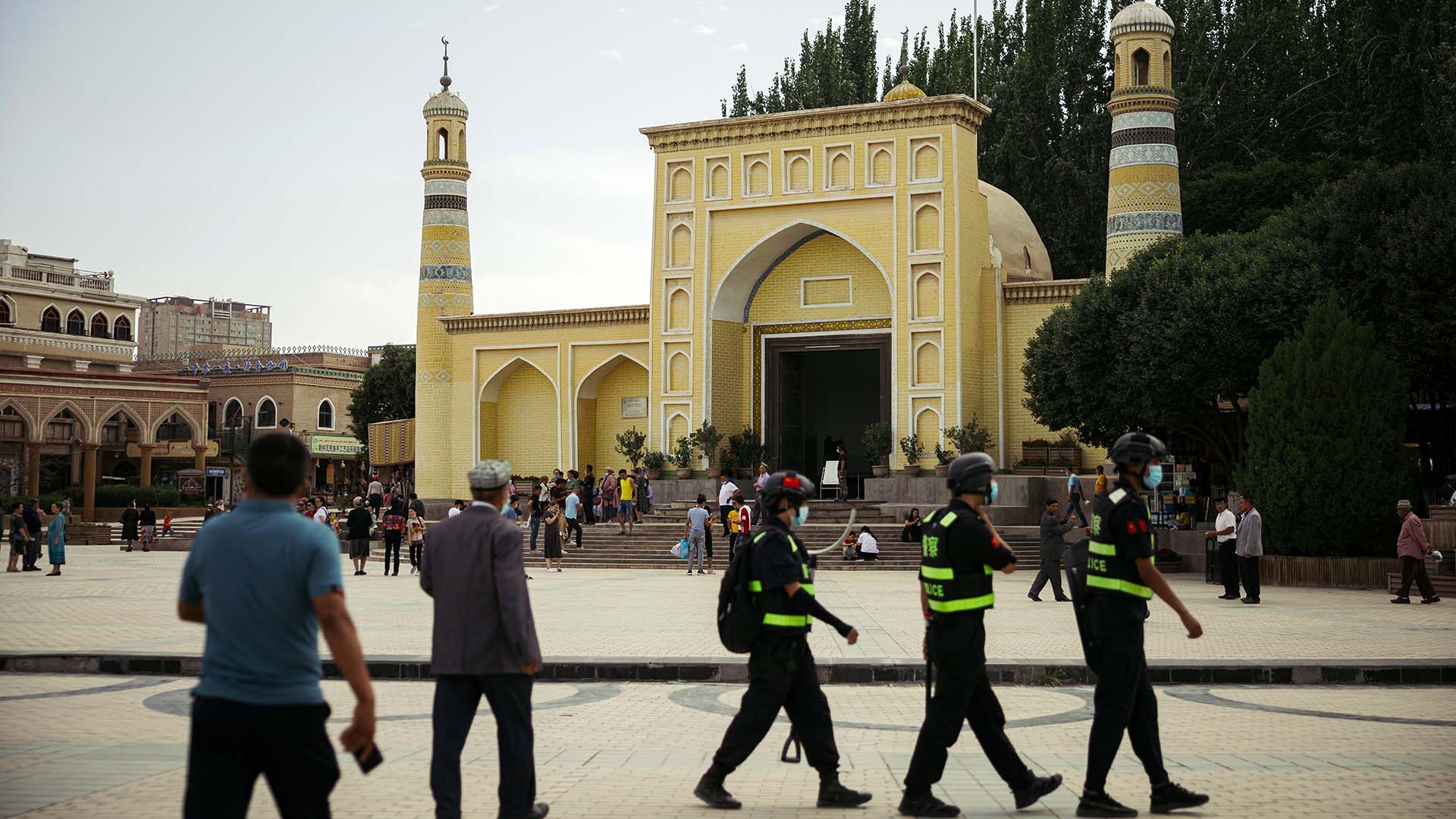 The Chinese government launched a global propaganda blitz to push back against media reports that exposed the mass detention and repression of Uighurs and other ethnic minorities in the Xinjiang region, according to a new report.
The report, prepared by the Uyghur Human Rights Project, tracks how, as increasing evidence of detention camps emerged, Beijing turned to social media and state-controlled outlets to shift from denial to justifying the camps as voluntary "vocational training."
According to the report, the propaganda campaign intensified after the International Consortium of Investigative Journalists published its China Cables investigation in November 2019. Based on leaked, highly classified government documents, the China Cables revealed the operation manual for the nation's extrajudicial internment and compulsory indoctrination of Muslims as part of a sweeping program of mass surveillance and population control.
More than one million Uighur Muslims have been held in mass-detention camps in Xinjiang, China, according to United Nations estimates.
"The Chinese government has gone from silence to promoting its policies as a model, with dangerous implications for human rights worldwide," said UHRP project manager Nicole Morgret, who hosted a panel discussion on the report on Tuesday. "We're seeing a huge uptick in the amount of propaganda that's being produced by the Chinese state media, mostly in response to the much more elevated level of attention that's being placed on the issue."
Beijing initially responded to the China Cables with outright denial, with state media claiming the documents had been fabricated and undermining the credibility of Asiye Abdulaheb, a Uighur living in the Netherlands who reportedly claimed to have received the leaked documents.
"An ongoing theme is the Chinese government's attempts to discredit the people who are doing the most to shine a light on these gross human rights violations," said Axios' Bethany Allen-Ebrahimian, who was the lead reporter on ICIJ's China Cables investigation.
Since the release of the China Cables and other documents, the Associated Press reported on a new Chinese government directive that tightened controls on information to caution against future leaks, with officials encouraging the destruction of data and documents.
"If you look at actual access to Xinjing for foreign journalists, it's very, very difficult," Allen-Ebrahimian said. "With the recent expulsion [of journalists from China] and with the incredibly rapid deterioration of U.S.-China ties, I do see that space getting smaller."
According to the report, Chinese officials have since aimed to paint a sanitized image of the camps, using social media to sway public opinion, holding tours for foreign journalists and diplomats and disseminating videos in which Uighurs deny mistreatment and denounce their overseas relatives.
"One of the things that's really important when we think about Chinese disinformation media influence generally is that it's really global," said Sarah Cook, a senior research analyst at Freedom House and director of the China Media Bulletin. "There's really no market that is too small, and no country that is too small."
The propaganda extends to ads and Twitter bots, and targets areas of the global south, like Latin America and Africa, Cook said.
Allen-Ebrahimian said that these misinformation campaigns appear to increasingly borrow from Russia's model for exerting influence across the internet.
"We're definitely seeing a concerted effort on the part of the Chinese government to learn from Russia's disinformation," she said. "It seems to me sort of a new page in the Chinese government's book – this boldness, this willingness to just lie right in your face."
The UHRP report comes days after the United States Department of Commerce added 11 Chinese companies to a trade blacklist over their alleged ties to human rights abuses towards Uighurs. Almost 50 Chinese companies are now subject to sanctions that ban them from accessing goods or technology from U.S companies without approval from the federal government.