PARTNER STORIES
From Taiwan to Turkey and beyond: How Deforestation Inc exposed the teak trade from Myanmar
Deforestation Inc. reporters in a dozen countries investigated weak government efforts and loopholes allowing companies to keep trading Myanmar teak, a natural resource controlled by the military junta.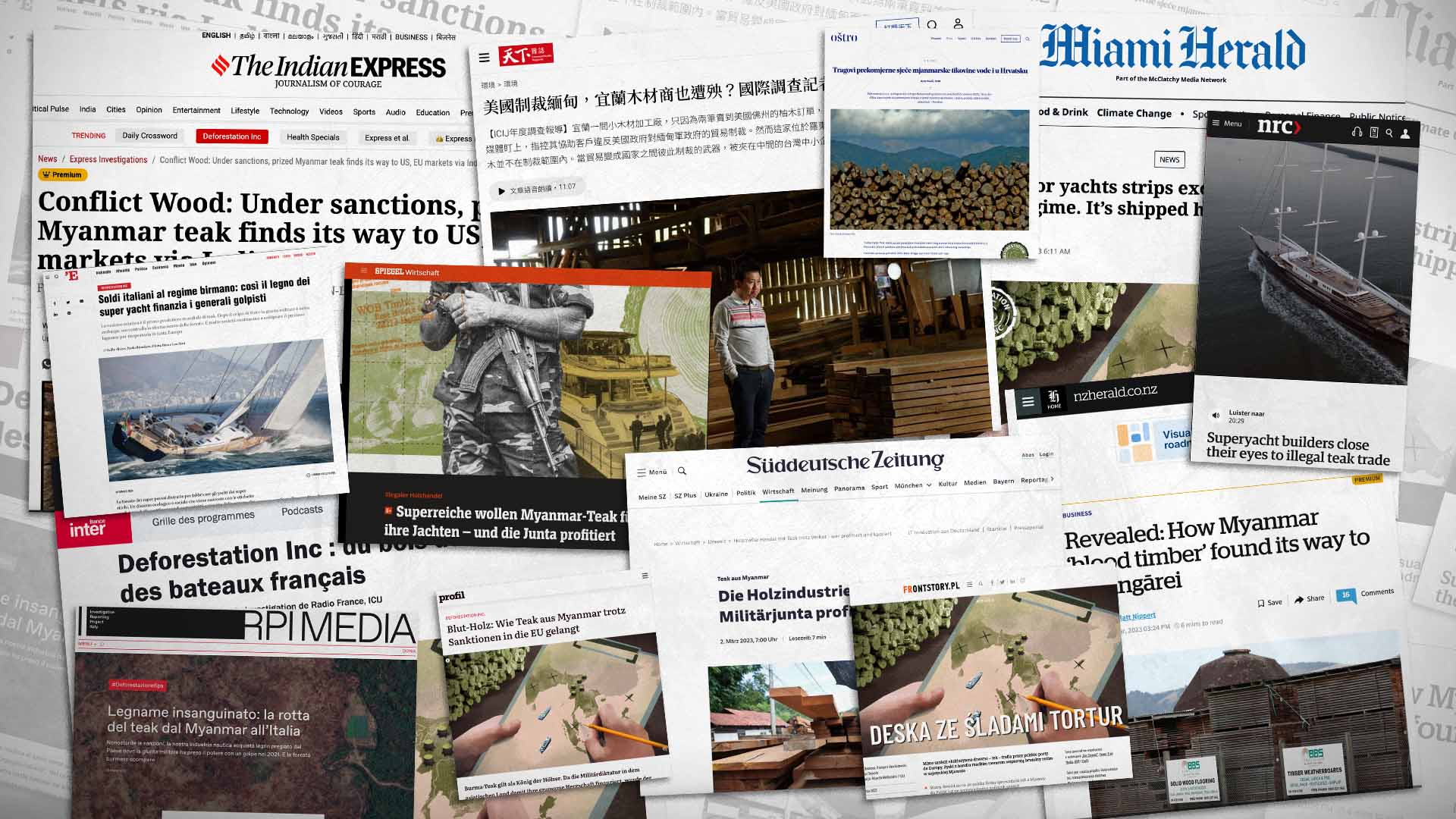 A new investigation by the International Consortium of Investigative Journalists and media partners around the world exposed how Western governments have failed to stop the widely condemned trade of teak from Myanmar, a precious natural resource whose international market props up the military regime in the South Asian country.
The Deforestation Inc. investigation by ICIJ and its 39 partners found that timber traders in three continents have continued to import Myanmar teak by the ton to supply shipbuilders and furniture manufacturers around the world, while consumers may be unwittingly financing the junta's repressive campaign.
The reporters visited boat shows in Fort Lauderdale, Amsterdam and Paris to learn about the international teak market. They interviewed timber traders in 11 countries and pored over documents leaked from Myanmar's tax agency and shared with ICIJ by Justice for Myanmar, a human rights group, U.K.-based news outlet Finance Uncovered and Distributed Denial of Secrets, a data transparency group.
Myanmar teak is prized by luxury yacht and high-end furniture makers worldwide. The wood is so dense and weather-resistant that some call it the "king of woods."
In February 2021, Myanmar military forces seized power overthrowing a democratically elected government. Since then, generals control major ministries and entire economic sectors in Myanmar, including the forestry industry.
In response to the coup, in 2021, the United States and the European Union imposed sanctions on the timber state monopoly. As early as 2017, EU regulators began recommending member states to stop importing timber from Myanmar over concerns of corruption and illegal logging.
But the trade hasn't stopped.
"Some European ports are much more lax than others," Alain Karsenty, an economist and researcher at the Centre for International Cooperation in Agricultural Research for Development told Radio France, an ICIJ partner. "Importers know this and they play on it."
Italy
Italy was Europe's largest importer of Myanmar teak in 2022, according to data obtained by L'Espresso and IrpiMedia.
Authorities with Italy's forest services as well as agriculture ministry officials and industry group representatives confirmed the trend. In interviews with ICIJ's reporting partners, they said authorities' checks on the legal origin of the Myanmar teak arriving at Italian ports have increased since the EU sanctions were put in place, in 2021, but they are not as effective. They blamed Italy's complex system of controls and enforcement — which relies on four different agencies — the fact that the EU issued "recommendations" which are not legally binding, and Italy's powerful shipbuilding industry that resists meaningful regulation.
After June 2021, "in theory, you could no longer import anything from Myanmar, not even a chip," said Alessandro Calcaterra, the president of Fedecomlegno, the Italian timber trade association. "In reality, between January and November 2022, Italy continued to purchase 83% of the Myanmar teak that arrived in Europe," Calcaterra said. He added that last year his trade group managed to convince "many" Italian companies to opt for substitute woods. But a group of companies opposed the demand and "left our association," he said.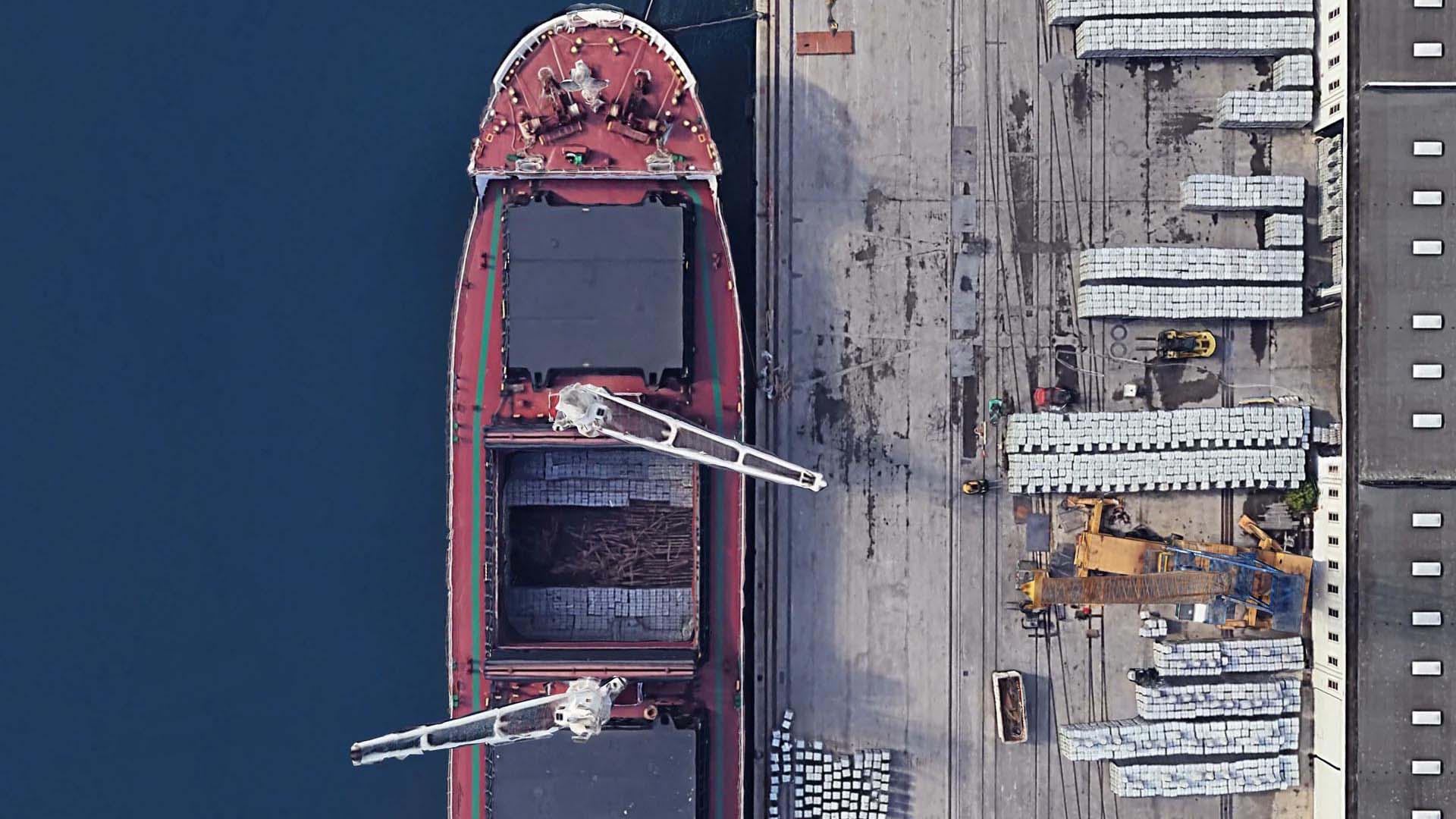 Slovenia
In the Balkan country, a company managed by two Italian businessmen imported Myanmar teak and resold it to Italy, Oštro reported.
Leaked documents from Myanmar's tax agency show that in 2021 a shipment of teak from Myanmar worth about $25,000 arrived at the port of Venice, Italy, destined for the Slovenian company CMG International. The company is registered in Ljubljana but has only a mailbox in the Slovenian capital. It has no employees and its ownership is shrouded in secrecy, according to Oštro. It is not clear from the documents if the teak imported via Venice eventually arrived in Slovenia.
CMG International's manager told Oštro reporters that the company was set up in 2019 to enter into the business of refurbishing vessels in the northern Adriatic region and Croatia. He said that it sold the teak in Italy and that it had all the necessary documentation to prove compliance with EU regulation on the import of timber products, which had been confirmed by the Italian authorities at the time of import.
The manager added that the company has only carried out one deal with Myanmar and it will be liquidated this year.
Croatia
Companies based in Croatia import Myanmar teak and resell it elsewhere in Europe, Oštro reporters found.
Croatian authorities are currently investigating a timber trader named Viator Pula for allegedly failing to provide adequate documentation on its imports. The company's manager told Oštro reporters that Viator Pula has complied with both Croatian and European laws. Viator Pula's revenues jumped from $741,000 in 2018 to about $5 million in 2019, when Croatia was Europe's second largest teak importer, according to Oštro.
Turkey
In mid 2021, the U.S. and the EU imposed sanctions on Myanma Timber Enterprise, the Myanmar state monopoly in charge of harvesting timber and auctioning it off to smaller traders.
Since then, teak imports to Turkey have "skyrocketed" suggesting that the country is becoming a key hub for the local shipbuilding industry but also for foreign buyers whose government laws restrict Myanmar teak imports, according to ICIJ's Turkish partners, Deutsche Welle (DW).
A Turkish teak importer, who spoke to DW on condition of anonymity, said Italian companies had approached him requesting to edit legal documents, changing the origin of the teak and selling them the Myanmar products as though they were from other countries.
"Italian companies are very aggressive on this issue," he said. Trade data analyzed by DW show that, in 2022, Turkey exported about $530,000 worth of teak to Italy.
Do you have a story about corruption, fraud, or abuse of power?
ICIJ accepts information about wrongdoing by corporate, government or public services around the world. We do our utmost to guarantee the confidentiality of our sources.
LEAK TO ICIJ
Poland
After Italy, Poland imported the biggest quantity of Myanmar teak in 2022, according to ICIJ partners at the Polish investigative outlet Frontstory.pl.
Working in collaboration with German reporters at NDR and Paper Trail Media and Austrian reporters at Profil magazine, Frontstory.pl revealed that the Polish subsidiary of Austrian timber giant JAF bought a container of Myanmar teak as recently as February 2022.
In response to questions from reporters, a JAF spokesperson admitted to what the company called a "mistake." "But we must clearly deny that we are buying teak on a grand scale and not complying with legal regulations. That is not the case," the spokesperson said. The company opposes sanction circumvention and violation, the spokesperson told Profil.
The Netherlands
ICIJ's Dutch partners at the daily NRC uncovered evidence of Dutch traders using middlemen in the Czech Republic and the U.S. to import Myanmar teak and allegedly bypass EU trade restrictions. The timber was destined for a Dutch shipbuilding giant that makes luxury yachts for celebrities and the ultra-rich, NRC reported.
Responding to the findings, Tom van der Lee, a politician with the Green Party, urged the Netherlands' trade minister to take action and stop the continued trade of what some refer to as Myanmar's "conflict timber."
"That superyachts are built for billionaires or oligarchs is already questionable, that human rights violations are financed with this is reprehensible!" van der Lee said in a tweet last week.
Germany
Confidential documents obtained by ICIJ's German partners at NDR, WDR, Süddeutsche Zeitung and Der Spiegel show that, between 2018 and 2020, three German dealers continued to import teak from Myanmar despite stricter restrictions imposed by the country's authorities following a scandal that involved the national fleet.
The reporters found that the companies imported teak products through middlemen in Greece, Croatia and Italy.
Early this year a boat manufacturer told visitors at a water-sports show that teak remained a favorite of Germany's renowned shipbuilding industry, according to Der Spiegel. "We buy teak like others buy Coca Cola in supermarkets," he said.
France
Last fall, Radio France reporters visited the Paris boat show to learn about the teak market in France.
Posing as clients who wanted to redo the deck of their boat, they spoke with a sales representative of Directeck, a French trader specialized in Myanmar teak. The representative told them that the company used Indian intermediaries to circumvent EU trade restrictions. "We import wood from India but it is teak from Myanmar which is processed in India, and then arrives in France," the company employee told Radio France.
Revealing themselves as members of the press, Radio France reporters later contacted the company's chief David Jaffeux to ask about the sales representative's statement. Jaffeux said that there must have been some "confusion" and explained that the company no longer buys teak from Myanmar since the EU imposed sanctions in 2021. "The teak we have in stock was grown, harvested and purchased from India and Indonesia," he said. "We have always respected the EU restrictions on timber imports."
India
India, which has not imposed any trade restrictions or sanctions on Myanmar individuals and companies, has emerged "as a favourite pit-stop on this dubious global trail," the Indian Express reported.
Since the February 2021 coup, almost a quarter of all timber exports from Myanmar has gone to India, according to a report by Forest Trends, an environmental group.
One key industry player identified in the Deforestation Inc. investigation was Friends Timber Pvt. Ltd., a company that has exported teak to U.S. customers. Friends Timber directors told the Indian Express reporters who visited its sawmills in Nagpur that the company imported more than 60% of their current teak stock from Myanmar but claimed payments for the goods were made prior to the military coup.
"For two to two and a half years, we have not exported Myanmar teak to the EU," said director Puneet Kohli. "In the case of the US, we exported till 6-8 months ago since the regulation there is that they can import Myanmar teak bought before April 2021. U.S. importers are given a complete chain of custody documents as well as log purchase documents. If they are convinced, they buy from us. So all exports to USA are third-party verified.''
In addition to being a hub for the legal trade of Myanmar teak, industry insiders told the Indian Express that the smuggling of illegally logged timber has increased along the border between India and Myanmar. A veteran service provider who works for manufacturing companies told the daily that many of the 60-70 Indian teak factories and sawmills have shut down. Some have been burnt.
"Now, it is mostly third party exports of teak that Indian traders are doing," said the provider, who was not identified by name. "And there is a lot of teak that is being sent out illegally along the China and India borders. On the Indian side, it is happening along Nagaland, Mizoram and Assam borders."
New Zealand
Leaked records from Myanmar's tax agency reviewed by ICIJ and The New Zealand Herald show that one timber trader based near Auckland imported teak from a company owned by a Myanmar oligarch who is politically connected to the junta. The deal took place via a Singapore intermediary at a time when the oligarch and his companies were sanctioned by the U.K. for their alleged role providing weapons to the military.
Contacted by the Herald, the New Zealand trader said he was not aware about the allegations against the company and its owner, and that he made the deal through a French middlemen. The company no longer imports Myanmar teak, he said.
New Zealand has not imposed any sanctions or trade restrictions on Myanmar businesses or teak imports.
Taiwan
Timber companies in Taiwan turned to Myanmar in the late 1970s after the government imposed a ban on logging Taiwanese forests. One of those companies, Taiwan Traine Timber Corp. has been operating in the sector since then, re-exporting teak to the U.S., according to ICIJ's media partner in Taipei, CommonWealth magazine.
Taiwan Traine says it relies on decades of connections with Myanmar suppliers to do business with American customers. A manager, Jian Qingyu, told the magazine that the company bought teak logs in 2014 before the Myanmar government banned the export of logs to reduce the damage caused by forest harvesting, only allowing the export of wood products.
In 2021, months after the U.S. imposed sanctions on some Myanmar companies in the timber industry, Taiwan Traine, which is not subject to sanctions, supplied teak products to Global Dynamics Capital LLC, a Florida-based teak deck manufacturer. The Taiwanese supplier sold to the Florida firm timber products that it had "bought and stacked" before the sanctions, Qingyu said. In an email to The Miami Herald, Global Dynamics' owner said the company complies with all U.S. laws and regulations.
United States
U.S. trade records analyzed by ICIJ and The Miami Herald show that, despite the 2021 sanctions the U.S. imposed on Myanmar's monopoly teak producer, Florida-based yacht deck manufacturers remain some of the U.S.' most active importers of teak from Myanmar. Importers include suppliers to luxury yacht makers and companies that manufacture boat components for yachts owned by celebrities including NBA star Michael Jordan.
"Yearly figures indicate that sanctions have hardly made a dent in timber imports from Myanmar," the Herald reported. In 2022, $2 million worth of timber products from the Asian country were imported through Florida ports, according to the daily.
Companies contacted by the reporters said they have complied with all laws and regulations and bought the products before the sanctions were put in place, or that the logs were harvested before the April 2021 restrictions.
But, according to experts interviewed by the Herald, the imports deserve further investigation by U.S. authorities because they may be in violation of sanctions regulation and laws on the import of forest products of illegal origin. The justice and agriculture department told the Herald they are "aware of the issue," without providing further information.
Yadanar Maung, spokesperson for pro-democracy coalition Justice For Myanmar, called on U.S. buyers to stop sourcing teak from Myanmar.
"There is not a credible way for U.S. buyers of teak to uphold their international law and due diligence responsibilities while the junta illegally controls MTE and the Myanmar customs department," Yadanar Maung said.
"No yacht or deck chair can justify the fatal cost of this trade to the lives of the people of Myanmar and the destruction of Myanmar forests."