IMPACT
New Justice Department-led task force pledges global crackdown on illegal timber trade
Formed after the ICIJ's Deforestation Inc. probe, the interagency group will coordinate with other governments to combat trafficking in wood linked to environmental crimes and human rights abuses.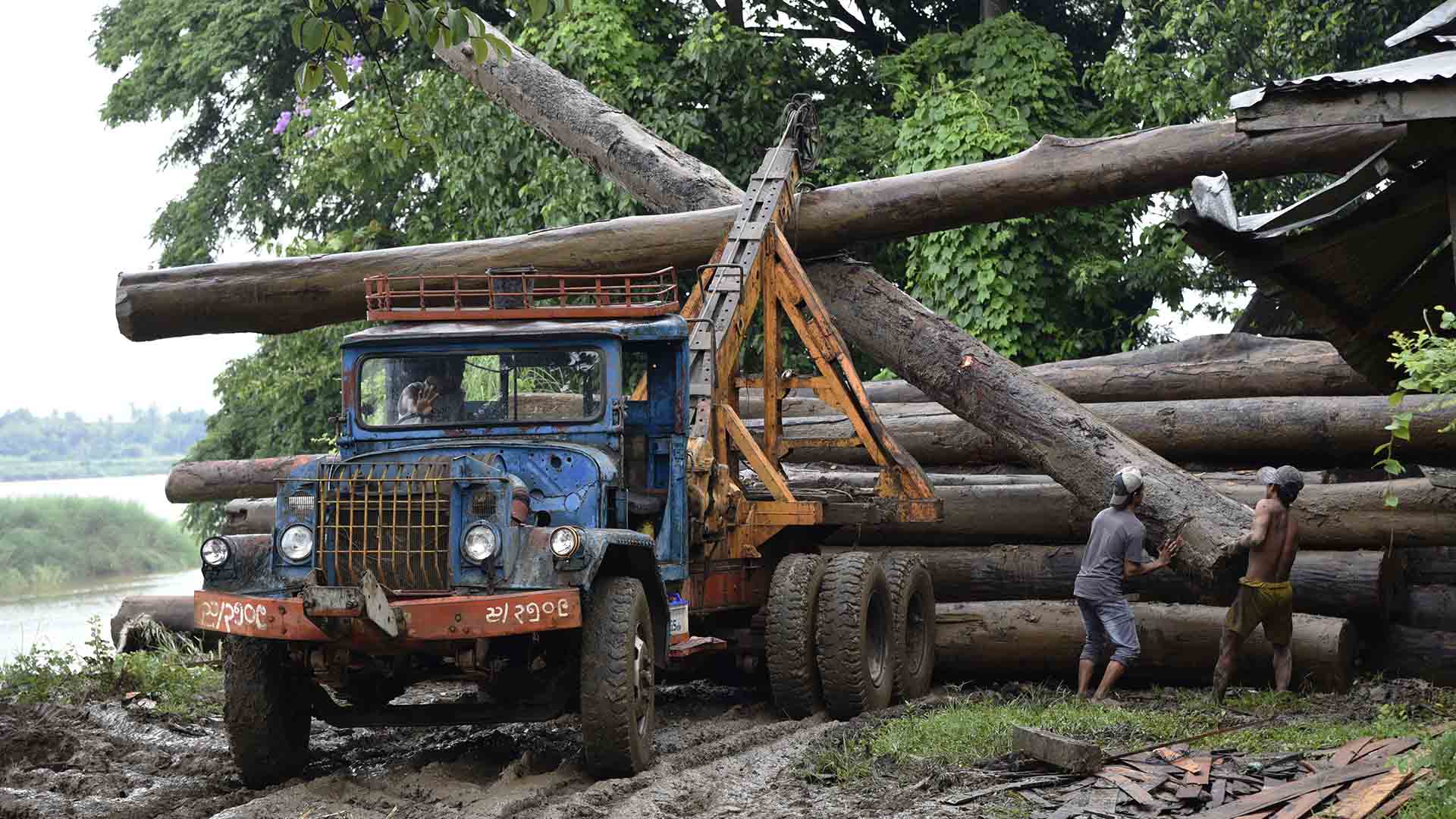 The U.S. Department of Justice has announced a new interagency task force to bolster efforts to identify, investigate and prosecute illegal trafficking in timber linked to environmental and other crimes.
The working group, dubbed TIMBER (Timber Interdiction Membership Board and Enforcement Resource), brings together several government departments — Justice, Agriculture, Interior and Homeland Security — and the U.S. Council on Transnational Organized Crime's Strategic Division. Its goal, according to U.S. officials, is to combat deforestation and disrupt illegal wood smuggling through global supply chains, in part by strengthening cooperation between the U.S. and foreign governments.
"The working group will focus on ferreting out and prosecuting violators, enhancing capacity of counterpart governments and removing obstacles to successful enforcement," said Todd Kim of the DOJ's Environmental and Natural Resources Division at the working group's inaugural meeting in April.
Kim and others noted that illegal logging, and the trade associated with it, not only accelerates climate change and biodiversity loss but also deepens political instability, warps the timber economy, and funds terrorism and civil conflict.
The announcement follows the March publication of Deforestation Inc. a cross-border investigation led by ICIJ and 39 media partners into how major certification firms validate products linked to deforestation, logging in conflict zones and other abuses.
During the roundtable meeting of the task force, Marigold Norman of World Forest ID, an environmental nonprofit, cited reporting by ICIJ partner The Miami Herald, which exposed how Myanmar teak — a dense, weather-resistant wood prized by makers of luxury yachts and high-end furniture worldwide — continued to be imported into the U.S. despite sanctions imposed on the country's state-run timber company, Myanmar Timber Enterprise.
In 2021, following the military coup that ousted Myanmar's democratically elected civilian government, the U.S., the EU, the U.K., Canada and others sanctioned MTE. And yet, as ICIJ and its partners showed this year, Myanmar timber has continued to enter various markets, highlighting the challenges of enforcing international environmental laws.
A new report, published last week by the Environmental Investigation Agency, a U.K.-based environmental watchdog group, showed that more than 3,000 tons of Myanmar timber have been imported into the U.S. in the past two years. The EIA estimated that if deforestation in Myanmar continues at its current rate, the country's forests will disappear by 2035. Beyond their environmental impacts, timber exports are also a vital source of revenue for Myanmar's military regime.
Under the 2008 Lacey Act, U.S. traders are required to ensure timber imports are harvested and transported in compliance with the laws of the timber's origin country. But, as the EIA's report underscored, at least a dozen U.S. companies imported the banned wood post-coup; many claimed it was stockpiled from before the crisis, relying on questionable sustainability certifications by third-party auditors.
"There's no way to import [Myanmar] teak into the U.S. currently without breaching sanctions," said Kate Klikis, a forest campaigner for the EIA.
There's no way to import [Myanmar] teak into the U.S. currently without breaching sanctions.

— Kate Klikis, EIA forest campaigner 
She noted that an analogous EU law, the EU Timber Regulation, is able to be more strictly enforced because it flatly bans all timber imports from Myanmar due to likely ties to the junta.
"People often overlook these actions by U.S. traders that have real-life consequences for people in Myanmar," said Thomas Chung, a senior forest campaigner for the EIA. "It's not just cutting down trees and destroying ecosystems … The money that these people willingly send to Myanmar is filling the coffers of the military junta, [which is] committing all of these atrocities in the ongoing civil war against the Myanmar people. That should not be forgotten."
While the EU may have been more effective than the U.S. in stopping the flow of Myanmar teak, the so-called "king of woods" was still imported into several European countries since sanctions were put in place.
During a virtual meeting of the European Commission's expert group on protecting and restoring forests on May 4, a representative from the UN Environment Programme World Conservation Monitoring Centre presented data showing that 13 EU member states had imported Myanmar timber products, which were likely to be teak, in the past year. Italy, France, Poland and Spain topped the list, with Italy importing an amount estimated to be worth more than $20 million since March 2022, according to Eurostat.
Do you have a story about corruption, fraud, or abuse of power?
ICIJ accepts information about wrongdoing by corporate, government or public services around the world. We do our utmost to guarantee the confidentiality of our sources.
LEAK TO ICIJ
Liz Womack, a senior technical officer for the UN agency, noted in an email that EU imports of Myanmar timber have decreased overall since sanctions went into effect in June 2021 and appeared to be trending down, though data for 2022 remains incomplete.
Womack added that 16 EU member states reported importing $1 million worth of banned timber products from Russia and Belarus between August 2022 and January 2023, which have been subject to sanctions since June and July 2022, respectively.
While Eurostat data gives an insight into trading patterns, she stressed it is based on trades made between two trading partners, so does not necessarily reveal products' origin countries or account for products from Myanmar, Russia or Belarus that may have entered the EU indirectly via third countries.
The EU's Timber Regulation will soon be replaced by tougher rules aimed at ensuring only "deforestation-free" timber products can enter and exit the EU, and requiring that all traded products meet stricter sustainability standards.
After calling for the U.S. to follow the EU's lead, the EIA welcomed the new TIMBER working group as a step in the right direction.
"Now, it's all about coordination between the different U.S. authorities," Chung said. "And what we really need to see is enforcement, enforcement, enforcement."