IMPACT
'We co-opted democracy,' Uber Files whistleblower tells European Parliament
Ex-Uber lobbyist Mark MacGann calls for widespread reforms to guarantee platform workers' rights as he slams the ridesharing giant's past 'growth at all costs' approach.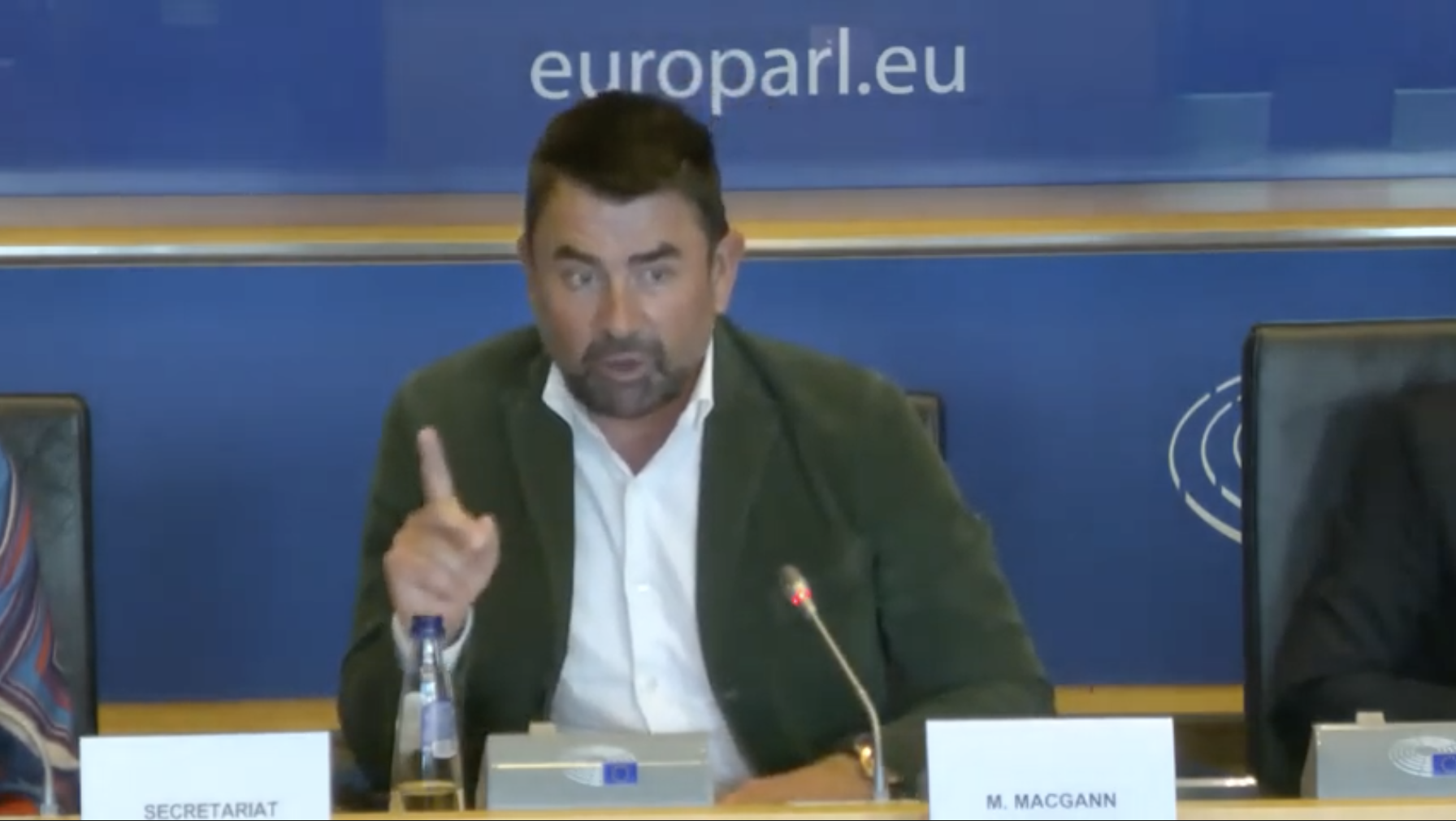 Uber Files whistleblower Mark MacGann today accused the ridesharing company of "co-opting democracy" as he appealed to European lawmakers to reclassify the platform's workers as employees in order to guarantee their rights.
The career lobbyist turned whistleblower told a parliamentary committee that Uber had misled the world about the benefits of the gig economy, paid academics to skew findings, swamped markets and "weaponized" drivers and customers in its own interests against elected officials.
MacGann was one of several speakers to address the European parliamentary hearing amid negotiations on a proposal to force companies to pay gig economy workers a minimum wage and provide access to other workers' rights. He received a standing ovation, despite laying some of the blame for Uber's practices on divisions within the European Union itself.
The Irishman, who led Uber's efforts to lobby governments in Europe, the Middle East and Africa from 2014 to 2016, explained that his former company had exploited its vast influence to undercut drivers.
The Uber Files investigation is based on a cache of 124,000 company emails, personal text messages, strategy memos and other records leaked by MacGann that reveal an 'ask for forgiveness, not permission' culture at Uber. The records show that between 2014 and 2016, Uber entered new European markets in violation of local laws, lobbied politicians around the world for favors, deployed technological tools to thwart legal probes and made deals with now-sanctioned Russian oligarchs.
The records were first leaked to The Guardian and shared with ICIJ, which organized a global collaboration of more than 40 media organizations to reveal the ride-sharing giant's clandestine lobbying efforts across the globe.
At today's hearing, MacGann said Uber's business model involved a bait-and-switch method of attracting drivers with enormous incentives, like bonuses and car leasing deals, and then cutting back on those dramatically.
"It was, ladies and gentlemen, the very definition of price-dumping," he said, adding that the company made concerted efforts to avoid calling Uber drivers "employees," and that it paid academics to use skewed datasets that favored Uber's position on drivers' employment status.
According to MacGann, the company also monitored drivers organizing to achieve better conditions by creating fake identities to infiltrate their Facebook and WhatsApp groups.
MacGann said he viewed Uber's fierce lobbying for favorable regulatory change as anti-democratic.
"When politicians tried to stop us or slow us down, we co-opted democracy itself by leveraging consumers' political power, putting very public pressure on elected officials to back off, drowning them in millions of driver petitions," he said. "We told politicians that we would agree to stop the controversial, illegal UberPOP service if they changed the law in the way that we wanted. We weaponized our drivers and we weaponized our customers. They were ours to use in the service of the mission."
During the hearing, MacGann said that the European Union was "complicit" in Uber's questionable practices because it allows "member states to compete against each other to attract these foreign companies" to their countries.
"I think there has to be greater intellectual honesty within the member states," MacGann said, referring to the ways countries deal with companies like Uber. He described Uber's experience in the Netherlands as "quite surreal."
"Certainly we were being enforced against as an illegal operation by one part of the Dutch State and welcomed with open arms by another part of the Dutch State," he said.
Members of the European Parliament asked MacGann and the European Commissioner for Jobs and Social Rights, Nicolas Schmit, about the role played by Neelie Kroes, a former EU commissioner who, according to Uber Files revelations, secretly helped Uber lobby Dutch politicians.
Schmit and MacGann declined to comment on Kroes, citing an ongoing probe by the EU's anti-fraud office into her actions announced last month.
Uber Files sparks months of fallout across Europe
The Uber Files investigation was published in July by dozens of outlets around the world, revealing Uber's dealings with top politicians and public officials in several countries.
In France, journalists discovered how Uber executives turned to then-Finance Minister Emmanuel Macron for favors when the company was facing regulatory troubles in Paris. In the Netherlands, reporters exposed how Uber called upon Kroes, a former European Commission vice president, to help the company escape legal investigations in Amsterdam.
The Uber Files immediately sparked protests across Europe after publication. In France, frustrated taxi groups demonstrated against "collusion between the state and digital platforms," according to media reports. Meanwhile, Macron defended his dealings with Uber, saying he was "proud" of the work he did to attract businesses to France.
Last month, dozens of taxi associations across Europe gathered in Brussels, demanding that the European Parliament investigate the findings of the investigation. Protesters condemned Uber's model, saying it dismantled social rights.
In response to the investigation, Uber spokeswoman Jill Hazelbaker told ICIJ and media partners  the company does not make excuses for its past and that it has transformed under CEO Dara Khosrowshahi, who took over in 2017. She added that the company has "moved from an era of confrontation to one of collaboration" and is willing to "find common ground with former opponents, including labor unions and taxi companies."
MacGann, who oversaw government relations and public policy in Europe, the Middle East and Africa from 2014 to 2016, came forward as the source of the Uber Files days after it was published. In an interview with The Guardian, he said that he decided to blow the whistle on the company's questionable expansion efforts to expose Uber's wrongdoing.
"In most of the countries under my jurisdiction, Uber was not allowed, was not authorized, was not legal," he said. He added the company "played with people's lives" by trivializing violence against its drivers from rival taxi groups.
MacGann's attendance at the European Parliament hearing did not come without controversy. MacGann threatened to pull out of participating two weeks ago as the panel would have seen him speaking alongside Uber's European Union public policy director. The Signals Network, a whistleblower advocacy group supporting MacGann, penned a letter to the member of Parliament leading the hearing denouncing the setup.
"The approach your committee is insisting on not only puts Mr. MacGann at further legal risk, but it also exposes him to additional, unnecessary, trauma and sends a troubling signal that the European Parliament does not in fact value or protect whistleblowers," the letter reads.
In response to ICIJ, Bogdan Deleanu, head of MEP Dragoș Pîslaru's cabinet, said Pîslaru's office rearranged the hearing so that MacGann and the Uber representative would speak on separate panels. "Whistleblower protection is a paramount value for our committee," he wrote.
In a separate hearing, members of the European Parliament heard from Zuzana Púčiková, Uber's director of EU public policy, who said that the company welcomed the EU's draft directive on platform workers but argued that most drivers do not want to be classified as employees. She said that Uber would not defend the well-known mistakes the company made in its early days and that it has changed since MacGann left.
"The Uber I know has robust ethics and compliance policies that all employees must comply with," Púčiková said.