IMPACT
Taxi drivers block Brussels, demanding EU investigate Uber Files revelations
Hundreds of cabbies from across Europe took part in the 'Brussels World Strike' to protest deregulation of the taxi industry and demand inquiries on Uber's lobbying of political leaders.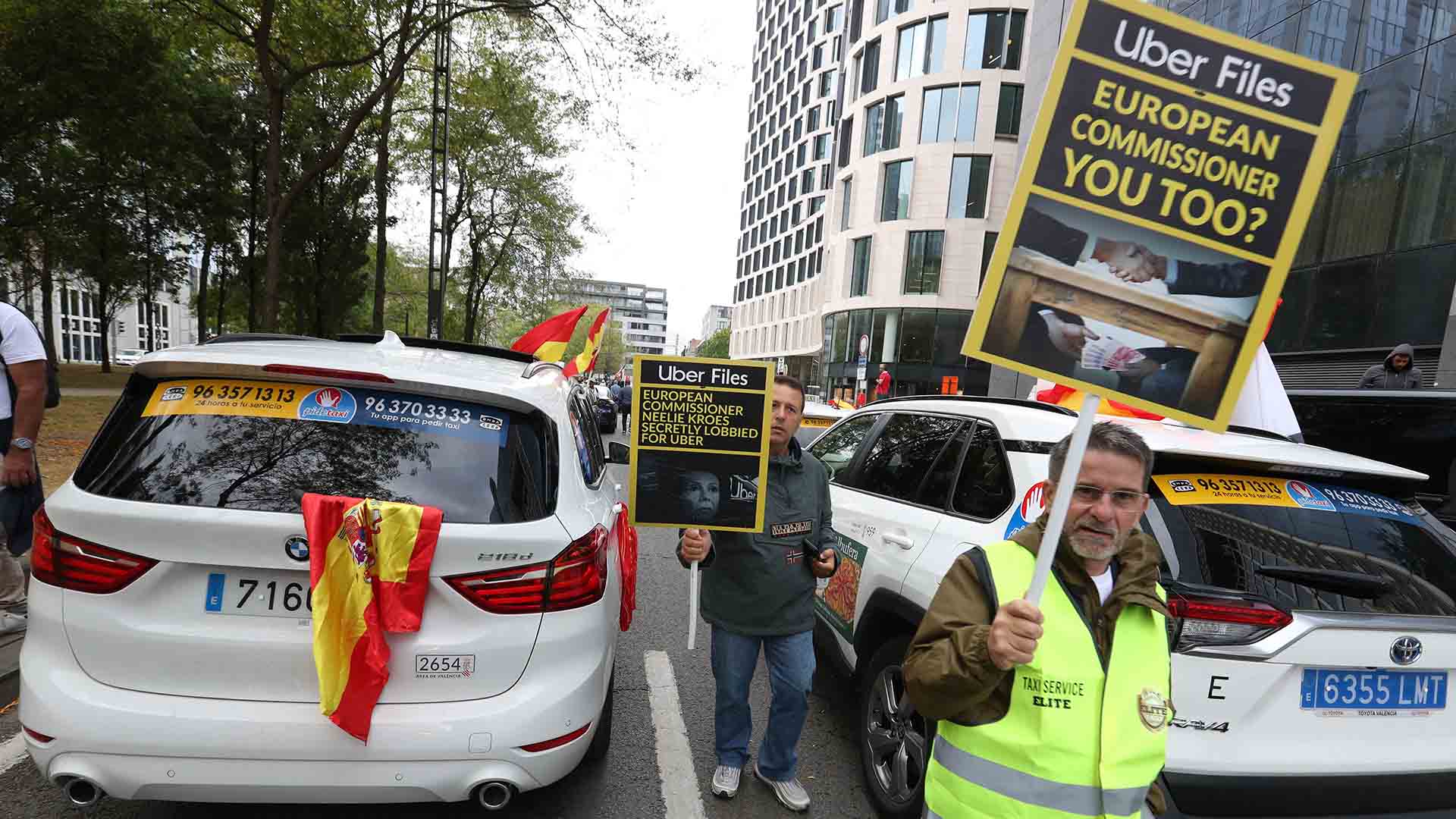 Hundreds of taxis jammed the streets of Brussels, honking their horns as they circled a roundabout straddled by European Union buildings, as part of a demonstration by taxi drivers from across Europe demanding the European Commission launch an official inquiry into whether politicians were improperly influenced by U.S. ride-hailing giant Uber.
Clad in trade union T-shirts and waving flags of several European countries, the protesters called on the European Union to investigate revelations of world leaders intervening on the company's behalf contained in the Uber Files, an investigation on Uber's global lobbying machine published in July by the International Consortium of Investigative Journalists and dozens of media partners.
The drivers, representing taxi unions and trade groups from nearly 20 countries, also requested meetings with top European Commissioners, including the body's president, and insisted the commission roll back policy guidance they said would deregulate the continent's taxi industry to favor services based on transportation apps like Uber.
"We absolutely do not agree with this," Younes Zerrad, president of Elite Taxis, a Europe-wide organization representing taxi drivers, told ICIJ partner Knack. "Not only have we not been consulted about it, we would also like to know who initiated that recommendation. We want clarity on this."
The commission told ICIJ the guidance is not a piece of legislation but clarifies how member states can regulate taxis and platform-based transportation services.
The Uber Files was based on a trove of 124,000 company emails, text messages, strategy memos and other records leaked by Uber's former chief European lobbyist to The Guardian and shared with ICIJ and more than 40 other media partners around the globe. The files revealed how Uber, between 2014 and 2016, muscled its way into new European markets often in defiance of local laws, routinely deployed technological tools to thwart law enforcement probes, formed relationships with and lobbied top politicians, and exploited violence against its drivers to push for favorable regulations.
As one executive admitted in a 2014 leaked email, "We're just fucking illegal."
The Uber Files revealed that former European Commission Vice President, Neelie Kroes, contacted Dutch politicians in an effort to stop office raids and investigations into Uber's operations in Amsterdam. The project also showed how France's then-Economy Minister Emmanuel Macron, who is now serving his second term as president, quietly aided Uber's lobbying efforts in France.
After publication, former Uber lobbyist Mark MacGann came forward as the source of the documents.
Uber's disruptive entrance into the European market in the mid-2010s enraged cabbies, who complained about the multinational company's flouting of transportation laws. Uber argued that it was merely a platform that connects drivers and passengers, not a transportation service, and thus not covered by strict regulations governing the taxi industry.
Taxi drivers reject the argument.
"It was just a taxi service who don't respect the laws — that's it," Sam Bouchal, spokesman for the Brussels Taxi Federation, told ICIJ in an interview. Bouchal later tweeted that he was arrested at the protest today.
The Uber Files revelations have since roiled Europe, immediately sparking taxi driver protests in Italy, France and the United Kingdom, as well as calls for probes of authorities whose dealings with Uber were detailed in the files, and demands in several countries to reform lobbying regulations.
Thursday's Brussels demonstration represented an escalation of taxi unions' calls for governments to investigate Uber's lobbying of political leaders.
"For me, Uber is not an economic project; it's a political project," Bouchal said. "Their goal is to destroy the social rights."
Bouchal said the demonstrators want the European government to look into the relationships between Uber and senior political leaders. "We want administrative, parliamentary and judicial inquiries both in Europe level and in the member states of the European Union to be carried out," he said.
🔴 International demonstration of taxis and platform workers in front of the European Commission to denounce the #UberFiles and the #Uber #Deliveroo platforms and company that trample on social rights.#StopUberization @nupabw pic.twitter.com/UVfXlFLnKz

— Ayoade Ibrahim (@maiwega) September 8, 2022
Starting at Brussels' main train station on the north side of the city, protesters marched holding signs that read, "Don't let Uber make the law," stopping at the office of Rudi Vervoort, minister-president of the Brussels-Capital Region. The march ended at the European Commission's headquarters.
A commission official told ICIJ that cabinet members of Transportation Commissioner Adina Valean and Jobs and Social Rights Commissioner Nicolas Schmit Cabinets planned to meet representatives of the taxi unions today.
Belgian drivers denounce a minister's relationship with Uber
Following the publication of the Uber Files, Belgian taxi drivers raised concerns about Uber's relationship with then-Mobility Minister Pascal Smet, who ushered in Europe's first legal framework regulating Uber.
Reporting by ICIJ's media partners Le Soir, Knack and De Tijd exposed how whistleblower and chief lobbyist MacGann and Smet were friends. In one instance, MacGann invited Smet and another Uber executive to a private charity gala "so they can chat privately about our business model and how we can help him achieve his goal of smarter transportation in Brussels."
The Uber Files also show how Smet publicly penalized Uber but, in private, was a friend of the company. In leaked emails, MacGann told other executives that Smet was "an ally but in public statements needs to reassure Taxi," explaining recent moves by Smet to tighten regulations on Uber. "That is why he has reintroduced enforcement although there will only be safety and insurance checks, and at worst, fines."
Asked about his conversations with MacGann, Smet told Knack, "I was very clear with him in every conversation: Uber only has a future in Brussels in a framework defined by the government, with respect for the status of the driver, transparency for the customer and data transmission to the government."
Zerrad said he was troubled by the relationships Uber had been able to cultivate with Smet and other leading politicians.
"To see civil servants favor a company that enters the market this way … this is the most shocking," he said.
The Brussels protest comes as governments and political parties have sought to respond to the Uber Files revelations. Coinciding with the demonstration today was a forum on "alternatives to Uberisation" hosted by The Left, a political group in the European Parliament.
European Commission 'assessing' Kroes involvement
In July, the European Commission said it would "seek clarification" from Kroes regarding her work with Uber.
The commission said it sent Kroes a letter on July 12 and that she has since responded. The commission told ICIJ today that it was assessing the matter but did not elaborate further. The body added that it already has strict revolving-door rules, which were strengthened in 2018 to extend the cooling-off period, during which outgoing officials are prohibited from lobbying former colleagues after leaving office, from 18 months to two years.
In Brussels today, protesters held signs reading, "European Commissioner Neelie Kroes secretly lobbied for Uber."
'Politicians are corrupt' – a bunch of taxi drivers from Barcelona tell me they have driven to Brussels to protest against @Uber & @NeelieKroesEU @euronews pic.twitter.com/z5RzssQUmn

— Méabh Mc Mahon (@MeabhMcMahon) September 8, 2022
Fallout for Uber
Uber has told ICIJ that it recognizes its past mistakes and that it has been transformed under new leadership. The company also says that it now works to find a middle ground with taxis.
"We've moved from an era of confrontation to one of collaboration, demonstrating a willingness to come to the table and find common ground with former opponents, including labor unions and taxi companies," Uber spokeswoman Jill Hazelbaker said in July.
In an effort to smooth things over in Brussels, Uber integrated taxis onto its app in August, to the irritation of some taxi drivers.
"If they want to attract us with enticing bonuses, none of us will work with them," Zerrad told ICIJ, adding that Uber avoids costs and responsibilities that taxis by law must bear.
"We work 10 to 12 hours a day. I'm out since 7 a.m., and I come back home around 7 p.m.," he said. "We have costs, responsibilities. Our cars are inspected twice a year. They need to be swapped after a few years, while Uber drivers have a leased Mercedes. They do this as a complementary activity to their main job. It's different for us."
Bouchal said that today's demonstration is not just limited to taxis.
"Our fight is not a corporatist fight," Bouchal said. "Uberization — it's a political project — will be applied to all sector of activity and will affect the social rights of all workers."
Meanwhile, Uber is facing multiple legal threats including a class action lawsuit alleging that the company wasn't forthright with its shareholders about prior misconduct, including wrongdoing exposed in the Uber Files which caused stock prices to drop 5%.
Delphine Reuter and Kristof Clerix contributed reporting.