KEY FINDINGS
About the Uber Files investigation
ICIJ's latest investigation exposes how a massive lobbying machine paved the tech giant's road to global domination.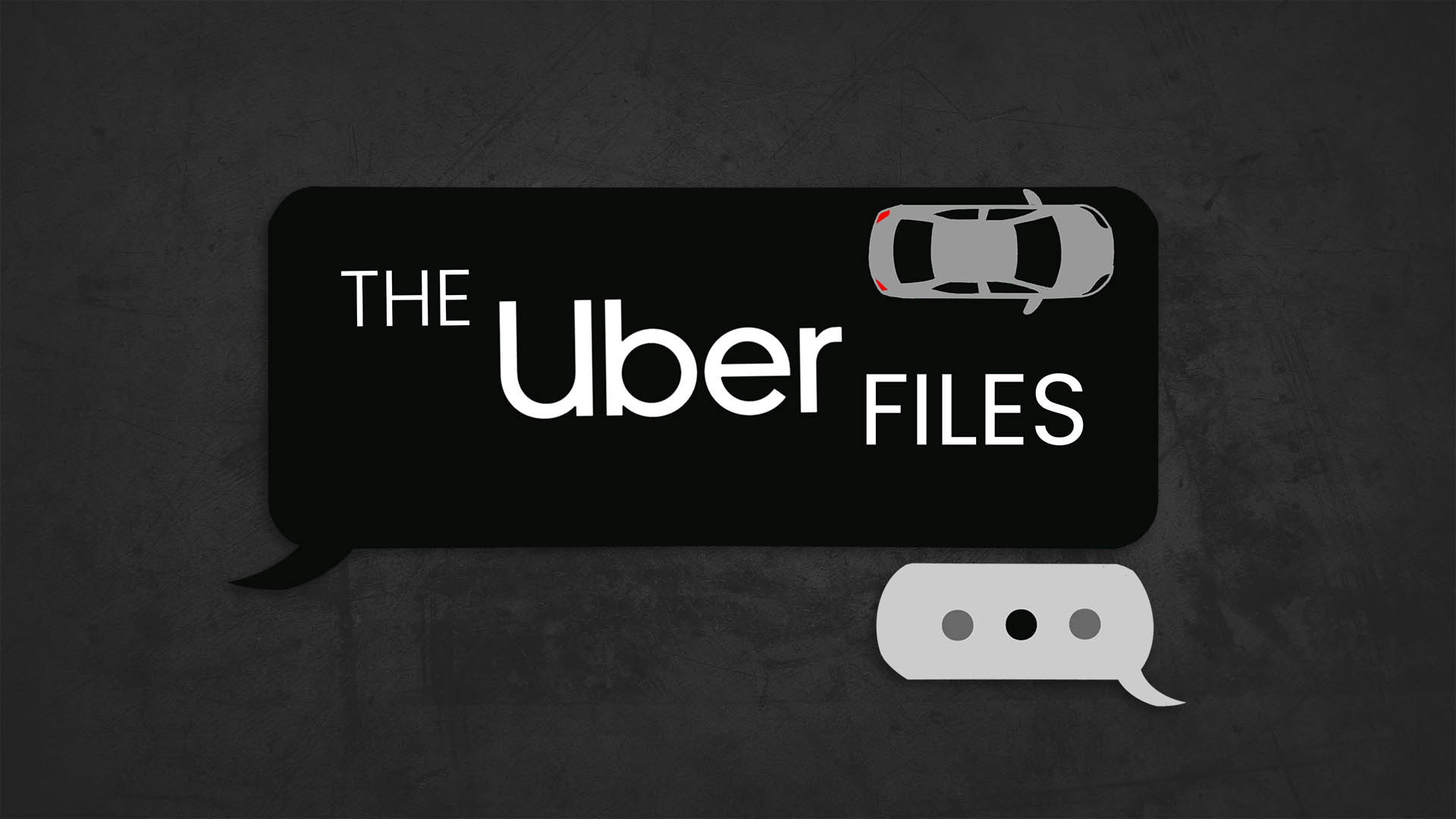 The Uber Files project reveals how ride-hailing juggernaut Uber stormed into markets around the world, how it used stealth technology and evasive practices to thwart regulators and law enforcement in at least six countries and how it deployed a phalanx of lobbyists to court prominent world leaders to influence legislation and help it avoid taxes.
The investigation is based on a leak of sensitive texts, emails, invoices, briefing notes, presentations and other documents exchanged by top Uber executives, government bureaucrats and world leaders in nearly 30 countries. It provides an unprecedented look into the ways Uber defied taxi laws and upended workers' rights.
Our investigation found that the onetime Silicon Valley startup held undisclosed meetings with politicians to ask for favors, including dropping probes and changing policies on workers' rights; that the company used Russian oligarchs as conduits to the Kremlin; and that it discussed the public relations benefits of violence against its drivers as it engaged in international power struggles with taxi drivers and legislators opposed to its expansion.
As Uber fought to set up shop in cities around the globe, it saved millions of dollars in taxes by routing profits through Bermuda and other offshore jurisdictions. The confidential documents, leaked to The Guardian newspaper by an anonymous source, show that Uber sought to deflect attention from its tax liabilities by helping authorities collect taxes from its drivers.
The Guardian shared the Uber Files documents with the International Consortium of Investigative Journalists, a nonprofit newsroom and network of journalists based in Washington, D.C., and with other media organizations, to facilitate an international investigation.
Led by ICIJ and The Guardian, journalists from more than 40 media partners in 29 countries mined the documents to reveal for the first time the inside story of Uber's chaotic, bare-knuckled global expansion from 2013 to 2017, including intimate details of private meetings and the use of a "kill switch" when trying to prevent investigators from accessing sensitive data during raids. The Uber Files leak disclosed that the company used tech smokescreens to thwart investigators in the Netherlands, Belgium, Russia, Bulgaria, Denmark, Spain and other countries. The tactics in question included giving authorities a fake version of its app to hail phantom cars that never arrived, and "blackout geofences," which rendered the app useless in some locations, including near police stations in Denmark.
Leaked communications reveal that founder Travis Kalanick — who helmed Uber when it was the world's most valuable startup — personally directed the use of aggressive tactics during the company's international expansion. They show that Kalanick viewed the possibility of violence against Uber drivers in France as an opportunity to build public support, and he personally ordered the use of the kill switch during a raid in Amsterdam. At times, the kill switch was employed during raids, as police searched for evidence. A spokesperson for Travis Kalanick said he had never suggested Uber should take advantage of violence at the expense of driver safety; and he had never authorized any actions or programs that would obstruct justice in any country. Some Uber executives discussed leaking details of a near-fatal stabbing and other brutal attacks to the media hoping to draw negative attention to the taxi industry, the communications show.
To spread its message, Uber with the help of an advisory firm compiled lists of more than 1,850 "stakeholders," sitting and former public officials, think tanks and citizens groups, it intended to influence in 29 countries as well as European Union institutions, the documents show.
Uber also recruited a battalion of former public officials, including many former aides to President Barack Obama. They appealed to public officials to drop probes, change policies on workers' rights, draft new taxi laws and relax background checks on drivers.
Company executives had private meetings with at least 6 world leaders, one vice president and three deputy prime ministers, including then-U.S. Vice President Joe Biden and then-Israeli Prime Minister Benjamin Netanyahu.
In all, the new records reveal more than 100 meetings between Uber executives and public officials from 2014 to 2016, including 12 with representatives of the European Commission that haven't been publicly disclosed.
A spokeswoman for Uber, Jill Hazelbaker, acknowledged in response to questions "mistakes" and "missteps" that culminated five years ago in "one of the most infamous reckonings in the history of corporate America." She said Uber completely changed how it operates in 2017 after facing high-profile lawsuits and government investigations that led to the ouster of Kalanick and other senior executives.
"When we say Uber is a different company today, we mean it literally: 90 percent of current Uber employees joined after Dara [Khosrowshahi] became CEO," Hazelbaker said in a written statement. "We have not and will not make excuses for past behavior that is clearly not in line with our present values."
Hazelbaker denied that Uber had condoned violence against its drivers and said it has not used a kill switch to thwart regulatory actions since 2017.  She added: "There is much our former CEO said nearly a decade ago that we would certainly not condone today. But one thing we do know and feel strongly about is that no one at Uber has ever been happy about violence against a driver."
The Uber Files investigation is brought to you by:
The International Consortium of Investigative Journalists
Director: Gerard Ryle
Managing editor: Fergus Shiel
Senior editors: Dean Starkman, Ben Hallman, Mike Hudson
Data editor: Emilia Díaz-Struck
Reporters:  Sydney P. Freedberg, Nicole Sadek, Brenda Medina,  Scilla Alecci, Delphine Reuter, Agustin Armendariz, Karrie Kehoe, Miguel Fiandor Gutiérrez, Jelena Cosic, Margot Williams.
Associate editor and fact checker: Richard H.P. Sia
Online editor: Hamish Boland-Rudder
Digital editor: Asraa Mustufa
Digital producer: Carlos Monteiro
Web developer: Antonio Cucho Gamboa
Copy editor: Joe Hillhouse
Editor: Tom Stites
Chief technology officer: Pierre Romera
Technology team: Soline Ledésert,  Miguel Fiandor Gutiérrez, Bruno Thomas, Caroline Desprat, Maxime Vanza Lutaonda, Whitney Awanayah, Javier Ladrón de Guevara, Jorge González and Carolina Verónica López Cotán
Training manager: Jelena Cosic
Illustrator: Rocco Fazzari
Reporters and editors
Hugo Alconada (Argentina)
Ricardo Brom (Argentina)
Sandra Crucianelli (Argentina)
Emilia Delfino (Argentina)
Mariel Fitz Patrick (Argentina)
Maia Jastreblansky (Argentina)
Ivan Ruiz (Argentina)
Ben Butler (Australia)
Kaspar Fink (Austria)
Ulla Kramar-Schmid (Austria)
Elisabeth Lind (Austria)
Stefan Melichar (Austria)
Michael Nikbakhsh (Austria)
Martin Thür (Austria)
Lars Bové (Belgium)
Kristof Clerix (Belgium)
Xavier Counasse (Belgium)
Andrew Bailey (Canada)
Robert Cribb (Canada)
Zach Dubinsky (Canada)
Paul Émile d'Entremont (Canada)
Jesse McLean (Canada)
Sara Mojtehedzadeh (Canada)
Frédéric Zalac (Canada)
Isabela Granados (Colombia)
Carlos Eduardo Huertas (Colombia)
Holger Roonemaa (Estonia)
Jyri Hänninen (Finland)
Minna Knus-Galán (Finland)
Tuulia Kössö (Finland)
Asia Balluffier (France)
Jeremie Baruch (France)
Arthur Carpentier (France)
Abdelhak El Idrissi (France)
Julia Galan (France)
Elodie Gueguen (France)
Stéphane Horel (France)
Damien Leloup (France)
Anne Michel (France)
Jacques Monin (France)
Edouard Perrin (France)
Adrien Senecat (France)
Maxime Tellier (France)
Martin Untersinger (France)
Maxime Vaudano (France)
Petra Blum (Germany)
Nina Bovensiepen (Germany)
Andreas Braun (Germany)
Jan Diesteldorf (Germany)
Catharina Felke (Germany)
Lena Kampf (Germany)
Sophie Menner (Germany)
Mauritius Much (Germany)
Benedikt Strunz (Germany)
Ralf Wiegand (Germany)
Andras Petho (Hungary)
Zsuzsanna Wirth (Hungary)
Anand Mohan J (India)
Ritu Sarin (India)
Shyamlal Yadav (India)
Arthur Beesley (Ireland)
Simon Carswell (Ireland)
John Mc Manus (Ireland)
Uri Blau (Israel)
Paolo Biondani (Italy)
Leo Sisti (Italy)
Munir Alkhatib (Lebanon)
Jana Baraket (Lebanon)
Hazem El Amin (Lebanon)
Alia Ibrahim (Lebanon)
Diana Moukalled (Lebanon)
Hala Nasreddine (Lebanon)
Šarūnas Černiauskas (Lithuania)
Andrea Cárdenas (Mexico)
Armando Talamantes (Mexico)
Mathieu Tourliere (Mexico)
Georgina Zerega (Mexico)
Ali Amar (Morocco)
Soufiane Sbiti (Morocco)
Gaby de Groot (Netherlands)
Karlijn Kuijpers (Netherlands)
Johan Leupen (Netherlands)
Martijn Roessingh (Netherlands)
Romy van der Burgh (Netherlands)
Linda van der Pol (Netherlands)
Dirk Waterval (Netherlands)
Michal Kokot (Poland)
Ana Poenariu (Romania)
Russia team (Russia)
Jesús García (Spain)
Daniele Grasso (Spain)
Iera Herranz (Spain)
Montse Hidalgo (Spain)
Joaquín Castellón (Spain)
Ola Westerberg (Sweden)
Pelin Ünker (Turkey)
Johana Bhuiyan (United Kingdom)
Richard Bilton (United Kingdom)
John Collingridge (United Kingdom)
Will Dahlgreen (United Kingdom)
Becky Dale (United Kingdom)
Harry Davies (United Kingdom)
Rob Davies (United Kingdom)
Pamela Duncan (United Kingdom)
Aisling Gallagher (United Kingdom)
Simon Goodley (United Kingdom)
Andrew Head (United Kingdom)
Jon Henley (United Kingdom)
Stephanie Kirchgaessner (United Kingdom)
Felicity Lawrence (United Kingdom)
Paul Lewis (United Kingdom)
Rowena Mason (United Kingdom)
Dan Milmo (United Kingdom)
James Oliver (United Kingdom)
Jennifer Rankin (United Kingdom)
Michael Safi (United Kingdom)
Nassos Stylianou (United Kingdom)
Rory Tinman (United Kingdom)
Jason Aldag (United States)
Robin Amer (United States)
Amy Argetsinger (United States)
Courtney Beesch (United States)
Steven Bohner (United States)
Matt Clough (United States)
Aaron Davis (United States)
Sofia Diogo Mateus (United States)
Ian Duncan (United States)
Sarah Ellison (United States)
Christian Font (United States)
Haley Hamblin (United States)
Courtney Kan (United States)
Douglas MacMillan (United States)
Angel Mendoza (United States)
Joseph Menn (United States)
Tessa Muggeridge (United States)
Ted Muldoon (United States)
Lucy Naland (United States)
Rick Noack (United States)
Sergio Non (United States)
Jayne Orenstein (United States)
Garland Potts (United States)
Martine Powers (United States)
Eric Rich (United States)
Mark Seibel (United States)
Faiz Siddiqui (United States)
Susan Stanford (United States)
Laura Stevens (United States)
Craig Timberg (United States)
Talia Trackim (United States)
Mohammed Komani (Yemen)
Media Partners
Argentina
elDiarioAR
Infobae
La Nación
Austria
Belgium
Canada
CBC/Radio-Canada
Toronto Star
Colombia
Estonia
Finland
Yle, Finnish Broadcasting Company
France
France Info
Le Monde
Radio France
Germany
NDR
Süddeutsche Zeitung
WDR
Hungary
India
Ireland
Israel
Italy
Lebanon
Lithuania
Mexico
Proceso
Quinto Elemento Lab
Morocco
Netherlands
Het Financieele Dagblad
Investico
Trouw
Poland
Romania
Russia
Spain
Turkey
United Kingdom, Australia
United States
Yemen, Lebanon