FAQ
Frequently asked questions about the Uber Files
What is the Uber Files? Who was in the leak? Who is the source of the data? What do the Uber Files reveal and why does the investigation matter? We answer common questions ICIJ has been getting from readers in this FAQ.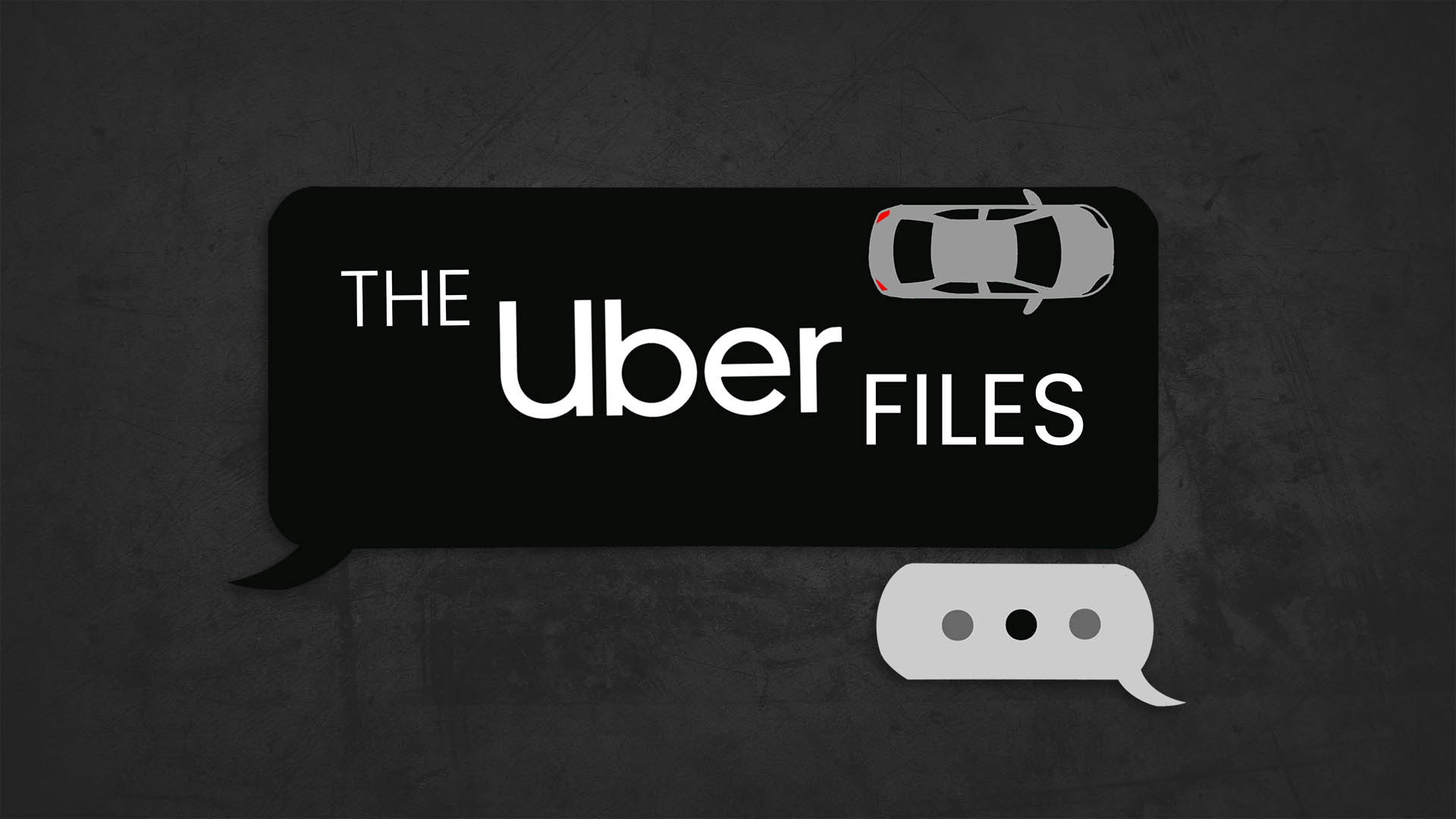 Since the publication of the first stories from the Uber Files investigation on July 10, the International Consortium of Investigative Journalists has been contacted by members of the public and press with questions about the trove of leaked documents. Here, we answer some of the most frequently-asked questions. We may update this post with answers to more questions we've been getting from readers.
What is the Uber Files?
The Uber Files is a global journalism collaboration that reveals how ride-hailing juggernaut Uber stormed into markets around the world, how it used stealth technology and evasive practices to thwart regulators and law enforcement in at least six countries and how it deployed a phalanx of lobbyists to court prominent world leaders to influence legislation and help it avoid taxes.
The investigation is based on a leak of sensitive texts, emails, invoices, briefing notes, presentations and other documents exchanged by top Uber executives, government bureaucrats and world leaders in nearly 30 countries. It provides an unprecedented look into the ways Uber defied taxi laws and upended workers' rights.
Who leaked the Uber Files data?
Former top Uber lobbyist Mark MacGann came forward as the source of the Uber Files leak in an interview with The Guardian published 24 hours after the investigation's first stories went live.
MacGann served as Uber's chief lobbyist for Europe, the Middle East and Africa from 2014 to 2016 and oversaw government relations and public policy in more than 40 countries. He was tasked with managing the company's chaotic global expansion, which was rife with violations of local transportation laws.
"There is no excuse for how the company played with people's lives," MacGann said in an interview. Read more.
What do the Uber Files reveal?
Our investigation found that the one-time Silicon Valley startup held undisclosed meetings with high-ranking political figures to ask for favors, including dropping probes and changing policies on workers' rights; that the company used Russian oligarchs as conduits to the Kremlin; and that it discussed the public relations benefits of violence against its drivers as it engaged in international power struggles with taxi drivers and legislators opposed to its expansion.
As Uber fought to set up shop in cities around the globe, it saved millions of dollars in taxes by routing profits through Bermuda and other offshore jurisdictions. The confidential documents, leaked to The Guardian, show that Uber sought to deflect attention from its tax liabilities by helping authorities collect taxes from its drivers.
Who was caught up in the Uber Files leak?
The Uber Files include communications between top Uber executives, government bureaucrats and world leaders in nearly 30 countries, between 2013 and 2017, when Uber was plunging into new markets, often without government approval.
In addition to high-ranking Uber executives like founder and former CEO Travis Kalanick and then-chief lobbyist Mark MacGann, some of the more prominent names include then-Economy Minister (and now French President) Emmanuel Macron, former European Commissioner Neelie Kroes, then-Israeli Prime Minister Benjamin Netanyahu, and then-U.S. Vice President Joe Biden, among other world leaders, as well as oligarchs tied to Russian President Vladimir Putin including billionaires Herman Gref and Oleg Deripaska. Explore communications between prominent people in the leaked files.
How big was the Uber Files leak?
The Uber Files included more than 124,000 emails, text messages and internal company documents, amounting to 18.69 GB of data.
Will ICIJ publish the Uber Files data?
No. ICIJ does not release personal data en masse but will continue to explore the datasets with media partners. More than 180 journalists have spent months searching the data for stories that are in the public interest.
How has Uber responded to the Uber Files leak?
A spokeswoman for Uber, Jill Hazelbaker, acknowledged in response to questions "mistakes" and "missteps" that culminated five years ago in "one of the most infamous reckonings in the history of corporate America."
She said Uber completely changed how it operates in 2017 after facing high-profile lawsuits and government investigations that led to the ouster of Travis Kalanick and other senior executives. Read Uber's statement in full.
How has Uber co-founder Travis Kalanick responded to the Uber Files leak?
Devon Spurgeon, a spokeswoman for Uber founder and former CEO Travis Kalanick, said the company's rapid expansion in its early years was powered by a team of "over a hundred leaders in dozens of countries around the world" who were overseen by Uber's "robust legal, policy, and compliance groups." Read the statement in full.
Why does the Uber Files leak matter?
The Uber Files shows the ease with which Uber executives were able to gain access to – and with access –  influence powerful democratically elected leaders. The intimate access came even as Uber was brazenly flouting local transportation laws, upending workers' rights and trying to hobble government investigations using stealth technology and other deceptive tactics. In short, the investigation offers an X-ray into how multinational companies game the system — another example from an ICIJ investigation showing how money and power can buy access not available to the rest of us.
Don't all American companies engage in lobbying?
Yes, and that's the point. As we say above, the Uber Files show the Uber executives' stunningly easy access to powerful democratically elected leaders and the often strikingly intimate relationship they developed with them. The probe shows the real-world power of money and A-list connections in bending policy toward the ends of monied interests.
Did the files show Uber doing anything illegal?
The reporting sheds additional light on Uber's well-documented flouting of local labor and transportation laws.
The exchanges between Uber executives in the Uber Files include frank assessments of the regulatory challenges the company's business model faced. One executive described Uber's approach to entering new markets as a "sh*itstorm" according to the documents; another wrote to a colleague "We're just fucking illegal."
The records also reveal Uber executives' activation of a so-called "kill switch" to cut access to company servers and prevent authorities from seizing evidence during raids on Uber offices in at least six countries. Uber's former CEO, Travis Kalanick, denied that use of the "kill switch" was improper, saying it did not permanently delete data and was used to protect intellectual property and the privacy interests of its customers.
In the company's response to ICIJ's questions, Uber acknowledged there had been "missteps" in its past that led to "an enormous amount of public scrutiny, a number of high-profile lawsuits, multiple government investigations, and the termination of several senior executives" in 2017, before the appointment of the current CEO Dara Khosrowshahi.
It's not yet clear whether the new Uber Files revelations will lead to additional investigations.
How did Uber use stealth technology like the "kill switch" to thwart government investigators?
The Uber Files reveals that, when Uber offices were raided by authorities, company executives could remotely activate a so-called kill switch to disconnect computers from company servers and prevent authorities from seizing evidence — a tool Uber used during office raids in France, as well as Romania, Netherlands, Belgium, India and Hungary.
The kill switch wasn't the only technological weapon Uber deployed to dodge police and regulators. The company used technology that allowed it to show a fake version of the app to police or government officials who could be investigating the service; staff discussed creating "blackout geofences" around police stations in Denmark; and more.
An Uber spokeswoman told ICIJ that Uber has not used a kill switch to thwart regulatory actions since 2017.
Do you have a story about corruption, fraud, or abuse of power?
ICIJ accepts information about wrongdoing by corporate, government or public services around the world. We do our utmost to guarantee the confidentiality of our sources.
LEAK TO ICIJ
What do the Uber Files say about Uber drivers?
In every market, claims that Uber was transforming the workforce were central to the company's pitch. But some drivers say that they were misled, that Uber lured them to its platform with financial incentives that didn't last while sharply increasing its commission from each ride. Many of Uber's drivers were part-time, freelance contractors ineligible for key benefits like health care.
In many countries where Uber had rolled out rapidly, often without governmental approvals, its drivers were being threatened and attacked by riders, thieves and traditional cabbies. The Uber Files reveal that, in some cases, Uber executives saw violence and attacks on drivers as strategic opportunities to build support for their cause.
Uber executives also sought to deflect inquiries about the company's aggressive tax avoidance strategies by volunteering to help host countries collect income taxes owed by drivers, documents show.
What is the International Consortium of Investigative Journalists (ICIJ)?
The International Consortium of Investigative Journalists (ICIJ) is a donor-supported investigative news outlet and consortium of reporters and media partners who work together to tell stories that rock the world.
ICIJ works with the biggest and the smallest media organizations in the world to do the watchdog journalism they used to do alone. We retain a network of trusted journalists, which has grown by invitation to 280 of the best investigative reporters from more than 100 countries and territories.
How does ICIJ choose its investigation partners?
When bringing together a collaboration like The Uber Files, ICIJ begins by assessing the data and identifying areas of reporting need, with a particular focus on engaging journalists in countries where we know there will be important stories and strong public interest. We then prioritize finding partners with proven investigative records, who we can trust to work discreetly, collaboratively and respectfully with reporters from around the world.
How do I get in touch with ICIJ if I want to share a tip or leak documents?
ICIJ ​encourages​ ​whistleblowers​ ​to ​submit​ ​all​ ​forms​ ​of​ ​content​ ​that​ ​might​ ​be​ ​of​ ​public​ ​concern​ ​-​ ​documents,​ ​photos, video​ ​clips​ ​as​ ​well​ ​as​ ​story​ ​tips — and to do so securely. We​ ​accept​ ​all​ ​information​ ​that​ ​relates​ ​to​ ​potential​ ​wrongdoing​ ​by​ ​corporate,​ ​government​ ​or public​ ​service​ ​entities​ ​in​ ​any​ ​country,​ ​anywhere​ ​in​ ​the​ ​world.​ ​We​ ​do​ ​our​ ​utmost​ ​to​ ​guarantee the​ ​confidentiality​ ​of​ ​our​ ​sources. Find out how to contact us securely here.