Four former Ericsson executives were acquitted in Sweden today on charges of bribing high-ranking Djibouti officials to win a 3G contract worth nearly $20 million.
Prosecutors accused the telecom executives of transferring nearly $2 million via a consulting firm to Djibouti's president, the chancellor of justice and the CEO of a state mobile operator more than a decade ago. But the Solna District Court ruled that the prosecutors did not prove that the money was received by those three people, according to Swedish newspaper Dagens Nyheter. All four former Ericsson employees denied wrongdoing.
Prosecutor Mats Jansson told DN that he will review the verdict to see if there are grounds to appeal.
One of the four former Ericsson executives is currently being prosecuted in the U.S. for the alleged scheme, charged with arranging more than $2 million in bribes to three officials to beat out Huawei in the competition for a contract in Djibouti.
Ericsson had previously admitted to engaging in bribery and other misconduct in Djibouti, China, Vietnam, Indonesia and Kuwait from 2000 to 2016 in a billion-dollar corruption settlement with the U.S. Justice Department. The 2019 deferred prosecution agreement was one of the largest foreign corruption settlements in history.
In February, the Ericsson List, an investigation led by the International Consortium of Investigative Journalists, revealed that in the same year, the company had internally probed alleged corrupt practices in 14 other countries.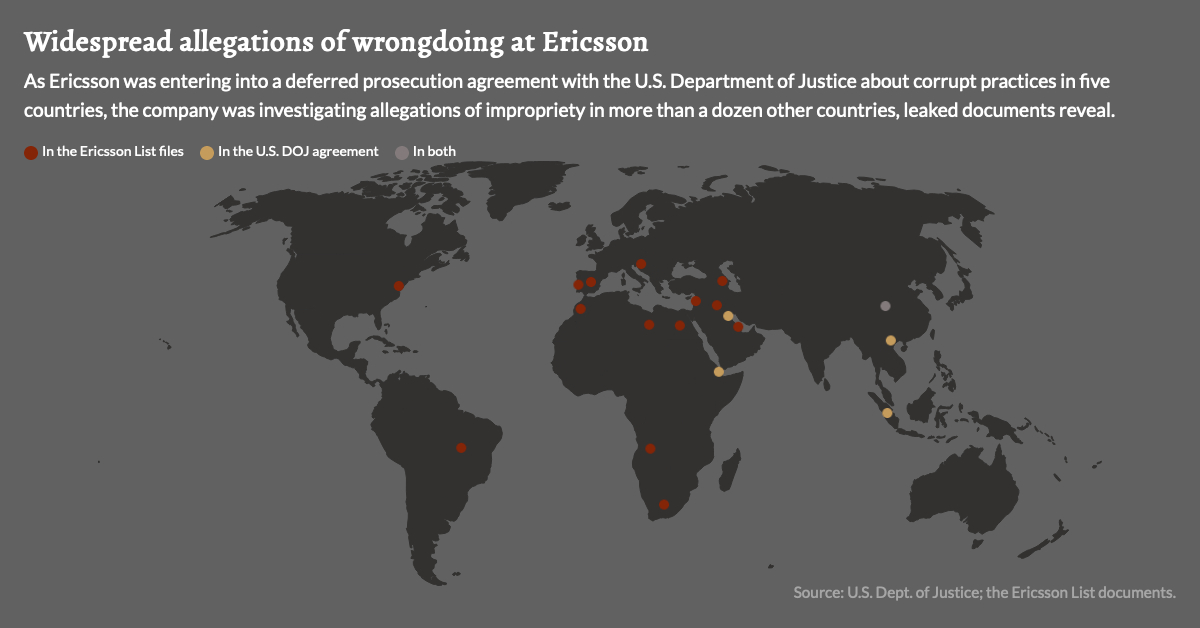 Leaked records showed that the company had paid tens of millions of dollars in suspicious payments from 2011 to 2019 to sustain its business in Iraq, including payments to smuggle equipment through ISIS-controlled territory on a route known as the "Speedway."
The investigation has sparked a range of international legal and financial fallout for the telecom giant this year. Ericsson now faces investigations on its conduct in Iraq by the U.S. Justice Department, the U.S. Securities and Exchange Commission, and Swedish anti-corruption authorities. The company has said it's cooperating with the probes and is likely to face new fines from the U.S.