BEHIND THE SCENES
Ten years of exposing the financial secrets of some of the world's most powerful people
On the 10th anniversary of ICIJ's Offshore Leaks investigation, director Gerard Ryle traces a path from the original tax haven exposé through to the Panama Papers, Pandora Papers and beyond.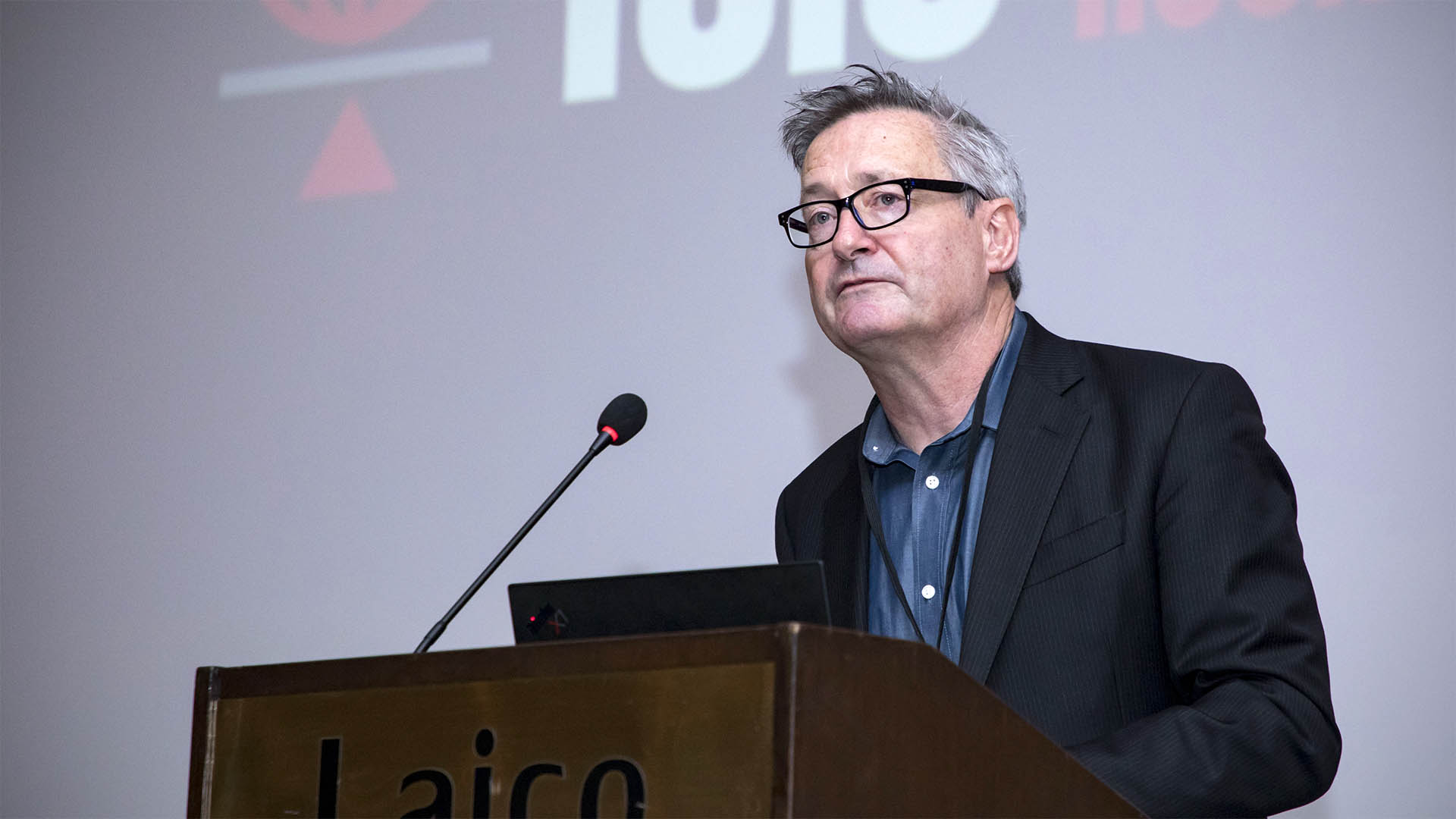 April 3 marks a double anniversary in ICIJ's calendar: while some may know it as the date the Panama Papers exploded on front pages and TV screens around the world in 2016, it's also the date that ICIJ's original tax haven investigation — Secrecy for Sale, or Offshore Leaks as it quickly became known — first hit the newsstands back in 2013.
Offshore Leaks was the story that led Australian journalist Gerard Ryle over to Washington, D.C., to take the reins as director of the International Consortium of Investigative Journalists. The investigation brought together a team of more than 100 reporters to work on a massive database of leaked financial secrets, pioneering the sort of large-scale, data-driven collaborations that have been a unique hallmark of ICIJ's journalism ever since.
We asked Ryle about the impact of ICIJ's reporting over the past 10 years, and how it has changed his life and the lives of others around the globe.
When did you first become aware of the secretive world of offshore finance and the parallel economy that runs through it?
My introduction to offshore tax havens began when I was an investigative reporter in Australia, a few years before I took over the running of ICIJ.
It started with a man who claimed to have invented a magic pill. This pill, once dropped into a vehicle's fuel tank, would miraculously eliminate toxic emissions and dramatically improve gas mileage. The pill took Australia by storm, capturing the attention of many of the country's most powerful people and sporting celebrities, racking up $60 million from investors.
But it was all a giant ponzi scheme. The magic pill inventor had been selling millions of meaningless shares in a company in the British Virgin Islands without following proper financial protocols.
Many people believed they were going to be millionaires. But, as the scheme collapsed and investors realized they'd been duped, I remember one shareholder telling me I would never be able to break through the secrecy afforded to the company by the offshore system.
That was a challenge no investigative reporter could resist.
When you came to ICIJ with the original Offshore Leaks data, did you ever imagine it would end up becoming the start of a decade-long investigation?
After I wrote a book about the magic pill company, a source contacted me, offering very detailed information about how the financial structures were set up in the British Virgin Islands and other tax havens. I soon took possession of 2.5 million records that were drawn from two offshore service providers — firms that set up offshore accounts in tax havens for people who like to keep secrets.
It quickly became obvious to me that my magic pill company was just the tip of a gigantic iceberg. There was information about thousands of other secret companies all over the world. Nobody had been able to penetrate this secret world before, and someone had just handed me the keys.
But I also knew that this was not something one journalist could tackle alone.  I realized I was at the beginning of a long journey. I needed to do the opposite of everything I had been taught to do as an investigative journalist — share. Nobody could foresee then how long that journey would take or that along the way we would invent a whole new way of doing journalism.
WANT MORE STORIES THAT ROCK THE WORLD?
ICIJ is an independent, donor-supported investigative news outlet. Together, we expose wrongdoing so that the world can make it right.
Just $10 / month can change the world.
What do you remember of this day, 10 years ago, when the Secrecy for Sale investigation first published?
My abiding memory is of the phones. They were ringing incessantly. ICIJ was a tiny operation back then, operating from cramped offices that had a view of a dumpster-strewn alleyway. We were scrambling to cope with all the attention we were getting from around the world.
Is it possible to trace a direct line from that original dataset to other ICIJ investigations over the past 10 years, like the Panama Papers and Pandora Papers?
There is a direct line that can be drawn from that moment to everything that happened afterwards. I recall saying at the time that "leaks beget leaks."  We not only showed journalists the benefits of sharing information, but that first offshore project led directly to a whole series of other financial secrecy investigations, each sparked by the previous investigation. We were soon deep into China Leaks, Luxembourg Leaks and Swiss Leaks. It was Luxembourg Leaks that sparked Panama Papers, which in turn sparked Paradise Papers. Eventually, a source who was drawn to our work contacted me with the 12 million records that became Pandora Papers, the biggest cross border journalism project in history, involving more than 600 journalists from 150 news outlets in more than 100 countries, all working together.
Is there a particular moment from the past 10 years of investigating tax havens and financial secrecy that stands out to you as particularly memorable — or, perhaps, almost unbelievable?
The overwhelming amount of corruption that we have been able to expose, particularly from politicians, still leaves me shaking with rage. This is a system that perpetuates an almost unbelievable gap between the haves and the have nots. It is also a system that facilitates every kind of crime imaginable. It deserves to be dismantled.
How have things changed over the past 10 years since that original investigation came out? And what's next from ICIJ?
I like to think that we have learned how to do our work better by taking lessons from each investigation. We have applied our sharing and collaborative model to other major topics that need our attention — from broken medical implants to the underworld of international diplomacy to environmental destruction on a global scale — and, in doing so, have trained hundreds of journalists along the way.
As long as there is wrongdoing, we will continue to do journalism that rocks the world.
Do you have a story about corruption, fraud, or abuse of power?