FAQS
Frequently asked questions about the Cyprus Confidential investigation
Where did the Cyprus Confidential data come from? How does the size of the leak compare with previous ICIJ investigations? Why Cyprus? These questions and more, answered.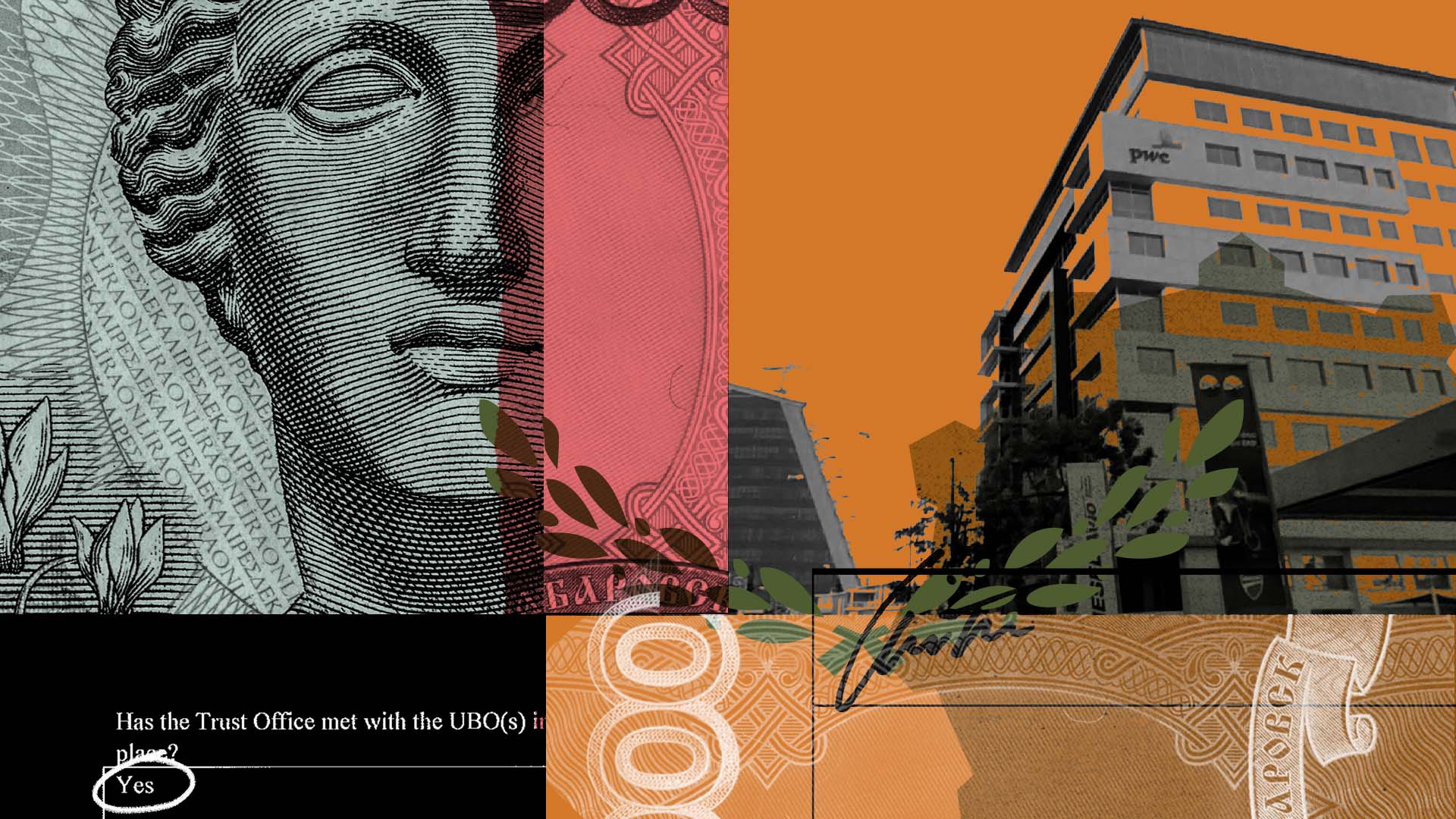 What is the Cyprus Confidential investigation?
The Cyprus Confidential investigation by the International Consortium of Investigative Journalists and 68 media partners exposes how Cyprus-based financial services firms have enabled the Russian elite — including President Vladimir Putin's inner circle — to shelter their wealth and then, as Russia invaded Ukraine in 2022, shield billions of dollars in assets from the threat of impending sanctions.
What are some of the key findings of the Cyprus Confidential investigation?
ICIJ's analysis of more than 3.6 million leaked documents found nearly 800 companies and trusts registered in secrecy jurisdictions that were owned or controlled by Russians who have been sanctioned since 2014. Those include more than 650 Cyprus companies and trusts. Among them are mother companies of Russian holdings; subsidiaries of Russian conglomerates; and opaque entities used to conceal investments in properties, yachts and world-famous artwork.
The Cyprus arm of global accounting firm PwC partnered with local, specialized firms to provide services to powerful Russians with ties to the Kremlin, including at least a dozen clients who were sanctioned after Russia's annexation of Crimea and the war in Donbas. After the 2022 invasion of Ukraine, an additional 39 of PwC Cyprus' Russian clients were hit with sanctions by the European Union, United Kingdom, United States or Ukraine because of their close ties to Putin or their prominent roles in industries critical to his war effort.
Cyprus Confidential also reveals exchanges between Syrian President Bashar Assad's regime and a Cyprus-registered intermediary about buying U.S. oil drilling equipment at the zenith of the Syrian civil war — despite U.S. and EU sanctions in place at the time.
Read ICIJ's key findings here.
Why Cyprus?
The small Mediterranean island off the coast of Turkey has an outsized financial sector and some of the EU's most lax financial disclosure laws, making the country an ideal destination for stashing wealth.
The weak legal standards combined with a permissive central bank and, according to Bulgaria's Center for the Study of Democracy, as of 2020, an estimated more than $200 billion in Russian investment allowed Kremlin-connected oligarchs to wield significant influence in the island's political and financial affairs. Its thriving financial secrecy industry provides a conveyor belt for Russian wealth to the West.
Learn how Russia came to dominate Cyprus' banking system here.
Where did the Cyprus Confidential leaked data come from? Who was the source?
The documents come from Cypriot firms DJC Accountants, ConnectedSky, Cypcodirect, MeritServus, MeritKapital, and Kallias & Associates. Additional records came from a Latvian company, Dataset SIA, which sells Cypriot corporate registry documents through a website called i-Cyprus*.
The leaked records from Cypcodirect, ConnectedSky, i-Cyprus and Kallias & Associates were obtained by Paper Trail Media. Distributed Denial of Secrets obtained documents from Kallias & Associates, which were then shared with Paper Trail Media and ICIJ. DJC Accountants' records were obtained by Distributed Denial of Secrets and shared by the Organized Crime and Corruption Reporting Project.
ICIJ does not comment on its sources. ICIJ did not pay for the data and no conditions were attached to it being shared. ICIJ performs rigorous verification and cross-checking of data to ensure its authenticity and verifies every fact it publishes.
*ICIJ is mentioning i-Cyprus and Dataset for transparency purposes as one of the sources of the leaked records.
How big was the Cyprus Confidential leak? How does it compare to other offshore leaks like the Panama Papers or Pandora Papers?
The reporting is based on more than 3.6 million leaked files from six Cyprus-based financial service providers and a Latvian firm that sells Cypriot corporate registry documents through a website called i-Cyprus.
The Pandora Papers and the Panama Papers investigations comprised 11.9 and 11.5 million files, respectively.
What sort of files were in the Cyprus Confidential leaked data?
The leaked records included confidential background checks, organizational charts, financial statements, bank account applications, email exchanges and much more.
ICIJ provided access to the records through its secure, open-source research platform, Datashare*. ICIJ and Paper Trail Media organized and coordinated the project through ICIJ's secure communications platform, I-Hub.
*Anyone looking to mine their own documents on their computer can access Datashare for free. However, this version of Datashare isn't meant to be used to access the documents ICIJ stores on its secure platform.
How is Cyprus Confidential different from The Guardian's 'Oligarch files'?
The Cyprus Confidential investigation is based on seven separate leaks from six Cyprus-based firms — ConnectedSky, Cypcodirect, DJC Accountants, Kallias & Associates, MeritKapital and MeritServus — and one Latvian company. The Latvian company, Dataset SIA is behind i-Cyprus, a website that sells information about Cyprus companies.
The Oligarch files were a cache of leaked documents from MeritServus, which were analyzed as part of an investigation by the Guardian published earlier this year. ICIJ and several other media organizations have also reported on the files. In April, ICIJ, The Washington Post and the Israeli publication Shomrim revealed that funds used to buy a Tel Aviv apartment for Putin's high school teacher came from a Cyprus-based shell company controlled by Russian billionaire Roman Abramovich. In September, ICIJ co-published its media partners' findings on Abramovich's trusts.
Cyprus Confidential builds on prior reporting.
Who were some of the big names in the Cyprus Confidential files?
Former Chelsea Football Club owner Roman Abramovich, whose nearly $1 billion art collection previously made headlines, is among several high-profile Russian oligarchs named in the Cyprus Confidential investigation.
Billionaires Alexander Abramov and Alexander Frolov, the Russian oligarchs behind Evraz, a steel manufacturer producing the rails used by Russia to move arms and ammunition to its troops in Ukraine, also feature in the investigation. Alexey Mordashov, owner of steel company Severstal, and his life partner have both used Cyprus firms' services, as previously revealed by ICIJ. Petr Aven, one of the architects of financial powerhouse the Alfa group, used a Cyprus firm to transfer $5 million outside of the EU as sanctions came down.
All five of the Russian oligarchs appear in ICIJ's selection of billionaires connected to Cyprus Confidential.
What role do lawyers, accountants and auditing firms like PwC play in Cyprus' financial system?
The flow of foreign money into Cyprus, particularly from Russia, spawned a powerful industry of bankers, offshore services providers, accounting powerhouses like PwC and other Big Four firms, and an army of 4,000 lawyers.
The financial system is deeply intertwined with a Cypriot political class that erected some of Europe's most stringent corporate secrecy rules and turned the Central Bank of Cyprus into a protector of the system rather than its regulator.
The Cyprus Confidential documents reveal the close business relationships between the island's financial services firms. An ICIJ analysis of the leaked documents found that PwC Cyprus and Cypcodirect — which was founded by a former PwC partner in 2007 — controlled more than 250 shell companies between them. Some clients were subject to sanctions in various jurisdictions around the world, while others would later be sanctioned.
Whereas PwC Cyprus performs publicly filed audits and its employees sign basic legal paperwork, Cypcodirect sets up shell companies, and its employees act as "nominee directors," hiding the ultimate beneficial owners.
Will ICIJ publish the Cyprus Confidential leaked data in full?
ICIJ won't release personal data or the full cache of leaked files but may publish relevant documents, abridged or in full, alongside our stories. ICIJ and its media partners will continue to explore the data. ICIJ also plans to incorporate structured data from the Cyprus Confidential files into our existing Offshore Leaks Database in the coming months.
To learn more about the latest data releases and reporting, subscribe to our newsletter.
Will ICIJ share the leaked data with governments or law enforcement agencies?
It is ICIJ's long-standing policy to not turn over reporting material to authorities. ICIJ is neither an arm of law enforcement nor an agent of any government. We are an independent news organization, serving our members, the global investigative journalism community and the public.
Which journalists and media outlets were involved in the Cyprus Confidential investigation?
To explore the cache of documents, ICIJ assembled and coordinated an international coalition of 69 media partners (including ourselves) in 54 countries and one territory. More than 270 journalists took part in the collaboration, which spanned eight months. ICIJ held extensive training sessions for partners on the use of ICIJ's technology to explore, mine and better understand the files.
A complete list of media partners is available here.
How can I join the investigation? Can I access the data?
ICIJ welcomes new offers to collaborate with journalists. However, due to limited resources and the high cost of onboarding new partners, we will not be able to accept all offers and we'll prioritize journalists with a proven record of high-quality investigations. Journalists seeking to partner with ICIJ should email data@icij.org. ICIJ only partners with journalists.
Do you have a story about corruption, fraud, or abuse of power?
ICIJ accepts information about wrongdoing by corporate, government or public services around the world. We do our utmost to guarantee the confidentiality of our sources.
LEAK TO ICIJ
How do I get in touch with ICIJ if I want to share a tip or documents?
ICIJ ​encourages​ ​whistleblowers​ ​to ​submit​ ​all​ ​forms​ ​of​ ​content​ ​that​ ​might​ ​be​ ​of​ ​public​ ​concern​ — ​documents,​ ​photos, video​ ​clips​ ​as​ ​well​ ​as​ ​story​ ​tips — and to do so securely. We​ ​accept​ ​all​ ​information​ ​that​ ​relates​ ​to​ ​potential​ ​wrongdoing​ ​by​ ​corporate,​ ​government​ ​or public​ ​service​ ​entities​ ​in​ ​any​ ​country,​ ​anywhere​ ​in​ ​the​ ​world.​ ​We​ ​do​ ​our​ ​utmost​ ​to​ ​guarantee the​ ​confidentiality​ ​of​ ​our​ ​sources.
Find out how to contact us securely here.
Who funds ICIJ?
ICIJ relies entirely on donations to fund our work —  we would not exist without our donors. Please consider donating to ICIJ.